Prince Albert
Prince Albert
,
Saskatchewan
, is a city on the North Saskatchewan River. It is the largest Northern Saskatchewan city, and third in population and size in the province after
Regina
and
Saskatoon
.
Prince Albert is a hub of multiculturalism, travellers, and naturists. There are numerous campgrounds nearby, especially in Prince Albert National Park, which is home to an exceptionally adventurous and scenic hike to Grey Owl's Cabin, and Waskesiu Lake, a particularly charming summer resort to visit as well.
Understand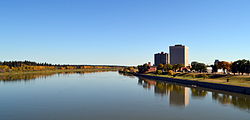 Named after Queen Victoria's husband, is known as the "Gateway to the North". The local pulp and paper mill announced its closure after serving as the community's primary economic engine for 60-75 years. The good news is that Prince Albert is now poised to become a new hub for call centres.
Visitor information
phone: +1 306-953-4385

address: 3700 2nd Avenue West

Their gift shop includes local artisan wares and Saskatchewan-made food and beauty products.
Get in
By plane
Prince Albert (Glass Field) Airportmajority of the traffic is non-commercial. There are ExpressAir flights from Regina. Transwest Air and West Wind Aviation have flights from Saskatoon to Prince Albert.
Flights into nearby Saskatoon (
YXE
) are frequent, and there are rental agencies at that airport. Air Canada and WestJet are the two biggest carriers in Saskatoon.

By car
Most people travelling to Prince Albert do so by car. Highway #11 runs from Prince Albert to Saskatoon (the closest "big city"), and is the primary highway into the city. The next two most important highways in the area are highway #3 (south of PA) and highway #2.

By bus
from Saskatoon5 buses a week, 1½ hr.

from ReginaM and F arrives at 1:30PM, W arrives at 6:30PM with lay-over in Saskatoon.
Get around
Almost everyone drives in Prince Albert, even though there is a city bus service. Or you can walk. Taxis are also another option.

See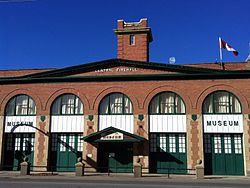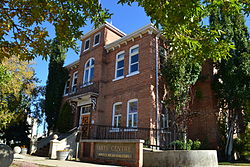 The Rawlinson Art Centre, Art Hauser Centre, and Saskatchewan Provincial Court House are attractive venues.
phone: +1 306-764-2992

address: 10 River Street East

In the Central Fire Hall, a municipal heritage building built in 1912 on the North Saskatchewan River. The building served the city as its fire hall for 63 years until 1975.

phone: +1 306-953-4863 (summer)

address: 246 19th Street West

This house was the residence of John Diefenbaker immediately prior to his becoming Prime Minister of Canada. The museum is furnished as it was in Diefenbaker's day. It holds artifacts, documents and photographs of Canada's thirteenth Prime Minister and Member of Parliament for Prince Albert from 1953 to 1979.

address: Art Hauser Centre 690 32 St E

Western Hockey League team.
Do
Prince Albert is the central hub for hunters and fishermen looking to go the various lakes, and vast wilderness of Northern Saskatchewan. The city offers places of taxidermy, guide services, and several outlets for transportation needs, accommodations, equipment and supplies.
The city is 30-45 minutes from Christopher Lake, Emma Lake, Candle Lake, and Prince Albert National Park; all of which offer camping and fishing on some of Saskatchewan's largest pristine lakes. Further north are Big River, Montreal Lake, McLean Lake, and Montreal River.

phone: +1 306 764-4777

Little Red River ParkOffers a wilderness of hiking trails and skiing. Little Red River Park
Buy
Gateway Mall, in downtown Prince Albert, offers many different places to shop, with various large chain stores, and small local businesses.
Cornerstone Shopping Centre, in the eastern part of Prince Albert, is a larger outdoor shopping centre with various large chain stores and restaurants, including Tim Hortons.
Downtown Prince Albert has many different food, entertainment, and shopping venues.
Eat
phone: +1 306-970-9442

address: 2901 2nd Ave W, Unit 1

Indian, vegetarian friendly, vegan options.

phone: +1 306-970-8022

address: 21 River St W

Describes itself as a café and restaurant steeped in steampunk fantasy. Specialties include Mediterranean Pesto Pizza, the Margherita Pizza, and the Frutti Di Mare.

phone: +1 306-763-1515

address: 2990 2nd Ave W

Restaurant, cappuccino, art gallery. Gluten-free options, vegetarian friendly.
Drink
There's more than a few places to get a drink in Prince Albert, including the two Province-run liquor stores located in the city. For country music, Prince Albert has an abundance of country music bars. Belly Up is a nice place, albeit small inside (makes it feel cozy); just out of the downtown area. Kickers is south of the city, a particular local hotspot on the weekends. Six Shooters Saloon is another nice place. For those who don't like country, JT's Lounge is a great place, Thursday nights has a comedy night, with the occasional open-mic night thrown into the mix.
address: 3580 2nd Ave West

excellent dining.
Sleep
Prince Albert has a number of hotels, including the Days Inn, Comfort Inn, Travel Lodge, Ramada Inn, Holiday Inn, Prince Albert Inn, and Super 8 motel.
Go next
It's a 20-30 minute drive to St. Louis, through which the mighty South Saskatchewan River runs, and which is the premiere place for Metis culture and history in Saskatchewan.
It's another 30-minute drive to the Historic Batoche Settlement.
Prince Albert National Park - 90 km north of the city on Highway 2.