Prince Rupert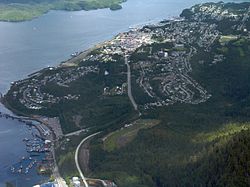 Prince Rupert
, often referred to as just
Rupert
, is a small port city on the northwest coast of
British Columbia
,
Canada
.
Understand
The population of 13,000 people is about half First Nations (native Canadian) people. The Tsimshian Nation is the indigenous First Nations in the Prince Rupert area.
History
Prince Rupert was named for Prince Rupert of the Rhine, the first Governor of the Hudson's Bay Company, as the result of an open competition held by the Grand Trunk Railway, the prize for which was $250. Prior to the opening of the Grand Trunk Pacific Railway (GTP), which developed a terminus at Prince Rupert, the business centre on the North Coast was Port Essington on the Skeena River. After the founding of Prince Rupert at the western terminus of the GTP, Port Essington was bypassed by many businesses and declined to being a fishing community.
Charles Melville Hays, president of the Grand Trunk Railway, had many grand ideas for Prince Rupert, including berthing facilities for large passenger ships and the development of a major tourism industry. These plans fell through when Hays died in the sinking of the
RMS Titanic
in April 1912. Mount Hays, the larger of two mountains on Kaien Island, is named in his honour, as is a local high school, Charles Hays Secondary School.
Local politicians used the promise of a highway connected to the mainland as an incentive, and the city grew over the next several decades. American troops completed the 100-mile (160-km) stretch of road between Prince Rupert and Terrace during World War II to facilitate the movement of thousands of Allied troops to the Aleutian Islands and the Pacific. Several forts were built to protect the city at Barrett Point and Fredrick Point.
After World War II, the fishing industry, particularly for salmon and halibut, and forestry became the city's major industries.
In the 1990s, both the fishing and forestry industries suffered a significant downturn in economic activity. The forest industry declined when a softwood lumber dispute arose between Canada and the USA. After the pulp mill closed down, many people were unemployed, and much modern machinery was left unused. After reaching a peak of about 18,000 in the early 1990s, Prince Rupert's population began to decline, as people left in search of work.
1996 to 2004 was difficult for Prince Rupert, with closure of the pulp mill, the burning down of a fish plant and a significant population decline. 2005 was a critical turning point: the announcement of the construction of a container port in April 2005, combined with new ownership of the pulp mill, the opening in 2004 of a new cruise ship dock, the resurgence of coal and grain shipping, and the prospects of increased heavy industry and tourism may foretell a bright future for the area.
Weather
Prince Rupert holds the title of rainiest city in Canada, with about 2500 mm of precipitation annually. That's even more than the notoriously rainy Vancouver, so bring good rain gear!
Get in
By plane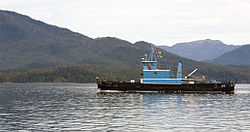 phone: +1 250 624-6274

address: Digby Island

Prince Rupert has domestic service by small turboprop airliner. Flights take two hours each way, but because of the additional time required to reach Digby Island (just west of Kaien Island and downtown Prince Rupert) by airport bus and ferry, it takes about four hours to travel between downtown Prince Rupert and Vancouver International Airport.
phone: +1 514 393-3333

phone: +1 250 635-4295
Seal Cove Water AirportPrince Rupert also has a small seaplane airport with a few local airlines.
phone: +1 250 627-1341

Offers charter flights and scheduled service.
By car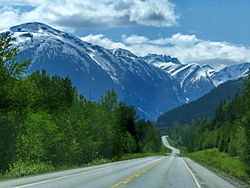 By vehicle take Highway 16 west from
Prince George
. The drive takes roughly eight hours. It is not advisable to drive this road in winter months unless you are familiar with treacherous winter highway conditions.
By boat
Vehicle ferries connect to various destinations:
BC Ferries to Skidegate in Haida Gwaii. Single sailings 4-6 days/week in summer; fewer in other seasons. Voyage takes 7-9 hours. Departure times differ; some voyages are overnight. $35/adult, $125/vehicle.
BC Ferries to Port Hardy (on Vancouver Island). Sailings arrive every other day, and depart the following day, during the summer. Fewer sailings in other seasons. Journey takes 15 hours: day cruise of 7:30AM - 10:30PM during spring and summer, overnight other times. Some sailings stop in Bella Bella. $150/adult, $350/vehicle.
Alaska Marine Highway System to Ketchikan, Wrangell, Petersburg, Juneau, all in Alaska. Sailings roughly every other day. About 5 hours to Ketchikan. US $54/adult, US $61/vehicle.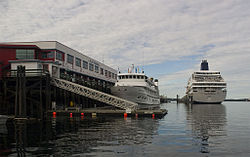 Prince Rupert is a port-of-call for cruise ships plying the inland passage, serving over 50,000 visitors each season. The Northland Terminal is in Cow Bay, close (up a short hill) to the downtown core. Many shore excursions can be accessed at the Atlin terminal (just east of Northland), ranging from bus, boat and seaplane sight seeing tours to saltwater fishing, kayaking and native cultural experiences.
By bus
By train
Via Rail, Prince Rupert Station

address: 2000 Park Ave

Via Rail Canada offers a route from Jasper to Prince Rupert, with an overnight layover in Prince George. Departures are W F Su 8AM, and arrivals M Th Sa 8:25PM. As of February 2018, the ticket counter is not staffed; buy your ticket aboard the train (credit card or cash only) or online.
Get around
Most of downtown Prince Rupert is accessible on foot. A good place to get oriented is the
Visitor Information Centre
, located on the east end of the Atlin Terminal.
BC Transit has seven
bus routes
serving all sections of the city ($3 cash fare, June 2018). A taxi ride anywhere in town will be no more than $10.
See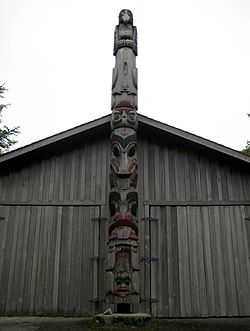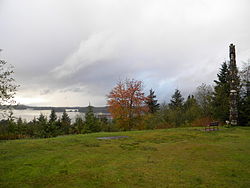 First Nations Carving Shed

phone: +1-800-667-1994

A block from the Museum of Northern British Columbia, it features artists and carvers of the region, creating everything from sculpture and totems to jewelry, working with silver, copper, cedarwood and gold.
Kwinitsa Station Railway Museum, on the west side of the waterfront, tells the story of early Prince Rupert and the role of the railway in its development. Built in 1911, Kwinitsa Station was one of 400 identical rail stations along the Grand Trunk Pacific Railway from Winnipeg to Prince Rupert. Today, it is one of only four surviving stations.
Pacific Mariners Memorial Park, between the foot of McBride St and the Northland Terminal. Note the two focal points of the park: one being the bronze Mariner's statue and Memorial Walls, the other the Shinto Shrine which was built for the "Kazu Maru", a Japanese fishing dingy that drifted across the Pacific Ocean from Prince Rupert's sister-city Owase in Japan.

Museum of Northern British Columbia

phone: +1 250 624-3207

address: 100 - 1st Avenue West

The museum tells the 10,000-year-old history of the Haida, Tsimishian, Tlingit, and Nisga. It also operates the Carving Shed and the Kwinitsa Station.

phone: +1 250 628-3538 (May-Sep), +1 250 628-3667 (Oct-Apr)

address: 1889 Skeena Drive, Port Edward

A national historic site, it is the oldest, most completely preserved cannery remaining of two hundred-or-so that once dotted BC's Northwest Coast. BC Transit runs the number 60 bus in the summer to the cannery from the Visitor Information Centre in Atlin Terminal in Cow Bay, which takes about 40 minutes.

Totem ParkHome to many of Prince Rupert's totem poles.
Do
Prince Rupert is famous for its fishing expeditions. Mostly salmon and halibut, with potential catches over a hundred pounds.
phone: +1 250 627-6461

address: 343 - 7th Avenue East

Features 3-5 day charters of deep sea fishing on a 51 foot yacht.

Early Dawn Fishing Charters

phone: +1 250 261-2688

Early Dawn Salmon Fishing Charters offers fishing charters in the exceptionally rich fishing waters off of Prince Rupert.

phone: +1 250 627-8443

address: 901 - 10th Avenue East

Offers deep sea and freshwater fishing expeditions.

phone: +1 250 624-5151

address: 2130 Graham Ave

With over 30 years of experience fishing the waters around Prince Rupert and the Haida Gwaii, this charter operator offers departures from both of these locations.

phone: +1 250 627-7699, +1 250 627-9590 (cel)

address: 1208 Frederick St

Fishing in the local waters for over 3 decades. Fish in a Grady White and enjoy the comforts of a boat designed for fishing.

phone: +1 250 615-1200, +1 250 615-1314 (cel)

address: 523 Pillsbury Ave

Experience Prince Rupert fishing in the coastal waters off Northern BC. Charters and excursions including salmon fishing, halibut fishing, and crabbing which highlight the beautiful coastal region of Northwestern British Columbia.

phone: +1 250 624-3885, +1 250 627-6955 (cel)

address: 1315 Overlook St

World Class Sports Fishing in the Pacific Northwest. Stingray Fishing Charters is your host for an exciting experience you don't want to miss.

phone: +1 250 622-8737

Providers of fishing charters for salmon and halibut offering a "no fish, no pay" guarantee.
Buy
Cow Bay Gift Gallery

phone: +1 250 627-1808

address: 24 Cow Bay Rd

Options here are a little pricier, but has authentic Native art and some really beautiful items.

phone: +1 250 624-3663

address: 145 Cow Bay Rd

Eclectic and interesting selection.
Eat
Cow Bay Cafe

phone: +1 250 627-1212

address: 205 Cow Bay Rd

One of the most popular places to eat in town. It is a small place right on the water. The service is average.

Herby's Family Restaurant

phone: +1 250 624-3965

address: 679 - 2nd Avenue West

Excellent and inexpensive Vietnamese food in an informal atmosphere.

Opa Sushi

phone: +1 250 627-4560

address: 34 Cow Bay Rd

Not bad sushi.

Pho '88

phone: +1 250 624-2888

address: 427 - 3rd Avenue West

Newer Vietnamese restaurant, featuring pho, but having a good variety of Vietnamese and Canadian-Asian cuisine.

Waterfront Restaurant on the Harbour

phone: +1 250 624-6771

address: 222 - 1st Avenue West
Drink
Sleep
Connect
phone: +1 250 627-1345

address: 101 - 6th Avenue West

The library has eight computers for public use, no membership needed and free wireless. Careful after school; they get quite busy right after the bell.

Safeway/Starbucks

phone: +1 250 624-2412

address: 200 - 2nd Avenue West

There is a small seating area inside and out where you can sit on the wireless.
Go next
Visit the
Haida Gwaii
for a unique wilderness adventure you will never forget.