Princeton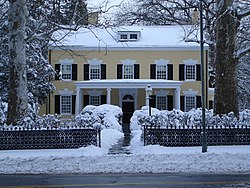 Princeton
, home to the prestigious Princeton University, is a municipality with a population of approximately 32,000 (2017) in
Mercer County
, central
New Jersey
.
Understand
Princeton is a town filled with college students, beautiful scenery, and historical features.
The University's Nassau Hall served as the capital of the United States for a single summer in the late 18th century. Princeton counts among its former residents Albert Einstein and Thomas Mann.

Get in
By plane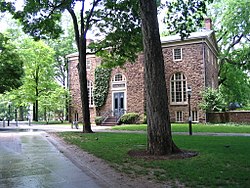 Princeton has an eponymous airport located in Montgomery, less than 2 miles from Nassau Street and Princeton University. Princeton Airport serves mostly general aviation (i.e. hobby) flying, but it also sees its fair share of business charter flights. It has one runway, fuel stations, lots of aircraft tie-down space, and hangars. This makes the airport a very cost-effective solution for travelers who pilot their own airplanes. Car-rental service is located on-site.
Other nearby airports include the Somerset Airport, Central Jersey Regional Airport, and Teterboro airport (
TEB
). These airports, like Princeton, do not operate commercial flights, but anyone with his/her own airplane can fly in.
The larger Trenton Mercer airport offers some air-taxi options.


By train

A small rail station in close proximity to both the University campus and the downtown district provides a shuttle service, known locally as "the Dinky," to the nearby Princeton Junction train station. At Princeton Junction, you can transfer to either Amtrak or New Jersey Transit trains. New Jersey Transit trains usually arrive and depart from the station every half-hour on weekdays, and hourly on weekends/
Princeton Junction station is about 4 miles southwest of the main university campus. It is served by the Northeast Corridor Line, the main commuter rail line running from Washington, D.C. to Boston. This line is often full during the morning and evening rush hours with commuters traveling to New York City or Philadelphia.

From New York City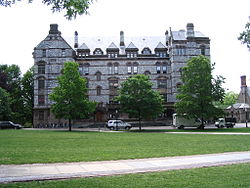 From New York, be sure to purchase a NJ Transit Northeast Corridor line train ticket from Penn Station to Princeton (not Princeton Junction). As of September 2017, it costs $17.75 for a one-way ride, including a ticket via the Princeton Shuttle, whereas it would be $16.00 without it, prices are subject to change in the future. The southbound train from Penn Station will stop at Princeton Junction; disembark there and hold on to your ticket, as you'll need it to take the shuttle train ("dinky") from Princeton Junction to Princeton. The shuttle's Princeton terminus is at the south edge of campus, in close proximity to the newly (as of September 2017) erected arts center, theater, and music building. The average travel time from New York to Princeton would be 70-80 minutes, but delays, such as summer/winter construction would hamper it.

Walking from the Dinky
Reaching the center of campus from the Dinky is a bit tricky. To reach the center of campus (containing the Admissions Office, Nassau Hall, the University's oldest building, etc.), walk north from the station through a group of triangle-shaped buildings (I.M. Pei-designed Spelman College), continue north on a road past a gymnasium (on your right) and a dormitory (on your left). This road dead-ends in a loop behind another dormitory, continue walking north until you reach an immense staircase terminating at an archway; this is the Blair Arch. Walk up the stairs and continue eastward along the path. When you reach a white marble building (Clio Hall), the admissions office (West College) will be just to the north, on your left, and Nassau Hall will be further north. A stair-free, less confusing path, is to take the same path through Spelman, but walk behind the gym to a road through the center of campus (Elm Drive), which leads north to West College and Nassau Hall. Visitors may wish to visit the Frist Campus Center for a campus tour. Tours depart from the Welcome Desk on the main floor of the Campus Center (take the stairs down, not up, at the front of the building). To get to Frist from the Dinky Station, the least confusing (albeit far from the shortest) path is to take Elm Drive until one reaches an east-west path running behind a white marble building. Make a right (east) on this path, and walk until you reach a major street (Washington Road). Don't cross Washington; just turn right (south), and continue until you reach the Campus Center, which is easily recognizable by "Fristhenge", a thin brickcourse supported by pillars in front of the building. (Preferably, one would continue north on Elm Drive and ask for a map at West College.)

By bus
COACH USA (under the name Suburban) offers bus service from New York and New Brunswick to Princeton.
New Jersey Transit operates several commuter bus lines connecting Princeton with other areas. Several bus stops are located throughout Princeton Borough and Township. Buses generally leave on every half-hour between 8.30 am and 9 pm weekdays, and irregularly before and after those hours. The Saturday schedule is similar, and the Sunday schedule is hourly.

By car
Two major highways, Route 206 and Route 27, pass through Princeton. U.S. Route 1 runs just east of the town while Interstate 95 and the New Jersey Turnpike are two alternative routes to get into the area.
The town's main street is Nassau Street, on which the majority of shops and eateries can be found. Although Princeton has parallel parking spaces along the main roads, most are metered and all are checked frequently by the infamously vigilant local parking patrol. The Princeton Parking Cash Card, available from machines in Spring Street Garage, conveniently pays for parking at all meters and allows for the reclamation of unused "time" upon return to the meter; "max out" the meter then take back unused credit upon return to forfend the award of parking tickets in the forty dollar range. There are multiple parking garages; the municipal garage on Spring Street, a few dozen feet from the Princeton Record Exchange, is the most affordable, but the pricier garages in Palmer Square and on Chambers Street are convenient to many locations as well. Infrequent visitors must note with dismay that Sunday parking on the street is no longer free.

Get around
Everything in the downtown area is easily accessible on foot from the main parts of the campus or the two hotels in town. A physically fit visitor can reach any part of town with a bicycle. The only public transit is a single bus line that makes a leisurely loop around the outer parts of the town. Taxis are easily available by cell phone, or at the taxi stand on Nassau St and Witherspoon.
The university operates several buses between campus, university housing, and several campus parking lots. These buses are for faculty, staff, students, and campus visitors, but no checking is done. See also the
real-time bus map
.
See
The University Campus, with many attractive buildings in "Collegiate Gothic" style as well as colonial-era Nassau Hall (the temporary capitol of the United States for a summer) and the strikingly modern Woodrow Wilson School building. Don't miss the stately University Chapel with it stained glass and stone arches. The Princeton library has spectacular exhibits and standing collections you can get up close and personal. The Princeton University Art Museum also features an impressive collection of works by an array of well known and highly touted artists from throughout history. College tours start at the Frist College Center building; check website for times.
The Fountain of Freedom, outside the white marble-columned Woodrow Wilson School building. The fountain is surrounded by a large pool. The pool is less than 2 feet deep, and there will often be children playing in the fountain. It is also a tradition for the University's marching band to play while standing in the fountain after Princeton football victories.
The Princeton Public Library, corner of Wiggins and Witherspoon. The library has been at this location since the 1970s, but recently rebuilt a state-of-the-art facility. They offer free Internet access to all if you need to check email or print a ticket. Their wireless network reaches out to the plaza for 24/7 access. Near many cafes and less than a quarter mile from Palmer Square.
19th century mansions on Library Place, Elm Street, and nearby.
Small historical house museum at Bambridge House on Nassau Street.

Albert Einstein's house

address: 112 Mercer St.

At his request there is no marker but it is the small, white, ordinary home located across Mercer Road from a small park. You can see it best on foot as Mercer is busy and there is nowhere to pull over. From Nassau Street, bear left onto Mercer. Walk past elegant row houses and a large church and continue past the campus of the Princeton Theological Seminary. At the bottom of the hill on the left side of the road, small homes front onto the road directly above the sidewalk. The second one you encounter was Einstein's.
The picturesque, 18th-century Nassau Inn in Palmer Square is worth visiting even for those not wealthy enough to book a room there.
Princeton Cemetery, in the geographic center of town, half a mile north of Nassau street. Contains many graves dating back to the early 19th century. Look for the resting places of Kurt Godel, Aaron Burr and Grover Cleveland.
Carnegie Lake, a manmade lake financed by 19th century steel magnate Andrew Carnegie. It is just south of the main university campus and roughly 1 mile from Palmer Square. It is extraordinarily picturesque. The University's nationally-ranked crew team practices here, and it offers boating (no gas motors), canoeing, fishing, and, in the winter, ice skating.

phone: +1 609-921-0074

address: 500 Mercer Road

A healthy walk from the center of town along Mercer Road through a prosperous residential neighborhood. Site of an engagement in the Revoutionary War as Continental troops followed up their victory at Trenton by pursuing the retreating enemy. A memorial on the field incorporates imposing columns from the mansion of Richard Stockton, an area resident who signed the Declaration of Independence before renouncing the Revolutionary cause. Every other year the Battle of Princeton, the second George Washington ever won, is re-created at the site complete with firing cannons, men on horseback and charging troops. Dress warmly.
Continue away from town on Mercer Street to see the striking 18th century Quaker Meeting House (ironically adjoining the battlefield), with its simple cemetery, and the 200-year old stone bridge, still in use, across peaceful Stony Brook.
The towpath along manmade Carnegie Lake and the early-19th C Delaware and Raritan Canal (D&R) passing numerous original canal locks and other historic structures. The towpath runs for many miles between the Raritan River in New Brunswick to the Delaware River at Trenton. Look for canoe and kayak rentals at Princeton, Griggstown and other locations. If you picnic, watch for poison ivy which abounds along the banks of the canal but also be on the lookout for Great Blue Heron, turtles and deer.
Campus of nearby The Lawrenceville School, one of the oldest and most respected prep schools in the country. Also located near Princeton are the Princeton Day School, Hun School, Peddie School, and Sacred Heart Academy.
Drumthwacket - The Governor's official residence - access is restricted, but tours of the historic mansion in Princeton are available for limited hours. Current Governor Chris Christie does not reside at Drumthwacket, preferring to remain at his private residence in Morris County, and thus tours are more easily accessible than otherwise.
Do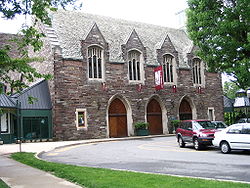 Whether with family or by yourself, there is a variety of things to do throughout the duration of your stay in Princeton. From walking Princeton University campus grounds, to visiting the Princeton art museum there are many cultural activities to take part in.
phone: +1 609-258-ARTS

address: 91 University Place

Located on the campus of Princeton University, this Tony-award winning theater showcases several productions before they arrive on Broadway. Additionally, many famous musical and dance troupes perform at McCarter each year.
Princeton Plasma Physics Laboratory, a university affiliated national research laboratory. The world leader in plasma physics and nuclear fusion experiments. Offers tours on certain dates; please check with the website for more information

phone: +1 609 683-7595

address: 160 Nassau St

Movie theater on Nassau Street that shows a great interest in independent movies as well as popular flicks. Showing only two movies at a time, this theater provides a quaint, relaxing atmosphere.
Buy
Downtown Princeton is full of shops. Many are high-priced boutiques catering to the town's non-student residents, although some are worth mentioning. Almost all are on Nassau Street, the heart of Princeton.
Dandelion, 47 Palmer Square West, 609-921-0345 Unique jewelry which provides an affordable alternative to mainstream stores like Zale's.

phone: +1 609 921-0881

address: 20 S Tulane St

One of the best record stores in the country, featuring a large selection of CDs and DVD's $4.99 and under.

Zoe

phone: +1 609-497-0704

address: 11 Hulfish Street

One of the most well known shops especially for its upscale clothing. Although a bit on the pricey side, you will without a doubt find everything, and more than what you're looking for. Zoe carries anything from designer men's and women's clothing as well as accessories, shoes, bags, and jewelry. The store also hosts many events during the summer months, that draw's in thousands of locals from all over New Jersey.
Princeton Running Company, a local athletic store, offering a wide range of items and helpful advice.
Morning Glory, located on Nassau Street. Sells unique small trinkets and gift items.

Greene Street Consignment Shop

address: 192 Nassau Street

Trendy consignment shop with vintage clothing, located right on Nassau Street.

Labyrinth Books

address: 122 Nassau Street

Open only a few years, this book store has become rapidly popular, selling new, used and academic books. Great prices and even better selections.
Eat
phone: +1 609 921-2798

address: 11 Witherspoon Street

Bent Spoon, very good ice cream for a rather high price. Uses locally sourced ingredients, in Palmer Square.
Blue Point Grill, excellent seafood (arguably the best in Princeton), but served with a meager selection of side dishes. On Nassau Street between Hoagie Haven and Tiger Noodles. Very popular in the evenings. Offers outside dining experience.
Bon Appetit, located in the Princeton Shopping Center, 301N Harrison St., 609 924 7755. European-style market and café established in 1967.
Camillo's Café, in the Princeton Shopping Center, 301N Harrison St., 609 252 0608. Italian restaurant. Very pricey.
Chuck's Cafe, near Nassau and Witherspoon. Offers casual quick meals. Tremendous chicken wings; locally revered for its wings

Conte's Pizza

address: 339 Witherspoon Street

Often said to be Princeton's finest pizzeria. Others find the pizza to be dry and dull, but if you're looking for pizza and a beer this is the place. One of the few with a liquor license.

phone: +1 609 924-0078

address: 66 Witherspoon St

Ferry House, one of Princeton's finest restaurants; relatively expensive. On Witherspoon Street.

Fruity Yogurt

address: 166 Nassau Street

This adorable yogurt shop is located right in the heart of downtown Princeton. They make a variety of different flavors of yogurt which you prepare for yourself and even add on your own toppings. They also sell bubble tea.
George's Roasters Nassau St., a deli that serves hot sandwiches. Owned by the guys who own "Hoagie Haven".

Halo Pub/Halo Fete

phone: +1 609 921-1710

address: 9 Hulfish Street

Halo Pub is an ice cream shop designed to look like an old-fashioned pub and specializing in locally made ice cream using milk from nearby Halo Farm. Soft serve is known as "draught ice cream" and hard ice cream is referred to as "Ye Olde Hard Stuff". The hard ice cream flavors are divided into categories including: "the simple but elegant," "the liquors and liqueurs," "the heath bars," and even the "We'll never make," (Tutti Frutti and Bubble Gum). Halo Pub also has an excellent coffee selection, including the most-reasonably priced espresso drinks in town. Halo Fete, Halo Pub's next-door neighbor, serves gourmet ice cream cakes and pastries.
Hoagie Haven, Nassau St., A deli in downtown Princeton serving cheap, tasty hot and cold subs. Very economical; offers a unique taste for the same price as Subways, McDonalds, or other fast food restaurants. A Princeton staple, and well-known to nearly anyone living in the Central Jersey region.

Iano's Rosticceria

address: 86 Nassau Street

A Pizzeria in downtown Princeton.

phone: +1 609 924-0085

address: 32 Witherspoon St

Ivy Garden

address: 238 Nassau St

Good Chinese food.

phone: +1 609 924-5387

address: 20 Nassau Street

La Mezzaluna

address: 25 Witherspoon Street

Italian cuisine.

phone: +1 609-921-2779

address: Princeton Shopping Center, 301 N. Harrison St

Named one of America's "Great Great Neighborhood Restaurants" by Bon Apetit magazine, this restaurant features a relaxed atmosphere. In addition to the eclectic entre selection, Main Street features desserts, beer and wine.
Masala Grille, one of Princeton's most popular Indian restaurants; good food at affordable prices. 15 Chambers Street.

Massimo's Café

address: 124 Nassau Street

A pizzeria in downtown Princeton.
Mediterra, great atmosphere, inconsistent food, inattentive service. Hulfish Street.
Mehek, on Nassau street. Widely considered Princeton's best and most authentic Indian food. Moderately priced. Right after the Nassau Street Washington Intersect.
Mexican Village, Leigh St., A small restaurant in the poorer district of Princeton. This restaurant serves excellent Mexican cuisine at low prices. Each dinner begins with nachos and an excellent salsa, in lieu of bread.

phone: +1 609 688-8808

address: 66 Witherspoon Street

Old World Pizza Nassau St., a brick-oven style pizzeria. located right next to Hoagie Haven. Authentic pizza experience.

address: 22 Witherspoon Street

Catering for all occasions, Olives is a wonderful deli style shop consisting of fresh, homemade deli foods, salads, sandwiches and pastries. Quick foods for on-the-go ranging from $5-15, Olives provides affordable yet exquisite food.
Palace of India (formerly Kalluri Corner), 235A Nassau Street (right next to Thai Village). One of Princeton's most popular - and worst - Indian restaurants.
Pizza Star, located in the Princeton Shopping Center, 301 N Harrison St., +1 609 921-7422. Best NY style pizza in town.

address: 154 Nassau St

Expect long lines out the door for this small restaurant if coming for a weekend brunch. Also loved by the locals for sentimental reasons, if not for the food.

Red Onion

address: 20 Nassau St

Fantastic sandwiches.

phone: +1 609-924-4377

address: 14 Witherspoon St

and 254 Nassau St., +1 609-921-8011 A coffee shop that is buzzing most mornings with large crowds coming to get their caffeine fix. The Nassau Street location features slow brew by-the-cup, made to order coffee using a melitta-style cone. The Witherspoon street location has live music most Saturdays and displays work by local artists.
Taste of Mexico, in the Princeton Shopping Center, 310 North Harrison Street, +1 609-252-1575. Second location on Nassau St behind naked pizza

Teresa's Café

phone: +1 609-921-1974

address: 23 Palmer Square East

A simple Italian inspired atmosphere located in Princeton's Palmer Square. All seasonal pasta dishes, sandwiches, and pizza are made with fresh local ingredients, all at a reasonable price range for both families and for that special someone.
Thai Village, the only Thai restaurant in Princeton. 235 Nassau Street (right next to Kalluri Corner).

phone: +1 609-924-BENT

address: 35 Palmer Square West

Features artisan ice-cream with a gelato-like texture and European-style hot chocolate. Ice cream and sorbet flavors range from dark chocolate habenero to olive oil or avocado. A little bit expensive though.

address: 179 Nassau St

Ice cream and chocolates. One of the most popular menu items is a blend-in, your choice of ice cream mixed with candies, fruit, or nuts. They also offer a number of low-fat and fat-free flavors.

Tico's Eatery & Juice Bar

address: 33 Witherspoon Street

Offers good sandwiches, wraps, paninis, salads, and quesadillas.
Tiger Noodles, inexpensive and popular Chinese restaurant on 260 Nassau Street. Accept only cash and checks, near Hoagie Haven and Old World Pizza.
Tomo sushi, wonderful Japanese cuisine express on 236 Nassau St +1 609 924-8897.

phone: +1 609 924-5143

address: 41 Leigh Ave

A very authentic Mexican restaurant. BYOB, cash only, great tasting food, and just a little walk from the center of town.

address: 84 Nassau Street

This popular self-serve frozen yogurt lounge in the heart of Princeton is a favorite of college students, locals, and visitors alike. They have a wide selection of delicious live & active culture frozen yogurt with an incredible array of fresh toppings (some healthy, some just fun) in a homey, comfortable atmosphere. Create your own snack or dessert, then kick back and relax for a while... they have games, books, TV, free wi-fi and super comfy seating areas.
Witherspoon Grill, on Witherspooon Street, next to the Public Library. A popular restaurant, serves great steaks. Dine outside experience. Very expensive.
Zorba's Brother, inexpensive Greek diner on Nassau Street (Close to Palmer Square).
Drink
Sleep
Travelers on a shoestring budget should be aware that it is difficult to secure inexpensive lodging in town. There are no known hostels or lodging-houses in the Princeton area.
Nassau Inn

phone: +1 609-921-7500

address: 10 Palmer Square

A full service hotel featuring 203 elegant guestrooms, 10,000 square feet of meeting and event space and the historic Yankee Doodle Tap Room- where Einstein himself sipped on a brew and then carved his name into one of the booths.

phone: +1 609 924-1707

address: 20 Bayard Ln

address: 20 Library Place

The Princeton Theological Seminary lets out rooms to individuals (usually for conferences at the university or seminary) for $80 a night.
There are a number of hotels and motels along Route 1 to the east (outside of actual town limits), but those without cars must note that there are no public transportation links to downtown Princeton from this area.
Go next