Procida
Procida
is a small island near
Naples
in
Campania
,
Italy
.
Understand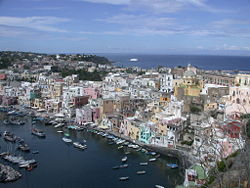 Procida is the smallest island of the Gulf of Naples, relatively rich in attractions and archaeology.
The architecture of Procida has a Greek origin. In fact, the history of Procida is concentrated first of all in the medieval village "Terra Murata" and on "Corricella", the fishing settlement.
The landmarks of Procida reflect typical Mediterranean pastel colours.
Get in
Ferry service is available at reasonable prices from Naples, Capri, and Ischia. you can get ferry information via http://www.procida.it/orari.htm. From the ground floor of Napoli Centro train station, you can take the metro to station Pozzuoli then get off and take the ferry at the port of Pozzuoli.
Get around
Local EAV buses drive in 20-30m intervals around the island on
numerous (partially identical) routes
, the price is about €1.2 per ride. One-way drive across the island takes about 15 minutes. While buses originating from the main ferry port tend to be relatively empty, in other direction you may not be even able to hop on.
The historical part of the island is walkable within 15 minutes. Walking across the island is doable too, but due to narrow roads it is not particularly enjoyable. For this reason, bringing a car on the island neither makes too much sense - unless you plan to train not scratching it while avoiding buses, motorcycles etc. (Electro-)Bicycle or similar small vehicle is a good alternative.
The Moorings Sailing Holidays have a base on Procida, offering bareboat charters for you to explore the islands and coastline at your own pace.
See
Terra MurataA medieval village with calm atmosphere, a few small cafes and viewpoints.
Marina di CorricellaA romantic ancient fishing village, nowadays mostly restaurant center, full of colorful houses.
VivaraThis small island is a natural reserve, linked to Procida by a bridge. Archaeological excavations were done here.
The island has served as the set for numerous films, such as The Postman by Massimo Troisi, and some scenes in The Talented Mr. Ripley were shot on Corricella. Numerous info tables are placed around the island, showing them.
Do

Procida has 6 beaches and 3 tufaceous sides with crystal-clear waters.

Eat
Procida offers simply cooking and at least 10 excellent restaurants with plain cooking based on fresh fish. This simple style never fails, thanks to the 20 fishing boats and a lot of small drifters.
The specialties of the cooking are:
coniglio alla procidana - stewed rabbit - which goes back to the Borbonen who came on Procida to hunt the wild rabbit on Vivara
spaghetti al riccio di mare (spaghetti with sea-urchin)
various seafood dishes (especially grilled or as ragu al mare for pasta)
Best dining spots are in Marina Corricella though the quality is the same practically anywhere.
Drink
Limoncello and any available local wines (local "island wine" probably comes from nearby Ischia though)

Sleep
phone: +39 081 896 74 88

address: Via Rivoli n.6 80079 Procida (NA)

B&B Il Gelsomino

phone: +39 3334350755

address: Via Faro
Go next
Ferries to
Ischia
depart many times a day.