Provincetown
Provincetown
is at the very tip of the
Cape Cod
peninsula region of
Massachusetts
,
USA
. Perhaps due to being at the remote end of the Cape and because of its variety of beautiful scenes, Provincetown has attracted artists of all types over the years. One of the oldest artist colonies in America, it has produced a large number of excellent galleries, cutting edge theatre and many unique shops. There is also the persistence of an attitude of tolerance, making Provincetown a preferred home and travel destination for many gays and lesbians.
"P-town"
, as it is sometimes called, also has an intriguing history as the first landing site of the Pilgrims and the place where the Mayflower Compact was signed. Fishing and whaling have also been a huge part of Provincetown's past. Its large, safe harbor and prime location made it the Cape's fishing center, with thousands of ships calling it home port. The glory days of fishing are now gone and only about two dozen ships continue the traditions. The Portuguese influence brought by the fishing era still lives in Provincetown.
Provincetown is also blessed with pristine beaches and dunes on the Atlantic side. Race Point Beach has often made the lists of top beaches in America. It is also one of the few spots on the east coast where one can watch the sun set into the water.
Understand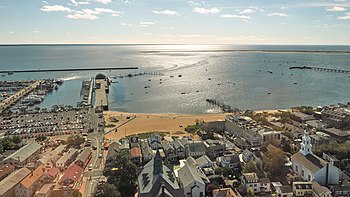 As the first stopping point of the English settlers on the
Mayflower
, Provincetown grew into a colonial port, but remained small compared to other Yankee trading towns until the 19th century.
The town became prosperous in the 1800s as a fishing and whaling center. The population was bolstered by a number of Portuguese sailors, many of whom were from the
Azores
, and came to live in Provincetown after being hired to work on US ships. Today, the town is a hub for
whale watching
vessels, which provide excellent opportunities to see whales.
After the 1898 Portland Gale severely damaged the town's fishing industry, members of the town's burgeoning art and theater community took over many of the abandoned buildings. By the early decades of the 20th century, the town had acquired an international reputation for its artistic and literary output.
Some of the most famous literary lights and artists who lived in Provincetown included playwrights Tennessee Williams, Eugene O'Neill, and Susan Glaspell; Artists Marsden Hartley, Robert Motherwell, Willem de Kooning, and Jackson Pollock; Norman Mailer, author, winner of the Pulitzer Prize, and co-founder of the
Village Voice
, beat poet Harry Kemp and
Slaughterhouse-Five
writer Kurt Vonnegut. Today, the town is well-known for off-beat, queer and left of center writers and media personalities, including filmmaker John Waters; Michael Cunningham, author of the Pulitzer Prize-winning
The Hours
; Andrew Sullivan, author, columnist for the
Daily Beast
; blogger Andy Towle, poet and founder of Towleroad.com; Kate Clinton, comedian and writer; and Anthony Bourdain, chef, author, television host.
Because of its status as the first artist's colony in the U.S., the town has a strong ethic of tolerance which supported the development of a large gay community from the 1960s on. Today it is quite common to see same-sex couples showing affection and one can expect to encounter men in drag, particularly on Commercial Street, which is the main string of restaurants, shops and galleries. In general, however, the town's attitude of tolerance extends to heterosexuals, who are increasingly present and are welcome in most establishments.
Climate
The water surrounding Provincetown has the effect of moderating temperatures in all seasons, such that the entire town is included in USDA plant hardiness zone 7a, which indicates an average annual extreme minimum temperature (1976–2005) of between 0 and 5 °F (-17.8 and -15 °C). The water also has the effect of delaying the onset of the seasons, by keeping spring temperatures cooler and fall temperatures warmer than the rest of the state.
The average annual snowfall is per year. The record high temperature was 98°F in 1964. The lowest recorded temperature was -4°F in 1976.
Read
Land's End: A Walk in Provincetown
() by Michael Cunningham. This award-winning author and resident of Ptown writes an engaging travelogue about the city at the tip at of the Cape.
The Maytrees: A Novel
() by Anne Dillard. Set in Provincetown, this novel examines family life and the mysteries of marriage, the effect of forgiveness and human development.
Ptown: Art, Sex, and Money on the Outer Cape
() by Peter Manso. This (now) dated, gossipy take on the people of Provincetown and the lifestyles of the somewhat rich and barely famous would make a good beach read. Published in 2003.
Get in
By car
The fastest route from the Cape Cod Canal bridges is Route 6, the
Mid Cape Highway
. Travel time from
Boston
's Logan Airport (
BOS
) or Providence's T.F. Green Airport (PVD) is about 2½ hours without traffic slowdowns. From the Cape Cod Canal, Provincetown is about 60 mi (97 km) and 1½ hours. Eastham, with its 40-mph speed limit and two-lane highway, is a notorious speed-trap.

By bus
By plane
Provincetown Municipal Airport

phone: +1 508 487-0241

address: 176 Race Point Rd

Taxis (~$7) and shuttles (~$2) are available to take you to central Provincetown.

address: 660 Barnstable Rd., Hyannis, MA 02601

Cape Air flies several times a day from Boston's Logan Airport to Provincetown Airport, 20-min flight; in the summer they also offer flights to White Plains, New York, which is accessible to the greater New York City area, 60-min flight. Cape Air operates Cessnas and is the only scheduled airline serving Provincetown.
By boat
Ferry service to Provincetown operates seasonally, late spring to mid-fall. All services dock at , just to the south of Lopes Square (off Commercial St at the foot of Standish St). All ferry companies allow bicycles on board for a fee.
From Boston:
address: 1 Long Wharf, Boston, MA 02210

Catamaran service in 90 minutes. Runs from mid-May to early October.

phone: +1 617 748-1428

address: 200 Seaport Blvd. Suite 75, Boston

High Speed ferry crosses in 90 minutes. Runs from mid-May through October.

From Plymouth:
address: 77 Water St., Plymouth

Summer only.
Get around
By bicycle
Ptown Bikes, 42 Bradford Street, 9AM to 6 PM (summer only). Bicycle rentals, sales, accessories, and repairs.
Arnold's Bikes, Commercial Street, 10AM to 5PM (summer only). Bicycle rentals and repairs.
Gale Force Bikes & Beach Market, 10AM to 5PM (summer only). Bicycle rentals, sales, accessories, and repairs. Beach Market sandwich shop.
The Bike Shack, 63 Shank Painter Road, 10AM to 5PM (summer only). Bicycle rentals, sales, accessories, and repairs.
Provincetown Bike Rentals, 136 Bradford Street, 10AM to 5PM (summer only). Bicycle rentals.
By rented car
phone: +1 508 487-0009

address: Provincetown Municipal Airport
By taxi
By bus
Provincetown/North Truro Shuttle

phone: +1 508-385-1430

Routes run late May to late September. Two routes go from the ferry dock to various tourist attractions including the visitors center, Provincetown Art Association and Museum, beaches, First Pilgrim Park, Highland Lighthouse and Museum and the Flex bus stop.
See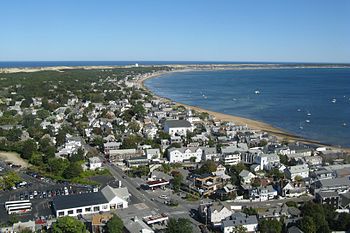 phone: +1 508 487-1310

address: High Pole Hill Rd.

The Pilgrim Monument is a 252-foot tall granite tower based on the Torre Del Mangia in Siena, Italy. Visitors can climb to the top for fantastic views. At the base is the Museum of Provincetown.

phone: +1 508 487-1256

address: Race Point Rd

Observation deck with 360-degree view is open year round. Ranger guided tours, activities and exhibits about the natural and cultural history of the area. Films shown on regular schedule daily, see website. 5½-mile bike loop.
Museums
Do
Festivals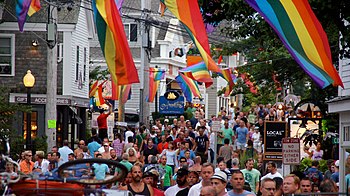 Theater
phone: +1 508 487-9222

address: 214 Commercial St.

Presents high quality drag shows and Broadway divas all summer long. This is the home of Varla Jean Merman.

phone: +1 508 487-9793

address: 238 Bradford St

There are two companies operating within the theater. The Provincetown Repertory Theatre is an acclaimed company that presents a mix of classic and modern productions. The Provincetown Theatre Company is the birthplace of the modern American theater.

phone: +1 512 466-6339

CTEK Arts presents professional quality theater, develops new scripts and interdisciplinary performances, and provides education in the arts on a year-round basis.
Whale watching & cruises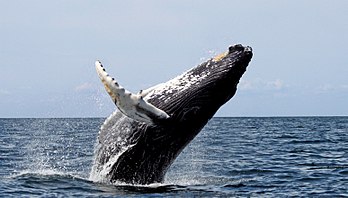 Bike tours
phone: +1 508 687-0038

address: 6 Standish St

Explore the art, culture, & history of Provincetown on a guided bicycle tour departing from the center of town. Offers tours of town, the Cape Cod National Seashore's Province Lands Bike Trail, and bike school classes including "Survive Commercial Street."
Dune tours
phone: +1 508-487-1950

address: 4 Standish St.

Over 60 years experience providing a wide variety of tours, including a sunset clambake and a lighthouse tour. The only way to see the dunes and learn the history and see the natural, unspoilt beauty of the Cape and her dunes.
Beaches
Herring Cove

Long PointBy some it's called "the end of the earth". An 1827 lighthouse graces the very tip of the Cape. Beware of poison ivy.

Race Point Beach

Town Beaches

address: on the bay side in town

A convenient beach, but not as nice as the others.
Fishing
Race Point and Herring Cove beaches are popular surfcasting spots.
The following companies offer charters:
phone: +1 508 487-0034

address: MacMillan Wharf

A 35-foot downeast fishing boat.

Cee Jay

phone: +1 508 487-4330

Deep sea fishing.

The Ginny G - Charter Sportfishing

phone: +1 508 246-3656

address: MacMillan Wharf
Bike
The Province Lands Bike Trail is an 8-mile, two-way paved loop through the dunes, with access to Herring Cove, Race Point, Provincetown Airport, the Province Lands Visitor Center, and Beech Forest. It was the first bike trail built in a National Park (1967). It can be accessed from town by crossing Route 6 via Conwell Street and entering at Beech Forest or via the bike lanes on Bradford Street and Province Lands Road to the trailhead north of Herring Cove Beach.
Buy
Art Galleries
Stores
phone: +1 508 487-3338

address: 355 Commercial St.

A unique clothing store. All of Birdie's art is specifically designed with images of Provincetown and Cape Cod. One of the fun aspects of shopping at Birdie's is that you can watch her print while you shop - but don't ask her more than three questions, or she'll put you to work folding tee-shirts!

phone: +1 508 487-1147

address: 290a Commercial St.

Coastline Tattoo is dedicated to creating quality, one-of-a-kind tattoos and artwork in a clean, friendly, creative studio environment. Open year-round.

phone: +1 508 487-9676

address: 192 Commercial St.

A premiere leather, rubber and fetish gear store.

Puzzle Me This

phone: +1 508 487-1059

address: 290 Commercial St.

Provincetown's only game store features challenging and cutting-edge board games, brain teasers, puzzles and card games. With a huge inventory of products, there is something for everybody here.

phone: +1 508 487-2500

address: 200 Commercial St.

Eclectic and high quality objets d'art and home decor shop for interior and outdoor spaces.

phone: +1 508 487-6800

address: 393 Commercial St.

Over 2000 modern & useful items for the home. Frommers: "A breath of fresh design..."

Yardarm Liquors

phone: +1 508 487-0700

address: 38 Conwell St.

The largest liquor store on the outer Cape featuring beer, wine, and liquor
Eat
Bakeries and coffee shops
Casual
Upscale casual dining
Fine Dining
Drink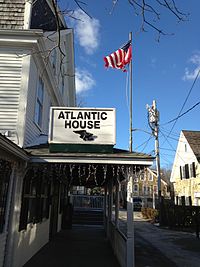 Governor Bradford

phone: +1 508 487-2781

address: 312 Commercial Street

Drinks and raw bar are the focus here.

phone: +1 508 487-5804

address: 335 Commercial St.

Great selection of beer, and raw oysters.
Gay and Lesbian Oriented
phone: +1 508 487-3821

address: 6 Masonic Pl.

Perhaps the oldest gay bar in the United States. Was frequented by Tennessee Williams and Eugene O'Neill.

Crown & Anchor Entertainment Complex

phone: +1 508 487-3821

address: 247 Commercial St.

This complex includes multiple bars with different themes, including a piano bar and a leather bar (see the Vault below).

address: 11 Carver St.

This inn contains three bars: Porch Lounge, the Lobby Piano Bar and Purgatory Dance Club.

phone: +1 508 413-9527

address: 359 Commercial St.

Harbor Lounge is presided over by Liam McGonigle, a gingerbear from Ireland who makes kick-ass drinks and has a nice selection of beer and wines.

Monkey Bar

phone: +1 508 487-2879

address: 149 Commercial St.

Informal and fun bar with great martinis.

phone: +1 508 487-1430

address: 247 Commercial St.

Provincetown's premier nightclub. Within the Crown & Anchor complex.

phone: +1 508-487-9005

address: 67 Bradford St.

An upscale bar at the Brass Key Guesthouse featuring an outdoor patio with lounge seating, beautiful fountain, stunning gas fire pit and delicious cocktails. In the center of Provincetown. Ample parking available at the adjacent municipal parking lot.

phone: +1 508 487-1430

address: 247 Commercial St.

Provincetown's leather bar. Within the Crown & Anchor complex.

phone: +1 508 487-1430

address: 247 Commercial St.

Provincetown's only video/sports bar. Within the Crown & Anchor complex.
Sleep
Budget
Mid-range
Splurge

Campgrounds
Go next