Provo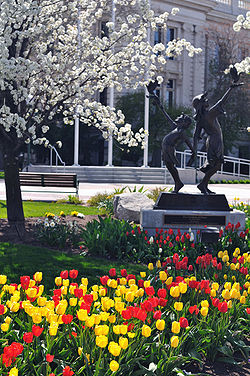 Provo
, a city in the
Wasatch Range
region of the state of
Utah
in the
United States of America
, is known as a base for exploring the surrounding countryside and national parks. Provo is in Utah County, which is often considered the most conservative county in the most conservative state in the country. Approximately 90% of the residents are members of the Church of Jesus Christ of Latter-day Saints (LDS or Mormon), compared to about 65% of the state as a whole. It is also the location of Brigham Young University, an LDS-owned university; the public Utah Valley University is located in the adjacent city of
Orem
.
Provo has a population of about 115,000 people, but the Provo-
Orem
metropolitan area that encompasses Utah Valley is home to over half a million people. Other cities in the valley are very accessible, especially Orem, which sits side-by-side with Provo. Because of Orem's proximity, visitors to Provo should also look at things to do in Orem, as well as places to eat and sleep, depending on their needs.
The
Utah Valley Visitor's Center
, recently relocated to the new Utah Valley Convention Center (220 W Center St, Suite 100, +1-800-222-8824, M-F 8:30AM-5PM) and its website provides free maps, itineraries, and activity ideas for Provo and the rest of Utah Valley.
Understand
The LDS (Mormon) church dominates here, and many businesses (including some gas stations) are closed on Sunday. Provo is also considered one of the most right-leaning, politically "conservative" communities in the USA, although BYU and UVU students add some political variety. BYU students are not required to practise the Mormon faith, but are required to abide by the Mormon code of conduct (no premarital sex, no consumption of tea, coffee or alcohol) while enrolled at the university.
On BYU campus, nearly all campus services are closed Tuesdays between 11AM and noon due to weekly campus devotionals and forums.
The main area code in Provo is 801, but because the area served by 801 is also served by a second area code (385), the area code must be dialed along with the local number.

Get in
By plane
The most common way to get to Provo is to fly into
Salt Lake City
(SLC), and drive or catch a shuttle from the airport. The drive follows I-15 and usually takes between 45 minutes and an hour, but can take up to an hour and a half during heavy traffic; for better traffic conditions, travelers can take I-215 through the Salt Lake Valley until it connects to I-15, then take I-15 to Provo.
Allegiant Air offers twice-weekly flights between Provo Airport (
PVU
), and
Mesa
, Arizona.
By bus
You can take the
Utah Transit Authority
(UTA) bus and light rail system from northern Utah and Salt Lake City into Provo, but scheduling is limited. In addition to that, public transportation in Provo is mostly on a 30-minute or hourly schedule, although some routes have 15-minute service, so plan your transit schedule carefully.
Route 550 runs between the Salt Lake City airport parking garage and Salt Lake Central Station about every half-hour. From there, you can transfer to FrontRunner to get to Provo. Below are some options. For bus rides, always check the UTA website for detours and schedule changes. With the implementation of FrontRunner, express buses from Salt Lake City have been canceled.
Weekdays, you may take the southbound TRAX line to the Sandy City Transit Center. From here you may Transfer to the 811 Bus Route (Utah Valley Trax Connector) that will deliver you to the Lehi Intermodal Center. From there you may board the Southbound FrontRunner train to Provo. This option will take about two hours.
Greyhound
also stops in Provo (124 N 300 W). Provo is a stop on the routes from Salt Lake, Las Vegas, and Grand Junction.
By train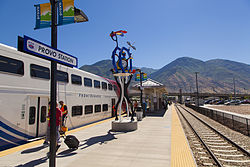 Amtrak
serves Provo with the
California Zephyr
, which runs daily between
Emeryville
(in the
San Francisco Bay Area
) and
Chicago
. The train platform (PRO) is at 600 S 300 W and has no services.
FrontRunner
is a commuter rail service that connects Provo to major cities along the Wasatch Range, including; Orem, American Fork, Lehi, Draper, South Jordan, Murray, Salt Lake City, Woods Cross, Farmington, Layton, Clearfield, Roy, Ogden and Pleasant View. The train averages 79 miles per hour and the time from Provo to Salt Lake City is 55 minutes. Many stations are intermodal and connect to other Utah Transit Authority (UTA) bus lines and Trax. The Fronrunner/UTA Intermodal station is located at 690 South Freedom Boulevard.
By car
I-15, which connects Las Vegas and Salt Lake City, runs through the western half of Provo. By car, Provo is about 45 minutes from Salt Lake City, 6 hours from Las Vegas, and 8 hours from Denver (on Highway 6/I-70). Take I-15 exit 263 for south Provo; exit 265 for downtown (east) or Utah Lake (west); exits 265 and 271 for north Provo and Riverwoods, via Orem; and exit 272 for Provo Canyon, via Orem.
There is heavy construction on I-15 as the freeway is being redeveloped. Slow down, watch for construction workers, and expect delays. From the north, taking State St (from exit 279) through American Fork, Pleasant Grove, Lindon, and Orem is often (but not always) a viable surface-street alternative to the freeway.
Get around
UTA operates a bus system throughout parts of Provo and Orem, but service in the rest of Utah County is sparse when compared to Salt Lake County. New cycling paths are being built throughout the city. Cars are the main method of transportation. Parking is generally easy to find except on the Brigham Young University campus (although permit parking generally opens up to the public in the evenings).
Car rentals are available at the Salt Lake City airport and in various places in Provo. Several car rental agencies are listed here.
phone: +1 801 377-7100

address: 485 S University Ave.

M-F 7:30AM-6PM, Sa 9AM-noon.

phone: +1 801 494-1529

address: 1200 Towne Centre Blvd

M-F 8AM-6PM, Sa 8AM-2PM, Su 12PM-4PM.
Hertz Car Rental, 101 West 100 North (Provo Marriott), +1 801 404-0931. M-F 8AM-4PM.
The majority of Provo's streets follow a grid layout. The city limits between Provo and Orem are often unmarked and unclear. When following directions and finding addresses, take care that you are in the correct city. Many newer road signs indicate the city next to the street address. Also, there are two major streets named "University": University Avenue, which runs through Provo from north to south, and University Parkway (often called simply "Parkway" or the "Diagonal") which runs through both Provo and Orem.
See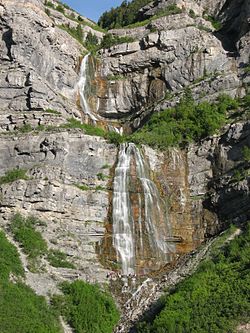 Bridal Veil Falls607-foot waterfall in Provo Canyon that is popular with cyclers and hikers. The waterfall is viewable from the road and a viewing station. A short bike/walking trail leads to the bottom of the falls. The middle level of the falls can be reached via a short but steep trail.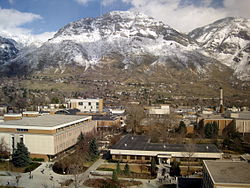 Brigham Young University (BYU)

phone: +1 801-422-3257

address: 1 N University Avenue (general location

Visit Brigham Young University campus. (Campus map) Begin at the Visitors' Desk in the Hinckley Center (North Campus Drive) for an overview and for a guided golfcart tour, if desired. Art galleries at the Museum of Art and Harris Fine Arts Center. Education in Zion exhibit at the Joseph Fielding Smith Building, and other exhibits and events at the Harold B. Lee Library. Food and venues at the Wilkinson Student Center, where the BYU Bookstore is located.

BYU Monte L. Bean Life Science Museum

phone: +1 801-422-5051

address: 645 E 1430 N

Life science museum featuring taxodermied animals in their natural habitats. Very large collection of animals from all over the world, including unusual ones such as a liger (cross between a tiger and a lion), a giant grizzly bear, and a huge elephant named Humphrey. Public shows, which usually include live animals, offered weekdays at 7:30PM and Saturdays at 1PM and 3PM, in the atrium. Children's classes for ages 5-12 ("Saturday Safari") offered on Saturdays in the summer.

phone: +1 801-422-8287

address: North Campus Dr

Museum of art featuring rotating, world-class exhibits, in addition to a permanent collection. Audioguides and docent-led tours available. The Museum Cafe offers lunch onsite (11:30AM-2PM). Next door is the Harris Fine Arts Center, which features galleries of student art. Close by is also the Harold B. Lee Library, which features art and historical exhibits on the 1st and 3rd floors.

phone: +1 801-422-3680

address: 1683 N Canyon Rd

Small but well-kept museum featuring dinosaur fossils, including a top-rated Jurassic Period exhibit. The fossils in this museum were previously kept in storage beneath the football stadium.

BYU Museum of Peoples and Cultures

phone: +1 801-422-0020

address: 700 N 100 E

Very small but award-winning museum focusing on cultural anthropology. Regularly features exhibits about Native American cultures, but also features other cultures.

Crandall Historical Printing Museum

phone: +1 801-377-7777

address: 275 E Center St

Impressive museum featuring a replica of the Gutenburg Press, other historical presses, a model 5 Linotype, and old publications. Individual and group tours are available by appointment.
Do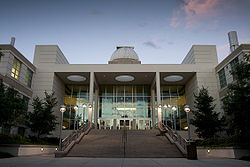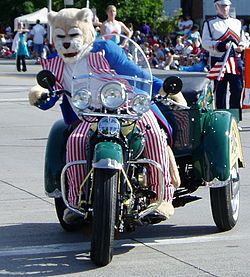 America's Freedom Festival at Provo

phone: +1 801-818-1776

Large festival held every year around the 4th of July. Features the Stadium of Fire, Grand Parade, Balloon Fest, Freedom Days (vendor stalls and carnival rides), Colonial Days, and other activities and events.

phone: +1 801 307-4386

phone: +1 801 422-4322

address: N Campus Dr

BYU hosts a ton of plays, concerts, and other performances each year. There's something going on most nights of the week. Performances are generally held at the Harris Fine Arts Center. Check the website for scheduling and tickets.

phone: +1 801 422-2981

address: Ticket office: 500 E University Pkwy

BYU is a member of the West Coast Conference (WCC) for most sports. A few of its teams have affiliations outside the WCC. Most notably, the football team is "independent" (i.e., not affiliated with any conference). There's always a sports team playing. Check the website for scheduling and tickets. Home basketball games are played at the Marriott Center (1497 N 450 E); home football games are played at LaVell Edwards Stadium (1700 N Canyon Rd). The BYU Legacy Hall (athletics museum and hall of fame) is housed in the Student Athlete Building (1060 N 150 E, M-Sa 7AM-9PM, +1 801-422-2118, free).

phone: +1 801-422-5396

address: Room 465, Eyring Science Center, BYU

Planetarium offering shows for the public. Reservations may be made online. (Campus map)

phone: +1 801-422-3529

address: Room 250, Spencer W. Kimball Tower, BYU

Shows foreign and classic films four days per week in a large auditorium. Tickets not required. See website for weekly schedule (showing times usually provided two weeks in advance). (Campus map)

phone: +1 801-377-9700

address: 36 W Center St

Interactive live comedy show downtown since 1999. Schedule of shows and tickets available at their website. Some shows not open for reservation. Family appropriate.

phone: +1 801-852-7007

address: 425 W Center St

Plays, concerts, events, and an art gallery downtown. Check the website for the schedule and tickets.

phone: +1 801-373-1863

address: 1200 N University Ave

Bowling alley and game center, including traditional arcade games and billiards. Attached to the alley is Costa Vida, a Mexican restaurant.

phone: +1 801 373-6262

address: 1860 S E Bay Blvd (380 E)

Public golf course in the wetlands of south Provo close to Utah Lake. Open Sundays.

Hike the 'Y'A giant concrete Y towers over Provo from "Y Mountain." The zigzagging hike to the Y is relatively easy and takes most people about 45 minutes each way (although if those recently at lower elevations may wish to plan on more time). Once at the Y, you have a lovely view over Utah Valley and Utah Lake. (Another trail leads south from the Y to the peak of Y Mountain.) The hike itself is exposed with little shade, so plan accordingly when hot. The trail is particularly popular with BYU students. Facilities available at trailhead.

Rock CanyonA rugged canyon popular with students, families, hikers, and rock climbers alike. The main trail is very easy, but leads off to other more difficult trails, such as one to the top of Squaw Peak. The mouth of the canyon also connects to Bonneville Shore Trail, which follows the base of the Wasatch Mountains.

phone: +1 801-373-8777

address: 1330 E 300 N

Largest waterpark in Utah with waterslides, a wave pool, and other water attractions. Charge for parking ($5/day or $3 after 4PM).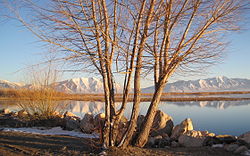 phone: +1 801-375-0731

address: 4400 W Center St

Located directly west of Provo, Utah Lake is the largest freshwater lake in Utah. Popular fishing, boating, parasailing, and camping destination. The Utah Lake Marina is a lovely place at sunset and borders on a marsh with wild birds. Two long jetties reach out into the lake, giving a spectacular view of the valley. Caution: Utah Lake is shallow and very biologically active, meaning that it can sometimes be smelly and algae heavy and often washes up dead fish. Boaters should be wary of windy conditions, as wind can stir up high waves due to the shallow waters. Entrance to the state park is supposedly $9/vehicle or $2/person or bike, but the entrance booth is often closed and sightseers can usually walk in free, particularly during the off season.

Utah Valley SymphonyUtah Valley's symphony since 1959. Usually gives concerts on Wednesdays and Thursdays at the Covey Center for the Arts. Check the website for scheduling; tickets can be purchased through the Covey Center.

Mount TimpanogosLocated to the north of Provo, Mount Timpanogos is a very prominent and well-known landmark across the Wasatch Range. It rises to an impressive elevation of 11,752 ft (3,582 m). It is the location of one of the few permanent snowfields in Utah, and is also the location of several breathtaking, scenic, and popular hikes.

Go skiing in the winter or mountain biking in the summerAt Sundance or alternatively just look at the various art on display.

Fish the Provo riverA good place is at Nunn's Park right across from Bridal Veil Falls in Provo Canyon.

Velour Live Music GalleryOne of Provo's gems. The venue is a mandatory stop for artists from Utah's (surprisingly healthy) local-music scene, and touring artists often sidestep Salt Lake City clubs to play here. A full calendar of shows is available on the venue's website.

phone: +1 385-312-0456

This is a great way to see the city in a spookier way. It's a glimpse into Provo's slightly darker history. Think of it more as a fun bike ride to historical places and hearing good ghost stories. It makes a great date night or activity for anyone. The tours are seasonal (March through November) and only happen on Friday and Saturday night. They also rent bikes. Visit website for tour dates and to buy tickets. $10-16

phone: +1 801-852-7465

address: 100 N Seven Peaks Blvd
Buy
phone: +1 801 852-2400

address: 1200 Towne Centre Blvd

Indoor shopping mall in south Provo. Home to more than 100 retailers and a Cinemark 16 movie theater. Department stores are Dillard's, JC Penney, and Sears. Smaller retailers include clothes and shoe stores, jewelers, and cosmetics. Food court hosts Panda Express, Osaka Japan, Villa Pizza, Subway, McDonald's, Pretzel Maker, Hot Dog on a Stick, Orange Julius, and Sub Zero Ice Cream. Wingers and Red Robin restaurants also on the outside of the mall. Play areas for children are available.

phone: +1 801 802-8430

address: 4801 N University Ave

Chic outdoor shopping center in north Provo. Home to a number of restaurants, including Bajio, Happy Sumo, La Jolla Groves, Malawi's Pizza, Tucano's Brazilian Grill, Shoots, and Subway. Other stores include 3B Yoga (yoga studio with a cafe and boutique), Bath & Body Works, Called to Surf (a surfing store), Soel Boutique, and Blickenstaff's (a toy store). Next door are the Carmike Wynnsong movie theater and the Provo Beach Resort (featuring bowling, simulated golf, a ropes course, and the Flowrider, a simulated wave for surfing and boogeyboarding).

Downtown ProvoIt's being revitalized. Nevertheless, there are still a few interesting and unique shops downtown, made more attractive by their 1880-1910 architecture.

phone: +1 801 343-3770

address: 1221 S University Ave

Store that features stalls for local crafters and vendors to sell their home décor items and handmade crafts. One of the unique gems of northern Utah.

phone: +1 801 373-1545

address: 515 N University Ave

An eccentric gift and keepsake boutique housed in the historic BYU Women's Gymnasium, across from the Provo Library (formerly Brigham Young Academy).

address: southwest corner of Wilkinson Student Center (WSC)

Large campus bookstore also offering sweets, art, and BYU/Provo souvenirs. Particularly significant for its large collection of foreign language children's books (located downstairs). Also an outlet for LDS Distribution Services.

phone: +1 801 373-7920

address: 1415 N State St

The ultimate thrift store. You can buy anything here: clothes, kitchenware, books, knickknacks, electronics. The place is a ginormus gold mine. The store is also a vocational rehabilitation facility and donates some items to humanitarian causes around the world.
Eat
Listed below are notable restaurants within Provo city limits, but there are many good restaurants in
Orem
that are easily accessible.
Budget
phone: +1 801 373-5713

address: 1796 N University Pkwy

A locally owned burger restaurant that offers more than just burgers. They also have all sorts of sandwiches, salads, ice cream, and sides like "Zucchini Stix" and taquitos.

phone: +1 801-375-5133

address: 2250 N University Parkway

Mexican chain started in Utah and popular with students.

phone: +1 801-377-7687

address: 408 W 2230 N

Soup, salads, and sandwiches.

phone: +1 801-375-4878

address: 45 E Center St

Chic and creative cafe serving breakfast, sandwiches, salads, wraps and pasta. Often offers live music in the evenings.

J-Dawgs

phone: +1 801-373-3294

address: 858 N 700 E

It used to be a hotdog stand on the corner. J-Dawgs has expanded to its own restaurant and offers gourmet hotdogs. Known for its Polish hotdogs and "special sauce." Very popular with BYU students.

phone: +1 801-812-2200

address: 295 W 1230 N

Bakery offering sandwiches and treats. Known for its all-you-can eat cinnamon French toast and sourdough pancakes.

phone: +1 801-356-7900

address: 2295 N University Parkway

One of the many pizzerias in Provo. Owned by a guy from Arlington, MA (you can ask him to call out your order in his Boston accent).

Sam Hawk

phone: +1 801-377-7766

Excellent Korean restaurant owned by a local family.

phone: +1 801-377-3883

address: 669 E 800 N

Really big slices of really great pizza. Just south of BYU campus. Popular with BYU students and locals alike.

phone: +1 801-607-1803

address: 22 W Center St

A chic, modern American cafe.
Mid-range
Treats
As a college town, Provo has a large number of places to get family and "date night" treats. In addition to the standard chains (Coldstone, Baskin Robbins, Dairy Queen, Jamba Juice), here are some local favorites.
phone: +1 801-422-2663

address: 1209 N 900 E

BYU's famous ice cream. The main location has a burger grill (11AM-9PM). The creamery has an outlet in the CougerEat cafeteria in the Wilkinson Student Center on BYU campus called Sugar & Spice. Other notable outlets include the Wyview Creamery (1990 W 400 N, M-Sa 7AM-midnight) and the CSC (just south of the BYU Conference Center and slightly northeast of the Monte L. Bean Life Science Museum, M-F 8AM-7PM, Sa 9AM-7PM). Many vending machines on campus also sell cups of BYU Creamery cookies & cream ice cream.

phone: +1 801-356-9493

address: 1774 N University Pkwy

As the name implies, gourmet cupcakes. Schedule of cupcake flavors available on the website.

phone: +1 801-356-3216

address: 1400 N State St

Although Macey's is a grocery store, they serve huge soft-serve cones for a very cheap price. When you walk in, head back to the right towards the bakery/deli and order your ice cream at the counter.

Malt Shoppe

phone: +1 801-373-5295

address: 1290 N University Ave

Ice cream and malt shakes. A retro classic, but a little on the grubby side.

phone: +1 801 373-0028

address: 700 E 820 N

Self-serve frozen yogurt just south of BYU campus and part of South End Market.

phone: +1 801 375-0104

address: 1774 N University Pkwy

Ice cream made with cryogenics right in front of your eyes. Very cool to watch and pretty tasty to eat, too. Sub Zero also has an outlet inside the Provo Towne Centre food court (1200 Towne Centre Blvd, 801 494-0988, open until 9PM).

phone: +1 801 375-3484

address: 1227 S University Ave

Gourmet bake shop featuring cookies, cakes, brownies, cupcakes, and more.

Yummie's Frozen Custard

phone: +1 801 852-2401

address: 1200 Towne Centre Blvd
Drink
phone: +1 801-373-1200

address: 190 W Center St

Bar, mainly serving beer. Live bands and pub grub.

phone: +1 801 341-0022

address: 426 W 1230 N

The only coffee house near BYU campus. You can also get hot chocolate and Italian sodas, or pick up breakfast or a light lunch. Free wifi is available.

phone: +1 801 375-5409

address: 280 W 100 N

Fresh juice and espresso bar. You can also get hot chocolate, Italian sodas, and tea.
Sleep
Hotels
Camping
Deer Creek State Park Campground

phone: +1 435 654-0171

address: Deer Creek State Park

Several campgrounds along the shore of Deer Creek Reservoir in Provo Canyon. Open Jun-Oct, but off-season camping allowed. Concessions, drinking water, modern restrooms and hot showers.

address: 4000 W Center St

Near Utah Lake, tucked into a curve of the Provo River. Walking distance to Utah Lake State Park Marina. Convenience store, laundry room, game room, summer pool, hot showers.

phone: +1 801 370-8640

address: 3.3 miles up Provo Canyon on US-189

Public campground in Provo Canyon along Provo River. Close to Bridal Veil Falls. Open April to October. No reservation required. Flush toilets and drinking water.

Rock Canyon Campground

phone: +1 801 226-3564

address: Squaw Peak Rd

Isolated public campground up Rock Canyon (between Squaw Peak and Y Mountain). Access road is only partially paved; used 4-wheel drive. No water. Vault toilets. Gate closes at 10PM. Excellent access to rock climbing and hiking.

Utah Lake State Park Campground

address: 4400 W Center St

Lakeshore campground.
Go next