Przemyśl
Przemyśl
(German:
Proemsel
; Ukrainian:
Перемишль
,
Peremyshľ
) is a town in southeastern
Poland
in the
Subcarpathia
region. The town has a picturesque location at the foot of the hill surrounding the town, only a few kilometers away from the
Ukrainian
border.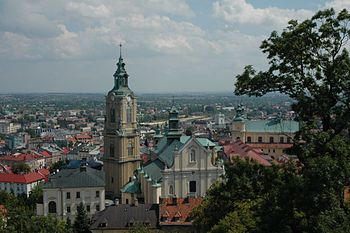 Understand
Przemyśl owes its long and rich history to the advantages of its geographic location. The city lies in the Przemyśl Gate, an area connecting mountains and lowlands, with easy communication and fertile soil. It also lies on the navigable San river. Important trade routes passed through Przemyśl and ensured the city's importance.
Przemyśl is the second oldest town in southern Poland, after
Kraków
. It appears to have been founded as early as the 8th century.
phone: +48 16 675 21 63

address: ul. Grodzka 1

Souvenir shop included. Free brochures and maps available as well as free WiFi and a computer to use.
Get in
By train
Przemyśl sees daily trains from
Kraków
,
Warsaw
,
Poznań
and an overnight train all the way from
Szczecin
. From Kraków the travel time is 3,5 hours and tickets are available from 45 zł. Slower indirect trains can be cheaper. From the regional capital
Rzeszów
there are many connections to Przemyśl. Tickets cost 10,50 zł for TLK trains and 22 zł for IC trains. The travel time from Rzeszów should be around 1,5 hours or a bit less.
A direct service from
Kiev
via
Lviv
in
Ukraine
with simplified border controls taking place on the train has its final stop in Przemyśl. The travel time from Kiev is 7,5 to 9,5 hours. From Lviv the train takes 2 to 3 hours to arrive in Przemyśl. There are many more connections from Lviv than from Kiev.
Przemyśl railway station

address: plac Legionów 1

Main station
By car
Get around
The city centre is small and manageable by foot.

See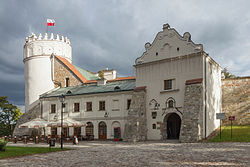 CastleBuilt by Casimir III the Great in the 14th century.

Reformed Franciscan monastery

Rynek square

Franciscan Church

address: Franciszkańska 2A

Built in baroque style

Uniate Cathedral of St. John the BaptistFormer Jesuit church, now a Uniate cathedral with a nice iconostasis

Carmelite Church of St. Theresa17th century late-Renaissance church

Cathedral

address: Katedralna 1

New Synagogue

address: Słowackiego 15

Military CemeteryVictims of the biggest WWI battles are buried here.

Kopiec Tatarski

address: ul. Przemysława

Located on a hill this place provides one of the best views over Przemyśl. According to the legend the small artificial hill on top of the hill was made by the Tatars as a grave of their leader that got killed in a fight.

Jewish Cemetery

address: ul. Słowackiego
Museums
Further afield
phone: +48 016 671 83 21

address: Krasiczyn 179, Przemyśl

One of the present day cultural highlights of the region. It is often classified as one of the greatest Renaissance edifices in Poland and as one of the most beautiful castles in Europe. This castle was built by the Krasicki family in the 16th and 17th century. Nowadays it also houses a hotel and restaurant.

Wooden Greek Catholic church

address: Kruhel Wielki, in the center of the village

This wooden Greek catholic church was built in 1630 and got renovated a few years ago. It is one of the oldest examples of this type in the country.

Kalwaria PacławskaThe sanctuary in Kalwaria Pacławska has received many thousands of pilgrims since it houses the image of Mother of God from Kamianets Podilskyi. The place has earned fame as the Jasna Góra (holy place in Częstochowa) of the Podkarpackie region. The village and surrounding fields and forests are dotted with beautiful Baroque churches and chapels.
Do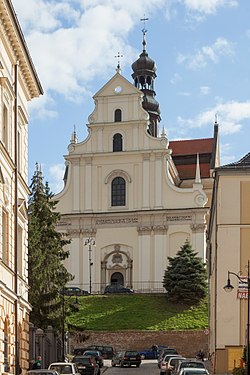 Walking and cyclingThe tourism board has worked out several walking and cycling routes in the city and the near surroundings.
Cinemas
phone: +48 519 143 972

address: Wojciecha Budzewskiego 1

Located in a mall north of the center.

phone: +48 16 678 20 09

address: ul. S. Konarskiego 9
Eat
Sleep
Budget
phone: +48 16 678 53 74

address: ul. Waygarta 3

Very cheap place to stay, dorms and privates.

Schronisko Młodzieżowe PTSM Matecznik

phone: +48 16 670 61 45

address: ul. Lelewela 6

Very cheap place to stay, dorms and privates, member of Hostelling International so discounts with IYHF cards apply.
Mid-range
There are several hotels in Przemyśl, city council website has a list of them with prices.
phone: +48 16 678 22 82

address: Sybiraków 31

Spa hotel, located about a kilometre outside the city centre.