Pskov Oblast
Pskov Oblast
is in
Northwestern Russia
, which borders
Latvia
to the west,
Estonia
to the northwest,
Leningrad Oblast
to the north,
Novgorod Oblast
to the northeast,
Tver Oblast
to the east,
Smolensk Oblast
to the southeast, and
Belarus
to the south.
Cities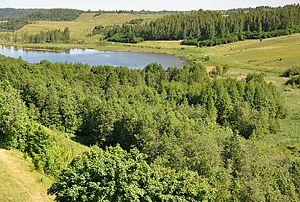 — the ancient capital is not well prepared for tourism, but is rich in sites; its Krom (medieval citadel) is very impressive, it is circled by monasteries—including one which is Russia's oldest, and the city is full of small, old churches
— a medieval town famous for its churches, which were destroyed in an act of cultural vandalism by the German Wehrmacht, but are being carefully restored
— a town 30 km to the west of Pskov with a huge, ancient fortress, surrounded by a modern day park
- a town with amazing chain bridges.
— a small town with a fortress constructed by Alexander Nevsky in the 13th century
— a small town most interesting for its 17th century baroque, Polish built, Roman Catholic cathedral, which has been reconsecrated as an Orthodox cathedral
— the second largest city in the region; the principal attraction is the estate-museum of composer Modest Mussorgsky, outside the city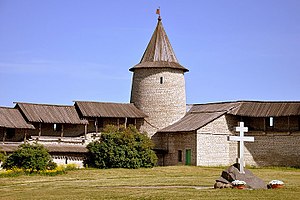 Other destinations
(Pushkin Hills) - a former Pushkin's mansion and its surroundings converted into a large open-air museum with breathtaking scenery and traditional Russian ethnic elements. An excellent weekend destination.
Understand
An ancient region of Russia which once constituted its own republic, Pskov Oblast is a great weekend trip or longer from
Saint Petersburg
. Tourist infrastructure is at best rudimentary, although one would expect this will change in the near future, but the region has lots to see for an adventurous traveler or a traveler with a good guide. Pskov, the capital, is without a doubt the principal attraction and likely the only stop for most travelers, but it might be a good plan to get out of the city and check out nearby Izborsk.
Talk
Get in
Two daily buses depart for Pskov from
Novgorod
at 08:30 and 16:00.
Trains from Saint Petersburg are unfortunately very inconvenient—they leave around 03:00 and arrive in Pskov four hours later. A better option is to hop on a bus from Petersburg's Vitebsky Vokzal; there are 15 buses bound for Pskov daily and they take about 5 hours to get there.
There is a daily overnight train from
Moscow
which leaves around 20:00 and arrives in Pskov around 08:00.
Pskov Airport (
PKV
) from Moscow and Sochi.

Go next
Pskov is a common last stop in Russia for visitors traveling overland to the
Baltic states
.