Pteleos
Pteleos
(Πτελεός) (or Ftelio, as the aboriginal call the village) is a village at the
Magnesia
prefecture,
Greece
. Population 2,881 (2001).
Get in
See
In the municipality of Pteleos there are many historical sights to admire such as the remains of Mycenean tombs, the Venetian castle in Pigadion with its fantastic view, the well restored remains of an old windmill in Hamak, the ruins of the village of Hamak, but also the biotope in Lihoura, the mountain range of Othrys with its recently discovered caves and the maritime museum in Ahillion. Apart from the historical sights there are also numerous little churches and chapels which either due to their position or their history are worth a visit. One should see the church of St. George high up on a hill, from where you can admire the Gulf of Pagasitikos and the mountain range of Pilion, at any time of the day or night!

Do
Beaches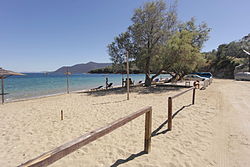 The beaches Agia Marina, Lefki, Lihoura, Loutro, Pahiamos, Draka, Mitrouna, Kotsikia, Briniotissa, Rodia, Panagia belong to the most beautiful and cleanest in the southeast of Magnesia. Some of these are easily accessible, offer all facilities, other places are more remote, ideal for romantic trips.All the beaches along have been honoured with the "Golden Star" and "Blue Flag" awards for purity and beauty of the landscape
Eat
There are local tavernas and restaurants by the sea -all over Pteleos- for all tastes. In all cases, you have to try local traditional delicacies like "galatopita" (milk pie), "kolokythopita" (sweet cucumber pie), properly cooked and served fresh fish and sea food (try it with the local drink Tsipouro - Τσίπουρο).
phone: +30 24220 29400

Make sure you pay a visit to Women's Agricultural Cooperative of Pteleos "Ftelia", where you can taste and buy 1) locally made preserves, jams and marmalades, made from apples, chestnuts, figs, oranges, blackberries, carrots, strawberries, mandarins, quince, grapes, aubergines and other fruits, 2) trachanas, a type of dried food based on a fermented mixture of wheat grain or flour and yoghurt, usually made into a thick soup and 3)herbs and spices, hand-picked from the region.
Drink
The tap water is drinkable and restaurants will serve glasses of ice water upon request. Local drinks include wine and Tsipouro - Τσίπουρο
There are also a few local bars open almost 24 hours a day during weekends in summer.

Sleep
There are many rooms-to-let. Just ask the locals upon arriving. There is no tourist information office.

Stay safe
Pteleos is a generally safe destination.
The summer sun tends to get very strong. You should not take the risk of dehydration, sunburns or even heat strokes lightly. Wear appropriate clothes, maybe with a hat and sunglasses; use sunscreen; bring enough water on excursions and know when to stop exhausting yourself and seek the shade of a tree.
Go next