Pubnico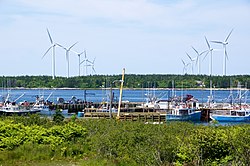 Pubnico
is a village at the head of Pubnico Harbour near
Yarmouth
. The surrounding area has strong Acadian tradition and is an excellent place to explore Acadian history and culture.
Understand
Pubnico was founded in 1653 by Philippe Mius d'Entremont. It is the oldest Acadian community still inhabited mainly by Acadians; most of today's residents are descendants of the founder. The name is derived from the Mi'kmaq (Aboriginal)
pogomkook
of uncertain meaning.
Pubnico comprises three sections:
West Pubnico, whose people are almost all French-speaking,
Pubnico, better known as Pubnico Head, whose people are mostly all English-speaking, and
East Pubnico, the part where the barony is believed to have been located, being occupied by English-speaking people
The rest, up to the Shelburne county line, is occupied mostly by French-speaking people.
Pubnico Point Wind Farm, the first wind farm in Nova Scotia, has 17 1.8-MW Vestas V-80 turbines with a generating capacity of 30.6 MW. Commissioned in 2005 and purchased by NextEra Energy Canada in 2008, the wind farm has one of the largest in generating capacities in the province.
Get in
Pubnico is just off Highway 103, at Exit 31.

See
Nova Scotia Historic Acadian Village

address: 91 Old Church Road, Pubnico-West-le-Bas

On a 17-acre site that overlooks the Pubnico Harbour, the historic acadian Village of Nova Scotia invites you to step back in time to discover the heart, life, and culture of the Acadians in the early 1900s.

West Pubnico Museum & Archives

phone: +1 902 762-3380

address: 898 Highway 335

Acadian history spanning more than four centuries. In addition to household items, there are documents and literature dating back to the 1700s. The museum's new wing boasts a fine display of cameras, photographs and associated paraphernalia. There are over 300 cameras spanning one hundred years of photographic history, including a very rare gas operated upright enlarger, circa 1895. Bilingual tour guides.
Do
Buy
Sticks and Stones Folk Art

phone: +1 902 762-0202

address: 34 Green Grove Rd

Shop and workshop for driftwood carvings.
Eat
phone: +1 902 762-2112

address: 1034 Route 335 S, Middle West Pubnico

Fresh local haddock, lobster, beef, chicken, pork and produce. Burgers, pizzas, pastas, rappie (an Acadian dish). Their specialty is haddock topped with a lobster sauce. Motel rates starting at $108 per night.

phone: +1 902 762-1220

address: 214 Dennis Point Road, Lower West Pubnico

A lively atmosphere for local fishermen and visitors. The restaurant purchases its seafood from the neighbouring processing plants.
Sleep
phone: +1 902 762-2969

address: 2775 Highway #3

Each room is uniquely decorated in the style of yesteryear and feature a queen-sized bed, antique furniture, en suite bathroom, Wi-Fi. Breakfast included.
Red Cap Motel, see listing under "Eat".