Puebla
Puebla
is a city in
Mexico
. It is in the Puebla Valley, surrounded by volcanoes and snow-capped mountains, slightly over 110 kilometers (68 miles) south-east of Mexico City.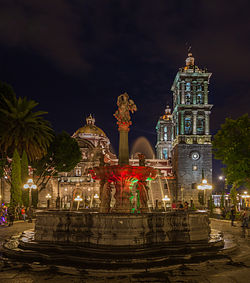 Understand
The city of Puebla is the fourth largest city in Mexico with 2.1 million inhabitants and the Capital of the State of Puebla. It was founded on April 16, 1531 as "La Puebla de los Ángeles". It was the first city in central Mexico founded by the Spanish conquistadors that was not built upon the ruins of a conquered Amerindian settlement. Its strategic location, halfway between the port of
Veracruz
and
Mexico City
, made it the second most important city during the colonial period. During the seventeenth century, Sor Juana Inés de la Cruz lived in the city until her confrontation with the Bishop of Puebla.
The city's main claim to fame, however, is Cinco de Mayo, a festival commemorating the May 5, 1862 defeat of a French expeditionary army by Mexican general Ignacio Zaragoza. It was after this battle that the name of the city was changed to "Heróica Puebla de Zaragoza". The forts where the battle took place are a major tourist attraction of the city and the site of an annual month-long carnival marking the anniversary of the battle. However, despite the quite extensive St. Patrick's Day style festivities for Cinco de Mayo in the US, outside the area around Puebla, Cinco de Mayo is a minor festive day in Mexico, surpassed by independence day. The city is also famous for its cuisine, being said it is this city where
mole
-a famous Mexican spicy thick sauce- was invented.
Get in
By bus
Traveling to Puebla from Mexico City is fairly straightforward and can be accomplished via bus. There are continual bus services between Mexico City and Puebla throughout the day and night both from the TAPO terminal (also known as Terminal Oriente, located beside the San Lázaro Metro station) and from Benito Juarez International Airport.
A one-way ticket on Estrella Roja (ER) or ADO from the TAPO usually runs about M$190 (
pesos
) for regular direct service; a first class ticket ("Pullman Primera Clase" service) on Estrella Roja costs M$212 pesos, as of January 2019. (The extra M$22 or so are worth it: the first class seat less people, thus less crowded, more space, more comfortable.) Buses leave for Puebla approximately every half hour from both locations. Travel time from TAPO to Puebla's CAPU is usually around 2 hours, but this time may vary by up to a full hour depending on Mexico City traffic conditions at that time of day. Taking an Estrella Roja bus from the airport costs about M$200 for a one-way ticket or M$400 for a roundtrip.
There are two bus terminals in Puebla: the Centro de Autobuses Puebla (CAPU), the main bus terminal, and Estrella Roja's 4 Poniente bus terminal (only Estrella Roja buses go there) this terminal is located in downtown Puebla. Both Estrella Roja and ADO run buses to the much larger CAPU. If you've never visited Puebla before, the 4 poniente is your safest bet to get you to your final destination; there are secure taxis (called Top Driver Express) in which you pay the cashier and not the driver and if you choose CAPU this is a major intersection of several public transportation bus lines (known as combis or camiones) if you are going to nearby towns.
By plane
Puebla AirportDue to the closeness of Benito Juarez Airport, the airport offers few international routes (all of them to the US) and a handful of domestic routes. That said, the airport is smaller and thus easier to navigate and you might net cheaper offers than at MEX
Get around
Traveling within Puebla can sometimes be stressful as the local public transportation system is entirely privatized, leading to hundreds of bus routes, none of which are mapped out. If you know where you are going, you can ask around as to which route will take your destination, but often transfers are necessary for long-distances, which can be confusing, especially if you are not familiar with the language. The general fare rate is M$6. (Safety note about buses: they are generally safe, but they tend to carry
pickpockets
, especially when crowded. Always have a hand over any bags or backpacks that you have.) The buses generally run from about 7AM to 10PM.
Taxis are, naturally, more expensive, but in Puebla they are almost always safe. They tend to run between M$40-80 for a ride. Negotiating a fare before entering a taxi is normal as the taxis do not carry meters in Puebla. If the driver does not offer you a fare that you like, you can wave them off and wait for the next taxi.
See
Fuerte de Loreto y Fuerte de GuadalupeThe forts, which sit atop the Cerro de Guadalupe is where the Battle of Puebla took place on May 5, 1862. This successful defense of the city by General Ignacio Zaragoza from invading French forces is commemorated every year in Puebla throughout the month of May and specifically on May 5 (Cinco de Mayo in Spanish).

Pasaje Histórico 5 de MayoAn entry to historic tunnels that lead to the forts.

Barrio de muralesA neighborhood near the forts with lots of murals from artists all over the world. It's easily accessible when going through the tunnels, which briefly surface in the neighborhood.

ZocaloPuebla's historic downtown contains beautiful colonial architecture and was granted UNESCO world heritage status in 1987. The Zocalo is the central plaza is a place to enjoy, where you can find restaurants, bars and cafes.

Catedral de PueblaBuilt between 1575 and 1640, it has two of the tallest church towers in Mexico.

Biblioteca PalafoxianaA library built in the 18th century which contains a unique collection.

Los SaposArt District where many painters have ateliers offering their paintings and a block away, every Saturday and Sunday, there is a flea market where you can find handicrafts and some antiques.

Volcan el CuexcomateThe world's smallest volcano (now extinct), is in Puebla, in the suburb of La Libertad.

Iglesia de Santa María TonantzintlaBuilt and decorated during the late 1600s and early 1700s in the Baroque style. Extremely lavishly decorated outside and inside. It has much more noticeable sincretic elements from prehispanic culture. Photography is unfortunately not allowed inside. The top of one of the bell towers fell during the 2017 earthquake, and as of yet has not been repaired. This is why access is restricted inside as well.

Templo San Francisco AcatepecBuilt and decorated during the late 1600s and early 1700s in the Baroque style. Extremely lavishly decorated outside and inside.
Do
address: Blvd. Cap. Carlos Camacho Espíritu Km 16.5,Barrios de Arboledas,72260 Heroica Puebla de Zaragoza, Puebla,Mexiko

A zoo park where wild African animals live freely.
If you like night life, try the antros (clubs) in Cholula. Many don't charge cover. Alcohol ranges from M$450-800 a bottle if you want to get a table in the clubs. There is also abundant live music throughout Puebla. Smaller and less popular antros are also located in the Los Sapos district, only a few blocks from the Zocalo.
Take a tour around the city on a tour bus. This may seem very tourist-ish but this is a really cheap (80 pesos) easy way to get a quick view of some of the coolest attractions in the city. It also is a way to get a good bearing before you decide to set off and dive into some of the attractions the city has to offer. The tour is in Spanish, but you can ask for headphones when you get on the bus and then you'll be able to listen to a translated in several languages. The bus has several stops along the route where you can get down and get up.
Buy
Talavera (Fine china-like wares.)
Local crafts and artifacts from El Parian.
Jewelry, antiques and crafts from Los Sapos.
Freshly ground coffee or beans from Cafe Britania, Av de la Reforma 528a - costs around M$150/180 per kilo, also sold in 250g bags - the coffee comes from the nearby Veracruz region
Local Puebla folkart – the store Cihuatl sells crafts made by indigenous women: 7 Poniente 110, Colonia Centro
real state - Inmobiiaria Huitron 2223730042
Eat
Eat the street food. Travel books will almost always tell you not to, but generally speaking, it is entirely safe and can be one of the best cultural experiences of your trip.
Street foods to try:
Quesadillas with mushrooms, sausage (chorizo), pumpkin flower (flor de calabaza), or huitlacoche (corn truffle, an Aztec specialty)
Memelas (tortillas made with mixed masa and beans red or green salsa on top, then topped with onions and cheese)
Elote (corn on the cob with Parmesan cheese, mayonnaise if desired, and chili powder).
Pelonas (fried sandwiches filled with meat, lettuce, cream, and salsa)
Gorditas (similar to memelas, but topped with chorizo, chicharron fried pig skin)--or chicken, avocado slices, salsa, onions, and cheese).
Potato chips, usually fried the same day (extra crispy) and topped with lime juice and hot sauce.
Mixiotes - piece of chicken or carnero (goat) in a special sauce made out of juajillo chile and spices with an avocado leaf cooked in vapor all wrapped in foil paper or special mixiote paper.
Chalupas a tortilla with green or red sauce then topped with onion, chicken or beef shreds. (Traditional chalupas have no cheese.)
Cemitas - a special bread that looks like a torta prepared with milanesa, avocado, queso oaxaca in shreds, papalo, aceite de comer and chipotles.
Tacos árabes, similar to kebab usually made of pork meat
All street food generally costs between M$8 and 15 and includes anthing with
mole poblano
,
tacos Arabes
(made with lamb or pork, originated from the large Arab population in the city),
chiles en nogada, pozole, pambazos, pipian, adobo
and
chanclas
.
phone: +52 222-2426696

address: 16 de Septiembre 506

Traditional Cuisine; fine dining. The best mole poblano; other seasonal dishes, Spanish cuisine. Steps from the Cathedral and Zócalo.

Vittorio's

phone: +52 222 232 7900

address: 2 Sur 106

Excellent Italian and Mexican cuisine, at good prices. Apparently known for holding the Guinness World Record for the largest pizza. Try their garlic bread and their pastas if you're not in the pizza mood (they make a mean Pennette Arrabiata). They also serve traditional poblano cuisine. Extensive wine and beverage list. Has an area for outside seating, though this may be full at peak hours; also has two floors of indoor seating.

Restaurante La Fonda

address: 2 Oriente 801

Located on the south street by El Parián market. Excellent local cuisine for less than you'd spend in the Zócalo area; their chiles en nogada are especially delicious. M$100 for a chile en nogada with a soup and a dish of rice with mole poblano (half of what you'd spend for the same in the Zócalo). They also sell their excellent mole poblano by the kilo or half-kilo.

Super Paleteria Barragan

address: Av. 16 de Septiembre

Delicious ice creams, sorbets and aguas frescas. Very popular with locals (in fact often huge crowd outside).

La Mia Pizzeria

phone: +52 1 222 242 5584

address: Corner of 4 norte and 2 Oriente

Relatively authentic pizzeria with some other Italian food, good portions, seems not to serve alcohol though.

La Zanahoria

address: 5 oriente 205

Vegetarian restaurant with well-priced menu. Veggie burgers are good. Seems not to serve alcohol. Also shop selling vegetarian products.
Drink
Local drinks include
pulque, agua miel
(honey water), tequila,
agua de limon
(lemon water),
agua de tamarindo, agua de jamaica, horchata, chocolate Mexicano, atole
(cornmeal drink),
cafe de olla
(coffee with cinnamon),
pasitas
(in
los sapos
), and
tortas de chalupa
(mini telerra roll with mashed potatoes, beans and 2 fried tortillas covered with green or red salsa)
Vittorio'sSee "Eat" above.

El Mural de los PoblanosSee "Eat" above.

Hotel Royalty

address: Portal Hidalgo #8

Great for drinks with views of the Zócalo.

phone: +52 2 98 00 28 or +52 2 32 78 99

address: 2 Pte # 703-B

Cafe, bar, bookshop and arts venue, with frequent evening concerts.

Paradeplatz

address: Calle 16 septiembre 1713-A

Fashionably designed Swiss-style cafe serving good quality coffee and hot chocolate, along with delicious Swiss-style cakes. A little pricier than other coffee shops in Puebla but unique ambience and style (as well as taste!).

Yelao

phone: +52 232 12 45

address: 3 oriente 207B

Cafe which opens late (closed Monday), selling a variety of hot and cold drinks, some alcoholic beverages, home-made ice cream and various cakes and salads. Nice upstairs seating area including small balconies.
Along Avenida Juárez there's a good selection of bars and clubs.
Sleep
Stay safe
Drink bottled water and be careful with valuables in public.
Because of the altitude tours can be quite exhausting. This can cause problems for travelers. The mild climate may also lead you to underestimate the strength of the sun. Sunburn and sunstroke are a threat, so it is vital to wear sunscreen/sunblock and drink plenty of bottled water.
At mealtimes, exercise extreme caution with salads and fruit, or avoid them altogether. If you must eat fruit, peel the skin, as washing is not enough. Salads may be tempting, but enjoyment may be short-lived! For all cases of diarrhea take appropriate drugs and seek medical advice.
You will rarely see locals wearing shorts, doing so will identify you as a tourist. Jeans are generally acceptable, except perhaps in some of the nicer restaurants.
If you are staying in a hotel and you want to take a taxi, someone working the front desk will most likely be able to call and arrange for a cab to pick you up, or you can hail one off the street if you speak enough Spanish to be able to negotiate the price with the driver. In Puebla, there are a multitude of taxis but your best bet will be a radio taxi.
The radio taxis are the best cabs in appearance and since they are registered they are also the safest, but they tend to charge more: about 10 pesos more than if you hail one on the street. If you run into a friendly cab driver, it is a good idea to get his cell phone number, so you can call whenever you need safe transport.

Study Spanish
Livit Immersion Center, www.livitspanish.com Nuevo León 18, El Carmen, +52 222 290 6060. The family-run, small and intimate, Livit Immersion Center, offers Spanish language and cultural immersion programs and classes for all levels. Learn Spanish while exploring Puebla's fantastic colonial arquitecture, rich history and exquisite traditional cuisine.

phone: +52 222-242-2062

address: 11 oriente No. 10 Centro Histórico

A language Institute located in the Ex-convent of Las Capuchinas that offers intensive Spanish courses year around.
Go next
Nearby
Cholula - A neighboring town 10 kilometers away filled with as many as 365 churches (actually just 45..) and an archaeological site which contains the worlds largest (by volume) pyramid.
Cuetzalan in the Sierra Norte de Puebla
Chipilo - Italian town that is only 20 minutes outside the city for an authentic northern Italian experience.
Atlixco - Flowers and "Huey Atlixcáyotl", a festival in the municipality of Atlixco that occurs the last Sunday of September.
Metepec
Go to the National Park on Popocatepetl or National Park La Malintzi and spend the day hiking or camping there.
Go next
Your choice is
- go NW to Mexico City, thence to northern cities and the USA;
- or go E to
Veracruz
with onward buses to
Yucatán
;
- or go SE
Oaxaca (city)