Puerto Madryn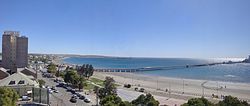 The city of
Puerto Madryn
is in the north east of
Chubut
Province in the
Patagonia
region of
Argentina
.
Understand
Puerto Madryn is on the shores of Gulfo Nuevo, a large deep water bay of the Atlantic Ocean. The city is a popular summer destination for its beach. The beaches are beautiful though the water can be very cold and the wind impressive.
The current population is estimated between 60,000 to 70,000. The city has been growing rapidly in the last few years due mainly to the expanding tourism industry, fishing and Aluar-the aluminum refinery.
Puerto Madryn is the gateway to nearby
Peninsula Valdes
.
History
The area was first populated by the indigenous Tehuelche people.
The first Europeans to settle in the area were Welsh arriving in 1865. They named the city for Baron Madryn of Wales.
Get in
By car
Reached by Ruta 3.
By bus
There are long distance bus connections to
Buenos Aires
,
Mar del Plata
,
Rio Gallegos
and other destinations.
By plane
Puerto Madryn's Airport is 10 minutes from downtown. There are three flights per week from Buenos Aires on
Andes Airlines
.
Aerolineas Argentinas
flies to
Trelew
, which is an hour from Puerto Madryn. Shuttle buses operate from the airport in Trelew to Puerto Madryn and cost AR$20.
Get around
Puerto Madryn has a city bus system. Taxis are numerous. Rental cars are available.
Puerto Pirámides
If you take a bus from the Puerto Madryn terminal to Puerto Pirámides, there are no peninsula tours that leave or pickup from within the park, so it is better to book a tour from Puerto Madryn or go by car.
Puerto Madryn to Puerto Pirámides: Daily @ 08:55, 17:00. And M, W, F @ 06:30.
Puerto Pirámides to Puerto Madryn: Daily @ 11:00, 19:00. And M, W, F @ 08:15.
Tel.: 0280 4450600
Price: AR$131
See
For regular prices of tours, see
below
.
Punta LomaThis is a sea lion reserve. It can be reached by bike. Beware, the road is not paved and your bike may sink into the sand. On the up side, there are deserted rocky beaches (very lovely) if you take any of the side paths off of this sandy road.

Pinguinera Cabo Dos BahiasInstead of the ridiculously overpriced Punta Tombo National Park (next listing), head here for an equally good experience and meeting with the penguins, for free.

Punta Tombo PinguineraFrom Puerto Madryn daytrips run to Punta Tombo (200 km, 3 hr). This is a penguin colony where you can walk among thousands of penguins between the months of October and March. No public buses run to the reserve so you will need to book a tour (around AR$2,200 as of Feb 2019) or rent a car. The last 20 km of the drive is on a gravel road.

Often combined with a visit to Punta Tombo is a boat trip to spot the small black-and-white Commerson's dolphins. During the months of June through March.
Many tour agents run trips to visit Peninsula Valdes. Here one can see penguins and a great number of sea lions and elephant seals, depending on the season. In January, all three can be seen (though no whales), including sea lions giving birth. Puerto Piramides is the only major town of Peninsula Valdes. Many tours will have a stopover here there is a nice beach and some bars and restaurants. There are boat tours and kitesurfers, among other things.
The EcoCentro is a great and modern marine interpretation centre offering interactive information on marine life in the region. Located overlooking the gulf to the south of the city on Julio Verne 784.
Do
Whalewatching, the Southern Right Whale uses the waters of Gulfo Nuevo for breeding and giving birth. They are easily seen from the shore and pier. Whale watching boats depart from Puerto Pyramides located on Peninsula Valdes.
Kite boarding and wind surfing.
Diving in Gulfo Nuevo. The water has very good clarity and no current. It gets cold.
Horse riding
Ocean fishing
Orca watching, the excursion to Punto Norte is really expensive and just drives you from point to point, you spend all day in the car and will only see animals from a great distance. If you want to see killer whales, try to find another way of getting to Punto Norte really early in the morning and stay there until one shows up or you have to get back. You might miss one too but at least you will have had more chances of spotting one.
Snorkeling with sealions(lobos marinos), it is possible to snorkel with sealions really close to the port. They take you on a small boat to an island. There, sealions will be playing. They do not feed the sealions and you are not allowed too close to the colony. However, sealions are curious so they show up to play. It is really fun but try to stretch your tour a bit because it is a bit short. Wetsuits are included and will keep you warm enough. All tour in Puerto Madryn are quite expensive (AR$1400 for 2 hour tour).
Here are some tour prices as of Feb 2018. However, remember to haggle—depending on the season and number of people, discounts are easily possible:
Peninsula Valdes: US$75 (plus entrance fee)
Whale Watching: US$70
Punta Ninfas: US$60
Snorkelling with sea lions: US$100
Punta Tombo: US$75 (plus entrance fee)
Toninas: US$50
Buy
The three story shopping center located right downtown has some nice upscale shops. There are many specialty stores located in the city center.

Eat
There are many good seafood restaurants along the seafront where you might have lunch or dinner with a wonderful sea view. Almost all of them include a variety of menus. These include:
phone: +54 2965 471404

address: Av Roca 790

Vernardinio

Club Náutico

Puerto Marisco

El PasoMexican meals

PlácidoItalian seafood meals, offering gourmet dishes combined with a romantic atmosphere overlooking the sea. Here the prices are very high.

EstelaIt specializes in "asado criollo" and is very popular with tourists. The prices in Estela are high.
Drink
There are a good number of bars and clubs in Puerto Madryn. As in the rest of Argentina the weekend partying goes throughout the night.

Sleep
Go next
Trelew
is very close by. When visiting Punto Tombo you pass Trelew so you can ask them to drop you off in the center of Trelew. This British town is more to the south on the Peninsula. You can travel down north further through
Rio Gallegos
(pass through is enough) going to
Ushuaia
or
El Calafate
(Glaciar Perito Moreno). Another option is to go west and go to the Andes Mountains and Chile (or Bariloche).