Puerto Morelos
Puerto Morelos
is a town in
Quintana Roo
on the
Yucatán Peninsula
, about 20 km south of
Cancún
. It is a fishing village, and a resort and diving destination. It is roughly halfway between
Cancún
and
Playa del Carmen
on the Caribbean coast of the Yucatán Peninsula. The pier in the center of town hosts snorkel and sport fishing boats while yachts dock in a man-made harbour just south of town. The village used to be the embarkation point for the car ferry to Cozumel, but that now leaves from Calica, a major port south of Playa del Carmen.
Understand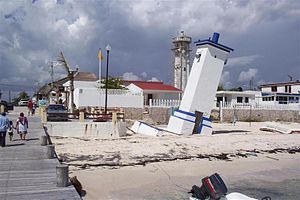 It's the ideal location for those who want a quiet beach vacation away from the glitz, but with ample tourist amenities. The town has just two principal streets and you can walk from one end to the other in about 15 minutes.
You can get by with English, but Spanish is not superfluous. Most places accept US dollars but not credit cards. Almost all prices are quoted in
Mexican pesos
(M$) and it is generally cheaper to pay in pesos, than in US dollars. There is no bank in town, but several bank cash machines for withdrawals.
The reef just off shore is part of the Great Mesoamerican Reef, the second largest reef system in the world and the largest in the Western Hemisphere. In 1998 the reef in front of Puerto Morelos became a protected National Marine Park, preserving its rich biodiversity and making this area one of the best preserved of the Great Mesoamerican Reef. Buildings in Puerto Morelos are limited to three stories by local bylaws, to preserve its village character.
Puerto Morelos' reputation as a laid-back Caribbean destination is supported by its scattering of boutique hotels, condominiums, villas, plus various small restaurants and tourist shops. Its appeal is especially strong to travelers who eschew all-inclusives and built up "touristy" attractions. For the most part, the town is a residential community with a mix of Mexicans, Canadians, Americans, and Europeans who live there full or part-time.
Just across the Highway 307, the main north-south route on the peninsula, is Colonia Zetina Gazca, commonly known as "La Colonia." This inland community is mainly single level dwellings for local Mexicans and a few ex-pats, and contains amenities such as small food stores, pharmacies, and several casual restaurants serving simple fare.
Get in
By plane
The nearest major airport is in
Cancún International Airport
(
CUN
). It is 20km away from Puerto Morelos and is Mexico's second busiest airport.

By car

Puerto Morelos is situated at the junction of Route 307 and a paved road to Leona Vicario in the interior of the Yucatán Peninsula. This paved road is the eastern terminus of La Ruta de los Cenotes, a network of minor roads that allows access to many cenotes in the interior. At Puerto Morelos, the beginning of this road network is marked by an archway. The waterfront is about 2 km from Highway 307. Puerto Morelos is about 30 km south of Cancun, 30 km north of Playa del Carmen, and one hour north of Tulum.

By bus

Buses from Cancun and Playa del Carmen traverse Route 307, the coastal highway and the main highway into town:

From Cancun airport take the Riviera/ADO bus to Playa del Carmen, hourly from 10:30. The bus departs from Terminal 2, east end (terminal faces north). Buy a ticket for Puerto Morelos just inside terminal or on bus. Ask the driver to stop at Puerto Morelos. Cost: M$50 as of Dec 2009.
From downtown Cancun (el centro) take the Riviera/ADO bus for Playa del Carmen from the bus terminal on Av. Tulum. Departs every 15 minutes. Buy your ticket at the station.
From Playa del Carmen, take any ADO bus for Cancun from either bus station in Playa. Buy your ticket to Puerto Morelos at the station.

Cancún and Playa del Carmen buses arrive and depart from the highway, about 2km from town. Each side of the highway has its own small station and ticket office.
Frequent local buses travel between the highway/la colonia and the beach/el puerto for M$4 per person. Or take a taxi into town M$22 - 25. If you decide to walk instead, ensure adequate insect repellent, as the road leads through a mosquito-infested mangrove swamp - and watch out for inquisitive crocodiles about half way, particularly on the northern side.

By private transfers

Private transfers to Puerto Morelos start at US$55 each way for 2 people or $90 round trip.

Get around

There are many local taxis around, they gather at a taxi stand on the west side of the main square in Puerto Morelos. Bicycling is an excellent way to get around town, and they can be rented at a number of places in town. There is also a local car rental agency in the main town on the highway. Always make sure you find out the price of a taxi ride before you get in to avoid disagreements. At the car rental place you can bargain for a cheaper rate.

See
Sit on the white sand beach in the shade of a thatched palapa
Visit the Jardin Botanico just outside town and watch out for the spider monkeys.
Birdwatching in the mangroves.
Browse the various shops around the central square.
Do
Scuba diving. Puerto Morelos offers a large variety of marine life on one of the most beautiful reefs in the world. The dives inside the reef can be from shallow up to dives where you can see large coral formations at greater depths. For more advanced divers there a few wrecks and the cenotes to explore. Also has easy access to various dive sites ranging from very easy to very challenging ones. For those who are looking for some relaxed diving there are some beautiful shallow reef formations in water of 40 feet/12 meters depth where you can dive among turtles, schools of colorful fish, eagle rays, and many species of crabs and lobsters only to name a few.For wreck lovers, there are two accessible wrecks near Puerto Moleros. The nearest is the C-56, a navy boat that has beautiful coral and which is home to very large pelagics at 60-90 feet/18-27 meters). For more experienced divers there's the Tulum which is at a depth of about 120 feet/36 meters. The Mesoamerican Barrier Reef lies about 500 meters offshore. It is closer to the shore near Puerto Morelos than it is at most other points along the coast of Quintana Roo. Several dive shops and nearby resorts offering diving on the reef.
Swimming. Near the shore, water temperatures average about 27°C (80°F) year round. Freshwater swimming is available inland, at several cenotes. At cenotes that are not exposed to sunlight, temperatures are colder, and a partial wetsuit may be necessary for anything more than a brief dip.
Reef diving. The Mesoamerican Barrier Reef lies about 500 meters offshore. It is closer to the shore near Puerto Morelos than it is at most other points along the coast of Quintana Roo. Several dive shops and nearby resorts offering diving on the reef.
Snorkeling. You can snorkel close to the beach (yellow floaters mark the end of the zone), and there is a small underwater cenote called Ojo de Agua that's popular with fish. The best snorkeling is at the reef, which is only accessible using guided trips by boat (about US$25 per person, many operators). Snorkeling out to the reef from shore on your own is not permitted. To protect the reef against intentional and unintentional damage, you are only allowed onto the reef in the company of an accredited guide, with a park wristband, and wearing a non-inflatable life jacket. If you do go it alone, you risk being picked out of the water by park wardens who may just tell you off and take you back to the shore, but are within their rights to fine you. These rules are not clearly signposted anywhere. A light wetsuit is welcome certain times of year.
Cenotes. Cenotes are sinkholes in the native limestone that are filled with crystal-clear groundwater; some are large and deep, while others are small passages through a cave. Inland from Puerto Morelos, many cenotes are accessible along the road from P.M. to Central Vallarta, some with really good swimming in clear blue water; To take local transport to the cenotes take colectivo bus "jacinto kanek" from Puerto Morelos to the other side of the highway get off at pemex station (colonia zetina gasca) once there go to the main zocalo two blocks west of 7-Eleven and take the bus heading to Leona Vicario, they leave Morelos at 07:00, 08:00, 09:00 and return from Leona at 12:00, 13:00, 16:00,and 17:00 you can get off at Boca del Puma, just past central vallarta at Km16, which has nice trails through the forest and a cool snorkel through a cave passage, the owner Jesus will rent you a bicycle if you want to explore the nearby cenotes on your own. Snorkel in a cenote a few meters out in front of the Ojo de Agua hotel or the Puerto Morelos Reef, about 500-1000 meters from shore. You can rent equipment at the dive shops around town and swim there yourself, or book a boat trip outside the Casita del Mar (north end of town, on the beach) for US$22. Downtown operations offer trips for US$25.
Walk on the boardwalk through the mangroves behind Ceiba del Mar resort (N end of town), and look at birds, fish and cool plants.

Marina La BonitaOffers high end catamaran sailing tours to Puerto Morelos, Punta Maroma, Cozumel, Cancun, Isla Mujeres and Isla Contoy. They also offer private deep sea fishing trips, snorkeling and scuba diving tours and PADI certified scuba diving training.

phone: +52 9988710230

In Puerto Morelos, - Offer scuba diving, reef snorkeling, fishing trips and jungle tours. They also sell equipment. For those who want to try out scuba diving but are not certified, you can try a resort course and dive today. Night snorkeling trips and cenote diving are also popular.

phone: +52 998 2089148, +52 44 998 1805424

address: Calle de Las Reinas

Make an appointment Tu-Sa. Reservations 10:00. 12:00, 14:00 or 16:00. Limited time Sunday - 13:30 and 15:30 after Jungle Market. Closed Mondays. The spa is operated by non profit organization and directed by Sandra A. Dayton. The spa was created so that the Mayan women could benefit from the tourists coming to the area and provide for their families. They provide an authentic Mayan massage.

phone: +52 998-206-9365

address: Ave. Rafael E. Melgar

Offers scuba diving tours, PADI certification classes, snorkeling tours, and fishing.

The Little Mexican Cooking School

phone: +52 998 2518060

address: Avenida Rojo Gomez 768

The cooking school offers a fun day of learning how to cook all your favourite Mexican foods and teaches you about the flavours and ingredients used in this fascinating cuisine. The school has classes during the week in CAsa CAribe (cat@puertomorelosliving.com) with an experienced local (English-speaking) chef. Students receive an apron and recipes to take home with their memories.

address: Ruta de Cenotes 11.5 km

An attraction in the middle of the jungle. A huge green polo field, club house with restaurant and bar surrounded by pristine tropical forest. Here you can take a trail ride on horse back take riding and polo lessons, hire a four wheeler to visit the cenotes or just relax at the bar. Regular polo matches are on the calendar and visitors are welcome to watch.

phone: +52 998 206 9051

address: Ave Javier Rojo Gomez lote 18

Offers diving, snorkeling and fishingtrips. Offers PADI certification training until Divemaster. Also rents bicycles and snorkeling gear.
Buy
Alma Libre BookstoreLarge selection of used English paperbacks, plus new books of local interest. They take trades too. Sign up for their free monthly newsletter, full of updates about the town. Only open during high season.

Check out the local crafts at the Mayan Handicraft Center.
Buy a hammock, a serape, or a postcard at the souvenir shops off the town square.

Centro de Mioterapia Correctiva

phone: +52 998 103 8791

address: Av. Rojo Gomez

Body Balancing Therapy and Manual Therapy Solutions geared towards well-being and fitness focusing on muscle imbalances, related pain and discomfort. Keen evaluation and multi-disciplinary techniques identifying physical limitations and restrictions focusing on the origin of a particular condition. Example of benefits include health care preventive, corrective injury, enhanced physical fitness and performance. International client roster - private practice since 1997. Visit web site for credentials and more information.

The Little English SchoolhousePurchase unique, hand made ceramics created by the well know local artist, Ricardo Arias Alcantara. Proceeds from the sale of items support the Little English Schoolhouse, a non-profit project to bring English to the children and adults of Puerto Morelos.
Eat
Most places don't take reservations, and there can be a wait for dinner, especially around 19:00 or 20:00 in the evening. Sundays are the most crowded. There are a number of very cheap restaurants not listed here. If you eat at these places, stick to food that is cooked to order, as some dishes may not be fresh.
If you have a kitchen, you can buy groceries at
Casa Martin
on the town square, a mini-supermarket.
Budget
El Tio. Tiny place across from the lighthouse; very inexpensive tortas, soup or Mayan food.
Le Café D'Amancia, on the square. Best coffee and healthy breakfast.
Fresh fish - buy from fishermen at the pier or at their stall on the north side of the zocalo, and cook it yourself.
Mid-range
La Marina El Cid, a little south of town. Overlooks the marina and serves a fresh seven-seas ceviche, as well as other good seafood and Mexican standards. Service is as good as the food and view.
Splurge
John Gray's Kitchen, Avenida Ninos Heroes. More upscale and pricy; excellent food by a former Ritz Carlton chef - reservations recommended. The duck breast is a must. Also makes one of the better margaritas along the riviera; not too sweet. Not to be confused with the related, casual beachfront restaurant La Suegra de John Gray (John Gray's mother-in-law) is in Pto. Morelos.
El Pirata, a popular spot for breakfast, lunch, dinner, or a drink from the bar, this open-air restaurant seats you at the center of the action on Puerto Morelos's town square. If you have a hankering for American food, you can get a good hamburger with fries here; there are also great daily specials.
Terraza Serves juices and vegetarian items. Seemed healthy enough, but the piña licuado may seemed like naranja instead and the eggs may seem more like tofu than real eggs. Rosy's is a better choice for juices and breakfast.
Los Pelicanos, a windy beachfront place to have your first drink and nachos in Puerto Morelos nothing spectacular about the nachos but the guacamole, like most places here was abundant and quite good.
Drink
Bara Bara bar. From 20:00 onwards, a place for Martinis and good music. Fridays is for House music, with national and international DJs. Saturday expect Dance Hall, Reggae, Drum and bass and more.
Posada Amor Terrace. Terrace bar with live music somedays, great drinks and relax atmosphere.
Cantina Habanero's, - Open for breakfast, lunch, and dinner serveing a variety of food, from delicious baby-back ribs and grilled steaks to regional Mexican food. Live music most Friday nights. A gathering spot for locals and tourists. 1/2 block north of the town square. English and Spanish spoken.
Unico Beach Club, Palapa beach bar 5 blocks north of the square on the beach. Chairs and umbrellas available, light lunch fare and friendly bartender. English and Spanish spoken.
Sleep
All types of lodging are available, including modest hotels right on the beach. If you are booking within a few weeks of your travel date, you may have to contact several places to find a vacancy.
Budget
Posada Amor. Just off the plaza, not on the beach. A simple fan-cooled room is in the US$30 range, and as is typical, this runs about 50-100% more than a comparable room on Mexico's west coast. The rooms are clean and you'll meet an interesting cross-section of international travelers who are often the best source for information and tips. The attached restaurant is quite good and serves as an informal meeting place for many of the gringo locals.

phone: +52 998-206-9152

address: Avenida Zetina Gazca

Alternative lodging in rustic cabins and rooms. All rooms have private bath with hot water. Each room has a special touch that comes from the personalized decor from the artist and owner. Pets are welcome. Wifi in most rooms.
Mid-range
phone: +52 998 871 0131

address: known

Its a little hotel on the beach with cabanas, not far from town, 7 minutes by car, or 15 with a bycicle. There are different kinds of rooms and cabanas for different budgets. There is also facilities for camping, RV Park and going Snorkeling and more.
Amar Inn. ~10 rooms built adjacent to a family house. Operated by a family from Querétaro. Beach-side rooms are nicer (and cost more). US$55-80/room/night (March 2009). e-mail Ana Luisa or Luis for reservations and availability (amar_inn@hotmail.com). Both speak Spanish and English. Headquarters of environmentalists. 5 minute walk north of the zócalo.

address: Av Niños Heroes

Long and short term rentals in modern hacienda-style apartments, surrounded by tropical gardens, two short blocks from the beach. Fully furnished, two-bedroom flats, plus a rooftop one-bedroom suite with sweeping views of the mangrove forest. Ecologically built, privately owned, safe and secure.

address: Av Rojo Gomez

Delightful, two-bedroom, private condo apartment on the beach just two blocks from the town square. With beautiful tropical gardens and PM's largest blue pool, this appealing Playasol accommodation is ideal for couples or families. Private parking, gated entrance, and a picture-perfect bit of beach.

Hotel Ojo de Agua36-room hotel on the beach with swimming pool and popular restaurant. Comfortable, pleasant rooms for US$70-100 (March 2009). Oddly cheaper to pay in US$ cash than pesos. 5-minute walk north of the zócalo.

phone: +52 998 8710159

address: Av. Javier Rojo Gomez Smz., 2 Mz 5 Lt 17

Bed and Breakfast.

phone: +52 998 871 0232

Nice and clean hotel in the center, studios with fridge, TV, AC and Internet connection. Four minutes walk to the town square and the Caribbean Ocean. It's also home of Yodis Restaurant for breakfast and dining.

phone: +52-998-871-0181

Beachfront B&B about 1 km south of the town square. Rates include a complimentary self-service breakfast buffet, wireless internet, bikes and snorkeling equipment.

Villa RobertoOne of the several beautiful Villas of Punta Caracol, Located Just north of main town of Puerto Morelos. It has 4 large bedrooms with king sized beds. 4 full bathrooms(one for each bedroom) and 2 half-baths. Beautiful private roof top jacuzzi and garden area. A large pool and a very nice and well maintained beach.
Splurge
Hotel Marina El Cid Riviera Maya

phone: +52 998 872-8999

Boulevard El Cid Unidad 15. A member of El Cid Resorts, this oceanfront hotel features colonial and modern architecture styles, a free form pool, snorkeling and diving, and several on-site restaurants.
Go next
Get on the only direct bus to Chetumal at 06:35 in Puerto Morelos, at the ADO selling point/ farmacia Paris (5 hr). Mayab bus runs rest of the day, bit ceaper, 6 hr.
Visit the many impressive Maya archaeological sites: Mayan Riviera including Tulum, Cobá and Muyil; Great Costa Maya (Kohunlich, Kinichná, Dzibanché, Oxtankah and Chacchoben) south of the biosphere reserve Sian Ka'an and sites in the nearby Yucatán State including Chichén Itzá, Uxmal, Dzibichaltun and Ek Balam.
Take the ferry to Cozumel from Playa del Carmen
Go to the big Chedraui supermarket in Playa del Carmen to see what real Mexican families eat and to see some really cool produce. (This also the closest real supermarket to get large quantities of food if you plan to cook; 20-minute bus ride)
Visit Cancún via highway 307 for shopping and dining. A 30-minute drive.
Visit A´aktun Jaaleb at Nuevo Durango, a small Mayan community 2 hours inland from Puerto Morelos that participates in fair tourism as an alternative economic model of development. The community is between Puerto Morelos and Valladolid (and Chichen Itza) and sits north of Coba.