Puerto Princesa
Puerto Princesa
is the capital of the island province of
Palawan
. The city has been acclaimed several times as the cleanest and greenest city in the
Philippines
. With a wide range of attractions ranging from beaches to wildlife reserves, Puerto Princesa is a nature lover's paradise.
Understand
There is a tourist information office at the airport next to the arrival hall, but it's not that useful. They will try to sell you tours, have no maps (Feb 2018) and give no information about current events in the city. They do not book accommodation, either.

Get in
By plane
Puerto Princesa International Airport

address: National Highway, San Miguel
The airport has undergone a makeover, which involves the construction of a new modern terminal, which can handle both domestic and international flights. The new terminal is opened 2017, while the older terminal is closed indefinitely for renovation. Boarding and alighting is still done on the ground as like in the older terminal.
The airlines with flights to Puerto Princesa are:
The airport is not far from downtown, so you can ignore the overpriced tricycles waiting in front of the airport terminal and catch a tricycle on the highway for a fare of . Jeepneys also go along the highway in front of the airport to town or to the bus terminal for .
By ferry
2GO Travel
has two weekly ferries to Puerto Princesa from
Manila
. The ferry trip is about 22 hours long. Additionally,
Milagrosa Shipping
has a weekly ferry that sails between Puerto Princesa -
Cuyo Islands
-
Iloilo
. It departs Iloilo at 7PM on Thursday, arrives at the Cuyo Islands at 8AM Friday, departs
Cuyo Islands
3PM Friday and arrives in Puerto Princesa at 8AM on Saturday.
Ferries docks at , at the far western end of Rizal Ave.
Get around
Jeepneys,
multicabs
and tricycles are the most common means to get around Puerto Princesa. As in
Manila
, jeepneys usually have standard routes which they ply. Tricycles on the other hand are fairly limited to certain areas and would not be able to go very long distances. Standard jeepney and tricycle fare around the city is per person.
The bus terminal is located a few kilometers outside the city centre. A jeepney from the bus terminal to downtown should cost .
For touring, it would possibly be a good idea to arrange special transport whether it be a jeepney or, for more comfort, air-conditioned vans or AUVs. This way, you will not be subject to the hassles of public transport availability.
Although "clean and green" Puerto Princesa City has a bold plan for introducing electric vehicles, the city has no published or announced plan that addresses the urgent needs of pedestrians and bicycle riders. There are few pedestrian crossings in the city and most Puerto Princesa drivers do not yield to pedestrians, leaving them stranded dangerously in the middle of the street. If, in order to protect yourself from the vehicles and smoke, you can take an air-con van, but you only add to the overall traffic and pollution problem. Tourist vans and other vehicles are often parked along Rizal Avenue and other main streets blocking where pedestrians and bicycles could once safely move, but no longer can. If you wish to walk or bike in a clean, green, and safe environment in the downtown area, you should ask at the tourist office (at the airport) where such an area exists, and see what they say.
See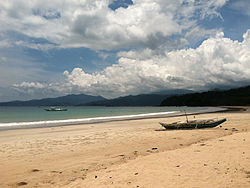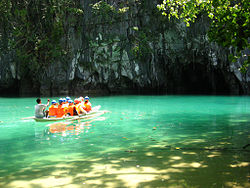 Puerto Princesa Subterranean River National ParkAt over 8 kilometers in length, is reputably the longest underground river in the world. With its crystalline waters and spectacular cave formations, the Underground River is possibly Puerto Princesa's most popular attraction. The site was also declared a UNESCO World Heritage site in 1999. The winding path of the river is navigable via small pumpboats that depart from Sabang Beach. Travel time from the city proper to Sabang is about 1.5 hours (This can take closer to 3.5 if you choose to ride in a Jeepney, since you have to wait while they deliver goods along the journey.) A permit is now necessary to visit the underground river and only available in Puerto Princesa, though an online system is in construction. As of December 2018, you can purchase the tickets in Sabang pier: if you do it yourself it will cost you around 600 PHP, if you do it through your accommodation they might overcharge you up to 1200 PHP. You can also ask if you can make the return trip trekking the park and the jungle: you will need to get a guide to do that but the experience is worth your time and money.
Honda BayConsisting of several islets with beautiful beaches, Honda Bay is the place to go to for swimming, snorkeling as well as beach and island hopping. Accessible via the Sta. Lourdes wharf which is 25 minutes away from the city. Pumpboats at the wharf can be hired to take visitors to the various islets on the bay. Arrive before 11AM to go island hopping if you require a small boat (1-5 people) and before 2:30PM if you require a larger boat.

Iwahig Penal ColonyA good example of a true correctional institute, the Iwahig Penal Colony is more of a farming community rather than a prison. Inmates often live with their families and are allowed to toil their farms to earn a living. Carving out handicrafts is also a common preoccupation and mahogany handcarvings are a good buy for tourists. The colony is about 35 minutes from the city center.

Palawan Wildlife Rescue and Conservation CenterFormerly the Crocodile Farming Institute, and still referred to by locals as the "Crocodile Farm," is a tourist attraction and a national research institute devoted to crocodiles. About 30 to 40 minutes from the city center, the Croc Farm also has a mini-zoo, which features some of Palawan's endemic species of wildlife. The place is open from about 8:30AM to about 4:30PM. From Rizal Avenue you can take an 8-person covered pickup truck (labeled "Irawan") for and the Croc Farm is the last stop; a tricycle carrying only one or two people will cost . Croc Farm Tickets cost for adults and for kids. You start with an guided tour of the crocs which last about 15 minutes. After that you wonder around by yourself in the endemic species area, where you have to be careful not to fall through a few rotton and crumbling wooden bridges. Although this is not the best managed wildlife area, the endemic species are nonetheless worth seeing and deserve your support.

Butterfly Garden

phone: +63 917 597 5544

With native Palawan butterflies is located about half-way to the Croc Farm (above) and along the same road. Open 7 days a week from 8AM to 5PM. Entry is .

Our Lady of Immaculate ConceptionA very beautiful church that is decorated in blue and white.

White Beach

address: Abueg Road, Bancao Bancao

The only beach in town. Not as clean as it used to be and no longer white or pristine. But if you want to meet some of the locals and have a few drinks (alcoholic) then it's a great place. Just walk down and buy a few beers from the take away store and walk around the huts and you will be invited to join a group at a table. Lots of fun for an international traveller - if you have a great time then throw in some money for the table () or buy a cheap bottle of whatever they are drinking.

Ugong RockA 75-foot (22-m) limestone formation in the middle of farmlands and karst forests located near the Underground River. Main activities in the site include spelunking and zip line.

Rizal AvenuePuerto Princesa's main commercial strip where one can find various shops, banks, restaurants, and budget inns.

Langogan ReefNew Coral reef protected by city ordinance and three falls, the largest of which is around 50 m, located 5 km from the barangay.
Museums
Palawan Heritage Center

address: Fernandez Street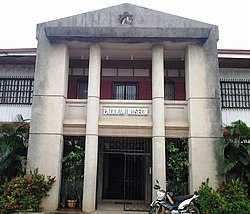 Palawan Museum

address: Valencia St

This is an old museum that is not very well maintained or labeled but which has a number of interesting pieces. It is well worth a visit on a rainy day.

Palawan Special Battalion World War II Memorial Museum

South Sea Pearl Museum

address: Irawan Watershed Flora and Fauna Reserve. Bgy. Irawan

PSU Museum

address: Palawan State University

This is a one room museum located inside a university building. You should ask for specific directions at the front gate, because not everyone knows about the existence of the museum. The museum is located in one small room but is clean, organized, and well-maintained, with an enthusiastic and helpful staff member.
Do
Buy native products at the
Tourism Association of Souvenir Shops, they offer handicrafts made by the native tribes like manunggul or wooden jar, bulol or tisot, good harvest and carved animals. Others are tingkop (rice baskets), fish baskets, bags made from bark of a tree, native accessories, weave curtains and table mat, rattan floor mat and other assorted cashew nut delicacies.
Puerto Princesa offers good diving and is a fairly good place to take a PADI course if you plan to dive at some of the larger sites in El Nido or Coron. Moana dive centre, run by Paolo, offers PADI Open Water for . Good equipment, and pleasant instruction, with confined water dives taking place in the shallow parts of Puerto Princesa bay. Possible to see sea turtles, eels, lionfish, porcupine fish, batfish and snapper amongst others.
Plaza Cuartel

address: Taft St. near Cathedral

Historical place, a must see site. It is the restored ruins of an old garrison where Japanese soldiers burned 143 American prisoners of war inside a tunnel and stands as a grim reminder of World War II.

Baker Hill

address: Mitra Rd, Bgy Sta Monica

check out the plants and animal in its natural habitat.
Buy
Malls & supermarkets
Robinsons Mall

address: North Road

has a Robinsons supermarket

NCCC Mall

address: Lacao Street

has an NCCC supermarket.

Unitop Mallhas a small supermarket.

address: Malvar Street cor Lacao Street

65,073 m 2 mall with a Savemore supermarket.
Eat
phone: +63 48 434-2274

address: national highway cor wescom rd

Seafood prepared by a Hong Kong chef. Authentic Chinese cuisine.

phone: +63 48 723 1530

address: Manalo Ext. before Island Divers, Bancao Bancao

French cuisine and can be a very welcome alternative for those longing to eat something else than local food after a long trip. The little restaurant lets you dine in intimate ambiance while you may chat to both the cook and the owner. The menu includes a variety of French foods like coffee & tea, paté rillettes, confit, soupes, salades, tapenades, grillades, fruits de mer, porc, boeuf, poulet, canard, crépes, patisserie"

Divine Sweets

address: Valencia St

Great cakes (), coffee, shakes, etc. They also serve food (untested). Wifi if you order

Ima's Vegetarian Restaurant

phone: +63 939 916 1524

address: 46, Fernandez St

Very good vegetarian food. Highly recommended

Kinabuchs Grill and Bar

phone: +63 48 434 5194

A sports bar and grill and a magnet for tourists and other visitors. The food is really good and customers can play pool or watch live sports.

KaLui Restauran

phone: +63 48 433 2580

address: 369, Rizal Ave

Amazing food and ambiance. Can get quite busy so a reservation can't hurt. Seafood is the specialty and the daily seafood special for two is .
Drink
Cafe Nori

address: Circon Bldg. Valencia St

Serves Japanese cuisine with fusion and variety of Filipino and American cuisine. Also available are fruit shakes, coffee & frappuccinos.

phone: +63 9478673322

address: 4th District Tiangge Centre, Rizal Ave

Cool reggae bar serving ice-cold beers, beer towers/buckets, cocktails and mixed drinks. Free WiFi, a stylish & relaxing VIP bamboo lounge.
Sleep
Puerto Princesa has a wide range of accommodations that suit most budgets - from quaint lodges to high-end hotels and resorts.
Budget
phone: +63 48 433-2873

address: 107 E Valencia St

Not the newest pension anymore but offers clean beds and quiet rooms. Not all are the same, so have a look before checking in. Friendly and helpful staff. Try the sandwich with French baguette. Wifi for (for the length of your stay)

Dallas Inn and Cafe

phone: +63 919 967 8558

address: 11 Carandang st

Family run guesthouse. Free wifi, quiet location, central, 3 min drive from the airport with free pick up if booked in advanced. Dallas Inn has a variety of rooms to choose from according to budget. Fan Doubles , 4-bed dorm.

Kuhl-In Pension

phone: +63 48 433 3420

address: Libis Road Ligaya St. San Pedro

Perhaps the best address for a monthly accommodation in the city. City location but is in a green area. Monthly rate for a 2-bedroom apartment is .

phone: +63 9167211926

address: Abueg Rd

Offers a comfortable and relaxing ambience in their bungalows or semi-native style cottages. Surrounded by trees and situated a couple of meters away from the road, you could almost forget you are in the city. They offer free wireless internet and claim to serve delectable foods at their restaurant. They also have a swimming pool and billiards table.

Aniceto's Pension

phone: +63 9177894664

address: 71 reynoso St

Fan single/double without a side bathroom

Abelardos Pension

phone: +63 48-4332049

address: 63d Manga St

Clean fan rooms without a side bathroom.

Sheebang Hostel

phone: +63 9153700647,+63 48 4330592

address: 118 Libis Road

Bed in a dorm.

Princessa Inn

phone: +63-48-433-4218

address: 169 malvar St

Fan single/double.

Tree House Inn

phone: +63 48-4340005

address: Malvar Street

Dorm beds.

O M G Backpackers

address: 219 Rizal Avenue

Free wifi.

Ezy Stay Pension House

address: Rizal Avenue Extenison

Free wifi.

J L C Hostel

address: 26 Old Buncag Road

Free wifi.

Garellano Tourist Inn

phone: +63 48 4332314

address: 257 Rizal Avenue

Fan double room with own bathroom.

phone: +63 2-523-3930

address: 1337 A. Mabini St

phone: +63 2 521-4776

address: 1011 A. Mabini St

This hotel offers rooms equipped with kitchen, refrigerator, remote control colored television, individual air-condition unit, telephone with IDD/NDD access and voice mail. Mabini Mansion also offers the following facility and services: restaurant, foreign currency exchange, airport transfer to and from the hotel, daily maid service, business service and room service.
Mid-range
Stay healthy
Ospital ng Palawan. 220 Malvar Street. Phone 048-4346864. 048-4342148 (DOH Hospital).
Cope
Bureau Of Immigration Puerto Princesa Office. 2nd Floor. Robinsons mall.
Go next
El Nido - popular yet still remote destinations on Palawan, known for snorkelling, diving and beautiful little islands. It is 6-7 hour drive from Puerto Princesa.
Coron 2GO Travel ferry two times a week.
Underground River - a UNESCO World Heritage site located roughly 50 km north of Puerto Princesa.