Puerto Vallarta
Puerto Vallarta
, colloquially known as
Vallarta
, is a city on
Mexico
's
Pacific Coast
. While it is established as a modern resort town, the
Old Town
(the Zona Romantica district) south of the River Cuale is more of a traditional Mexican city.
Around the Bay, beautiful beaches, lush jungles, and sparkling waterfalls offer many opportunities for the adventurous, while five star resorts, world-class shopping, and gourmet restaurants satisfy even the most sophisticated traveler. Stretching from the south end of Old Town to central downtown, a newly extended and refurbished boardwalk along the ocean, called the Malecon, passes by any number of shops, restaurants, and hotels, and often plays host to mimes, breakdancers, clowns and artists.
The residents are friendly and generally willing to help with directions and other requests.
English is widely spoken, and as a tourist destination, prices are higher than many other places in Mexico. Puerto Vallarta is very crowded at holidays, if planning a visit to Mexico that coincides with a major holiday consider opting to visit
Mexico City
or
Guadalajara
instead. The cities empty out as Mexicans and tourists alike flood to the beaches.
Get in
By plane
Licenciado Gustavo Diaz Ordaz International Airport

address: Carr. Fed. Tepic-Vallarta Km 7.5, Área Militar de Vallarta

Non stop air service is available from all regions of Mexico including flights from Guadalajara. International flights are only offered from Canada, the United States and the United Kingdom year round. Direct flights from additional cities in North America and from Europe are only offered seasonally, usually between November and March.
The following airlines offer regular service to Puerto Vallarta:
Sala A - Concourse A: AeroMar, Aeromexico/Aeromexico Connect, Interjet, Calafia, Magnicharters, TAR, VivaAerobus and Volaris,
Sala B - Concourse B: Alaska Airlines, Air Canada, Air Transat, American Airlines, Delta, Southwest, Sunwing, United, Thomson Airways, Virgin America and Westjet. The following carriers only come seasonally: Frontier, Finnair, LOT Polish, Sun Country and airlines chartered by Apple Vacations. Even the carriers that come regularly, year round, (listed in the former) offer seasonal flights from more cities in the U.S., Canada and Mexico than they do during the other times of the year.
Upon exiting from customs, the next two rooms outside of customs are plagued by timeshare hucksters. They will offer to arrange a cab ride, arrange for a tour, offer free meals, cash etc for you in an effort to rope you into a high pressure timeshare sales presentation. Unless you are looking to buy timeshare or to burn hours of vacation time in timeshare sales presentations, do not engage in conversation with anyone in the next two rooms. Walk quickly through the next two rooms - the ones housing the hucksters - continue walking past the rope-line out to the main arrivals area. Now look for the official taxi kiosk or car rental desks out in the main airport arrivals hall. You can purchase your taxi trip here. All other offers of cab rides you will receive between customs and the kiosk will be from the timeshare hucksters. Ignore every one of them. The bad experience of those taken in can ruin one's first hours in PVR, and that would be a shame. Or hire private transportation.
If you've packed lightly you can take the city buses into town. Go out the doors and turn left towards the main road next to the building. Turn left again at the corner of the building and go through a small taxi and shuttle parking lot towards the pedestrian bridge. The bus stop is under the pedestrian overpass next to the building (1/4 block from the airport door). Wait for a bus (5 minutes or so) marked "Centro" (but
not
marked Pitillal or Bobadilla), wave it down, pay your M$7.50 (
pesos
), and enjoy the ride. The bus stops all throughout the town. It takes about 20 to 30 minutes for the bus to get to its farthest southerly stop. If going towards the bus station, Nueva Vallarta, Bucerias, Sayulita or anywhere north, go up to the pedestrian bridge and walk over to the other side of the road. The bus stop for buses going north is under the pedestrian bridge at the opposite side of the road and also where to get off if coming back to the airport from town. For going to the
central bus station
take the northbound bus going towards "Ixtapa" or "Juntas" and get off Las Palmas which is the Cerveza Corona building at Km 9 and walk back two blocks along La Palmas or take the "Victoria Guadalupe" bus which makes the turn towards the actual bus station in Colonia Victoria Guadalupe. The location on the opposite end of the pedestrian bridge from the airport terminal is also where you can catch a (regular) yellow taxi for less than the white airport taxis picking up at the front of the arrivals doors.
You've just saved US$20! You don't need exact change for the bus. Drivers will make change for bills M$100 pesos or smaller.
By private transportation
If you are visiting Puerto Vallarta, you should consider private pre-arranged transportation directly from your airport to your hotel. This transportation can be arranged by contacting a company by phone or booking online. This will save you time and money. There are several companies that can take you anywhere in Puerto Vallarta and surrounds.
By car
The
Carretera Pacifico (Fed Hwy 200)
begins 162 km north in
Tepic
(3 hr) and winds down through the Riviera and eventually into Puerto Vallarta from the north as
Carretera Tepic-Pto Vallarta
and
Blvd Francisco Medina Ascencio
. Going south into town the highway splits into local one way streets through 5 de diciembre and Zona Centro as
Av Mexico
and
Av Morelos
and as
Ignacio Vallarta
through Zona Romantica south of the Rio Cuale. The main highway continues south towards
Manzanillo
(273 km) through Mismaloya. From the south the highway enters as
Carretera Pto Vallara-Cihuatlan
and into Zona Romantica as
Av Insurgentes
. It becomes
Av Juarez
and than
Av Colombia
going north through Zona Centro and 5 de Diciembre.
Coming from
Guadalajara
(322 km) go west along
Fed Hwy 15D
towards "Tepic" to the "Chapilla-Pto Vallarta" exit and continue west towards Hwy 68D through Chapilla to the roundabout junction with Hwy 200, southwest of Compostela. Alternatively you can also exit off the main highway by following the signs for "Tepic Libre" (Fed Hwy 15) after entering into Zapopan instead of continuing along the "Tepic Cuota" (main toll highway on Fed Hwy 15D). Exit again at
Fed Hwy 70
going towards "Tala Ameca". The road winds through Tala, Ameca and Mascota; becomes State Hwy 544 west of Mascota and enter Pto Vallarta as Las Palmas through Col. Ixtapa northeast of town.
By boat
Major cruise ships loaded with thousands of tourists from the United States as well as Europe dock in the city's main port typically spending an entire day there. Other port accommodations are available for those wishing to travel along the coast.
By bus
Bus service in Mexico is quite reliable and comfortable. Before the recent start-up of several low cost air carriers, bus was the main mean of transport across Mexico. Several lines serve Puerto Vallarta. Buses have air conditioning (except some "economy" ones), and often show movies and have refreshments.
You can take a taxi (~M$200) or local bus (
Guadalupe Victoria
,
Ixtapa
or
Juntas
for M$7.50) in the city to the (
Central de Autobuses
) to catch a bus to
Tepic
(3 hours),
Guadalajara
(4-5 hr),
Mexico City
(12-13 hr),
Manzanillo
(5 hr),
Mazatlan
(6 hr),
Barra de Navidad
and to other locations. The main bus station is in the northeastern part of town, at Bahia de Sin Nombre 363, a couple blocks behind the Corona Building at Km 9 Carretera Tepic-Puerto Vallarta (Hwy 200) along Av Las Palmas in Colonia Guadalupe Victoria. It is located 3km past the airport terminal and 9 km NE of the downtown core (el centro). The following bus lines offer services into and out of the Central Bus Terminal:
The following do not serve the main bus station:
phone: +55 33 3111-8778

address: (depot) Av. Palma Real 140, Guadalupe Victoria

They also have a second station at Carr. Fed Tepic-Vallarta 1003 Sur, Valle Dorado, 63735 Nuevo Vallarta. Next to Farmacia Ahorro.

Autotransportes Talpa Mascota (ATM)

phone: +55 322 222-4816

address: (depot) Corner Lucerna & Havre, Col. Díaz Ordaz

Goes up towards Guadalajara through the mountains via Mascota, Ameca and Talpa along State Hwy 544 & Fed Hwy 70.
The following are local city buses going north to the Riviera such as
Bucerias
,
Sayulita
,
Punta Mita
, La Cruz de Huanacaxtle, Mezcales, Nuevo Vallarta, etc. in Nayarit state. Buses going towards Nayarit can only stop in front of Wal-Mart, next to the airport and in front of the Cerveza Corona Building at Km 9 along Carr. Tepic-Vallarta (Hwy 200):
AutoTransportes Medina de Puerto Vallarta (ATM)

phone: +52 322 222-47-32

address: (depot) 1410 Brasil, 5 Diciembre

Goes up to Nuevo Vallarta, Mezcales, Punta de Mita, San Juan, La Penita, Bucerias, Valle de Banderas, Cruz de Huanacaxtle and anywhere in between.

CompostelaGoes further north to Sayulita, San Francisco (San Pancho); Lo de Marcos, Rincón de Guayabitos, Compostela, etc.
Going south there are white and orange buses going to Mismaloya, the Puerto Vallarta Zoo, Boca, and the Botanical Gardens plus all the small towns along the way. They pick up in front of Oxxo at Basilio Badillo & Constitucion in Col. Emiliano Zapata (Zona Romantica)
In town there's an additional bus stop at the NE corner of Aguacate & Venustiano Carranza in Zona Romantica (Colonia Emiliano Zapata) for first & second class buses going south to El Tuito, Manzanillo and anywhere along the way. Tickets can bought from vendors in front of Abarrotes Don Chalio on 402 Venustiano Carranza; Farmacia Guadalajara on the SE corner of Insurgentes & Lazaro Cardenas; or Superior Tours on Ignacio L. Vallarta 228 (SW of Ignacio L Vallarta & Calle FCO Madero - Tel: +52 322-222-0024). Fares for second class buses can be paid to the driver at boarding. If coming into town from the south ask to get off in Zona Romantica (along Insurgent) if going to downtown or Zona Romantica, otherwise stay on the bus to the bus station (north) to continue north to Nuevo Vallarta, Bucerias, Sayulita, Tepic, or anywhere in the Riviera.
Get around
By taxi
Hotels may provide a price list for cabs (expect to pay about M$50 for short trips, and M$200 for longer trips). Hotels will also offer (expensive) transport from airport to hotel, but it is much better to take a taxi. If you've booked with a travel agency, they will most likely provide you with transportation to and from the airport.
Be prepared for fast speeds, as the cab drivers have schedules to adhere to. Many of the cabs do not have working seatbelts or speedometers as well. Taxi drivers tend to gather at the intersection close to the liquor outlet in the Centro District. They are friendly and you can negotiate trips outside of Puerto Vallarta at a very reasonable cost on slow days. They will wait for you while you dine or shop as well as photograph you and your mates. Tip only if the taxi driver did something above and beyond normal transportation (e.g., helped with bags, waited while running an errand).
Tip: From the airport, there are two types of taxis available to get you to where you are going. The white federal taxis are available immediately upon exiting the airport but are more expensive. Cross the pedestrian bridge over the highway for the cheaper yellow taxis that are more common in other parts of the city.
By bus
Bus trips cost around M$10 (2019) that you pay to the bus driver when you get in and every ride is good for as long as you have to stay on the whole city if you'd like. Make sure to keep the ticket you are provided by the driver in case an inspector gets on the bus, both for your sake and the driver's sake. It is easy to find a bus stop. You will see large amounts of people loitering on the sidewalk. If you wait a few minutes, a bus will stop as they run quite frequently. Look for your travel location on the bus windshield. Buses stop almost every five to ten blocks and at peak hours tend to get very full & can get very hot, so be ready for that. If you are a man, be ready to give up your seat to women if the bus becomes crowded. Bus drivers will make change for any amount up to M$50, but won't break larger bills (August 2010).
The buses are very reliable and quite handy to get to places like Pitillal (the rapidly growing suburb to the northeast) and Ixtapa (including the nearby U of Guadalajara campus with its gallery and crocodile farm). They are also useful for traveling from the hotel zone and marina area to the downtown or old-town areas. Any bus marked "Centro" will pass through both. Buses marked Tunel will skip downtown and head directly to the old town/Zona Romantica via the tunnel bypass. The city government or local council have a list of bus routes on their
website
. The list includes route maps overlaid on a map (Google Map) but no schedule as they run quite frequently.
You can visit Bucerias for M$14. You can also go to Punta Mita for M$8. Mismaloya buses charge around M$8. There are also larger buses that can take you to Guadalajara, which is about a 5-hour trip.
You can catch buses for Mismaloya along Basilio Badillo on the corner just west of where you see them lined up.
The easiest way to catch a bus to Bucerias, Punta Mita or points in between is to catch a city bus to Wal-Mart/Sams. Walk along the main road to the northernmost bus shelters in front of Wal-Mart. The buses to Bucerias leave from here.
If you want to catch a bus south to Barra de Navidad or any of the towns south to Costa Allagre, you can catch the bus at the corner of Dieguez & Aguacate at the south end of town. Buses leave at 06:00 and 09:00. Look for the blue bust stop sign. You will have to pay the driver in pesos (fares vary on distance). Just tell the driver where or when you want to get off the bus. Most buses make frequent stops but have A/C. Regional buses are very reliable & run 7 days per week.
By car
Be very careful if you choose to drive in Puerto Vallarta. The police seem to pull tourists over at the drop of a hat during spring break. When you pick up a rental, check that all the lights work. Also when you are pulled over for a light violation, do not be surprised if the police holds out an open palmed hand, while holding your driver's license hostage in the other. Most police officers are underpaid and will for the most part demand a small bribe to let you off the hook.
See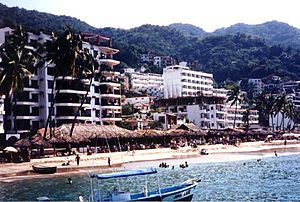 Beautiful Banderas Bay, one of the largest and deepest in the world, may be admired from many of the surrounding hills exuberant in lush vegetation. Located right at the mouth of the Bay, straddling both sides of the River Cuale lays a charming and picturesque little town with true Mexican spirit, Puerto Vallarta.
For those who just want to relax, Puerto Vallarta's many golden sand beaches offer one of the best ways to experience the beauty and magic of the Bay of Banderas.
Los Muertos BeachThe downtown has a beach called "Los Muertos" that stretches to the Zona Romantica. There you will find the gay area with are many restaurants, stores and boutiques. At the end of "Los Muertos" you will find some beachfront restaurants with "palapas" that you can rent per day or have drink in. It is a perfect place to relax and meet people who party all day. Also, there you will find the trendiest place of the moment, where to go, what to see, the best shows. The best seasons is between December and May.
To the north, the hills give way a little. Here you will find mile-long stretches of golden sand beaches, rich plantations of papaya and mango and, tucked back along tumbling rivers and streams, small villages where life seems to move at a different pace. There are many different ways to explore the Bay.
To the south, the hills cascade towards the sea creating a rich palette that mixes the vivid green foliage with the deep blues of the water. At their feet nestle secluded coves and small fishing villages, many of which are still accessible only by sea.
To the east, the jungle clad Sierra Madre Mountains, which quickly rise to over , encircle and protect the town from the winds and regulate the semi-tropical and humid weather.
And, to the west, the Bay of Banderas is home to a wide variety of aquatic life. Humpback whales come here to mate every year from December to March, and sea turtles nest on the beaches from May to October. Schools of dolphins and giant manta rays also inhabit these waters. The Bay and the Marietas Islands offer an amazing kaleidoscope of tropical fish, attracting snorkelers, scuba divers and sport fishermen alike.
Do
Puerto Vallarta has many activities and excursions to keep you entertained. The adventurous can hike or mountain bike in the hills, explore the jungle and hidden trails on horseback, take a jeep safari, snorkel, scuba dive, charter a yacht or sailboat, or take a cruise on one of the many party boats, make a personal photoshoot. Oftentimes they are easily booked online.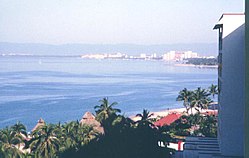 Events around the year
Mardi Gras/Carnaval
: The parade takes places in the Zona Romantica. You will also see the gay charm around downtown.
November
: The first weekend of November Vallarta holds the Half Marathon and 5-km race. Everyone is welcome to enjoy it. "http://www.maratonvallarta.com/"
December
: The Catholic religion has a big celebration for
Our Lady of Guadalupe
on December 12th. Puerto Vallarta start on December 1st, The local people, hotel, condominium owners, organization go on pilgrimage around 18:00 until 21:00 everyday at downtown. You´ll see traditional dancer, mariachis, bands offering tribute to the Virgin.
Botanical gardens
phone: +322 223-6182

address: Carretera a Barra de Navidad Km.24 S/N just beyond Las Juntas y Los Veranos

Vallarta Botanical Gardens a pleasure garden high in the glorious Sierra Madre Mountains. These gardens are easily accessible, just 12 miles south of Puerto Vallarta (on Hwy 200). Located on 8 ha (20 acres) of land, these botanical collections features thousands of different species of plants. The gardens are in a unique tropical dry forest ecosystem at 400 m (1,300) feet above sea level. Against the breathtaking backdrop of soaring mountain peaks, there is much to experience: Palm Gardens, Rose Garden, Tree Fern Grotto, Orchid House, Jungle Trails, Tropical Bird Watching, Agave Gardens, displays of Mexican Wildflowers and the Carnivorous Plant Collection. Bringing your swimsuit and enjoy a refreshing dip in the crystal clear Rio Los Horcones The Puerto Vallarta Botanical Gardens is registered with Botanic Gardens Conservation International in Surrey, England and members of the Asociacion Mexicana de Orquideologia. The gardens are listed in the Lonely Planet 2009 Guide to Mexico as a "Vallarta Must See".
Vallarta Botanical Gardens is a nonprofit institution. The Puerto Vallarta Botanical Gardens was founded in 2004 and was opened to the public in 2005.
Hacienda de Oro Visitor's Center with spectacular mountain views, is also where you will find Hacienda de Oro Restaurant, with a courteous staff, delicious brick oven pizzas, salads and other Mexican specialties. Hacienda de Oro Restaurant was designed by Santa Rosa, California, native and world-renowned fine artist, Anthony Sbragia. Also, in this area are the famous "classy" restrooms. Located in the heart of an old growth native forest, with thousands of native and ornamental plants, a short ride from town - by car, bus, taxi.
Adventure and sports
Whale watching
Puerto Vallarta's whale watching season runs from December to March of every year. Humpback whales are the top liners of this fantastic nature show, but you can also see dolphins, porpoises and other animals. Puerto Vallarta Whale Watching Tours take you to see humpback whale mothers ant their calves in Banderas Bay.
Golfing
La Marina Vallarta Golf Course-Have to have good accuracy for this one due to narrow fairways that are guarded by water
Los Flamingos Golf Course-Known as one of the easiest to play
The Mayan Palace Nuevo Vallarta Golf Club, 18-hole par 71 course designed by Jim Lipe. Address: Paseo de las Moras S/N, Fraccionamiento Náutico Turístico, Nuevo Vallarta, Nayarit . Fun course with many obstacles is on the spectacular beaches of Vallarta between the Sierra Madre mountains and the Bahia de Banderas bay. The Vallarta course offers interesting competitive advantages and challenges to golf lovers for the vast fairways appear to be the easy part but the lakes complicate the game for the most expert golfers.
El Tigre Golf Club-Long course with many traps and water
Vista Vallarta-Hosted the 2002 EMC World Cup Championship
Scuba diving
Puerto Vallarta is one of Mexico's top dive destinations. There are many rental shops along the beaches.
Surfing
The beaches in Puerto Vallarta are not ideal for surfing, but a daytrip out of town up along the coast of Banderas Bay will take you to some great surf spots! Passing the Ameca river along the way to these spots, you find yourself in the next door northern state of Nayarit. Such trips can be coordinated with a local surfing instructor or done solo.
There are many surfing spots in the state of Nayarit: ranging from beginner waves, to perfect reef breaks for experienced surfers. The names of some of the more popular surf spots are: Veneros, Burros, la Lancha, Punta de Mita, San Pancho and Sayulita. The drive from downtown Vallarta to points inside the Bay takes roughly 45 minutes, and a bit over an hour to get to renowned Sayulita on the Pacific coast. Sayulita is a small village which is frequented by many tourists because it is easily accessible and a vast array of businesses cater to beginner surfers. You can find surfboard rentals, surf lessons and great beaches. Sayulita is known for producing some of the best surfers in Mexico like Tigre Cadena, Kalle Carranza, Diego Cadena and Adan Hernandez amongst others.
The main beach at Sayulita has consistent waves and the place is crowded during the winter months particularly. There are waves small enough for beginners and large enough for the locals and experts. Most of the adventure companies don't offer surfing lessons and you might need to find an independent instructor.
Snorkeling
The most popular snorkeling areas are Los Arcos underwater caves and Marietas Islands caverns. Vallarta Adventures snorkeling trips combine an extraordinary day of sun, fun, and adventure with just the right mixture of entertainment, learning and challenge, while snorkeling, sea kayaking, and exploring the tropical ecosystems on the secluded islands and beach hideaways that surround beautiful Banderas Bay.
Explore the Sierra Madre
The Mexican Outback in the states of Jalisco and Nayarit offers an opportunity of discovery and adventure: A culturally and ecologically trained guide can take you into authentic Mexican villages and through the sub-tropical forest with its extraordinary ecology and wildlife. Vallarta Adventures´ Sierra Madre Expedition takes you in specially designed Mercedes Benz all-terrain vehicles on an off-road voyage of discovery, past forgotten villages into the heart of the Sierra Madre.
Canopy tour and zip lines
Puerto Vallarta is well known for its canopy and zip line tours. Experience the exhilarating rush as you fly over the tree tops, securely fastened, from platform to platform.
Sailing
Banderas Bay is the second largest bay in North America, behind Hudson Bay. The deep, calm waters offer a very rich biodiversity, stunning beauty, romantic sunsets and relaxed sailing. Vallarta Adventures offers day sailing, sunset sailing, sailing with whales and private charters.
Kitesurfing
Kitesurfing is becoming more and more popular in Banderas Bay. Especially in Bucerias, a fishing village north of Nuevo Vallarta, you can see up to 30 people kitesurfing on a Sunday when the wind is good. The calm waters of Banderas Bay, the extended shoreline and the fact that it´s not too crowded with kitesurfers (yet) make it an excellent place to take lessons, for example from Jamison Smith, an IKO Level 2 Senior Certified International Kiteboarding Instructor. The season is from February until May.
Parasailing
You are able to parasail at pretty much every beach. The sky high trip usually last around 15 min.
Jet skiing
Jet skis can be rented at most beaches by the hour.
Fishing
Banderas Bay is home to annual Puerto Vallarta International Fishing Tournament held since 1956. Fish types include sailfish, dorado, marlin, bonita and yellowfin tuna, roostertail, jack cravel, pargo, red snapper and more denizens of the deep, black, blue and striped marlin.
PV Charters - Offers fishing charter services. Phone +322 888-576-0329
Horseback riding
There are many ranches in town that offer horseback Riding into small villages and through the forests. They can last from a few hours to a few days.
Turtle-watching & repatriation
Some tour companies offer educational programs combined with hands-on activities to help save Mexico's turtles. After the female turtles lay their eggs in nests they create in the sand, volunteers dig up the eggs and re-bury them somewhere safe from predators. After about 45 to 60 days, the eggs hatch. Without help, only about 1 in every 1,000 baby turtles will survive to adulthood because most are caught by predators before they make it back to the safety of the ocean. However, turtle repatriation volunteers keep the babies safe until it is time to set them free to head for the ocean (at night when predators are less active). You can be part of these programs.
Hiking
You will be hard-pressed to find information about simple hiking excursions, because no one makes much money from hikers while they are hiking. So you must research this ahead of time if you wish to hike. However, one short and interesting hike may be accessed as follows. Take a water taxi to Yelapa. On the main beach in Yelapa, walk to the right and cross the creek. Hike upwards a few meters to the cobblestone trail. Turn right, and then follow the trail over a ridge and up the adjacent valley. After hiking about 1½ km through a tropical deciduous forest, your persistence will be rewarded. The waterfall is about 10 m high, with a pool for bathers at the base. The falls are more impressive during the rainy season (northern summer).
Yoga
phone: +52 322 223-0530, +52 322 1477008 (mobile)

address: Matamoros 542, Col. Centro

Great sunset yoga classes on a 360 rooftop in old town in front of the ocean. Well known for its traditional style yoga. Only certified teachers offering Vinyasa Flow, Morning Yoga, Sunset Yoga, Children's Yoga.

phone: +52 322 222-1706, +52 322 1165809 (mobile)

address: Basilio Badillo 325, Col Emilio Zapata

Located in Zona Romantica (Basilio Badillo #325 3rd floor). This studio has high-mounted windows that bathe the studio in wonderful, natural light.
Parks
Sea Life Park by Dolphin DiscoveryDiscover Sea Life Park. Located off the first exit of Nuevo Vallarta; look for the water slides that can be seeing from the road. Sa Su Tu-Th 10:00-18:00.
Entertainment
November Festival
It usually occurs in the middle of November and includes:
Many cocktail parties
Wine and tequila tastings
Cooking classes
Concerts
Gala dinners
Art expos
Screenings
Art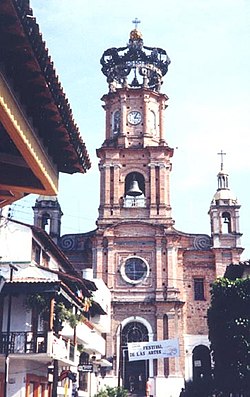 Some of the local art galleries are:
Galería Arte Latinoamericano - Two-floor gallery. Participates in art walk
Galería Corsica - Contemporary Mexican fine art
Gallería Dante - Voted #1 Gallery in Vallarta Voice Reader's Choice 2003
Galería Feedma - A recent addition to the Vallarta art scene, with renowned Mexican and international artists and photographers (moves to Mexico city feedmasa@gmail.com)
Galería Omar Alonso - Dedicated to antique and contemporary photography, engraving and sculpture
Gallería Pacificio - One of Vallarta's leading galleries since 1987; Sponsors the Public Sculpture Walking Tour that starts at 21:30 every Tuesday on the Malecon, Nov-April.
Theatre
Up to four companies perform English-language theatre at the Theater Agustin Flores Contreras.
Music
Electro Beach Puerto Vallarta - a yearly Electronic Dance Music (EDM) festival featuring talent like Tiesto, Avicii, Calvin Harris, Steve Aoki, and Hardwell.
Malecon - You'll find live Cuban, jazz, rock, Latin American ethnic, Mexican ranchero and Mariachi
South Side - Los Muertos Beach offers jazz at Daiquiri Dick's happy hour
You can also find blues, pop-rock and jazz.
Marina Vallarta & Nuevo Vallarta-You can have a Mexican dinner and listen to mariachi, marimba, romantic trios and folk harp.
North Shore - Offers a variety of live music.
Buy
La Playa liquors and wines. At least two outlets - one in the old town and one in the centro. This is the place to go for reasonably priced tequila. Most of the flashy tequila shops are either factory stores or time-share gimmicks. Neither are good options for buying tequila at a decent price/quality ratio.
Manta Maya a shop selling contemporary variations on traditional Mexican cotton clothing. The clothing is made in their shop in Zapopan, on the outskirts of Guadalajara. Basilio Badillo at Ignacio Vallarta.
Galeria Indigena a shop specializing in Huichol art as well as art from other indigenous peoples. You'll see bead art everywhere, but this is one of a few shops that sell somethint at least a little more authentic than colorful beaded lizards and such. Juarez 628.
Arte Mágico Huichol another Huichol art shop. In addition to the usual bead art and yarn art they also sell piece of more traditional Huichol handicrafts. Coronoa 179.
La Casa del Habano Vallarta's best selection of real Cuban cigars. They also have a cigar bar. Aldama 170, Zona Centro. habanospv@yahoo.com

phone: +52 322 223-5978

address: Juarez #178

Offers high quality swimwear and beachwear for women in sizes 6 to 18 and Plus Sizes 20-40. Great for when you cannot find a swimsuit at home or forget to pack one. Huge selection, reasonable prices, beautiful suits. Closed Sunday. Summer hours M-F 11:00-17:00.

OxxoBest place to buy beer or snacks, save Wal-Mart (hassle, bus ride). They are all over the city & will save you tons of money. Most have cash machines. A great place to make small change for the bus.

Wal-MartCheapest place to buy most groceries. Huge produce department. Good variety of Mexican & some US products. Good place to buy smokes or liquor before flying home. Can be inconvenient to bring back groceries via local bus.

WoolworthsGreat & inexpensive place to purchase clothes & household items. Store has A/C. Prices average 10-40% less on similar items from the US. They also take Visa/MC. Bus stop directly outside the front door.
Eat
The rich cultural diversity of Puerto Vallarta is reflected in the cuisine that its many restaurants have to offer. From the most casual taco stands, to tropical beachfront palapas, to upscale rooftop restaurants with panoramic views, there are literally hundreds of restaurants serving exactly what you are hungry for.
However, care should be taken to avoid
travellers' diarrhea
. There are many beachside restaurants to tempt you with tropical drinks, but bottled beer is a much safer option.
When taxi drivers, water taxis or other guides seamlessly hand you off to their "amigos" at a beachside restaurant, do not be bashful about seeking other options, or just order a bottled beer to be opened in front of you. Do not trust that your guide has made a good decision, he will be gone with your tip (or that of the restaurant owner for bringing you) long before you show any symptoms. Any restaurants listed in reputable guidebooks and/or are popular with locals are a fairly safe bet:
phone: +52 322 222-0161

address: Calle Matamoros 520, Centro

Famous hotel and restaurant located in Puerto Vallarta. It has been cited by Playboy Magazine and well known actors such as Peter O'Toole and Elizabeth Taylor.

phone: +52 322 222-0366

address: Agustín Rodríguez 175, Centro

Locals and tourists create a unique atmosphere, where music is definitely an ingredient you will enjoy. An eclectic menu, reflecting Mexican and international dishes. Live music daily!

phone: +52 322 22-104-70

Marina Vallarta's first restaurant (open since 1988). Perfect for watching sunsets in the Marina over a glass of wine or trying out traditional Mexican breakfasts.

phone: +52 322 222-30-73

address: Iturbide 270, Centro

Planeta Vegetariano serves a buffet-style vegan meal with a varied and changing menu. All-you-can-eat fresh juices, vegetables, salads, fruit, and many traditional dishes served "sin carne" are to be found. Reasonable prices. They serve a breakfast and lunch buffet, each with different dishes.

phone: +52 322 222-07-95

address: Aguacate 425, Col Alta Vista

Las Palomas Beyali

phone: +52 322 221 2931

address: Calle Marina Palmira 245, Cecom 128

This restaurant sits in the beautiful marina of Puerto Vallarta. Surrounded by massive yachts and a peaceful ambience. The food here is very authentic and quite tasteful.

phone: +52 322 223-27-67

address: Guadalupe Sánchez 804, Centro

Fajitas and enchiladas to die for and also delicious margaritas of all flavors. Be prepared for a long wait, however it is worth it you will not regret waiting for this delectable treat. The only downside is that this restaurant is very touristy.

Señor Frog's

phone: +52 322 222-14-14

address: Paseo Diaz Ordaz 786, Centro

This restaurant is mostly known for its club-like environment. At night it is one of the most popular and exciting clubs. During the day though it offers good food that might remind you of Hooters. Owned by the same folks as Carlos O'Brian and similar atmosphere.

phone: +52 322 223-18-40

address: Olas Altas 336, Emiliano Zapata (Zona Romantica)

As the name implies you must like shrimp to eat at this restaurant. That said it offers some spectacular entrées that will take your hunger away that is for sure. Set partially outside the décor is fun but also very intimate.

Rincon de Buenos Aires

phone: +52 322 221-22-60

address: Paseo de La Marina Sur 245, Local 126 y 127, Marina Vallarta

This is a steak house that is simply put amazing. Their menu features a 900 g (2 lb) tenderloin that is marvelously prepared. They also offer a decent wine list. The setting is beautiful and the food even better.

phone: +52 322 222-55-17

address: Calle Ecuador 1071, Col. 5 de Diciembre

This restaurant is located atop a roof in the more residential part of Puerto Vallarta. They serve seafood that is freshly caught that day. Also they feature live music and a view that is unmatched. A very intimate setting. One of Puerto Vallarta's very best kept secrets. The restaurant offers an exciting, ascending taxi-ride to the restaurant entrance, (high in the hills of Puerto Vallarta). The entrance to the restaurant is non-descript and belies what is to follow after walking a few shot stairwells. Upon entering the panoramic veranda, the view from table-side is phenomenal - panoramic east-to-west). The prices are very reasonable when taking into consideration the presentation of entree and service/accommodation.

phone: +52 013292955203 or +52 329 295 5203

address: C. Marlin 16, 63732 Cruz de Huanacaxtle, Nay

Situated in La Cruz de Huanacaxtle 30 minutes north of Puerto Vallarta - Restaurant Black Forest is the creation of Chef Winfried Küffner and his family. It's thoroughly German, from the half-timbered exterior to the gracious service and authentic Black Forest cuisine which is truly a blending of many European flavors. Each of Chef Winfried's dishes contains traces of his professional background and his classical European training. His emphasis is always on freshness, quality and consistency in preparation and presentation which has earned them a loyal and growing clientele over the years.

phone: +52 322 226-72-00

address: Calle Guadalupe Sánchez 740, Centro

A beautiful restaurant in the heart of downtown. The restaurant is divided into 3 areas: Inside, outside with a view of the ocean, and the garden. The garden is the most beautiful of the three, with an artificial creek running through it. The food here is very tasty.

phone: +52 322 222-06-50

address: Calle Rodolfo Gómez 143, Col. E. Zapata

Locals come for the delicious Naples-style pizza (the crust not too thick, not too thin, and cooked in a brick oven), but there's also great pasta and a good variety of entrées, like the cream-based salmon with caviar and lemon. For appetizers try the top-heavy (con molto tomate) bruschetta or steamed mussels with lemon, parsley, and butter. Most folks choose to sit on the open patio, but La Piazzeta also has an intimate dining room. Personal attention of the owner, Mimmo.

Mr. TacoCheap local street food cooked fresh. Excellent tortas. Although named to draw tourists, it's authentically cooked & priced. Host does speak English.

La Isla de Marins Seafood Restaurant

phone: +52 322 222-7537

address: Calle Matamoros 869, Cerro, Puerto Vallarta, JAL

Central Norte Puerto Vallarta. This is a great find. A tostada for US$1.80 and lobster for US$11.50.

El brujo Vallarta

phone: +52 322 223-20-36

address: Venustiano Carranza 510, Emiliano Zapata

Le Bus Burgers

address: Revolution

They claim to make the best burgers in the world and make them out of beef, chicken, fish and veggies, including garlic burgers. The burgers are large, and they source fresh local and regional products. They use 100% grass-fed beef, the chicken is 100% free-range chicken breast, and the fish is Mahi Mahi caught by local fishermen that morning.

Mauricio's

phone: +52 322 290 2733

address: Carretera a las Palmas nº 176, Las Juntas, Hacienda San Javier, 48291

Somewhat unpromisingly located in a field next to an industrial area near the airport, this humble but clean and cheerful joint is a classic local spot for very high quality, inexpensive seafood. All taxi drivers in PV know where it is. It gets some tourist trade, but tourists are normally heavily outnumbered by local families. For dinner, go early; they close at 7 pm.
Budget
phone: +52 322 223-1626

address: Basilio Badillo 168, Emilio Zapata (Zona Romantica)

They have good, cheap food. Try the pork ribs or chicken.

phone: +52 322 222-1692

address: Basilio Badillo 162, Emilio Zapata (Zona Romantica)

Right next door to Cafe de Olla has awesome Al Pastor tacos for about US$1 each! Opens around 18:00 and is open late. Get there early to avoid a wait.

Super Pollo

address: Av Los Tules 152, Díaz Ordaz

Whole chickens with Salsa, tortillas and many other side dishes. On Tuesday and Thursdays they have 2-for-1. 2 whole chickens with sides for US$10. The one on Calle Insurgentes & Francisco I Madero is closed.

Coffee Cup

phone: +52 322 222-8584

address: Rodolfo Gómez 146, Emilio Zapata (Zona Romantica)

An American-style coffee house that serves espresso, latte and cappuccino with local baked goods. It is still rare to find this type of coffee in Puerto Vallarta. Local art is displayed on the walls.

phone: +52 322 223-0411

address: Calle Rivera del Río No. 204A, El Remance

A funky restaurant up the hill from the main streets in the Zona Romantica. Its theme is Frida Kahlo and features pre-Hispanic recipes.
Mid-range
The Fajita republic

phone: +52 322 222-3131

address: Pino Suárez 321, Col. Emiliano Zapata

They serve fajitas with over 10 varietiesin old town Puerto Vallarta. This restaurant offers a quiet setting and great food.

phone: +52 322 224-5584

address: Calle Avenida 333, El Pitillal

Up on a hill overlooking Vallarta, most tourists don't know about this place, frequented by local businessmen, and others looking to spend a buck for some fantastic seafood dishes. Some recommendations: tacos de marlin are excellent, and the "mariscada" or "parrillada" which is a huge sampler platter filled with house specialties. They also have another location operating as "La Laguana Tino's" at Blvd. Nayarit #393, Nuevo Vallarta in Bahia de Banderas (tel: 322 297-0221 or 297-6663)
Splurge
El Arrayan

phone: +52 322 222-71-95

address: Allende 344, Centro

A very good menu of specialties from many regions. The food is not "typical" to tourist-oriented Mexican restaurants, but rich banquet and festival foods with upscale service. You will have an opportunity to try many familiar dishes like lamb and pork, as well as cactus salad and seasoned roast crickets, for the adventurous.
Drink
Centro (Downtown):
Located along the beachfront walk
La Cave-Piano Bar
La Dolce Vita-Live Music
Le Carrousel-Disco/Dancing
BeboTero-Live Rock at night
Stars-Disco/Dancing
Emiliano Zapata (Old Town/Zona Romantica):
Steve's Sports Bar

phone: +52 322 222-0256

address: Basilio Badillo 286, Emiliano Zapata

phone: +52 322 225-6901

address: Ignacio Vallarta 217, Emiliano Zapata

Live R&B Hit among people over 30 with live blues and rock
The El Pianito piano bar that used to be across the street from Steve's at Basilio Badillo #284 has closed.
Malecon:
phone: +52 322 223-1585

address: Malecón 858, Centro

Look for the distinctive round yellow sign. Good solid Cuban food, great drinks, and a cigar shop up front, but the real attraction is the excellent salsa bands, often imported from Cuba. The dance floor is a delightful mix of young people showing off their moves and older couples who can still cut a rug.

EL Zoo Bar

phone: +52 322 170-6597

address: Paseo Díaz Ordaz 630, Centro

This dance club is quite small but very fun. The dance floor doesn't offer much room to bust a move but offers a great time to be had. Located on the Malecon it is in the center of everything.

Hilo

address: Just down the street from El Zoo

Again this club is small. The inside is very cool and the bar is very large. It can get a little crazy because of the small area but is fun for younger kids.

phone: +52 322 222-1444

address: Paseo Díaz Ordaz 786, Centro

The Tues night foam party is the best and this place is the larger than most clubs. It has two bars and the service is awesome.

phone: +52 322 121-5002, +52 998 883-3333 (x138)

address: Mariano Abasolo 601, Centro

Restaurant and Disco-Bar. Located in front of the malecon, beside Zoo bar. This is one of the newest and hottest clubs in town.
Zona Hotelera:
phone: +52 322 183-9104

address: Las Garzas, Zona Hotelera

This club is huge. It is only open a few nights a week though. It is located close to most hotels.
Sleep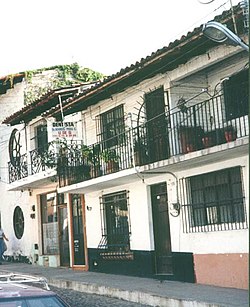 Accommodations around the Bay of Banderas range from well-known international hotel chains and upscale villas and condominiums in the hotel zone, Marina Vallarta, Nuevo Vallarta, and Punta Mita to moderately priced hotels, motels, bed and breakfasts, apartments villas, and condominiums in Old Town Vallarta. The south end of Old Town has a number of gay-friendly hotels.
Budget
Cartagena de Indias Hotel

phone: +52 322 222 6914

address: Madero 428

In the old town the street F. Madero hosts a bunch of similar, simple but clean hotels at a very affordable price. It is a 5-10 minute walk away from the Malecon.

phone: +52 322 223 1872

address: Insurgentes 161

Family-owned hotel with a personalized service. 30 rooms with color TV. Air conditioning is optional.

Hotel Bernal

phone: +52 322 222 0785

address: Madero 423

One of the cheap hotels on the street F. Madero.

phone: +52 322 222 0051

address: Juarez 122

Hotel located in the heart of Puerto Vallarta, one block away from the beach, in front of the market and two blocks from the Malecon.

Hotel Lina

phone: +52 322 222 1661

address: Madero 367

One of the cheap hotels on the street F. Madero.

phone: +52 322 222 4201

address: Nicaragua 286 Col. 5 de Diciembre

Hotel located in downtown Puerto Vallarta, 2 blocks from the beach and 7 from the pier or "Malecon". Located near restaurants, drug stores, and night clubs.

phone: +52 322 222 2885

address: Francisco. I. Madero 440; Col. E. Zapata; Puerto Vallarta, Jalisco, Mexico

The hotel offers 49 beautiful and affordable rooms and 10 suites with kitchenette. Many of the rooms have private balcony.

phone: +52 322 113 03 20

address: Juarez #386, Puerto Vallarta Centro

1 minute from the beach, opened in April 2009, they have free Internet - WiFi and a public computer and a massive TV with cable. right in the heart of the city and they have a beautiful terrace where you can have a beer and watch the sun set. The staff its very friendly and the food its good & clean they always have an option for vegetarians. The security lockers here are very small.
Mid-range
phone: +52 322 228-0865

address: Boca de Tomatlán

A spectacular piece of authentic Mexican architecture, the property is surrounded by lush tropical gardens and fronting the Rio Los Horcones; it offers beautiful views of the river, the Sierra Madre Mountains, and Boca Bay. Has two buildings that house four spacious apartments, courtyard, pool, entertainment room, and includes breakfast.

phone: +52 322 222-3656, +1 210-587-7983 (USA)

address: Carr. Barra de Navidad 599

Traditional Mexican style villa runs as a Bed and Breakfast, with six bedroom suites, each with its own private bathroom. Panoramic views of the city and the bay.

Embarcadero Pacífico - All Inclusive Resort

phone: +52 322 221 1177

Wonderfully located in the exclusive zone of Marina Vallarta, this family-friendly all inclusive resort allows its guests to enjoy the main channel of Mexico's biggest marina, and the spectacular Banderas Bay.

Golden Crown Paradise- Adults All Inclusive Spa

phone: +52 800 900 0900

This resort caters to adult travelers with spacious accommodations, a la carte dining, friendly service, activities, sports and entertainment, and romantic settings for candlelit dinners. Offers an activities pool, water park with pirate ship, a castle and 9 water slides, playground area, outdoor family game area, and fine dining & bars.

Buenaventura Grand Hotel and SPA

phone: +52 322 226 7770

address: Av. Mexico 1301, Col. 5 de Diciembre

Located five minutes from the downtown shops and restaurants, and 15 minutes from the airport, Buenaventura is a beachfront resort.

Hacienda Hotel and SPA

phone: +52 322 226 6667

address: Blvd. Francisco Medina Ascencio 2699

A Mexican hacienda with lush tropical gardens, palm trees and cascades of water and secluded green areas.

Krystal International Vacation Club (KIVC) Vallarta

address: Vallarta Avenida de Las Garzas S/N Zona Hotelera

Centrally located to shopping and nightclubs with a private beach, multiple restaurants, kid's club, and outdoor pools. Krystal KIVC Vallarta is a family-oriented resort.

phone: +52 322 222 2169

address: Paraguay 1117

Located by the beach in downtown few blocks away from the popular Malecon.

Hotel EmperadorHotel Emperador is in the heart of the most traditional area of the Old Puerto Vallarta, 3 minutes away from the downtown and 20 minutes from the International Airport. On Puerto Vallarta's famous beach "Playa Los Muertos".

Hotel RioLocated within walking distance of the main downtown attractions, Hotel Rio is a good deal with clean, comfortable rooms with central air conditioning, telephone, color TV with cable, complete bathroom and balcony. Swimming pool and restaurant. Money exchange and 24 hours internet service.

phone: +52 322 222 1033

address: Paseo Díaz Ordaz 901

One of the first hotels in town on the beach and where the famous Malecon begins.

phone: +52 322 226 3000

address: Paseo de la Marina Sur 7 Marina Vallarta

Beachfront, all-inclusive resort for families on Mexico's Pacific coast.

phone: +52 322 224 5425

address: Blvd. Fco. Medina Ascencio S/N, interior Los Tules

Located within Los Tules right in the hotel zone in Puerto Vallarta, Mexico. An oceanfront condominium-style resort located 3.2 km (2 miles) from the airport and 1.6 km (1 mile) from downtown Vallarta. You can also book condominiums directly from owners.

Villa del Palmar Puerto Vallarta Beach Resort & Spa

phone: +52 322-226-1400

Blvd. Francisco Medina Ascencio Km 2.5, Zona Hotelera Norte. The resort has a Spanish colonial courtyard that opens to expansive grounds with flowering gardens, lawns and towering palm trees. Ten hacienda style buildings with terra-cotta-tile roofs range from four to eight stories. At the centerpiece is a freeform activities pool containing a rock garden waterfall with waterslide. A quiet relaxing pool and oceanfront pool complete the main gardens of the resort.

phone: +52 322 209-5055, +52 322 209-5056

address: Yelapa minicipio Cabo Corrientes

Charming thatched bungalows is on the beach in Yelapa, a 30 minute boat ride from Puerto Vallarta. It offers an outdoor pool, beach bar and a range of personalized massages.
Splurge
Stay safe
Emergency numbers
Emergency, Police and Fire: 060
Fire Dept: 223-9476, 223-9478
Police Dept: 290-0507, 290-0512
Red Cross & Ambulance: 222-1533
Motor Vehicle Dept: 224-8484
Consumer Protection (Profeco): 225-0000
Immigration Office: 221-1380
American Consulate: 222-0069, 223-0074 - After hours: 01-333-268-2145
Canadian Consulate: 293-0098, 223-0074 - After hours: 01-800-706-2900
Hospitals
Ameri-Med: 226-2080
CMG: 223-1919
Cornerstone: 224-9400
I.M.S.S.: 224-3838
Medasist: 223-0444
Regional: 224-4000
San Javier: 226-1010
General safety
Puerto Vallarta is a beautiful holiday destination, but this is not an excuse to leave your common sense at home. You should not treat the city as if it is a huge beach resort existing solely for your pleasure.
Exercise caution here as in any place that you are unfamiliar. Keep an eye on your possessions (purses, cameras, etc.) at all times.
Do not flaunt large amounts of cash and wear a concealed money belt to secure large bills and your passport. Make sure you always have small bills/ coins on hand to pay for small items.
The beaches and hotels have security people who are familiar with the area and tend to ward off most undesirable characters. As in many "tourist destinations", there are local "tourist police", who concentrate on keeping the area safe for visitors. They, and the locals, understand the value of visitors and make life very difficult for those who may consider preying on visitors.
Avoid confrontations with the police. In the event you do have a disagreement with them, expect to be treated poorly and expect to pay many a peso to regain your freedom. Respect and co-operation goes a long way with them, disrespect usually will not be tolerated.
For digestive issues, use Immodium. It is sold over the counter and works for most issues.
Beach activities
Water you have never been to can be dangerous. Leaving your valuables (cameras, purses, passport) alone on the beach, is an invitation to theft at any beach.
Precautions
Observe the warning flags on public beaches. There could be a strong undertow.
Never dive into unknown waters. There may be rocks.
Never have a knife in your bag.
Cope
Note that not very many places take credit cards. Some larger hotel complexes, high end restaurants and shops do, but most do not. It is very much a cash only economy with ATMs available in convenient locations and a bank downtown where in-person withdrawals can be made.
For the budget traveller - time your visit outside of peak holiday periods (e.g. Santa Semana/ Easter week). Accommodation prices during peak times can double or triple and the beaches become insanely crowded.
If you are traveling around Mexico leave your souvenir shopping until
Guadalajara
as prices in Puerto Vallarta are higher, sometimes bordering on exorbitant.
Consulates
phone: +52 322 293-00-98, +52 322 293-00-99

address: Plaza Peninsula, Local Sub F, Blvd Francisco Medina Ascencio 2485, Zona Hotelera Norte

Accredited from the Canadian Consulate General at Av. Mariano Otero #1249, Piso 8, Torre Pacífico, Col. Rinconada del Bosque in Guadalajara

phone: +52 33 3268-2100, +52 55 5080-2000 (emergencies)

address: (Consular Agency) Paseo de los Cocoteros #85, Sur Paradise Plaza, Interior Local L-7, Nuevo Vallarta

Accredited from the U.S. Consulate General at Progreso 175, Col Americana, Sector Benito Juarez in Guadalajara
Go next
Your exploring does not have to be limited just to the Bay, there are nearby archeological sites to visit as well. Close at hand, in the region of
Ixtapa
, studies have uncovered sites dating back to 400 B.C.
Mismaloya
is a short drive outside town. It is famous for being the location for the movie "The Night of the Iguana" directed by John Houston. You can tour the location.
Chico's Paradise, a river valley with rock formations and picnic/restaurant areas is a short drive or bus ride outside town.
For a trip back in time to the 1600s and 1700s; a day-trip up (4600') to the old silver mining town of San Sebastian del Oeste is worth the time.
Puerto Vallarta is less than a 45-minute flight away from the inland city of
Guadalajara
and about a one-hour flight from Mexico City. A 30-minute drive up the coast lands you in
Bucerias
, a small coastal village.
Yelapa is a lovely little beach town that time forgot, near the southwest corner of Banderas Bay. It's a long and bumpy bus ride from Puerto Vallarta, or if the fishing business is slow you can usually hire a local charter boat to take you over there.