Puerto Varas
Puerto Varas
is a city in
Southern Chile
, in the
Los Lagos
(Lakes) Region, Llanquihue Province.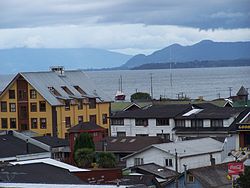 Understand
The history of Puerto Varas is based closely on its German founders, like
Frutillar Bajo
. However, many Chileans believe many of its founders were Nazis and are critical of the town. And indeed when strolling through downtown some signs and uses of symbols can be related to such origins.
Get in
By bus
There is very frequent minibus service from
Puerto Montt
, and regular bus service from other cities. Tur-bus, Cruz del Sur, and Pullman offer overnight service from Santiago for a very reasonable price. Semi-cama seats lean back halfway, salon cama even more. Snack and breakfast included for a small fee.
By plane
The nearest airport is El Tepual (
PMC
) in Puerto Montt, about 30 km from Puerto Varas, which has regular flights to Santiago, Punta Arenas, Balmaceda and other airports sereved by LAN Airlines, Sky Airline and Aerolíneas del Sur.

By train

There is a railroad station in Puerto Varas, although no passenger trains run south of Temuco, no passenger train service Los Rios or Los Lagos regions

Other

You can take the Lake Crossing from Bariloche, Argentina. This is generally done via a tour agency.

See
Sagrado Corazón de JesusLooks very nice. Was built by the German colonizers, it's the third Catholic church that Puerto Varas has had.
Do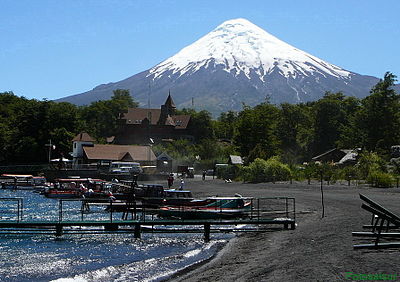 There are many options of day trips and adventures available from Puerto Varas. The Vicente Pérez Rosales National Park, including the Petrohué falls and Lake Todos los Santos, is about 70 km from Puerto Varas. Osorno and Calbuco volcanoes are nearby. Mt. Osorno has a road to the base of a chairlift which is open all year round, for skiing in winter and sightseeing in summer. There are also good nearby destinations for trekking, flyfishing, rafting, kayaking and other adventures nearby.
Casino

Fusion, Puerto Varas Cultural Show

phone: +56 9 86202747

address: Imperial 561

Cultural show & dinner. A trip back in time, will take you to discover a history of effort, courage and dedication, drawn by German settlers who came to live in southern Chile in the mid-nineteenth century. They left an inerasable mark so far in this corner of the world. Fusion shows the genesis of what is now the local culture, a mixture of German traditions and nature of Chiloe's people, combining dance, music, cuisine and history.
Eat
DanesA nice restaurant.

Carmen

address: on San Francisco

Good family place, very good lunch menus (menu del dia).

Chamaca InnGood place for typical Lakes District foods.

Barista

address: Walker Martínez 211

Good sandwiches and pastries.
Sleep
A good start to find a place to sleep is the Sernatur Office.
Ellen HausHas Internet. Good breakfast included.

Haus ErikaMore expensive but better. It offers more comfort for its price.

Hospedaje Carla MinteGreat bed and breakfast. Friendly and helpful staff. Good price/quality two minutes from center.

Hospedaje Don RaulGreat when you are alone and in the house, but the rooms outside are a bit less.

phone: +56 65 232234

address: Arturo Prat 107

Comfortable bed with private bathroom, and delicious breakfast.

phone: +56 65-2329904

address: Manzanal 66

All rooms have shared bathrooms. Very nice hostel with communal kitchen, free WiFi, hot showers.

phone: +56 962 919-443

address: Camino Ensenada 3km

Bed & breakfast cabins with beach access on Lake Llanquihue, overlooking Volcano Osorno.
Respect
If you see the lady with the burnt face in town, usually waering dark glasses and a hoodie, give her some pesos. She is having quite a hard time.

Go next
Close to this city are the waterfalls of Petrohue, take the bus to Ensenada, some of them continue via
Parque Nacional Vicente Perez Rosales
until to Lago todo los Santos from where you could take a boat. Or walk back for about 6km to visit the waterfalls. (in January there are annoying but harmless insects in that parque)
Another place to visit is the small city
Frutillar
; it has a museum of the first colonists in that area. (the city has to parts the part close to the lake is for most visitors
Puerto Varas is a great base for volcano climbing: there are numerous volcanoes in the vicinity including Osorno & Calbuco, a guide to climbing them can be found
here