Puerto del Rosario
Puerto del Rosario
is the capital of
Fuerteventura
.
Approx. 30 000 people live in this harbour city at the east of the island - 1/3rd of the island's population. Wile it is cultural and economic center of the island, it is not too interesting for tourists.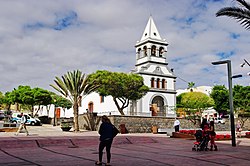 Understand
The city was founded around the year 1795. At that time, the town of Puerto de Cabras was called "Goat Harbor". This very prosaic name was laid in 1957 in favor of the better-sounding Puerto del Rosario, "Port of the Rosary Madonna", which refers to a church in the center of the city. In the 19th century, the port was an important hub for burned lime and, in particular, the "Karmin" dye, which was extracted in the vicinity of the town. Puerto del Rosario became the largest island on the island and in 1860 finally the island capital.
The municipal area of Puerto is almost 300 km² and extends from the east coast of the island to the west coast.

Get in
By ferry
Puerto del RosarioSeveral ferries run from Tenerife, Grand Canaria, Lanzarote.
By plane
By bus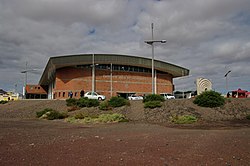 bus stationMany busses start here and reach every larger place on the island. Timetables are tailored to the needs of the islanders - the current ones are at Tiadhe. For the tourists, important lines are the line 1 to Morro Jable to the south, the line 3 to the airport and to Las Salinas as well as the line 6 to Corralejo to the north.
Get around

The relatively small city center is located between the port and the Avenida Constitución and is easy to explore on foot.

See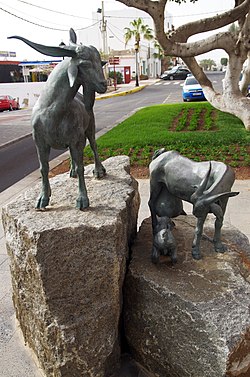 Iglesia Nuestra Señora del RosarioA small church in the city center

A few dozen sculptures are scattered in the city center, located in Calle León y Castillo, in the pedestrian zone Calle Primero del Mayo and along the promenade.
Harbor promenade:
Fuente de la Explanadafountain with scenes from inhabitants life

Horno de Calhistorical lime
Casa Museo Miguel de Unamunomuseum for the Basque writer who lived here in exile
City hallA sculpture of a goat family is in front of it, referring Puerto de Cabras, the former name of the city.
Do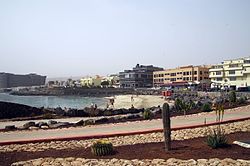 Beaches:
Playa Chica

Playa Blanca (between city and airport)
Playa de Matorral (south of the airport)
Playa de Layas and Playa de Barlovento (near Puerto Lajas north of the city)