Puncak
Puncak
(literally
Peak
or
Summit
) or the
Puncak Pass
is a mountain pass in the
Bogor Raya
region of Western Java, Indonesia. The designation 'Puncak' is also used for the wider mountain region around the pass, which is a popular tourism destination.
Understand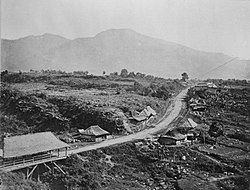 The region around the Puncak Pass has been developed for its tea plantations during the Dutch colonial time. After the construction of the
Great Post Road
in the early 19th century, the area became more easily accessible from the cities of
Buitenzorg
(present-day
Bogor
) and
Batavia
(
Jakarta
) and the upper class, that was looking for the cooler mountain air, started to built Swiss-type chalets in the area.
Also after Indonesian independence the Puncak region has remained a popular tourism destination, and it is especially a popular weekend getaway for the citizens of the Greater Jakarta metropolitan area. The region therefore has an abundance of hotels, villas, and mountain resorts. During weekends and holidays the roads of Puncak, as well as the highway from Jakarta via Bogor to Puncak, are very congested. A large number of foreign tourists come from the Middle East. Many of them stay for months with its big families, so many people, mainly in Cisarua on the western side of the pass, can speak Arabic. Arabic signs on hotels and money changers' shops and also Arab restaurants with Arabic-language menus can be found easily in Cisarua which nowadays is known as 'Arab Village'. For Middle East tourists visiting Indonesia, Puncak is a must and the popularity of Puncak leads
Bali
.
The mountains on the south side of the pass are the
Gede
and
Pangrango
volcanoes. Since 1980, the mountain area has been designated a nature reserve as
Mount Gede Pangrango National Park
. There are various options for recreation in the national park area.
Get in
By car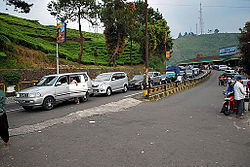 Puncak is a two- to three-hour drive from
Jakarta
via the
Jagorawi
toll road. There is usually heavy inbound traffic on weekends, and especially long holiday weekends. When heavy traffic jams occur, police often make the main road into Puncak a one-way street for one to two hours, and then reverse the direction. This is safe, because a police car guides the one-way flow, but it can result in very significant delays. Don't take guidance on alternative routes from young men along th road, as the alternative routes are usually not faster, and people in villages along such routes may require the driver to give them money, or scratch the car.
From the eastern side, from
Bandung
via
Cianjur
, the drive to Puncak takes usually about 3-3½ hours.
By public transport
Most people go to Puncak with a private vehicle, but it is also possible to travel by public transport. There are frequent 'L300' minibuses that travel between
Baranangsiang
terminal in Bogor and Cianjur. There are no fixed bus stops on the way, but you can ask the driver to drop you off anywhere along the road on the mountain pass. There are also various bus companies (on routes such as Bogor-Bandung) that traverse the Puncak pass, and you can ask to get off in Puncak. Most buses however take the detour via the tolled motorways, so make sure you take a bus that takes the Puncak route.
Get around
Getting around in the Puncak area is easiest if you have your own vehicle. However, keep in mind that Indonesian driving habits are daunting and chaotic, and traffic rules are often ignored. Frequently, the entire main road over the Puncak pass is congested. In times that it is not congested, overtaking habits of many drivers are very dangerous (overtaking in blind corners, for example). Especially if it is your first time in Indonesia, it is advisable to rent a car with a driver, rather than to drive by yourself. The additional cost of hiring a driver is usually about Rp100,000 to 150,000 per day. When heavy traffic jams occur (mainly during weekends and holidays), police often make the main road into Puncak (on the western side) a one-way street for one to two hours, and then reverse the direction.
Public transport is mainly available along the main road (from
Bogor
via the Puncak pass to
Cianjur
). There are various
angkot
(public minivan) routes, such as from the pass to Cipanas, and from Cipanas to Cibodas. The
angkot
s do not follow a fixed schedule, and there are no fixed stops (to get on, simply raise your hand to the driver). In case of traffic congestion,
angkot
drivers often try to overtake by using the roadside shoulder or parking places. This makes
angkot
s generally quicker than other vehicles, but only slightly.
A good way (or the only way) to get off the main road if you don't have your own vehicle is hiring an
ojek
(motorcycle taxi).
Ojek
riders are usually waiting in groups at major street corners. You will have to to negotiate a price, but for a short trip (a few km) by
ojek
a price of Rp10,000-20,000 is common. In case of heavy traffic congestion, prices of
ojek
rides increase, as people may use their services to get out of the mountain region.
Ojek
can nowadays also be hired through an app on your phone, popular on-demand
ojek
services include Go-Jek and GrabBike.
See
Taman Bunga Nusantara

phone: +62 263 581 617

address: Jl. Mariwati KM. 7, Kawungluwuk

Public park of over 23 hectares, with flower gardens from around the world, a maze, giant clock and a tower. There is also a leisure park called Alam Imajinasi next to the gardens, with many attractions especially for children. For an additional fee you an go around the flower gardens in the 'dotto train' or 'garden tram' each Rp50,000. The cheapest mass vehicle for explore the garden is Wira-wiri Rp5,000. Greenhouse ticket Rp5,000.

Cipanas Palace

address: Jl. Raya Cipanas

One of the six presidential palaces of Indonesia, in a garden of about 26 hectares. The building was constructed by a Dutch landlord in 1740. Already during that time, Puncak was a recreation area for the Dutch elite, and governor-general Van Imhoff stayed several times in the palace (1743-1750). Also at the end of the colonial time in the 1930s and 1940s several governor-generals of the Dutch East Indies used the palace as a family residence. Since Indonesian independence, the building is officially one of the presidential palaces. The first president Soekarno used it for one of his weddings, and sometimes the palace is used to receive foreign dignitaries.

Telaga Warna

address: Tugu Utara

Beautiful green-coloured lake set in a landscape of rain forest, and near the tea plantations. You can just enjoy the view, or go around the lake by boat or pedalo.
Do
phone: +62 251 250 000

address: Jl. Raya Puncak No.601, Cisarua

Zoo, with car safari trail that allows cars and tourist buses to see and/or feed elephants, zebras, goats, hippos and more, hiking trails, petting zoo. Buy carrots from the many vendors by the side of the road leading up to the zoo before your get there to feed to the animals. Inside the zoo there are more animals to see, shows to view such as the 'Wild-Wild West' the Lion show and the Sea-Lion Show. Ride the elephants and ponies. Rides and restaurants/food outlets. The cheapest souvenir shop you will ever find with good quality souvenirs. It is one of the biggest zoo in Indonesia. It also has accommodation in the form of caravans, traditional house or lodge. The entrance ticket fee to the complex for domestic tourist is Rp85,000 for adults and Rp70,000 for children under 6 years old, while for foreign tourist this is Rp150,000 and Rp130,000 respectively; For Night Safari (only several hours) it is more expensive than during day time.
Wisata Agro Gunung Mas

address: Jl. Raya Puncak, KM. 87

See how tea is processed - get to the plantation early to see the factory actually in operation. Sit in the cafe and enjoy a cup of tea before walking or driving around the tracks to view the tea growing with the mountains as a backdrop. You can also go horse-riding around the tea plantations, but watch out for locals trying to rip you off.

phone: +62 263 511 385

address: Jl. Kebun Raya Cibodas, Sindanglaya

Lush and landscaped historical park adjacent to a national forest. This place has plenty of wonderful hiking trails, some leading to waterfalls and a few to hotsprings. One of the longest path lead to the top of Mt. Gede caldera with its widespanning desert.

phone: +62 251 825 8505

address: Jl. Raya Puncak KM. 77, Cisarua

There are water-play attractions: water slides, water giant bucket, water toys (aquabrella, aquacup, aquaslides, aquagate, aquaballs), wave pool, outbound area + rafting, foodcourt, souvenir shop, gazebo, guest house & vestibule. The view of Puncak while having fun at this waterpark can be a terrific and unforgettable experience.
Buy
Along
Jalan Raya Cipanas
, the main road on the eastern side of the mountain pass, there are lots of nurseries offering flowers and other decorative plants. They are generally cheap, but you will need to negotiate with the vendor for a good price. In addition, there are several factory outlet stores selling branded clothes for discounted prices.
Kampoeng Brasco

address: Jalan Kampung Hanjawar No. 1, Desa Palasari, Cipanas

Clothing store.

dse Factory Outlet

phone: +62 263 511 787

address: Jl. Raya Cimacan No.39, Cimacan, Cipanas

Clothing store.
Eat
Puncak Pass Restaurant

address: Jl. Raya Puncak KM. 90

The Hotel and Restaurant is on the highest point of Jl. Raya Puncak. Grab the sweet Poffertjes and hot ginger tea, in Dutch colonial style.

Restoran Rindu Alam

address: Jl. Raya Puncak, Desa Tugu Utara

Sundanese Restaurant

Raffles Restaurant

phone: +62 251 825 7060

address: JL. Taman Safari, No. 6, Cisarua

Various types of food, including Sundanese, other Indonesian food, other Asian food, and European dishes.

Sate Shinta III

phone: +62 263 512 041

address: Jl. Raya Cipanas No. 20

Serves lamb, chicken and rabbit skewers.
Moreover, some of the hotels listed in Sleep below have restaurants.
Drink
Cafés that sell alcoholic drinks are not common, but usually you can buy a Bintang beer at least in the larger hotels and resorts.

Sleep
Puncak is a popular area for Jakarta residents to hang out. Finding very cheap (backpacker-style) accommodation with room prices of less than Rp100,000 is difficult. It's a popular option among locals, however, to rent a villa in Puncak. If you have a group of friends, this could end up not so expensive per person.

Hotels
Budget
Mid-range
Splurge
The high-end hotels often have a standard full rate for the rooms (as listed below), but offer significant discount when rooms are booked online in advance.

Private villas
The following are private, individual villas which only take a single group of customers at a time.

Go next