Punta Gorda (Belize)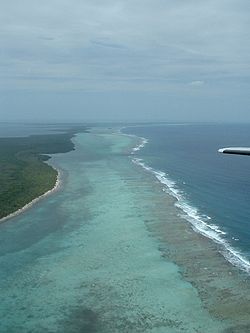 Punta Gorda
is the southernmost town in
Belize
, and the capital of the
Toledo
District. It was founded as Peini by the Garifuna and is today home to over 5,000 people from the many different ethnic groups found in Toledo. While it remains a fairly sleepy little town except for market days, it gives travellers a genuine taste of the 'real' Belize.
Once viewed by all but the most adventurous travellers only as a gateway to Guatemala, Punta Gorda is now increasingly used as a base for the inland and marine activities in Toledo.
Get in
Punta Gorda is on the Southern Highway. Four hours by car from Belize City (via Western and Hummingbird Highways); 3.5 hours from San Ignacio (via Western and Hummingbird Highways); 2.5 hours from Hopkins; and 2 hours from Placencia.
There are several daily buses between Belize City and P.G, with James Bus Line offering the most frequent service. The express bus takes 5 1/4 hours, and the regular around 6 or 6 1/2 hours. This is certainly the cheapest option at US$12 each way.
Maya and Tropic have flights to P.G. Tropic flight is US$120.75 each way from the international airport (as of 26 Feb 2009), or US$102 from the Belize Municipal Airstrip (cab fares from the international airport to the Municipal airstrip are set at US$25).
PG is also served by 3 daily water taxis from Puerto Barrios in Guatemala (around 1 1/4 hours, US$20 - US$25), or direct from Livingston, Guatemala, on Tuesdays or Fridays in 45 minutes. The boats will not run if the weather is too bad. These routes represent a southerly route from Guatemala until about 2015 when southern land route should be finished (only for the adventurous). You can use this route from
Tikal
by taking the bus to
Rio Dulce
, town, and then boat along the awe inspiring
Rio Dulce
, river which ends in
Livingston
.
Get around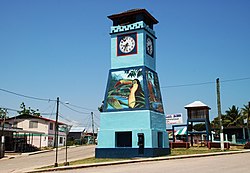 P.G. is small and walkable. The town has 5 main streets running north to south (Front, Main, Jose Maria Nunez, West, and Far West), and several cross streets. Day-time activity tends to centre around Central Park and its clocktower on Main Street, and the market area on Front Street. Some hotels offer free bikes for guests to use, and bike hire may be available through 'Mr Pops' near the University of Belize.
PG has introduced a new one-way system (head south on Front Street, and head north on Main Street) - watch out for the signs!
See
Lubaantun Mayan Ruins

address: San Pedro Columbia

Beautiful, uncrowded ruins have been well-excavated with a small visitors centre. Fans of the supernatural take note: the Mitchell-Hedges Crystal Skull was allegedly found here in the 1920s.

Nim Li Punit RuinsSmall Mayan site with an unusual stella.
Do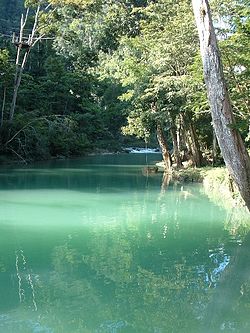 Hire a kayak from TIDE Tours (on Front Street) and paddle the Joe Taylor Creek for some good birdwatching, or kayak the coastline around town and north to the Rio Grande or south to Orange Point. Kayaks US$2.50, US$7.50, and US$12.50 for 1 hour, half-day and full-day rental respectively
Snorkel at the Snake Cayes or fish in the Port Honduras Marine Reserve, just north of Punta Gorda Town
Dive at the Sapodilla Cayes at the southern hook of the Belize barrier reef
visit PG's market on a Monday, Wednesday, Friday or Saturday. Many vendors travel into PG from the outlying Toledo villages, selling mainly locally grown fruits and vegetables. Keep an eye out for homemade chocolate, and copal incense.
Cycle south-west to Boom Creek Village and cool off in the Moho River
Take a cookery class at Mr Gomier's and learn how to make soy milk and tofu! (US$25/US$50 for half/full day lessons).
Walk the tiny beach near the cemetery and look for sea glass
Take a day-trip to Livingston in Guatemala (direct boat departs PG 10AM on Tuesdays and Fridays, returns daily at 3PM)
Book an inland tour to visit Maya sites, the Maya villages, Barranco village and the Sarstoon-Temash National Park, Blue Creek for cave swimming, Rio Blanco National Park, and San Antonio Falls
Head to Reef Bar for live music and Garifuna drumming on Friday and Saturday evenings
Go to Garifuna Mass, held every other Sunday morning at St Peter Claver Parish Church, with Garifuna hymns

Rio Blanco National Park

address: Santa Cruz / Santa Elena villages

One of the nicest waterfalls in a beautiful area to swim, jump, and play!

phone: +501 628 2337

address: New Road

Garifuna drumming lessons for locals or visitors with local professional drummer Ronald Raymond McDonald. Lessons are adapted to suit participants' experience and ability, and can be held either at Warasa, or at other locations in Punta Gorda town.
Buy
There is a Belize Bank with an ATM that accepts most foreign cards, and also a branch of Scotia Bank. The bank will only let you buy US$50 and charge a US$2.50 service fee. You can change your Belize dollars for Guatemala quetzales with money changers in front of the immigration office and at some hotels at a rate of Q3.5 for BZ$1(a 10% loss).
The Fajina Craft Centre, just north of the market on Front Street, is open in the morning on market days (Monday, Wednesday, Friday and Saturday). Visit them for Maya crafts, and the traditional embroidered Maya blouses
Mr Sanchez the Jeweller on Main Street just south of the Peter Claver School makes traditional Maya earrings - you'll see them worn by many ladies in the District, but they are uncommon elsewhere
Maya Bags is a local co-operative who make embroidered bags, for sale in Belize and also exported to the US. Their workshop is just south of the Tropic Air office at the airstrip
Eat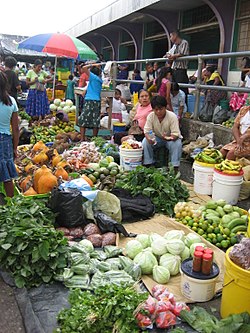 Gomier's on the north side of town has excellent vegetarian food at very reasonable prices, featuring homemade soy milk and tofu. (He may also serve fish, but nobody ever seemed to order anything other than the vegetarian special du jour.)
Emery Restaurant serves simple Belizean food. The shrimpburger is an experience.
Mariann's Bayview Restaurant on the seafront serves East Indian and Belizean cuisine on the breezy thatch-covered roof terrace. Cohune cabbage, made with hearts of palm flavoured with 'yellow ginger' (turmeric) is one not to be missed!
Mangrove Inn overlooking the sea at Cattle Landing has some of the best food in town and offers an ever-changing menu. Run by husband and wife team Iconie and John
Reef Bar, above Punta Gorda Market, has a range of international and Belizean food, and has live music and Garifuna drumming most Fridays and Saturdays
Garay's Kitchen at the end of the 'boulevard' on the western side of town near the BTL telephone mast has some of the best value lunch options (US$3) and great barbecue chicken on Saturdays
Marenco's Ice Cream Parlour on Main Street just south of the Clocktower serves good food, icy cold fruit juices, and - of course - great ice cream

Punta PizzaGreat pizza- whole or by the slice. Also has coffee drinks and smoothies.

Driftwood on Front Street just past the gas station is a nice cafe style restaurant with burgers, falafel and other veggie options and good cappuccinos, smoothies, and juices. Emmet, the owner, offers creole drumming classes.

Asha's Culture Kitchen

address: 80 Front Street, Punta Gorda, Belize

Creole, seafood, barbecue. "Dinna ova da sea". Seafood, Hot wings, best coconut veggie rice in town, deer, chicken, pork. Live music most Saturdays with creole drums, acoustic guitar.
Drink
Fajina Local Foods Restaurant

address: Front Street

This restaurant serves traditional Mayan foods cooked by the ladies from the villages daily. Great food at a great price!
Sleep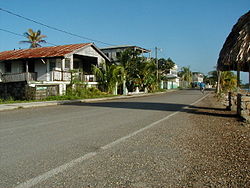 Go next