Punta del Diablo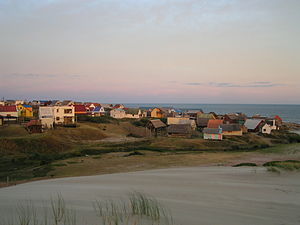 Punta del Diablo
is a small seaside village in the Department of Rocha, located on the
Atlantic Coast
of
Uruguay
.
Understand
Every summer the town grows from a few hundred residents to upwards of twenty thousand vacationers, consisting of mainly Argentinians, Brazilians and Uruguayans. Although the peak season is defined by a primarily regional crowd, Punta del Diablo has established the Uruguayan coast as a destination for a growing number of foreign travelers throughout the year.
The essence of the charming balneario, known for its eclectic architecture and traditional artisan fishing industry, differs greatly from summer to winter. While the two seasons are very distinct they both have a lot of appeal. The summer consists of sunbathing on one of the several gorgeous beaches and partying the night away at the town's popular night clubs among throngs of eager vacationers trying to make the most of their summer holidays. Winter, on the other hand, is much quieter. Travelers enjoy deliciously deserted beaches, unbeatable surfing conditions and fireside chats. Without the crowds, slow season in Punta del Diablo is all about getting away from the hustle and bustle of the city and finding your own idyllic coastal escape.
Amid the notable development which houses summer crowds the town itself maintains its rustic charm, with only a handful of colorful shops, a seasonal outcropping of bohemian cafes, a school and a beach full of fishing boats.

Get in
Punta del Diablo is served by regular bus service to
Chuy
(the border with brazil), Rocha (departmental capital), and
Montevideo
. During the summer there is also seasonal service along the coast to
La Paloma
,
La Pedrera
and
Punta del Este
.
There are some buses which don't actually stop in Punta del Diablo, but just at the turn off at the highway. It's a 5 km walk or an easy hitch hike into town.
Another suggestion is to rent a car from Montevideo and drive through the wonderful coastal towns and rural landscape. If you are 4 travelers or more consider this as it will give you flexibility and not confine you to a rather sparse bus schedule. Car rental cost versus buses tickets are actually not that far off if you plan ahead. Should you rent a car in Montevideo do not rent from agencies directly in the port terminal arrival area but call other locations: you will be surprised that the price will be at least half that of the terminal agencies even if they are the same company.
Get around
It is possible walk from one end of town to the other in about an hour. For people staying at "el camping" on the main road in to town there is a regular bus service which brings people from there to the playa de pescadores (fisherhman's beach). Many locals have motos, 4 wheelers, or horses to get around. You do not need a vehicle to get around. There is a taxi which often is parked near the bus stop to carry your luggage to the house you've rented.

See
Santa Teresa biological reserveNorth of town; it's possible to walk along the beach to the biological reserve.

Santa Teresa historic fortFrom the biological reserve to the Fort of Santa Teresa, an historic fort, it is about 1 hr away by car.

LighthouseTo the south there is a nice walk to the lighthouse (faro) along the beach.
Do
Good surfing, long beaches. Relaxed. Season starts in mid December and runs through mid February. Tourism week, as Uruguay calls Easter week, is also part of the high season. In the summer it's possible to take jeep tours to various local sights like the Ombu forest, rent horses to ride along the beach, and generally enjoy the sun.
BicycleRent goes for about U$380 per day. Check out Compay Hostel for rental options.

Dune BoardingIn addition to playing in the water, there are some large dunes near Punta del Diablo, the surf shop sells dune boards. Think of it as snowboarding on sand dunes. Of course there is no lift, so it's a lot of work to walk up the hill. The best dunes are on the southern end of La Viuda beach.

Hike the beachIt's possible to walk for 100 km either direction along the beach as it's open and very sparsely populated.

Horse Back RidingThough horses are not allowed on the beaches during peak months, horse tours can be arranged through Santa Tereza National Park all year round through El Diablo Tranquilo Hostel & Bar.

Live & Club MusicAt night there is a small to large club scene, depending on the time and occasion (full moon). Live music is a staple of the summer scene in Punta del Diablo. Various locations in the centre of town accompany dinner with folk singers.

SurfPunta del Diablo is a great surf spot. Depending on conditions, both Playa Rivero and La Viuda offer great waves. If neither of those are hitting, Santa Tereza has some consistent point breaks - including La Moza, Uruguay's longest right break.
Buy
There is one ATM, which only operates during the summer, and it may not work for foreign cards and only dispenses pesos - many accommodation owners want to be paid in US dollars. There is a bank on the Uruguayan side of Chuy (about one hour's bus journey away) that will give US dollar cash advances.
Feria de artesanos

address: Playa de pescadores

There's a artisans market on the fishermans beach (it's easy to find, it's the beach with all the fishing boats). Some of the crafts are locally made, but a lot are imported from china. The ferria has a bathroom you can use for U$10 and several stands serving hot empanadas.

Surf Shop

address: Main Road

There's a surf shop on the main street which is open during the summer. They sell clothing and surfboards as well as providing rentals by the day or hour.

Paseo de Rivera

address: Playa Rivera

Is a small little commercial complex with a juice bar, surf shop, Italian restaurant, espresso bar, craft shop, and asian import shop. Paseo de Rivera is also home to the only ATM machine in town.
Eat
There is a 'food plaza' (plaza de comidas) to the south of the center and restaurants along the main strip. During the off season most, but not all restaurants are closed. The cost of food is about twice as much as the rest of Uruguay (excluding coastal holiday towns).
In addition to the restaurants it's possible to buy fish and sea food directly from the fishermen at stands along the beach.
Nativos

address: Main Road (Ave Santa Teresa)

Nativos is one of the best restaurants in Punta del Diablo. It's run by a restaurant in Montevideo and the food is spectacular. They've got a walkway down to the stream, a pond, and nice grounds. Amazingly it's about the same price as many of the pizza places on the main strip.

Fish Shack

address: Fisherman Beach

This place does picada (mixed fried fish, calamare, etc.) and paella. U$300 for two including a litre beer. Also empanadas. Tasty.
There are four or five small supermarkets in town, some of which have butcher's counters.
Drink
There are about a dozen small bars and clubs in Punta del Diablo, most of which are located in the center of town. During the high season, you can always find a place to have some drinks while enjoying some live music.
Bitacora

address: El Bosque

Bitacora is the main night club in Punta del Diablo. It is open only during the high season and the entire town seems to revolve around it. The club itself feels like a giant barn party, but a fun one, fully equipped with several bars, an array of DJs and stocked full of sweaty vacationers. The doors open around midnight but it is often not busy until four or five o'clock in the morning, and the party does not stop until well into the morning. It is not rare to see hundreds of people walking home from the club after sunrise. They also have a smaller pub-like bar in the town center.
Sleep
There are a few small hotels and hostels in town. Most people rent cabins or a house during their stay. The cost range from US$10 in the off season to US$300 per night in the high season (Dec 15-Feb 15th). Almost every house in town gets rented out during the high season. In the low season the restaurants, most hotels, and cabin rentals shut down. Those that are open are much cheaper than the high season. It's possible to rent a house for a month in the low season for what it would cost for a day in January. Do note that no basic items are included in rentals: towels, bedding and toilet paper are for you to bring. Some rentals will "rent" you towels and bedding: US$10 for each bedding, towels are US$5 each.
During the first two weeks of January everything is full and reservations are required even for a bed in a shared room in one of the hostels. Prices escalate!
Go next
There is regular bus service from the central plaza to
Chuy
(Brazilian border),
Rocha
(the city),
Punta del Este
, and
Montevideo
.
Bus travel time:
Chuy 1 hour
Rocha 1.5 hours
Punta del Este 3 hours
Montevideo 4 hours