Purwokerto
Purwokerto
is a sleepy town in the
Central Java
province of
Indonesia
. It is a major transport hub, connecting major cities such as
Jakarta
,
Bandung
,
Semarang
,
Yogyakarta
,
Surabaya
, and
Cirebon
.
Understand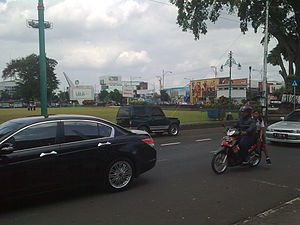 Purwokerto is a town of more then a quarter of a million inhabitants and the regency capital. It lies between
Jakarta
and
Yogyakarta
.
Some famous Indonesians originated from Purwokerto, such as Jendral Sudirman and Jendral Gatot Subroto. These heroic people are honoured in street names all over Indonesia.
The town is at the base of the Mount Slamet volcano, the second highest volcano in Central Java. Purwokerto is a popular gateway to climb it, since the summit crater is about from the town centre. The rivers that flow down its slopes into the town provides some welcome greenery in the industrial drabness and hectic bustle.
Visitor information
There is no physical visitor information office, but Banyumas Regency local government has a
non-English website
catering to visitors who wish to explore the city and surrounding areas.
Get in
By train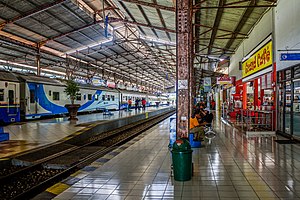 address: Jl Stasiun, Kober, Purwokerto Barat

Stop ID: PWT. Trains from Jakarta take 4 to 9 hours, depending on train class, arriving at the main Purwokerto station. Argo-class trains (Argo Lawu and Argo Dwipangga) are the best of the lot: most comfortable and quickest. Taksaka is almost as good. These trains also cater for those travelling to Yogyakarta.
By plane
The nearest airport is Tunggul Wulung in
Cilacap
, receiving small flights from Jakarta daily. The nearest major airport is Adi Sucipto in
Jogja
, around four hours drive.
By bus
Purwokerto Bus Terminal

phone: +61 822 2661-1616

south of the town centre. There are regular services from across Java, including Jakarta (9 hours) with the popular Sinar Jaya bus, Yogyakarta (4-5.5h) with Raharja and Efisiensi bus, Semarang (6h) with Nusantara bus and Bandung (6-8h) with Budiman and Goodwill bus.
Get around
Purwokerto is a relatively small city, travelling around town should not be too expensive. You may jog around town in around 40 minutes.
By trishaw
Traditional three-wheeled pedal-powered rickshaws known as
becak
can be found in most parts of Purwokerto.
Haggle
furiously.
By angkot
Although Purwokerto is a small city, instead of walking in the heat and high humidity, travelling around town can be faster and easier by
angkot
(battered minibuses - derived from the words
angkutan kota
, or city transport). These have fixed routes but pick up and drop off anywhere along that route; sometimes they can be very crowded, but it's a great way to meet the locals. There is a certain etiquette to be observed, though. Costs Rp2,500 per passenger, paid when you alight.
See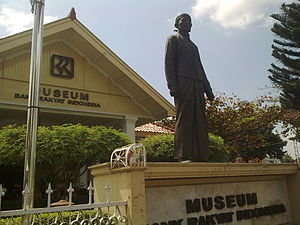 Purwokerto has some beautiful buildings and monuments.
Purwokerto fly-over — a well known landmark located in front of the train station. Built in 1967
Train station — Dutch colonial architecture, many Dutch residential building are right in front of the train station
Bank museum — on Jalan Bank, a museum dedicated to R.A. Wiriatmaja who pioneered the Indonesian banking system
Do
Baturraden Adventure Forest

address: Baturraden

Sport centre: GOR Satria (Jl Dr Suharso) is the largest sport complex in town. Contains a football stadium, tennis courts, reflection park, and a few other venues. Usually, locals visit in the morning, especially on Sunday.
Karaoke: One of the most popular entertainment program in town. Plenty of well-known chains throughout the city, such as Inul Vista (Jl Jenderal Sudirman, close to Pasar Wage), Happy Puppy (Satria Plaza), NAV (Jl Jenderal Sudirman, in front of Satria Plaza), and Happy Family (Cherry Fresh Fruit Market).
Pool: Another famous entertainment activity. There are a few pool places in town, such as Maestro Billiard (Jl Dr Suharso), and BBC Pool and Billiards (Jl Dr Angka, Tirta Kembar Amusement Center).
Clubbing: Cheers! Cafe (Jalan Dr Angka, Dynasty Entertainment Center) is the most-known and the best club in town, also comes with new concept of Cafe - Club - Party. A lot of Indonesian famous singers and bands appear here.
Buy
Traditional markets
The biggest traditional market is Pasar Wage. There are also several small traditional markets, such as Pasar Manis and Pasar Pon.
Boutiques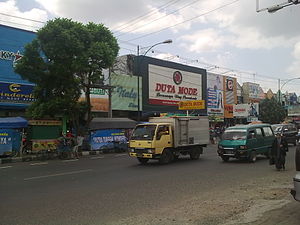 There are a number of boutiques and newer outlets along Jl HR Bunyamin, in the northern part of the city. They're popular with monied youths and college students.
Shopping malls
Moro Mall — the biggest mall in Purwokerto
Tamara Plaza — the handphone (cellular) centre and Gramedia Book Store.
Rita Pasaraya — the first department store chain in Purwokerto. There are two, one in Kebon Dalem and the newest one in Jl Jendral Sudirman , close to Moro Mall and Tamara Plaza
Matahari Department Store
Handicrafts
There are plenty of handicraft and souvenir stands in nearby Baturaden, a cool resort-town just to the north.
Eat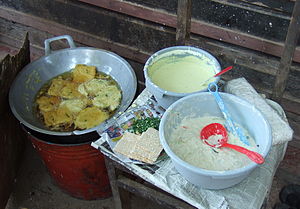 The following dishes should be on every traveller's agenda:
Gudeg, a curry of jackfruit, chicken and egg served with rice. The most famous local dish. The most famous seller is in front of Pasar Manis, Jl Gatot Subroto.
Mendoan is made from very thin tempe (fermented soy bean cake), battered and fried. The best mendoan is only found in the village, even though city mendoan is considerable tasty. Mendoan can be bought at Jl Sawangan, in outlets including Mirasa and Echo21. You can buy it raw (with separate ingredients) and fry it at home.
Sate Kambing Sate Kambing in Purwokerto Area (Banyumas, Sokaraja, Purbalingga) is also famous for very tender young Goat. One of the best is Sate Tiga Saudara.
Soto Purwokerto
Budget
Soto Ani

address: Jl Jendral Sudirman

Rumah Makan Cahaya Mas, one of the best Chinese food restaurants in town. Not halal.
RM endut in Jl Overste Isdiman is famous for Hainan chicken rice and nasi campur. located on jln. wahid hasim 118 purwokerto. delivery service +62 281 647345
Serabi Jalan Bank, available early in the morning is a local favourite. The queue is sometimes very long especially during holiday season.
Soto Jalan Bank, Soto Sungep (also in jalan Bank), Soto Pak Tama (near Rita department store and supermarket, Soto Pak Sampun (at jalan Komisaris Bambang Suprapto), Soto Ani at Gen. Sudirman street; (east from Alun-alun across Gaya Baru Optik. located in small street behind building, open c. 17:00-21:00).
Soto Sokaraja, available in Sokaraja, 4km west of Purwokerto. Many of Soto Sokaraja in here, considered one of the best is Soto Kecik. The place not so good but very famous. Another famous one (some people consider this soto is better) is Soto Sutri.
Mie Kelinci III available in Jl HR.Benyamin, 2km from Limas Agung.
Bakso Pekih, Jl Pekih, north of the Grand Mosque and alun-alun. Open 09:00-15:00 approx.
Gethuk Goreng At Sokaraja we also found the famous food called Gethuk Goreng that many shops sell with different kinds of names. And the other food: nopia, mino (small nopia) kripik.
Mid-range
Siomay Kuah Segar, Prof Dr Suharso Street, a blend of Indonesian and Japanese restaurant, offers siomay, bakso, and Japanese cuisine such as Okonomiyaki, Takoyaki, Ramen, and Yakimesi.
Paparon's Pizza, available in Jenderal Sudirman Street. A well-known pizza restaurant.
Ayam Penyet Suroboyo, available in Prof Dr Suharso Street, offers Javanese Ayam Penyet.
Leko, Prof Dr Suharso Street, offers tasty Iga Bakar with valuable price.
Iga Bakar Mas Giri, Prof Dr Suharso Street, one of the most visited restaurant in town.
Pecel Lele Lela, Prof Dr Suharso Street, wide varieties of Pecel Lele cuisine.
Brasil, Located in Kebon Dalem, the best ice cream and coffee place in town. Also offers Indonesian cuisine.
Rumah Makan Kalibogor, Located in Yos Sudarso Street in the western part of the city, best to try the Ayam Goreng.
Obonk Steak, Located in the Purwokerto City Walk, offers the best steak in town.
Angkringan Tahu Kupat Pa'buaran, located in Jalan HR Bunyamin. Offers tasty Magelang's tahu kupat.
Cibiuk, a Sundanese restaurant located in Jalan HR Bunyamin, best for Sambal Cibiuk.
Phuket, A newly-built Thai restaurant in town. Available in Jalan HR Bunyamin.
Splurge
Pringgading, a garden-restaurant located in DI Panjaitan street, offers Indonesian and Chinese cuisine.
Oemah Daoen, a newly-built garden-restaurant located in Karangklesem, a few meters south of Andhang Pangrenan Park.
Gubug Makan Mang Engking, a resort-style restaurant, with ponds and rice fields view. Available in Jalan HR Bunyamin.
MP Steak and Pancake, Unique Dutch-style restaurant, offers steak and pancake. Available in Jalan MT Haryono, close to Pasar Wage.
Asiatic, Luxury restaurant, valuable price. Located in Jalan HR Bunyamin.
Furama Restaurant, Chinese restaurant with Cantonese dish. Located in Jalan Dr Angka.

phone: +62 281 643000

address: Jalan HR Bunyamin, 2nd floor of Asiatic Restaurant

A newly-built lounge in a strategic place, best for pudding and cake.

phone: +62 281 634234

address: Jalan Jend. Sudirman, Satria Plaza no. 1-2

One of the best place in town for hangout, offers Italian, Chinese, Japanese cuisines and snacks.
Drink

Wedang ronde is hot ginger drink with gluten rice balls, peanuts, jelly
Kebon Cafe is located at Jatiwinagun street. Good place to hang around. Lot of local musicians there.

Sleep
Budget
Hotel Borobudur

phone: +62 281 635341

address: Jalan Yosodarmo 32

address: Jalan Jenderal Sudirman no. 732

Strategically located in the downtown. Walking distance to markets, commercial centres, and tourist attractions.

Hotel Anggrek

phone: +62 281 7606633

address: Jl. Dr. Suparno no. 100

Clean and quiet
Mid-range
phone: +62 281 681123

address: Jl Raya Baturraden km.8, Baturraden

A newly-built 3 star resort hotel with views of Baturraden.

Puri Wisata Hotel

phone: +62-281-681331

address: Jl. Raya Baturaden

Nice hotel in Baturaden, just a walk distance to plenty of tourist attractions.

phone: +62-281-681570

address: Jl. Raya Baturaden

A 3 stars hotel located in Baturaden, foot of Mount Slamet.

phone: +62-281-681388

address: Jl. Pariwisata Baturaden

One of the most famous 3 stars hotel in Baturaden. Offers the cool air of Baturaden and spectacular views of the city of Purwokerto and surrounding areas.

Wisata Niaga Hotel

phone: +62-281-642333

address: Jl. Merdeka no.5 Purwokerto

A modern-minimalist-styled business hotel. The building was formerly used as the branch office of an insurance company.

phone: +62-281-6844107

address: Jl. Suparjo Rustam Km. 4 Sokaraja Purwokerto

We Give You The Real Comfortable

phone: +62-281-6844041

address: Jl. Soepardjo Rustam (Jl. Raya Sokaraja)

A villa-styled hotel in the main road between Purwokerto and Sokaraja. Five minutes driving from the downtown Purwokerto.
Splurge
phone: +62 281 628000

address: Jl Overste Isdiman No.33

A newly-built 12 floor 4 star hotel with modern architecture. Offers wifi, gym, pool, restaurants, meeting rooms, and spa.

Java Heritage Hotel

phone: +62 281 634321

address: Jl Dr. Angka No.71

A three star comfortable resort-hotel. Formerly the Horison Hotel.
Stay safe
Mount Slamet volcano erupted in 2009 and again in 2014, and for periods afterwards residents and tourists were warned to not approach within 2km of the crater. Check conditions to determine the threat level before planning a visit.

Go next
North
Pancuran Pitu on the southern slope of Gunung Slamet and just from town offers a cooler climate and hot springs in verdant pine forests. There is a long and tricky climb back up to the dilapidated road, so some may prefer more commercial resorts nearby.
East
Mersi, famous for kripik tempe, jenang jacket and other traditional meals.
Purbalingga, home of the famous Owabong Waterpark, Sanggaluri Park, and Purbayasa River World.
South East
Sokaraja, a transit town, famous for soto and gethuk goreng.
Tambak, on the border of Kebumen Regency, one hour by bus from Purwokerto Bus Terminal for Rp7,000. Offers its famous duck satay. Price Rp10,000.
Kebumen, a regency famous for its beaches and natural limestone caves. Also for lanthing and satay ambal.
South