Pushkin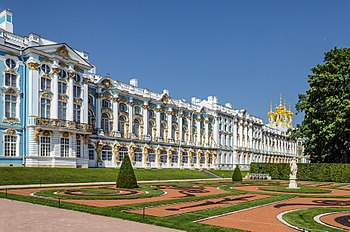 Pushkin
(
Russian
: Пу́шкин) is a town to the south of
Saint Petersburg
,
Russia
.
Understand
Formerly known as Tsarskoye Selo (Царское Село), the "Czar's Village", Pushkin is known for its numerous imperial parks and palaces.

Get in
Local trains run from St. Petersburg's Vitebskiy station (not the main hall, but the smaller hall for local trains to the right and around the corner as you face the main hall) to the Detskoe Selo station in Pushkin. A round-trip train ticket costs , and trains run at 15-20 minute intervals starting at 6:00am until midnight except:
- Leaving St. Petersburg, there is no train service between 10:00am and 12:00 noon on weekdays. The trains during that interval only operate on weekends and holidays; trains outside that interval run 7 days per week. Note that all local trains leaving the Vitebskiy Station stop at Detskoe Selo and Pavlovsk; this makes it a bit easier for non-Russian speakers, since you don't have to worry about which train to board even though different trains go to different terminus stations.
- Returning from Pushkin toward St. Petersburg, there is a gap in service between 12:30pm and 2:30pm weekdays, although trains do operate during that interval on weekends and holidays.

Do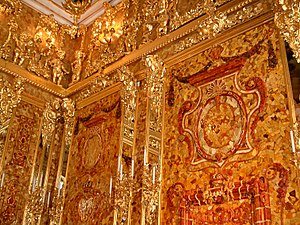 Catherine PalaceThe sight is really breathtaking, especially during the winter, with the snow covering the magnificent park. The palace has been built by Italian architect Bartolomeo Rastrelli, famous for having also designed the Winter Palace in Saint Petersburg, on behalf of the Empress Catherine the Great. It hosts huge rooms totally gilded in gold, and incredible paintings. The main sight is the "Amber Room," a copy made in amber of the original, lost during the Second World War. A gift of the German Kaiser to the Empress, with its walls and furniture totally carved in Baltic amber pieces. Despite the original having been lost, this copy is made with the same materials. The park offers stunning landscapes, with a wood and a small lake, covered by ice during the winter. Nearby lies the "Petite Hermitage", a secluded house used by the Empress to attend private meetings. Under the main room lies the kitchen, where the servants used to lift the dishes with an elevator to the private rooms, without disturbing the Empress.

Alexander PalaceThe final residence of the Russian royal family. A glorious edifice, but closed for restoration since 1 September 2015. No reopening date has been announced.
Eat
The Catherine Palace has a rather expensive cafe inside near the cloak rooms.
A clean, reasonably-priced restaurant called "Italian Pizza" with a variety of good food - from pizza to hamburgers to salads to sushi - is located in the square in front of the train station. Facing the station, it is in the building to one's left; enter through the basement stairs. Open 11:00am until after midnight.