Putian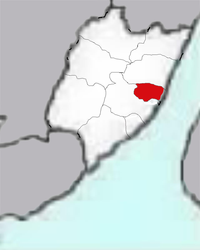 Putian
(莆田, Pútián) is a city in
Fujian
Province in
China
, located between
Fuzhou
and
Quanzhou
.
Get in
Putian is on both the main highway and the
high-speed rail
line between Fuzhou and Quanzhou, or
Xiamen
beyond Quanzhou. It is a major town and most or all busses and trains stop there.
Another high-speed rail line runs inland from Putian to
Nanchang
, the capital of
Jiangxi
province which borders Fujian on the west.
See
Temple of Mazu, Goddess of the SeaThe original temple of this Goddess is on Meizhou island in Putian. Worldwide, she is reported to have 3,000 temples and over 100 million worshippers, mainly fishermen and sailors. There are at least two Mazu temples in San Francisco's Chinatown. Her annual festival, in spring, brings over 100,000 visitors to the temple, including many from Taiwan and Southeast Asia.

address: Linshan Village, Tianwei Town, Licheng District (福建省莆田市荔城区西天尾镇林山村)

A reconstructed temple built on the remains of an old Tang Dynasty temple, claimed to be connected to the Shaolin Monastery in Henan Province.