Qeshm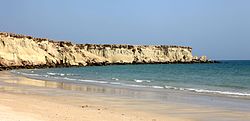 Qeshm
is the largest island in the
Persian Gulf
, with rocky coastlines that protects a mountainous and often beautiful interior. The coast is dotted with small villages and towns. Qeshm Island is a duty-free zone.
Get in
The simplest way is to get on a speedboat at
Bandar Abbas
main harbour. There are lots of them departing each few minutes. The ride takes between 20 to 40 minutes depending on the boat. The rates were about US$2-3 in January 2008.
A car ferry leaves regularly from Bander-e-Pol, about 60 km west of
Bandar Abbas
. Total cost of return ticket for one car and two persons is 180,000 rials (rates of November 2011). It is allowed to go on the island with a foreign vehicle, although officials will want to see the
Carnet de Passage
).
There are flights from major cities to Qeshm Island by Qeshm Air.
There is a daily flight from
Dubai
costs about US$40.
Get around
Qeshm Island is very long (approximately 150 km from east to west), and its main attractions are far away from each other, and therefore taxis are strongly recommended.
The cheapest and safest way to get a taxi is through a hotel, although hailing them of the streets is easy.
Bargaining
is recommended but some drivers will give quote the exact rate (be wise and distinguish between these two kinds of behaviour). Hotel staff may advise in advance on the legitimate rates to destinations.
In emergencies wave to any vehicle to
attract a lift
(but remember, don't show a "thumb up" sign as it is considered an obscene gesture, and be prepared to pay the driver. The minimum fare is between 10,000 rials and 25,000 rials.
See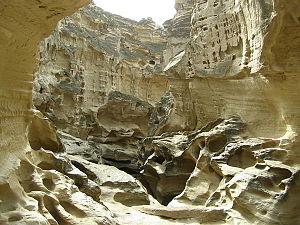 Hara Marine ForestsAccording to environmentalists, about 1.5% of the world birds and 25% of Iran's native birds annually migrate to Hara forests, which is a national park.

Portuguese Castle

Star ValleysStars Valley or Dareh Setāregān (in the Persian language) is a rocky valley, with a depth of 15 meters, which was subject to erosion by wind and rain for long years. As a result of this process of erosion, the natural form of rocks turned into statue-like formations at the hands of nature. Nowadays, this valley forms part of the Qeshm Geopark and is one of the most visited sights in the Island. This geological phenomenon dates back to the Cenozoic period, about 2 million years ago.

Laft Historical Port

Chahkouh Valley

Statues Valley.
Boat building yards.
Do
Meet friendly people and listen to the traditional music.
Buy
Qeshm is a duty-free zone. Here there are many bazaars in Qeshm and the near town of Dargahan where shirts cost around US$2 and trousers for US$5.

Eat
Iranian cuisine — in the city centre or the main town named Dergahaan has a wide array of conventional food stalls and restaurants which serve almost all Iranian cuisine with some speciality dishes of Qeshm. The most common item is the Iranian variant of the shewerma, or Arabic meat sandwich. Kebabs and other Iranian dishes are available.
Sleep
Qeshm International Hotel, Bahman Blvd.

Tolla International Hotel10 km from the city centre and approximately an hour from the Qeshm International Airport, which makes this hotel very calm and a little secluded. The hotel is comparably cheap and has an extensive courtyard area for walking or jogging. Tree-lined walkways and the long benches installed on the sides are best for the evening stroll and rest. It also has a couple of restaurants serves a nominal but satisfactory Iranian cuisine, and most widely Indian and continental cuisine, a couple of coffee shops, a videoke (video karaoke bar) and an internet cafe (bandwidth speed is slow).

Assads Bed & Breakfeast

phone: +98 9362477331

address: Bandar'e Dulab (northwest part of Qeshm Island)

charming B&B in Dulab, a calm village of the sea coast of Qeshm Island. The place is 5 minutes form the sea. From this B&B, numerous possibilities to discover the countryside. Assad can arrange tours to saltcaves, canyons and dessert by car or offroad by motorbike.
Go next