Qiqihar
Qiqihar
is a city in
Heilongjiang
Province.
Understand
Qiqihar was founded as a walled city in 1691, and for a period the military government of Heilongjiang was based here. For many years, only Manchus were allowed to live in the city, but gradually it transformed to be dominated by Hans. Establishment of the Chinese Eastern Railway in 1903 and later other lines made the city a transportation hub. During 1931-1945 it was an important military base for the Japanese occupation, which helped the city grow in size and importance.
The population of the city is 1.5 million and of the prefecture 6.1 million. The city consists of Longsha District (龙沙区), Tiefeng District (铁锋区) and Jianhua District (建华区), whereas the prefecture further includes 4 districts, 8 counties and 1 city.

Get in
By plane
Flights are available from
Beijing
,
Qingdao
and
Shanghai
(Pudong).
By train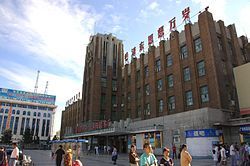 Bei'an - takes about 3-4 hours
Beijing - takes about 16 hours
Hailar - takes about 10 hours
Harbin - takes about 3-4 hours
By bus
Get around
By bus
Qiqihar has a bus network
齐齐哈尔公交网 (Chinese)
By taxi
Fares start at ¥6, for ¥20 you can cross the city.
See
Zhalong Nature ReserveThe reserve is home to lots of birds including cranes. Best visited in April-June, but July-September is possible.

Longsha Gongyuan

Summertime night market

Dacheng temple

address: Minhang Rd (民航路)
Do
Not much. But here you can have easier access to train tickets for nicer places in northeastern China because the Qiqihar station is a large transfer hub. Enjoy yourself laughing at sex workers walking down the street wearing nothing but nipple tassels, or waitresses in low-end Pizza Hut ripoff who can't work out how to use a corkscrew to open a bottle of wine.
There is a national park located in the suburbs of Qiqihar. It is a beautiful grassland with marshes here and there. Qiqihar is famous for its cranes. At a specific time each morning, the park authorities let cranes out of their cages to fly and roam around the park. It's a beautiful sight, make sure you get there early enough to be there when they open the gates.
Listen to bird songs in the morning
At the coordinates: 47.308044,123.949783 in the morning around sunrise, a group of gentlemen get together and hang bird cages from trees. The birds sing back and forth to each other, it's truly a beautiful experience. There's a roundabout with a park of sorts in the center of it. There's a large statue in the middle - the guys meet around the statue and hang the cages from the trees inside this roundabout.
Eat
Qiqihar Barbecue. A local delicacy, the best shop is called Color Life B-B-Q in downtown Qiqihar.
Drink
Harbin beer and peach juice!! Both are very tasty and refreshing!