Quba
Quba
(or Guba) is a city in
Northeastern Azerbaijan
, on the northern slope of the
Caucasus
, 180 km northwest of Baku.
Understand
This ancient city is the major city in the Quba Rayon. Quba is famous for producing high quality apples. In late summer, cars stuffed with apples are often seen on the road carrying the fruit from Quba to other regions or from small towns to the city's cannery.
Quba is also the hub for many summer vacationers. It attracts visitors with its cooler summer climate and beautiful mountain scenery.
Quba is built on the western bank of the Qudailchay River. On the eastern bank is a rather exclusive Jewish community known as Red Settlement (Qırmızı Qesebe in Azeri or Krasnaya Sloboda in Russian), because of the collection of red roofs that can be seen from the nearby hilltop. The houses in Quba are noticeably smaller than the neighbouring community.
Due to its close proximity to Russia and its former inclusion in the U.S.S.R., most in the city know Russian. It is often assumed that outsiders will know this language. This might also explain a sense of paranoia with strangers found with some. You may be stopped by police and asked to show identification.

Get in
By bus
There are buses that run daily from Baku to Quba. The price for a minibus/van is 4 manat, and it takes about 3 hr. There are also buses from/to the surrounding region.



By train

The nearest railway station is Khachmaz, about 20 km east. However, if you do not have any particular reasons to go by train, the bus will be more convenient.


By taxi

Cabs can be found going from Baku to Quba at January 20th station and Shamahinka station.


By car

From Baku take the M1 for about 2–2.5 hr. The road, with the exception of the last 35 km, is a highway with a speed limit of 110 km/h. In the Quba itself, you can park anywhere, except for obvious prohibitions – you can park on the central square near the information centre.

See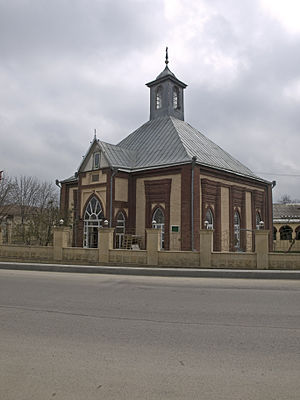 Juma-MosqueBuilt in 1802, it differs from the other mosques in Quba, it is an octagonal prism with a huge dome. The dome itself is as high as the prism. The mosque includes a huge minaret right next to it. On the other side of the central square are two typical Quba houses with huge wooden balconies.

The Ardabil Mosque

address: Fatali Khan 113

This mosque, looking more like a pseudo-Russian church, was built by people from Ardebil (Iranian Azerbaijan) in the middle of the 19th century. The brick building is painted in beautiful colours. The mosque is in use with a representative office of the Muslims of the Caucasus nearby.

Haji Jeffer Mosque

address: Ardabil 62

The largest mosque in Quba, also made of bricks and multicoloured, was built in the early 19th century by Haji Jeffer.

Sakina Khanum MosqueAgain multicoloured, but the form more traditional with a prism and nine domes. Built in the 1850s by Sakina-Khanum, the widow of Abbas-Kuliaga Bakikhanov, in memory of her husband. Bakikhanov had lived in Quba for a long time and was of military profession, but more known as a historian and writer. He was one of the founders of Azerbaijani literature.

Turkish Bath House

address: Ardebil 43

The building, 18th or beginning of 19th century, stands out with a brick-built dome and contrasts from the rest of Quba's architecture.

Carpet FactoryIt is worth a look there. The friendly service will always open doors and show you how these "Azerbaijani" produce are created. There is also a shop for local handicrafts, especially carpets.

Krasnaya SlobodaJewish quarter and richest part of the city, inhabited by Mountain Jews, the world's largest settlement of such with about 3,500 people.

Jewish CemeteriesThere are at least three Jewish cemeteries in Quba; , , . All along the road to Qusar, offering a beautiful panorama of the city.
Do
Visit Balbulaq, Tengealtı.

Buy
Rugs/carpets

Apples

address: Found in markets and bazar

Try one of Quba's more than 1000 types of apples. Quba is Azerbaijans most famous source of apples. Also many other fruits can be bought in Quba.
ATMs
International Bank of Azerbaijan
:
Kuba, Quba, 41, Fatali khan street (Quba branch of İBA)
Kuba, Quba, Qırmızı (Red) settlement (P.O.)
Kuba, Quba, H.Aliyev avenue ("Shahdag" market centre)
Eat
MahirOrder the "Sachin" for extra sauce, and watch the owner and Toffik smile at the spreading legend of their old friend and his favorite doner.

Kafe Dalğa

phone: +994 55 7708956

Delicious and served with a lemon, if requested.

Ruslan RestoranıInexpensive restaurant located in front of the bridge on the Jewish side. Soups (lentils, rice, lagman) and skewers.

Qəçrəş VillageMany places among trees where you can eat Shish kebab.
Sleep
Hotel XınalıqNext to it, many SUV drivers are waiting for tourists to bring them to Khinalig.

Olympic Center
Go next
Qusar – Just north of Quba, located in the Grand Caucasus mountainous system, close to the border with Russia.
Khinalig (Xinaliq) – A scenic, remote and ancient mountain village, and the mountain of the same name nearby. Once a centre of Zoroastrianism; today the few inhabitants are an ethnic isolate believed to be descendants of the Caucasus Albanians (unrelated to modern-day Albanians of Albania).
Khachmaz (Xaçmaz, Khachmas) – It is considered a very popular tourist destination for the combination of a warm summer climate, woods along the sea and clean golden beaches.