Queen Elizabeth National Park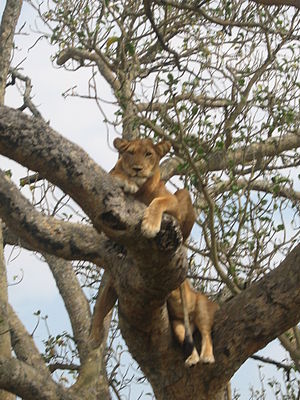 Queen Elizabeth National Park
is in
Western Uganda
. The park covers an area of over 774 sq miles between Lake Edward and Lake George, around the Kasinge Channel connecting the two.
The park has a wide variety of terrain, including volcanic craters, grassy plains and tropical forest. The Kasinga Channel has the largest concentration of hippos in the world!
Understand
This park is like a more concentrated version of East African parks as far as animals are concerned, although, unless the mist-shrouded Ruwenzori Mountains are visible, there are less splendid vistas than you will find elsewhere.
The Ugandan Kob is an endemic antelope, and is on the coat of arms along with the crested crane, look out for it on the currency!

History

The park was established in 1954. It has had a couple of name changes during its existence, although it has returned to its original colonial name, having been called the Rwenzori National Park for some time.

Landscape

Volcanic craters, grassy plains and tropical forest.

Flora and fauna
Climate
Get in
This park can be accessed most easily from Kampala. from the old bus park and the new bus park many buses leaving in the morning and going to Kasese pass through the park. the ticket is
USh
15,000. but the buses will start only when they are full. The conductor may say that the bus will leave at 07:00 but it will leave when it is full, the time maybe 10:00 also. bus journey is safe and enlightening.
There are various tour operators who are willing to make an exclusive trip to QE NP but they are very expensive.
Get off on Katunguru Gate. There are many taxis there and one can negotiate the cost of dropping at Mweya. it should be around USh 30,000. There taxi drivers will also take you for a game drive as required.
www.bahr-el-jebel-safaris.com conducts winged safaris (by aircraft) to Ishasha airstrip with stays at the Ishasha Wilderness Camp.
Fees and permits
Fees vary for Ugandan citizens and foreigners; for an non-citizen, the fee for one night is US$25, for two nights it is $35 and for three nights and over it is $50. (changed to $30 per 24 hr -Feb 2009)

Get around
An armed guard is needed at all times when on game drives, etc., depending on which parts of the park you visit, it is possible to go on game drives and treks.

See
There is a wide range of animals living in the park. The Ishasha Rivier camp area is particular worth a visit, with elephants living in the immediate vicinity, and lions which are renowned for sleeping in fig trees.

Do
Drive among volcanic crater lakes on the south edge of the Ruwenzoris. Tsetse flies have been a problem, so ask before setting off.
Sleep
Lodging
In the Mweya sector there are two lodges. The prime place is the Mweya Lodge with the cost starting from US$210 per double room.
Albertine Lodge is very comfortable and friendly place. rift_hostelmweya@yahoo.co.uk, or alex.baguma@yahoo.com. The cost is USh 60,000 for a twin room.

Camping
The Ishasha river camp is a small yet idyllic setting to stay over night. the campsite is surrounded by woods on three sides and the Ishasha river on the 4th. This river marks the border between Uganda and the Democratic Republic of Congo, and is populated by hippos.