Queens/Flushing-Northeast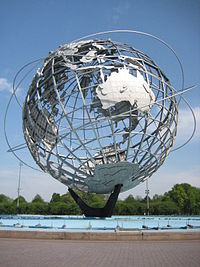 Flushing-Northeast
is a large area of
Queens
, a borough of
New York City
. Flushing contains a very large Chinatown, and in fact is more diverse than Manhattan's
Chinatown
. It also contains a large Korean and a large Indian neighborhood, with various other ethnic groups represented. Consider taking a trip there if you are visiting New York for more than a week, or if you would like a delicious meal before or/and after watching a game at Citi Field or matches at the U.S. Open.
Get in
By subway
Take the 7 train to the last stop, Flushing - Main St. On weekday afternoons, take the express 7, rather than the local, if you are at an express stop. The express generally cuts the length of a trip from Manhattan to Main St. by at least 10 minutes.
By Long Island Railroad
The
Flushing Main Street stop
on the Port Washington Line of the Long Island Railroad arguably marks the exact center of Flushing. The LIRR station is about two blocks south of the Flushing - Main St. stop on the 7 train. On weekends, one-way LIRR fare within the city limits (including Manhattan's Penn Station) is $4.25 - still pricier and less scenic than the subway, but faster (19-20 minutes from Penn Station vs. about 35-55 minutes via the 7 train from Times Square), and the best way to reach points east of the 7 train's terminus.
By bus
There are many Metropolitan Transportation Authority buses that serve Flushing. Go to the
MTA website
to download a Queens bus map. While waiting for the bus, make sure you are on the right side of the street for the direction you want to travel. From LaGuardia Airport, you can take the Q48 bus.
By car
The center of Flushing - Main St. between Roosevelt Av. and where it forks with Kissena Blvd. - is accessible from exits from major highways like the Grand Central Parkway and the Long Island Expressway. However, be warned that traffic in Downtown Flushing is often very slow-moving, due to the narrow roads, heavy traffic and high number of pedestrians.
By plane
Flushing is close to LaGuardia Airport (
LGA
). For those arriving at or departing from LaGuardia, the MTA bus route Q48 stops on Roosevelt Av. at the corner of Main St., and taxis are also available.

See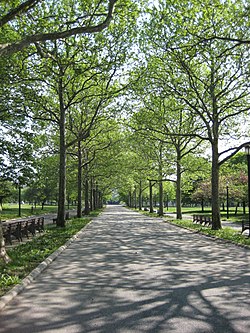 Flushing Meadows-Corona ParkThe site of the 1939 and 1964 World's Fairs. The area around the park still includes some architectural and artistic relics of the events (including the Unisphere, a 300 ton spherical grid of steel, the world's largest globe, as featured in "Men In Black"). The park is very expansive, so be prepared to walk, or rent a bike near the Passarelle Building at the north entrance. The park also includes:
Do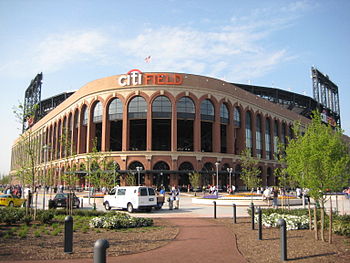 address: Citi Field

Built in 2009, the Mets' new ballpark has a unique architectural entrance which pays homage to the design of Ebbets Field, mimicking the old architecture of the Brooklyn Dodgers' ballpark with its arched facade. The name of the entrance, the Jackie Robinson Rotunda, honors the first black player in modern Major League Baseball, who played for the Brooklyn Dodgers at Ebbets Field. A museum dedicated to the Mets is next to the rotunda and open on game days. If the Mets hit a home run, look for the Home Run Apple rising out of the center field wall; if you're not so lucky (this is the Mets, after all), you can still view the Home Run Apple from the now-demolished Shea Stadium between Citi Field and the 7 subway station.
Unfortunately, there isn't much to do surrounding the stadium, so anybody looking for post-game activities will have to take the 7 train to other parts of Queens or go into Manhattan. The surrounding area of Willets Point is infamously home to a cluster of chop shops. However, plans for development and neighborhood revitalization are underway.
Buy
A & C Supermarket

phone: +1 718 359-3399

address: 4141 Kissena Blvd

This is positively the biggest Chinese supermarket in New York. There are several other large Chinese supermarkets in the neighborhood, but A & C is by far the best for most purposes. You want it, they've got it. A & C is patronized extensively not only by members of the Chinese community, but also by Indians and Anglos, because it has high-quality fresh produce, all sorts of condiments, meats, poultry, fish and seafood, prepared goods, etc.
Eat
Spicy and Tasty

phone: +1 718 359-1601

address: 39-07 Prince St, 1H

Spicy and Tasty used to be arguably the best Sichuan-style restaurant in New York, but they have changed management, and recent reports have been mixed.

Lu's Seafood

address: 38-18 Prince St

A popular Taiwanese restaurant. They serve thick and thin soups which are big enough for a meal with or without a cold dish. For those who want it, there is offal available, notably including pig intestine dishes.

East Manor

phone: +1 718 888-8998

address: 46-45 Kissena Blvd

A Zagat Survey rated restaurant that serves some of the best Chinese, Korean, and Japanese food in New York City. This restaurant is often packed during the weekdays, and serves many lunch and diner specials. A buffet room is located on the top floor. It can be on the pricey side for weekends, but much cheaper than Manhattan.

Sunway

address: Prince St and 38th Ave

Delicious dim sum all day as well as a full menu. Come for the dim sum, stay for the specialty drinks with fun names.

AA Plaza

address: 40-66 Main St

Serves fast and inexpensive take-out food for commuters. The scallion pancakes ($1) are particularly good. No seating - eat on your feet, or if the weather permits, sit on the steps of the public library across the street.

Hunan House

phone: +1 718 353-1808

address: 137-40 Northern Blvd

Authentic, very tasty and spicy Hunanese food in a quiet, historical part of Flushing about a half mile from the subway stop. Expect to spend about $20/person for a large dinner, and to leave with your mouth buzzing.

El Rincón Antioqueño

address: 41-25 162nd St

Specializes in Colombian cuisine, particularly of the region of Medellín.

Fu Run

address: 40-09 Prince St

Fairly cheap place to try Chinese Muslim food, particularly from the Northeast. They have all the standard offerings (including, somewhat surprisingly, a large pork selection), but the standout is the lamb dishes. Try lamb's kidney if you're adventurous.

phone: +1 718 886-4733

address: 3250 Francis Louis Blvd

Asian restaurant which makes a little pricey sushi and other Asian goods, but all keeps it nice. Service is kinda slow. Think the restaurant's full? Think again! This restaurant has a tiny staircase that brings you down to the basement, where the service is obviously slower. Those are the good and bad about Sushi Village. Try the Kamikaze Roll if you want a hint of spice!

phone: +1 718 359-9245

address: 18312 Horace Harding Expy

Often regarded as the best bagels in Queens, with an excellent variety of cream cheese spreads and sandwiches available. However, the location is a little far from anything of tourist interest.

The Sandwich Bar

phone: +1 718 544-1014

address: 71-32 Main St

If you like "make your own", this is your place. Choose from seven types of schnitzel (or any of the other entrees or salads); then select sauces and toppings to your taste. Order something different every time; it won't get boring. Kosher.
Drink

Flushing is full of bubble tea places. For great tapioca, milk tea beverages, other flavored tea, ice desserts, slush and many kinds of fancy drinks, you can also visit Quickly, located at 41-40 Kissena Blvd or their other location on Roosevelt Avenue.

Sleep
There are a number of hotels in Flushing, including:
Stay safe

Walking on Roosevelt Av. between Citi Field and Main St. is not a good idea. The route is very unpleasant, going past automobile body shops and across bridges spanning the polluted Flushing River, with broken glass on the walkways. This naturally means that few pedestrians will be found on the streets and maximizes the chance of meeting weirdos. The walkways are primarily used as a bicycle route for local workers. From Mets - Willets Pt. to Flushing - Main St. is one stop on the 7 Train. Take the train.