Querétaro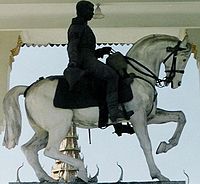 Querétaro
is a city in central
Mexico
, it is capital of the state of Querétaro. The city's full name is "Santiago de Querétaro", and although it's spelled out fully on the doors of every taxi in the city, nobody uses the full name in polite conversation.
Get in
By plane
Querétaro Intercontinental AirportDespite its proximity to the busier airports in Mexico City and León, Querétaro's airport is nonetheless quite busy in its own right. It serves several cities within Mexico, particularly as the hub for regional airline TAR Aerolíneas, as well as flights to a few cities in the United States.
Aside from TAR, Querétaro is served by
Aeroméxico Connect
,
American Eagle
,
United Express
,
VivaAerobus
and
Volaris
.
Ground transportation
Buses operated by
Coordinados
, a brand of
Primera Plus
, run between the airport and Querétaro roughly every 1-2 hours. Tickets are M$60 and are sold from a dedicated office at the arrivals hall. Tickets may also be purchased online.
By bus
There are many buses that go to Querétaro from major cities, such as
Mexico City
or
Guadalajara
, as well as to/from the Mexico City International Airport direct. Buses are normally inexpensive and some bus lines offer student discounts in either official Mexican holidays or the summer, winter and April vacation period. First class buses often offer movies and can be very comfortable.
The bus station is on the outskirts of the city, and features separate terminals for first-class bus lines and the local and regional second-class lines.
By car
There is toll road from Mexico City to Querétaro. It costs about $166 MXN for an automobile. The drive is about 2 hours, but add another hour for leaving or entering Mexico City.
You can also arrive easily from Leon (2hr) and the rest of Guanajuato state, San Luis Potosi (2hr) and Morelia (2hr).
Get around
Taxis will take you anywhere in town for a fare from M$40 (
pesos
) up to M$100 (to the airport M$250). Taxis do not have meters. Fares are established by the government and are determined by zone of pick up and zone of drop off, but might change from cab to cab. Try to ask the fare before boarding to make sure there are no misunderstandings.
There are many privately operated buses on the main roads. You can buy a route book on any newspaper stand.
The historical center of town is very compact. It's easy to walk around once you get there. There are also tour trolleys available.
See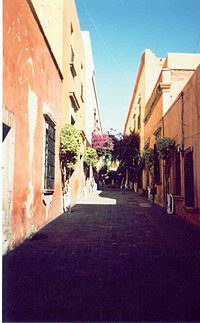 The
Centro Histórico
(Downtown area) is considered a
World Heritage Site
by the UNESCO, and it includes the
Cerro del Sangremal
(Hill of Sangremal), crowned by the Convent of the Holy Cross and the flat area on the east that extends into the
Cerro de las Campanas
(Hill of Bells).
Teatro de la RepúblicaThe most important theater in Mexico due to its role in national history: Emperor Maximilian I had his trial there, the 1917 Constitution was written there, and the national anthem was played there for the first time.

Palacio del Gobierno del EstadoThe house of the governor, since the time of the Spanish viceroyalty.

Palacio MunicipalUsed to be the palace of the bishop, then a luxury hotel and later the city hall, now it is the office of the "Delegación Centro"

Templo de Santa ClaraOld baroque covered with gold church

Convento de la Santa CruzOld baroque covered with gold church.

Templo de Nuestra Señora del CarmenChurch and old monastery; part of the film Once upon a time in Mexico was shot here.

Jardin ZeneaMain square with a gazebo, old financial center of the city.

Jardín GuerreroIt's a lovely square, and a pedestrianized section of Madero street extends the square into the atrium of Santa Clara Church.

Plaza de la CorregidoraOld plaza with restaurants, gardens, and nightclubs.

State history museum.

Acueducto
Do
Take the "Leyendas" (legends) tour, where people dress like historical characters and explain everything in a very colorful way.
"Convento de la Cruz" where emperor Maximilian spend his last night before execution. Must see the "Cruz de cantera Rosa"(pink stone cross) and the tree with cross shaped spines. Also the place where a series of missions "one day travel apart" started and were founded all the way to California.
Go to the colonial theater "Corral de Comedias" where you eat and enjoy mostly classical comedy plays in a Colonial Style place.
Enjoy a concert of the "Orquestra Filarmónica de Querétaro" the state philharmonic orchestra in the most important theater in the country "Teatro de la República" where the constitution was written, the emperor Maximilian I had a trial, and where the national anthem was first played.
Visit some of the many museums of the city, from those traditional as the Art Museum, Regional Museum or some unusual museums like the Mathematics Museum.
Feel like shopping, well in the historic center you can buy many things from really cheap street vendors, or in very nice boutiques, or feel free to visit some of the city malls.
If sports are your thing, to be in a Mexican soccer (football) match is really a great experience, and a better one if you watch it the FIFA WorldCup Stadium "La Corregidora" one of the most incredible stadiums in the country, there is also a Basketball team where you can see Reggie Jordan playing in the Arteaga Stadium in the historic center. If you want to do some sports you can go to the public parks. Play some paintball (or known in Mexico as gotcha) scenery or speedball with turf at Evolution Paintball Field located between Jurica and Juriquilla.
In December be sure to visit the "Feria Internacional Querétaro" is an international Cattle Fair, that has more than a million visitors from all over the world, it has rides, a palenque (Cock fights and concerts), free concerts of famous mexican pop stars and many other things.
Bull fighting: Querétaro has two bullrings, one is considered the third most important in Mexico (Plaza Santa Maria), and the other is considered the most beautiful bullring in Latin America (Juriquilla).
Buy
In the historical center you will find lots of tourist souvenirs and handcrafts.

Antea Lifesyle CenterAn upscale shopping center. Some of the boutiques found here are El Palacio de Hierro (similar to Nordstrom or Neiman Marcus), Brooks Brothers, Hackett, Harmont & Blaine, La Martina, Massimo Dutti, Hugo Boss, Robert's, Scappino, Scotch & Soda, and Liverpool.

Galerías Querétaro - Exclusive Liverpool department store, Sanborn's, Sears, Martí Sports, Tous, Zara and many other stores.
Plaza del Parque - Shopping center with a Comercial Mexicana (Mexican supermarket), Sanborn's (small department stores where you can find everything), Suburbia (Fashion affordable store) and many more
Plaza Boulevares - Shopping and entertainment center with sports club (Sport City), betting club (Yak), Cinemas (Cinemark 12), arcade place, and many stores.

phone: +52 442 212 8601

address: Reforma 80, corner of Rio de la Loza

A beautiful store with fine Mexican handcrafts and traditional Mexican furniture.
Eat
La Mariposa - Great traditional food and antojitos prepared the old style. Downtown(Coordenates: 20.594565,-100.392535). Suggestions: "Pan de Queso", "Pozole", "Tamales"(spicy and sweet), atole, ice cream and shakes of "Mantecado", "nieve de limon", "Dulce de Membrillo", "Jamoncillos", "Enchiladas Rojas"(also known nowadays as "Enchiladas Queretanas"), "Enchiladas Suizas".
Memo's - Great "Tacos Parados" at "La Cruz". Coordenates: 20.592666,-100.384398. Suggestions: "Volcan", all.
El Pata - Great "Al pastor" tacos. Ave. Constituyentes. (Coordenates: 20.583848,-100.393563) Suggestion: "Que me ves?" taco plate.
Che Che - Great seafood and ceviche (raw fish "cooked" in lemon juice). The main dishes are very big plan to share with a friend. The appetizers are very tasty -- a meal in themselves.
Los Compadres - Excellent Mexican food. The "Rico Pozole" is a must.

Il Diavolo

phone: +52 442 223 0996

address: Universidad #202 Downtown

Italian Cuisine, Very relaxed ambient, pizza, salads & paninnis, great red wine, perfect for couples.

Tamales Penamiller

phone: +52 442-212-6422

address: Reforma # 59 Centro Historico

Great homemade tamales and atoles from the Sierra Gorda de Querétaro. Tamales are filled with goat cheese in a red sauce, rajas, pork and also serving sweet tamales filled with cheese,nuts.simply delicious.Made the artisan way, all natural ingredients. Atoles are different flavors from seeds to chocolate and fruits.Menu changes weekly so call ahead to see what they are serving on the day of your visit

Pollos Los Nogales

phone: +52 442 243 2025

address: Avenida Pie de La Cuesta NO 1703 Int 13 Col. Los Robles Plaza B

Lots of cheap combos and a really good chicken salad. You can order a whole chicken, soft drink, salsa, tortillas and pasta for M$102 or about US$9.50.

phone: +52 442 2 10 19 90

address: Epigmenio González #143 and Felipe Angeles Col. Tecnológico de Monterrey

Cucina Casuale Italiana. Bistro - caffe - design boutique. Not only delicious, but cheap and fresh. Everything is homemade food: pizza, pasta, calzoni, cakes, coffee, carpaccio, breakfast. English, Spanish & Italian spoken. Cucumber fresh water is delicious!
Drink
Querétaro has many nightlife districts where you can enjoy all kind of music and people, everything for everybody.
Wicklow - Irish pub located downtown with various kind of beers
Chava Invita - Classical "Cantina" founded in 1940s where you can take drinks and the food is free.

phone: +52 4427131338

address: Reforma 150

Place to relax and taste one of the best coffees of Mexico, "Pluma Diamante", is made of Pluma Hidalgo, Oaxaca, an area known worldwide for its excellent climate for the production of coffee. For lunch you can find homemade pies, sweet or savory.

phone: +52 4422142620

address: Juarez Sur 7, downtown

Margaritas (tuesday), Martinis (wednesday) 2x1. Live Jazz. Creole Cajun cuisine.

address: Ejercito Republicano #2 Col. Centro Historico, Querétaro

Trendy club with the best view of Querétaro City
Sleep
phone: +52 442 212 63 14

address: Allende Sur #15

Three comfortable rooms, tastefully appointed, modern comforts and old world charm. Great service. Terrific location. A couple of blocks from some of the principal plazas.
Budget
The budget sleeps are in Calle Juarez between Reforma and Zaragoza. They range between M$110-300. Some of them are incredibly basic.
Jirafa Roja Hostel, Cnr 20 de Noviembre/Dr. Lucio, dorms from M$110, clean, kitchen use.

Queretaro Guest HouseShort-term rental from US$7.50, clean, wire-less internet, cable, and kitchen use in the centro histórico.
Mid-range and Splurge
HOMEA B&B in the heart of the Historic Center.

La Casa de la Marquesa - The mansion of the Marquis has been turned into a luxury hotel.
Doña Urraca - Old spanish mansion turned into a hotel and spa, very expensive and elegant.
Fiesta Inn - Chain hotel, located far outside the downtown.
Fiesta Americana - Hotel beside the Plaza Boulevares mall.
Holiday Inn Diamante - The best view of the city, it is located on a hill far from the city center/downtown.

phone: +52 442 2384200

address: Av 5 de Febrero #1303

Stunning modern hotel at the heart of true Mexican culture. Contains 140 rooms and many amenities to help you feel comfortable.

Mansion del Burro AzulVery cute colonial house converted into a bed and breakfast, very colorful and lots of light and air. Located in the Historic center on Altamirano Sur #35, rooms are a fraction of the price of the other hotels in the area.

Plaza Camelinas - Large hotel with enormous character. Location next to highway can be loud.
Flamingo Inn - Modest motor court style hotel, clean rooms, excellent choice for the motorist on a budget.
Learn
Querétaro has one of the fastest growing foreign populations in Mexico, and the need to learn Spanish is growing.


Go next