Quesnel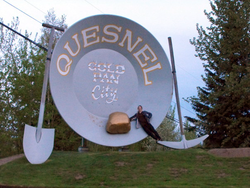 Quesnel
(pronounced
kwinnel
) ) is a city of about 12,000 people (2016) in the
Cariboo
region of
British Columbia
on the bank of the Fraser River. The town got its start via its location on the
Cariboo Wagon Road
which transported thousands of prospectors seeking their fortunes during the
Cariboo Gold Rush
. Today the city is supported by the forestry industry.
Understand
Quesnel is at the confluence of the Fraser and Quesnel Rivers.
phone: +1 250-992-8716

address: 703 Carson Ave

Free wireless; visitor computer; accommodation bookings; attractions, trails and adventure information.
History
Long before the arrival of prospectors during the Cariboo Gold Rush of 1862, the Southern Carrier (Dakelh) people lived off the land around Quesnel, occupying the area from the Bowron Lakes in the east to the upper Blackwater and Dean Rivers in the west. The Southern Carrier Nation were known among themselves as 'Uda Ukelh', meaning 'people who travel by boat on water early in the morning'. The name "Quesnel" is derived from Jules Maurice Quesnel, who accompanied Simon Fraser on his journey to the Pacific Ocean. Quesnel came to be called 'Quesnellemouth' to distinguish it from 'Quesnel Forks', 97 km (60 mi) up river. In 1870 it had been shortened to Quesnelle and by 1900 it was spelled the way it is now.
Quesnel is along the gold mining trail known as the Cariboo Wagon Road and was the commercial centre of the Cariboo Gold Rush. It also marks one end of the Alexander MacKenzie Heritage Trail. Because of its location on the Fraser River it was also an important landing for sternwheelers during 1862 until 1886 and then from 1909 until 1921. The last sternwheeler on the upper Fraser was Quesnel's own namesake craft, and home town product, the Quesnel.
Climate
Quesnel's humid continental climate is very mild by Canadian standards, being subject to marine airflows from the Pacific. Overnight lows are still cool even in summer, but daytime temperatures average above 24 °C (75 °F) in that season.
Get in
Quesnel is on provincial Highway 97 320km north of
Cache Creek
and 110 km south of
Prince George
.
It is nearly equidistant between the cities of Prince George and Williams Lake, on the main route to northern British Columbia and Yukon.
There is a small airport which has daily flights to and from
Vancouver
, operated by
Central Mountain Air
.
The Rocky Mountaineer train travels through and stops overnight in Quesnel.
Get around
BC Transit
provides three local transit bus routes M-Sa, adults $1.75, seniors $1.50, day passes $3.50/$3.00.
See
Quesnel & District Museum & Archives

phone: +1 250-992-9580

address: 705 Carson Ave

Listen to the stories of Chinese and First Nations Elders or visit a Sikh temple through interactive video installations. Meet the residents of early twentieth century Quesnel through the remarkable photographs. Dress up in the children's activity centre or participate in a scavenger hunt. Favourite exhibits include the Titanic, Footprints in Stone, dedicated to local First Nations culture, and vignettes recreating Quesnel's pioneer homes and businesses. From rare Chinese artifacts used during the gold rush era, to ephemera that will evoke childhood memories.

phone: +1 250-992-8255

address: 500 North Star Rd

Volunteer-run gallery displays the work of local artists. Has a gift shop.

Quesnel's Historic Fraser River Foot Bridge

address: Front Street

The footbridge is the centrepiece of the Riverfront Trail system and recognized as the longest wood truss walking bridge in the world.

Quesnel's Little People Painted Fire HydrantsFire hydrants turned into historical figures. For example, one is painted as a hairdresser for the first female barber in Quesnel when the local barber left to serve his country during the war. There is a carpenter, paperboy, and a hockey player. Maps are available.
Do
Quesnel and District Arts & Recreation Centre

phone: +1 250-992-8200

address: 500 North Star Rd

Arts centre with performing and visual arts programs and exhibits. The Quesnel Art Gallery exhibits the work of regional artists. Pottery room, dance studios, aquatic centre and pool.
Eat
phone: +1 250-992-7066

address: 462B Anderson Drive

Burgers ($8-10), Indian dishes ($12-30), pizzas (from $12). Freshly baked naan bread. Gluten-free options.

Carlos Place

phone: +1 778-466-3474

address: 2222 Maple Dr Unit 1680

Seafood, fish and chips.

Quesnel Bakery

phone: +1 250-992-9604

address: 468 Reid St

Bakery cafe serving soup & sandwiches.
Drink
phone: +1-778-414-2739

address: 185 Davie Street

The tasting room is fully licensed and serves locally-sourced artisanal pizza ($15) and other snacks ($2-14) to go with a rotating assortment of their brews. They also serve wine and cider. Accompanied children and well-behaved pets are welcome.
Sleep
phone: +1 250-992-5533

address: 308 McLean St.

Modeled after the paddlewheelers that plied the Fraser River during the gold rush of the late 1800s. Casino, poker room, restaurant. Suites with Jacuzzi tub or four-poster bed available.

address: 214 Juniper St

A non-smoking motel whose large, bright rooms all have two Queen size beds, coffee maker, fridge, microwave, flat screen TV, air-conditioner and heater. Free Wi-Fi and 64 TV channels (including two in French) are provided. Kitchenette rooms and pet-friendly rooms available. Free shuttle to the airport is available at request.

phone: +1 250-992-5942

address: 3101 Hwy 97 N

Free wireless internet, playground, walking trail, laundry, 20 rooms on ground floor, 50 pull-through sites, free continental breakfast for rooms, free Wi-fi, free airport shuttle.
Nearby
Barkerville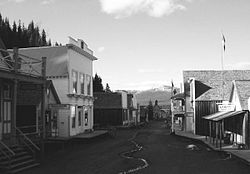 A
ghost town
80 km (50 miles) east of Quesnel on BC 26, the Barkerville Highway. Established soon after Billy Barker first struck gold at the location in 1861, this was once a boom town with more than 5000 people. By the turn of the century, the town was dying as the gold rush was over.