Quezon City/Cubao
Cubao
is the commercial heart of
Quezon City
, at the intersection of EDSA and Aurora Boulevard.
Understand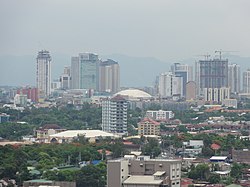 While the
Triangle and Scout Area
is the government, entertainment and nightlife hub, Cubao is the grand old commercial heart of Quezon City, with
Araneta Center
at its core. This district only developed in the late 1950s, when the Araneta family bought a piece of rural land once owned by RCA and built its first buildings. Cubao started to blossom with the construction of the Araneta Coliseum, which further become famous for the "Thrilla in Manila" boxing match between Muhammad Ali and Joe Frazier in 1975. The first shopping mall to open is Ali Mall, named after Muhammad Ali; other buildings followed, like SM Cubao, New Frontier Theatre (Kia Theatre from 2015 until 2018), Fiesta Carnaval (now a Shopwise supermarket), and Farmer's Plaza. The popularity of Cubao slowly declined as larger shopping malls and commercial developments begin to appear outside the area, but, the area's status as the traditional shopping center of Quezon City refuses to die; the Araneta family, who owned Araneta Center, has begun a redevelopment project for the area to return it to its former glory.
Cubao is not limited to Araneta Center, administered as part of barangay Socorro; the district extends into barangays Immaculate Conception, Kaunlaran, San Martin de Porres (Arayat), San Roque, and Silangan, all part of the former barangay until it was divided into smaller barangays. Local addresses continue to utilize Cubao as the barangay.
Get in
By public transit
Cubao lies at the intersection of Lines 2 and 3, and is reachable from both of them; the stations of both lines are named
Araneta Center-Cubao
, so, it can be a matter of confusion on what line to take. Line 2 runs above Aurora Avenue west from Manila into Santolan in Pasig. Line 3 is built at the middle of EDSA and runs from Taft Avenue in Pasay to North Avenue within Quezon City.
By bus
By city bus
Cubao is well served by city buses around
Metro Manila
, and the EDSA–Aurora intersection is heavily packed and very noisy all day; all city buses must pass through EDSA's service roads and stop either at the
Cubao-Farmers
(for city buses A/C) or near the
Baliwag Transport
bus terminal (for city buses B). The Cubao-Farmers bus stop is far near Araneta Center and the Baliwag bus stop is far across Aurora Boulevard, at the end of the EDSA-Aurora underpass.
By provincial bus
Araneta Center Bus Terminal

address: Times Square Street

One of Metro Manila's attempt to have a centralized terminal, this does serve bus companies from both north and south, but many still terminate elsewhere due to its limited bays.
Despite the presence of a single central terminal, many bus companies have their own terminals elsewhere near Araneta Center; most around EDSA.
For services from South Luzon and interisland trips, there are:
ALPS the BusFrequent trips from Batangas City, Lipa and San Juan in Batangas, and tri-weekly from Iloilo City.

Ceres Transport/Gold StarFrequent trips to Batangas City, and bi-weekly service to Iloilo City. Buses to Iloilo, and some buses to Batangas City have a lavatory, but travel may be slower for the latter as they will make frequent stops.

Cul TransportHourly trips from Lucena.

JamFrequent service to Biñan, Santa Rosa and Cabuyao in Laguna, Lipa, Lemery and Batangas City in Batangas province, and Lucena.

LLiHourly trips from Lucena.
From the north, there are:
Bataan TransitDepartures to Balanga every 15 minutes from 2:15 to 8:15PM, and to Mariveles every 20 minutes from midnight to 8:20PM.
For trips roughly within or 2 hours long, there are often no frills, but there will be vendors entering the bus at certain points and selling food and drinks at inflated prices. Longer trips will tend to have meals included on the fare, tickets must be purchased at a counter at the terminal, and on overnight trips and interisland services, there will be complimentary blankets and a ferry and port surcharge, respectively.
By airport bus
From
Ninoy Aquino International Airport
, you can take the Cubao route of
UBE Express
to Araneta Center, per head. Travel time can over 30 minutes to 1 hour depending on traffic on EDSA.
By jeepney
See
Art in Island

address: 175 15th Street

Interactive art museum where visitors can pose for a picture with 3D paintings in exhibit.

Gateway MuseumMuseum dedicated to Filipino arts and supporting new artists.
Skyscrapers
Seasonal
"Christmas is Home"Live Christmas display in Araneta Center, featuring both Filipino and Western Christmas traditions and Araneta Center itself. It was revived in November 28, 2018, after it was formerly presented from 1966 to 2002.
Do
phone: +63 2 911-5555

address: General Roxas Avenue

Officially nicknamed the "Big Dome", this is a multi-purpose indoor arena built in the 1960s, and the centerpiece of Araneta Center. The "Thrilla in Manila" match between Muhammad Ali and Joe Frazier in 1975 was held here; it is also the main venue of Binibining Pilipinas pageants since the 1970s. The arena gets its present name from 2010 when telecommunications giant Smart Communications bought naming rights to the arena.

address: 7 General Malvar Avenue

Multi-purpose venue opened in 1967, with fast food chains, upscale restaurants and cafés outside
Buy
While it lost its status as the major shopping center in Quezon City over other larger malls built elsewhere, Cubao still retains its malls, supermarkets, and public market, while already dated, still gives the impression of the district's former glory.
Ali MallThe oldest standing major shopping mall in the Philippines, built in 1976. It is named in honor of Muhammad Ali, who won the famed "Thrilla in Manila" on 1975.

Farmers Plaza

Gateway MallAward-winning mall owned by the Araneta group. Opened 2006.

SM Cubao

address: General Aguinaldo Street

One of the oldest malls owned by retail giant SM, but it looks more like its older sister in Makati's Ayala Center, SM Makati. This instead houses a department store and supermarket inside; all other shops and restaurants are outside.
Drink
Bars
Coffee
The area has
Starbucks
branches at Ali Mall and Araneta Coliseum, a
Seattle's Best
outside Shopwise, and a
Tim Hortons
at the New Frontier Theatre.
Bengal Brew
The Northern Coffee Experience
Sleep
Budget
phone: +63 2-9132123

address: #72 13th Avenue

Apartelle units and suites with furnished rooms and basic frills like A/C, cable TV, and free WiFi.

address: 628 EDSA

European-style rooms with basic amenities. . Amenities include bar and restaurant, free or valet parking, massage, and safe.

Gran Prix Econotel Cubao

phone: +63 2 413 2984, +63 2 411 6241

address: 678 EDSA

Hotel Dreamworld

phone: +63 912 433-3333

address: Roxas Avenue

A/C rooms with free WiFi, cable TV and in-room bathrooms

Hotel Sogo Grand Hotel EDSA Cubao

phone: +63 2 723-4351

address: 629 EDSA, San Martin de Porres

The flagship branch of the nationwide motel chain housed in red and white buildings, with four room classes.

phone: +63 2 705-1325

address: 8 Pinatubo Street, San Martin de Porres

Accented A/C rooms with free WiFi and computers. No free breakfast.

phone: +63 2 911-9133

address: 30 Stanford Street

Single rooms with cable TV and free breakfast. Free parking and WiFi available.
Mid-range
The Fernandina 88 Suites Hotel

phone: +63 2-4386688

address: 222 P. Tuazon Boulevard, Cubao

Transportation available to and from international and domestic airports. All suites have living, dining, and kitchen areas, internet connection, cable television, air conditioning, hot & cold shower

phone: +63 63 2 911-2161

address: 49 Annapolis Street, Cubao

62 double or twin rooms with air conditioning, cable television, a mini-bar and telephone. 24-hour convenience store, laundry service and an Inn Cafe also on premises.
Splurge
phone: +63 2 990-7888

Has 401 suites, two classy restaurants and bars, and an executive sky lounge providing 360-degree views of Metro Manila. Each room has A/C, cable TV, desk, minibar, and coffee and tea makers.
As of 2018, only Novotel is the splurge hotel around Cubao; the second splurge hotel to open is the 24-storey Ibis Styles Hotel, the first hotel in the Philippines under the Ibis brand; construction begun in 2016.
Cope
Embassy of Colombia

phone: +63 2 911 3101

address: Isetann Building, General Aguinaldo Avenue
Go next