Quezon City/Triangle and Scout Areas
The
Triangle Area
and
Scout Area
of
Quezon City
forms the heart of the city's government center, entertainment industry, and nightlife. On the four avenues forming the Triangle Area, you may either find yourself in a row of government offices, shopping malls, residential areas, and commercial strips.
Understand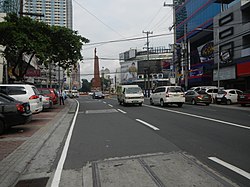 This article includes also barangays Roxas, Obrero, and Kamuning, through those places are not traditionally associated the Scout Area;
Muñoz
(Katipunan, Veterans Village),
Bago Bantay
(Bagong Pag-asa, Project 6, Ramon Magsaysay, Santo Cristo, Vasra),
Santa Cruz
(around Fisher Mall) and
Nayong Kanluran
) are also included as part of the larger
North EDSA
area, with its glitzy malls.
The
Scout Area
gets its name from the 22 Boy Scouts of the Philippines who died on the way to the 11th World Scouting Jamboree in
Marathon
,
Greece
; this area encompasses barangays Laging Handa, Sacred Heart and South Triangle. Most streets, except Mother Ignacia Avenue, Panay Avenue, Sergeant Esguerra Avenue, Timog Avenue and Tomas Morato Avenue, are named after the 22 Scouts, hence the district's common name.
The
Triangle Area
is part of the former barangay of Diliman. It was originally intended to be the location of all the offices of the Philippine government as Quezon City is envisioned, and the northeast corner (present-day
Quezon Memorial Circle
) was the supposed site of a new Philippine capitol building, but as
World War II
erupted in the
Pacific
, many of the proposed building have never been constructed. The west and south sides of the Triangle grew into middle-class neighborhoods; the east side only became filled with government offices, and the north side is partially filled with government offices and commercial developments, with interspersed slums. The north side of the Triangle Area is undergoing redevelopment as part of the
Triangle Business Park
commercial development.
The Scout Area's major streets are
Timog Avenue
(
Route 173
), a four-lane street running east-west from EDSA to Quezon Avenue, and Tomas Morato Avenue, a north-south avenue running from the area near the ABS-CBN Broadcasting Complex south to E. Rodriguez Sr. Avenue in
New Manila
. Both streets are nightlife centers; expect to find many classy restaurants and bars at almost every corner.
South Triangle
, a barangay, is a mid-class neighborhood home to the two major television networks, ABS-CBN and GMA Network, and film production firms; it is home for many Philippine TV celebrities, and is the Philippines'
Hollywood
.
Get in
The Triangle and Scout Area is near to
Diliman
and
Cubao
; from the streets of Diliman, crossing East Avenue brings you immediately to the East Triangle area. From Cubao, you can just hop onto Line 3, a jeepney, or a city bus, Andrew get down at points along EDSA.
By public transit
Line 3 serves the Triangle and Scout Area, and you can alight at the four stations inside the district.
KamuningBrings you near Timog Avenue, East Avenue, and the GMA Network Center, just beside it.

Quezon AvenueAt the busy intersection of EDSA and Quezon Avenue, it is meters away from the Eton Centris mall and the Bantayog Memorial Center.

North AvenueThe northernmost end of Line 3, it lies near two major shopping malls, Trinoma and SM North EDSA.
By bus
EDSA and Quezon Avenue, which are through routes of the district, is well served by city buses. From
Quiapo
or the
Fairview–Novaliches
area, you can take buses plying Quezon Avenue; bus stop through this district are
Fisher Mall
(or
Pantranco
, by many locals), Timog Avenue (near the intersection of Quezon Avenue, Timog Avenue and West Avenue),
Quezon Avenue
(at the intersection with EDSA) and
National Heart Transplant Center
/
Wildlife Center
(outside the Ninoy Aquino Parks and Wildlife Center).
See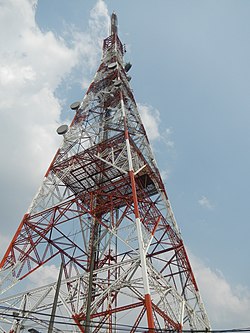 phone: +63 2 985-1126

address: Quezon Avenue, Pinyahan

Monument dedicated to the people who died during the Marcos dictatorship.

11th World Scout Jamboree Monument

address: Timog Avenue and Tomas Morato Avenue

Monument created in memory of the 22 Boy Scouts who perished en route to the 11th World Scouting Jamboree in Greece.

Millenium Transmitter

address: Mother Ignacia Avenue corner Sergeant Esguerra Street

The transmitter tower by ABS-CBN, providing strong TV signals around Metro Manila. It is a landmark of the district itself, and is very visible from almost every corner of the Scout Area.

Ninoy Aquino Parks and Wildlife CenterHouses a zoological and botanical garden, complete with a man-made lagoon for boating activities

SM City North EDSA Sky GardenElevated park with a simulated river and waterfall, part of SM City North EDSA (see #Buy)

Pinoy Big Brother House

address: Eugenio Lopez Jr. Drive

See (#Do)
Quezon Memorial Circle
is found at the northeast corner of the district, but it has its own set of sights and activities, and is covered separately.
Do
Television
The South Triangle area is the nerve center of the Philippine TV industry; the two major networks,
GMA
and
ABS–CBN
are headquarters here. If you want to get a glimpse of the Philippines' TV industry, you can either visit the TV studios in the area and watch live performances of popular shows being broadcast throughout the Philippines (and also to overseas Filipino communities around the world).
ABS-CBN Broadcasting Complex

phone: +63 2 924-4101

address: Eugenio Lopez Jr. Drive, South Triangle

The flagship studio of the ABS-CBN media network, built in 1968 and is the Philippines' most advanced broadcasting center.
ABS-CBN StudiosThe oldest television studios inside the complex, with 8 studios housing ABS-CBN's popular shows like It's Showtime, Banana Sundae, TV Patrol, and Bandila.
Pinoy Big Brother House

address: 18 Eugenio Lopez Jr. Drive, South Triangle

Home of the Philippine Big Brother franchise. The façade makes this more of a house, but it also hosts the studios where Pinoy Big Brother is aired. The surrounding area can become very crowded during eviction nights, where thousands of fans wait. The house is generally closed when Pinoy Big Brother is not being broadcasted.
Events
Quezon City Pride Parade (December 8 and 9)
Buy
Eton Centris

address: EDSA, Pinyahan, Diliman

Mixed-used development with a shopping mall, lifestyle strip, and call center buildings
Centris Station

phone: +63 2 845-3866

address: EDSA, Pinyahan, Diliman

Indoor mall of the Eton Centris complex, with select restaurants, shops and a SM Hypermarket.
Fisher MallMall owned by a fishing business in Malabon, and built over an old bus terminal. This mall has plenty of fast food chains and fast food restaurants, but not as crowded as the major ones.
phone: +63 2 929-6688

The largest mall in the Philippines, the world's fifth largest mall, and the first mall of the nationwide SM Supermalls chain, SM North EDSA houses more than 400 shops and 200 dining establishments.
phone: +63 2 999

Short for Triangle North of Manila, it is a large shopping mall in Quezon City in the Philippines owned by land developer Ayala Land. Opened in 2007, the mall is on the side of Epifanio de los Santos Avenue, near the MRT-3 North Avenue Station in Quezon City, giving significant market competition to the nearby SM City North EDSA as one of the largest malls in Manila's metropolitan area.
Wil Tower Mall

phone: +63 927 776-6772

address: Eugenio Lopez Drive

Small upscale mall with a Coffee Project café and All Day convenience store, part of the 46-storey Wil Tower condominium complex.
Drink
Bars
Tomas Morato Avenue
is the nightlife capital of Quezon City since the 1970s; almost ever corner has a restaurant and bar. Timog Avenue has also a plenty of them, and the Scout Area is certainly the nightlife center on town.
Laffline

phone: +63 2 372-2656

address: 3 Timog Ave, South Triangle

Comedy bar serving good food and drink with a healthy dose of laughter with stand-up comedy acts.

Music Match

phone: +63 2 927-8531

address: 270 Tomas Morato Avenue

Karaoke bar with disco and a selection of food. Smoking allowed in some rooms
Karaoke bars
Sleep
Budget
Mid-range
phone: +63 2 373-2384

address: 55 Scout Santiago St., Barangay Laging Handa

Casa Pura offers rooms equipped with air conditioning, telephone, writing desk and sofa. The hotel has a deck garden, restaurant, banquet hall, conference rooms, and parking. Room service, laundry service available.

phone: +63 2 921-2706

address: 61 Scout Rallos Street

Has vibrantly colored rooms with free WiFi, cable TV, minibar with coffee and tea makers, and bathtub with hot and cold water. Larger rooms have a living room and an additional bedroom. Its rooftop has a swimming pool providing views of the Scout Area and nearby Cubao. Amenities include a bar, a restaurant, a café, a hair salon, a gym, a business center, and a spa. Free breakfast available.

Imperial Palace Suites Quezon City

phone: +63 2 927-8001

address: Scout Memorial Circle

This hotel offers room amenities like air-conditioning, cable television, and kitchenette, complete with daily maid service.

phone: +63 2 922-8888

address: #51 Timog Ave., South Triangle

All rooms have in-room safety deposit box, mini bar, individual climate control, LCD flat sreen with cable and DVD player. Some of its facilities and services are lobby lounge, bar, infinity pool, kiddie pool, gym/fitness center, multi-level parking, Wi-Fi internet connection, in-room suite dining service, laundry/pressing and dry cleaning, wake-up call, 24-hour concierge and security.

phone: +63 2 724-7551

address: 102 & 103 The Forum, Tomas Morato Avenue St

Each high-rise condominium provides luxury-filled rooms and suites.
Stay safe
The district is relatively safe, but watch out for pickpockets and the occasional hypnotists. Showing drunkenness is not tolerated; some foreigners are arrested for engaging in drunken brawls. Some areas of this district are best avoided at all times:
The interior of barangay Obrero (and areas under the old Meralco high-voltage line)
Some areas on the Triangle Area characterized by slums. Riots have erupted during demolitions, so it is best avoided at all times
Cope
Embassies
Embassy of Cyprus

address: LG-03 Crispina Building, 1589 Quezon Avenue, West Triangle
Go next
Cubao – The grand old retail center of the city, along EDSA.