Quiberon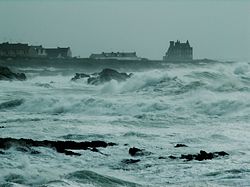 Quiberon
is a town in
Brittany
,
France
(on the Altantic coast). It is situated on a peninsula Presqu'île de Quiberon. In France it is well-known as summer spa-resort.
Get in
By train
from
Paris
. To get there you should take a TGV-Express from Gare de Montparnasse that will bring you to
Auray
town, where there is a connection with a bus directly to Quiberon (in July and August there is a train from
Auray
to Quiberon). In order to find a bus stop you should leave the railway station and go to the right, it is situated a bit aside.
The tickets for the whole road can be bought on the Montparnasse railway station (the approximate price for return ticket - €135/person, people younger than 25 y.o. get a price reduction). Before getting into the train you should stamp your ticket in a yellow machine that are situated a bit aside from the platforms. It is also possible to buy a ticket only to Auray and to pay there to the bus driver on-site. The duration of one way is 4:55.
Gare de Quiberon

address: Place de la Gare, 56170 Quiberon

Served only during summer by TER Bretagne line 32 (from Auray), called "le Tire-Bouchon", the "corkscrew".
See
Côte sauvage - so called wild coast, where the ocean waves beat the stones, where it is forbidden to swim because of life-danger, where you can see picturesque landscapes...
Do
Surfing in the Atlantic ocean
Spa-procedures
Sunbathing on the Grande Plage
Buy

In the center of the town the small shops are open even on winter Sundays (at least in the morning). As a souvenir it is interesting to buy cider and sardines.

Eat
Bar de la Marine

address: Port Marina

A restaurant with marvelous ocean view. Serves breakfast, sea food, fish, perrywinkles. Open all year round.

phone: +33 2 97 30 41 86

address: 2, quai de Houat, Port Maria, 56170 Quiberon

Nice restaurant with good wine, sea food, perrywikles. Sea food plate. Open all year round.
Sleep
There are a lot of small hotels and houses with apartments to be rent alongside the coast.
phone: +33 2 97 52 31 21

address: 23 Avenue de Saint-Malo

phone: +33 2 97 52 33 75

address: 8 Avenue Surcouf

phone: +33 2 97 30 92 10

address: 25 Quai d'Orange
Go next
Belle Île - from Quiberon it is possible (also in winter) to take a ferry and to get to the island, well-known resort.