Quime
Quime
is a small city in Yungas of Inquisivi region of
La Paz
.
Understand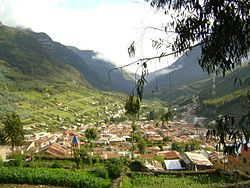 About mid way between
Cochabamba
,
Oruro
and
La Paz
, Quime is in a deep forested valley surrounded by high peaks of the Andes. The region is one of the steepest in the Bolivian Andes and the center of biodiversity of both Andean Bolivia and South America. Resident foreigners living in Bolivia call it the "Shangri-la" of Bolivia.
Quime is the center for climbing and exploration of the Cordillera de Quimsa Cruz. Traditionally, it has been an area with little tourism of any kind and perfect for self-guided adventure tourists. Though you won't find much about Quime in any tour guide books, the area has become an increasingly popular "word-of-mouth" area for travelers between La Paz and points south.
The population is 10,000, with 3,000 living in the town and the rest in 31 indigenous Aimara communities scattered over an area the size of Luxembourg.
The temperature lows are seldom, if ever, below 6 °C and highs seldom, if ever, over 26 °C.
The people, mostly miners and indigenous campesinos, are friendly to travelers. Communarios love to teach guests a few words of Aimara and miners will show you around their mining operations. Quime is working on setting up small native huts as guest houses in nearby villages, and a self-guided nature walk near the Naranjani Falls and Lake.
The name Quime comes from the Quechua word for "Place to Rest" and was a traditional stopping point for mules carrying coca and gold out, and food supplies in. One old resident remembers his grandfather bringing a grand piano in pieces via mule train. For the past 100 years it has been a commercial center for the numerous tin, zinc, tungsten, silver and gold mines which often cling to sheer cliffs.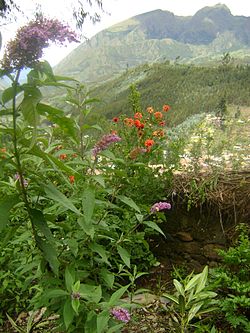 Tourism
Unless you know how to get to the places mentioned in the following, like the Naranjani Laguna, the Naranjani Waterfall, the Devil's Slide, etc., it might not be worth the 170 km detour to Quime. Neither Openstreetmap nor GoogleMaps are very helpful finding meaningful trails to these sites. However, local guides are available. Nevertheless, it might still take some time before the tourism in Quime develops so far that these sites will be easily accessible. Alternatively, head to
Sorata
, which is a little more developed with regards to tourism.
Get in
By bus
The easiest and fastest way to get into Quime is by taking any minibus whatsoever from
La Paz
,
Oruro
or Patacayama, or any national bus from
Cochabamba
,
Potosi
,
Uyuni
, etc., and get off in (2 hr from La Paz, 95 km from Oruro). Tell the driver that you want to get off in Konani, otherwise you might miss the point if it is a night bus. There you catch a bus, minibus, taxi or open air truck to Quime (about 1½-2 hr) for about Bs. 20-25—some might try to take you privately and charge Bs. 150-250. The first vehicles should head towards Quime between 05:00-06:00.
If using one of the direct La Paz-Quime buses/servis, it is best to make your bus reservation by phone (as follows) the day before to get a seat:
From La Paz Bus Station: Flota Inquisivi has one bus per day. Their Office #38 is towards the back of the terminal. The bus leaves at 06:00. Call 2228-4050.
From El Alto bus station: Flota Inquisivi has another daily bus leaving from the El Alto bus terminal at noon. Their office is on Calle Téllez Ross between Marcelo Quiroga Santa Cruz (ex Calle 2) and Calle Luis Espinal (ex Calle 3). Call 2282-4734.
From El Alto bus station: Flota Apostal Santiago has four to five buses daily. The buses leave at 06:00, 11:00, 12:30 and between 16:00-18:00. Their office is near the Ceja of El Alto around the corner from the BCP Bank on "Calle 2". Call 225-97544.
From Santiago station (?): Jose Morales has one daily minibus at 17:00 and gets to Quime about 21:00.
The trip with these is about 3½ hr and costs Bs. 35.
The way to Quime down through the high Andes is above 4,300 m. They are steep, often covered with some snow, and perhaps the most spectacular in Bolivia. The road is wide, safe and well graded. While the rest of Bolivia may have strikes and road blockades, Quime is nearly almost open, without blockades and strikes. Quime transportistas know alternative routes to bypass blockades even on the main road between La Paz and Oruro.
Get around
Quime's a pretty small place, with everything within a short walking distance. However if going up the hill it might be useful to take a taxi. If not, it's great exercise, especially at 3,000 m. altitude. You can find the radio taxis on the Alameda by the Flota Inquisivi bus station a block from the central plaza.
There are numerous local trucks and buses that leave for just about everywhere in the province from the Alameda.
Mostly you get around on foot for and of numerous day hikes, or use mules for expeditions and treks. Visitors are catching the 06:00 truck to visit the high altitude mine at Chambillaya, a rather primitive and highly spectacular operation. They walk an hour down the mountain to return afterwards.

See
The views, some over about 80 km (50 miles) of Andean mountains and valleys, are spectacular from the upper edge of town or the surrounding mountainsides. Nearby are Elfin Cloud Forests laden with mosses, lichens, ferns and bromeliads. A number of rare birds inhabit the area, including the endemic Rufous-breasted Grosbeak. The reclusive and endangered Spectacled Bear lives in a refuge nearby but is seldom seen. Ornithologists and botanists continue to discover new bird and plant species in the area.
Chambillaya mine – The most popular day hike is to this primitive tungsten mine. You have two options:
From the Hostal Colibri walk three blocks east to the bridge at 05:30 and catch the mining truck for Bs. 5 to the mine. You will be riding with the miners and it is highly suggested that you bring a half pound of coca leaf to share with them. About an hour up the mountain you get to the abandoned Chambillaya mining town, now in ruins but with some pretty interesting artifacts laying about. The mine is another thousand feet up the mountain. If you make friends with the miners, actually quite easy sharing coca, they will take you on a tour of the mine for free. In any event, so far they have been very friendly about showing off their work. Some tourists have continued up to one of the nearby summits to watch condors. From the mine its an easy hour or so hike back to Quime.
Otherwise, it is also possible to hike up to the mine during the day—use Openstreetmap to find the way. If you take the western track up or down to/from the mines, there is an impressive waterfall about 1 km from where the two tracks up to the mine meet. This is a good compensation for the 7 cascades (Naranjani) in case you are unable to trek them. This waterfall is quite high and more colorful due to the minerals this river carries down from the mines to the village. Ask in town what you could bring for the miners to be welcomed at the mine.
Do
The Quime area is for people who either want to take a break and sit around on a mountainside without a bunch of other tourists around, romance, take day hikes, picnic and rest or for adventurers and trekkers who want to do something no one else has ever done before: Exploration hiking.
Pumuta Indigenous Community Ecological Park – This Aimara community is developing an ecological park in remnant cloud forest about one hour of a walk from Quime. Visitors may be interested in helping with the location and development. Along the way is picnicking in the canyon of Rio Chichipata about 45 minutes walk away.
Events
The Santiago Fiesta starts July 23 and lasts a week. This is a week of 1,000's of Quime families dancing in indigenous costumes, making social contact, free drinking (until you drop)the local "coktels" and eating native food including huatias.
Indigenous Community Loctayas – The entire month of August indigenous comunities around Quime have their annual rituals giving thanks to Pachamama, making huatias (earth-cooked food), sacrificing llamas and dancing. The "whole world" is welcome to take part. Pin some bolivianos, as is customary, to the shirt of the person who is sponsoring the rituals and bring some coca to share.
Hiking
Day hikes include: the Naranjani Waterfall, the Naranjani glacial lake, the Chambillaya mines, Chambillaya Ghost Town below the mine, and the Devil's Slide.
The Naranjani Waterfall is actually 7 waterfalls falling about 2,000 feet from a cirque lake down into the forest near Quime. The area has been proposed as a municipal nature reserve and self-guided nature hike (volunteers welcome). It is a 3-hr walk from Quime up and an hour down. The central fall which drains a cirque lake dries up in the dry season, but other smaller falls are suitable for bathing.
From Quime, one can see the Devil´s Slide. It is a 1,000-m-high landslide constantly producing plumes of dust reminiscent of an active volcano. The Devil's Slide is about 2-3 hr walk.
Two-day hikes include:
Huichincani Hot Springs – This is unique in that it has never been developed except by campesinos making rings of rocks around pools. The springs are on a steep mountain slope over looking the Miguillas River Valley and ringed by a cirque above.
Sacambaya Castle – A pre-inca castle in the immediate area where the Jesuits buried their gold after their expulsion from South America. According to archives, slaves built caves to hide the gold, then were buried alive with the gold under massive landslides. Major expeditions dating back as much as a century have falled to find the Lost Jesuit Gold of Sacambaya.
Bicycle
Especially interesting day trips are:
From the Cumbre to Quime is 35 km of a moderate gradient dropping ca. 2500 m with switch backs on the all down-hill graded or paved road. The best bet is to take a bus or van from Quime with rented bikes, get off at the Cumbre de Tres Cruces and coast back into Quime, stopping along the way to view glaciers, waterfalls, rare plants, ruins and so on.
From Quime bike to the river below Inquisivi which is a hot, dry subtropical area. You then catch a bus back to Quime.
Single track competition trail – The oldmule trail (The Coca Trail) has been rehabilitated as a single track biking trail used in international competition. 30 km long. Spectacular drops from the Cumbre de Tres Cruces at 5400 m. altitude direct to Quime at 3,000 m. Have the bus drop you at the Cumbre de Tres Cruces. This is not only spectacular but can be truly dangerous, unlike the so-called "Death Road" which is about as deadly as Granma' s rose garden. Along the way stop for lunch at a mine about half way down which is built about 300 m up on a sheer cliff with ladders etc.
Buy
Those on a low budget or hate shopping will love Quime since there is nothing much to buy unless you are interested in hand woven blankets and native costumes made by and for local people, or locally made aloe veroe shampoo.
You can buy lots of food to cook, as well as fruit and vegetables, especially at the local Sunday Fair: You can also get basic household things and pretty much outfit a minimilist rough-it expedition.
Eat
Quime's famous specialty is the huatia. This is meat in a mild chili sauce, cooking bananas, sweet potatoes, horse beans, sweet corn and potatoes buried in red hot rocks covered with earth and tree tobacco leaves then baked underground for an hour or so.
There are numerous "eat at your own risk" restaurants in the Alameda where the local buses stop for lunch. The soups are safe. The only restaurant that Quime resident Jhon recommends is the one on the corner across the street from the Apostal Santiago Bus office. At the Sunday fair there are local dishes like Picante de Pollo, Fricase, Sajta de Pollo for about Bs. 10 a plate.
Drink
No discotheques or bars, but you can drink with locals at their parties usually on Fridays and Saturdays.
You'll have to drink like the local Aimara people, that would be either beer or another Quime specialty: the coktél. The coktél is made of 180 proof cane alcohol (perfectly safe and rather hallucinogenic) mixed with fruit juices (orange, passion fruit, lemon/lime) and/or herbs like coca, mint, lemon mint and/or chamomile. These are served hot or cold.
Whatever you do, don´t try the coktéles made out of kool-aid and cane alcohol they sometime serve at the almost constant weekend parties. Cane alcohol coktéls made with fruit juice are strong.
Sleep
There is apparently a city tax of 10% per tourist per night.
Residencial El Paraiso

phone: +591 77201282, +591 77788984

A nice hacienda with two level, a large kitchen and comfortable living area. Be sure what to pay, the owner does not quite understand how online reservation works. If there is no one there when you arrive, head to the where someone should be that has the keys.

Alojamiento Santiago

phone: +591 765-36725

It has two rooms with 7 beds each on a balcony overlooking an interior patio and garden. The owner will try and assure you that you have a private room. The owner can make up a sauna for which he charges US$7 for a group sauna.
Cope
Basic services include: hospital, cell phone service, call centers, and three small radio stations. There are no ATMs but internet has been connected.
There are many hiking trails in the area, but they are still not yet clearly marked. The hosts at Hostal Colibri can recommend routes and give details for self-guided hikes. With advance notice, it may be possible to arrange a tour guide.
The owner of the Hummingbird Ranch - Hostal Colibri, has a collection of maps and thirty years of experience in the area and will help arrange day hikes and much longer treks, including trips to the newly discovered Enchanted City of Choquercamiri, and still only partially discovered pre-inca Cotas culture ruins which are reminiscent of Macchu Picchu, but little known and unrestored.
Generally Quime is very quiet and hiking opportunities are limited. If you prefer the opposite, you should rather head to Sorata, which is better in this sense.
Connect
The mayor's office has opened an internet cafe on the main plaza with 30 computers running at 512 but may be infected with viruses. Internet cafe also on the Alameda near where the minibuses leave. Hostel Colibri has the use of an Entel modem for your laptop.
Cell phone services are by TIGO and ENTEL with boothes in the center.
Go next
There is regular and frequent daily servis and even regular buses to La Paz (first one at 17:00, but there are also some at 22:30 and 02:00) for Bs. 25-35, and a constant flow of minivans to Konani (two hours away). Shop around in Quime for the best company and time. You can also buy tickets in advance. In Konani you can catch a bus to any other destination in Bolivia including Oruro, Potosi, Cochabamba or Santa Cruz. However, note that certain destinations along the main highway from/to La Paz which could be hailed in Konani might only be served at certain hours, e.g. night buses are very common. Otherwise, you will end up waiting forever before you destined bus arrives.