Quimper
Quimper
is the capital city of
Finistère
, France. Its specialty is Quimper faience, a type of white glazed pottery with colorful painted designs and patterns.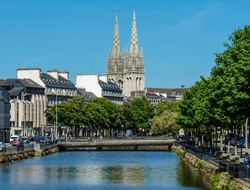 Get in
Gare de QuimperThe train station is centrally situated, five minutes on foot from the city centre. It receives trains regularly from Paris and Rennes, and other parts of France.

Quimper–Cornouaille Airportregular flights from Paris
Get around
By bus
The local bus service is called
QUB
. A map of the network can be found here .
One trip costs €1.50. If you plan to get around by bus, drop by the first and get a 10-ride card for €11.90 to save a few euros. Day passes are also available for €4. The 10-ride cards and day passes are also sold in some cafés, and at the bus station office, near the train station.
By car
Quimper is a fine city to drive in. Traffic is usually fluid even at rush hour and, outside of the centre, most streets are free to park in and have plenty of space. It can however be hard to find free parking near the city centre.
By bike
Getting around by bike in Quimper is risky. Bike lanes are rare and drivers are not used to bike traffic. Bike parking is also rare.
See
"Quimper" is Breton for "Meeting of Two Rivers," and when you enter Quimper by train you walk along the River Odet, which has many pleasant small bridges along it. One can also walk up the River Steir for a quiet promenade, leaving city streets behind for greenery.
The city's grandest and most unmistakable monument is the , a Gothic cathedral with two spires which dominate the townscape. The interior is beautiful, but like most of Quimper's visiting places, it closes for lunch. Other remarkable churches include (which is also Gothic style) and (a church preserved from the Middle Ages, with a spare elegance.)
It is pleasant merely to walk up and down the streets of Quimper, which are very well-preserved, but for an excellent view you can also climb Mont Frugy, the large green hill to the south of the river Odet. Frugy has several trails, and not only is a walk peaceful and not-too-challenging, but the views of the city can't be beat.
There are several charming gardens open to the public in Quimper: the to the southwest, near Locmaria and the Earthenware Museum, which is a faithfully preserved (or reproduced) Medieval cloister garden, and the , in the north of town, near the Jesuit Chapel. This garden has more exotic plants such as palm trees. Also the Max Jacob theater, near the train station, has a beautiful garden behind it, , which is open to the public.

Do
address: 1 rue du Roi Gradlon

Musée des Beaux-Arts
Buy

Pottery and other earthenware is a regional specialty of Quimper, usually white with beautiful colored patterns. Another common motif found in Quimper is the triskelion (the three-pronged spiral), in the region's colors of black and white.

Eat
The seafood is very good in Quimper, but the food that you will find in greatest profusion is crepes. Sweet and savory, almost every street will have a creperie on it. As crepes are the regional specialty, you really can't go wrong.
Bakeries will carry far bretons and gateaux bretons as other regional specialties don't be afraid to try them out, either.
Drink
Café des Arts

address: 4 rue Ste. Catherine

A popular scene, crowded, with a pleasant vibe
Go next