Quincy (Massachusetts)
Quincy
is in
Massachusetts
. Quincy was the birthplace of presidents John Adams and John Quincy Adams. United States Declaration of Independence signer and first Massachusetts governor John Hancock was also born here. Quincy produced the first commercial railroad in the country in order to transport the granite from its quarries to Boston for use in many buildings there. Quincy's shipbuilding history started with sailing ships in the 1800s and continued with battleships at the Fore River Shipyard. Howard Johnson's and Dunkin Donuts restaurants were also started here.
Get in
By plane
Logan International Airport (BOS), in Boston.
By train
Massachusetts Bay Transportation Authority (MBTA or "T"), Phone: +1 617-222-5215, . Quincy has both subway and communter rail connections to Boston and some other South Shore towns.
By bus
Massachusetts Bay Transportation Authority (MBTA or "T"), Phone: +1 617-222-5215, . Quincy has a number of bus routes as well.
By car
Interstate 93 runs south from
Boston
through Quincy.
Get around
Quincy is primarily residential, although the area around Quincy center is becoming increasingly urban. You can reach much of the city by bus, but most things worth seeing are within walking distance of an MBTA (redline) station.

See
Adams National Historical Park

phone: +1 617 770-1175

address: 1250 Hancock St

Tours include the Old House and the Birthplaces. To see the historic homes, you must join a tour. The last tour leaves at 3:15PM. Site orientation is also available here, along with exhibits, a bookstore and the site's only public restrooms. The 14 acre (56,600 m²) park is comprised of the Birthplaces of John and John Quincy Adams, the Old House and the United First Parish Church. Reservations are required for groups of 8 or more, however, there is no group rate. You can also see the "Adam's Mansion," home of US President John Adams and his son John Quincy Adams, within a short walking distance of the Quincy Center MBTA (redline) station.

address: 39 Butler Rd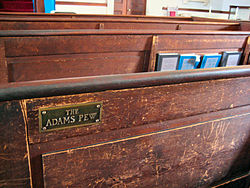 phone: +1 617 773-1144

address: 8 Adams St

Excellent overview of Quincy history in lovely stone building built on the site of Hancock's birth.

Hancock Cemetery

address: 1305 Hancock St

Graves of the Adams and Quincy families and John Hancock's father. Interesting graveyard art. Free.

phone: +1 617-773-1290

address: 1306 Hancock St

phone: +1 617 376-1301

address: 40 Washington St

Josiah Quincy House

phone: +1 617-227-3957 ext 256

address: 20 Muirhead St

Seasonal. Tours on the hour.

USS Salem & the U.S. Naval Shipbuilding Museum

phone: +1 617 479-7900

address: 739 Washington St

The USS Salem is a 716 foot long US Navy Heavy Cruiser Gunship and is the worlds only example of that class of ship. The Salem was among the most advanced war ships of her day and served until 1959. She is now permanently moored at the place of her birth, the former Fore River Shipyard in historic Quincy, MA. The ship is also home to the US Naval Shipbuilding museum and has on display thousands of items relating to Naval history and shipbuilding. Summer daily 10AM-5PM; Winter Sa,Su 10AM-4PM. General Admission $5, children under 4 free, Active Duty Military free. Group guided tours are available with a reservation.
Do
Boston Harbor Islands State Park, Phone: +1 617-727-5290, . Take a ferry (703 Washington St., Phone: +1 617-223-8666, ) out to George's Island and water shuttles to visit any of five other islands in Boston Harbor. Ranger-led activities, events, narrations, or just swim, picnic, camp or fish.
Quincy Quarries, The Quincy Quarries have supplied granite to Boston and buildings around the world with the tell-tale 'fingers' and bluish color. Now, they are empty and great places to hike or take a walk during the day. Some areas are filled with color by generations of teenagers' graffiti, others are used for rockclimbing, and you can walk down the United States' oldest railroad, an ox-drawn train to transport granite to the harbor for transportation to Boston or further.
Beach
phone: +1 617 727-5114

Quincy Shore Drive. Nice 2.5-mile-long beach with lifeguards, free parking, and a bathhouse with public restrooms. Although swimming is officially safe and allowed, many residents don't as before environmental legislation in the 1970s the harbor was generally putrid—a reputation persisting despite a very different harbor today.

Black's CreekBlacks Creek, along Wollaston Beach, is a very scenic marshland and creek. There are some paths through it, though few are maintained. However there are paths along it opposite the paths along the beach making for a fantastic walk up the beach and back along the marsh. Nestled into Blacks Creek is "Kincade Island", a peninsula into the creek with a children's playground and benches, and is entered by crossing a short wooden bridge.

phone: +1 617 727-5290

Quincy Shore Drive. Popular jogging and bicycling trail and beach.

Nickerson Beach

phone: +1 617 376-1251

address: 120 Dorchester St

Free parking
Eat
The Fours

address: 15 Cottage Ave

Quincy, MA 02169. Sports themed bar and restaurant with good food and decent beer. $

Gennaro's

address: 12 Blanchard Rd

Delicious Italian food in North End style but with a large menu and terrific price per portion (though upfront price seems $). Portions are humongous, a large easily feeding two people, and side salads are very inexpensive. $

Grumpy White's

address: 211 Sea St

A local restaurant and bar with American style food.

Newcomb Farms

address: 93 Beale St

Wollaston - DOwn home good food, at a reasonable price$

La Paloma

phone: +1 617 773-0512

address: 195 Newport Av

Lunch, dinner. Good Mexican food. $

Inn at Bay Pointe

phone: +1 617 472-3200

address: 64 Washington Ct

Dine waterfront on the Town River. $

Captain Fishbones

phone: +1 617 471-3511

address: 332 Victory Rd

Breakfast, lunch, dinner, brunch. Dine outside along the boardwalk at the marina. $-$

Classic India

phone: +1 617 786-9459

address: 1585 Hancock St

Lunch and dinner. $

Webster's Eatery

phone: +1 617-123-4567

address: 25 Scammel St

So. Quincy. Breakfast, Lunch & Dinner, Specializes in Middle Eastern delicasies $

Falafel King

phone: +1 617 773-0100

address: 1504 Hancock St

Middle Eastern food. $
Drink
Quincy, especially along and around Hancock Street in Quincy Center, has a large number of bars. They are generally filled with locals from Quincy and surrounding areas. Popular bars include The Stadium and The Commonwealth. Unlike Boston, though, Quincy bars close at 1 AM.
phone: +1 617 471-4447

address: 15 Cottage Ave

Was named #1 Sports Bar in America by Sports Illustrated.

phone: +1 617 472-8600

address: 1514-1516 Hancock St

One of the primary drinking establishments of young white-hatted locals known as "yah-doods" and their female counterparts. Comfortable, frequently features cover bands and Irish balladeers.
Sleep
address: 29 Hancock St

Presidents City Inn

phone: +1 617 479-6500

address: 845 Hancock St

36 rooms.

phone: +1 617 472-1000

address: 1000 Marriott Dr

Tucked away on the Boston South Shore, the Boston Marriott Quincy Hotel offers easy access to Boston, Plymouth and Cape Cod.
Go next