Quintana Roo
Quintana Roo
, also called
the Mexican Caribbean
is a state of
Mexico
that is part of the
Yucatán Peninsula
. It's shoreline along the Caribbean has grown in just a few decades into a major tourism destination. It includes large resort cities built for the Yanqui/Euro tropical vacation business, small communities with a more local Maya-Mexicano character, and fascinating ancient Maya archaeological sites.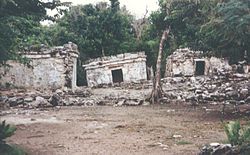 Regions
The Mexican Caribbean is divided in some micro-tourist destinations that are:
Cancún
, the
Riviera Maya
, the Maya Zone and the Great Costa Maya.
The Riviera Maya is a tourist corridor that goes from
Puerto Morelos
until
Tulum
. The Riviera Maya´s heart is
Playa del Carmen
, an eclectic and seductive city that mixes the Mexican flair with a Caribbean ambiance influenced for all possible cultures from all over the world.
The Maya Zone includes some small towns and the Great Costa Maya is formed by
Chetumal
(capital of the state),
Bacalar
and
Mahahual
.
Cities
– capital city of the state
– small town south of the major resorts
– historic town with the beautiful lagoon of 7 colors
– luxury tourism central
– Border crossing with Belize
(Majahual) – the next Playa del Carmen, a tourist development
– eclectic and seductive Mexican city
– a secluded, charming district
– quiet fishing town
– Busiest border crossing with Belize
– Remote village for Great fishing and diving
Other destinations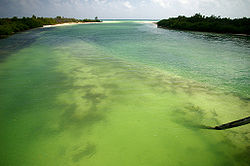 – large Maya site
– historic 19th century Maya town
– a UNESCO World Heritage listed biosphere reserve
– impressive Maya archaeological site built in a cliff that faces the ocean
— (Riviera Maya)
Islands
– an uninhabited small island and bird sanctuary
– the largest island and port of call
– a tropical paradise out of hustle and bustle
– small cozy retreat close to Cancún
Understand
This eastern part of the
Yucatán Peninsula
shares much history with the neighboring states of
Yucatán
and
Campeche
; a long Maya heritage and conquest by the Spanish in the 1500s. It was long part of the state of Yucatán. In the 1840s, however, local Maya people revolted against the Hispanic people who dominated politically and economically, starting what is called "the War of the Castes". With long battles the Maya succeeded in driving out the non-Maya from this area, and established their own government with the capital in Chan Santa Cruz, now the town of
Felipe Carrillo Puerto
the Maya state was briefly recognized as an independent nation by the British Empire. An uneasy truce ended in the 1890s with a Mexican counter attack which succeeded in bring the area back under the Mexican flag in 1901. The area was then designated the Mexican Territory of Quintana Roo, named after Andrés Quintana Roo, a Yucatecan hero of the Mexican war of Independence in the early 19th century.
Comparatively sparsely populated and undeveloped, the territory of Quintana Roo did not achieve statehood until 1974, making it Mexico's youngest state. In the 1970s, Mexican developers realized the area's beautiful beaches, lush forests, and historic Maya ruins could make it a prime visitor destination if only infrastructure could be put in place. New highways were laid, new International Airports constructed at Cozumel and Cancun, and hotels were built. The tiny remote village of Cancun became a boom town, the first center of the new development of Quintana Roo, drawing a new population of workers and residents from other parts of Mexico.
Today Quintana Roo is popular with visitors with bustling tourism developments thriving while large areas of natural beauty remain unspoiled.
Get in
Highways link Quintana Roo to
Yucatán
.
Major international airports are at Cancun (
CUN
) and Cozumel (CZM). Regional airports include Chetumal Airport (CTM)

Get around

Quintana Roo, and Mexico in general has an excellent bus system.

Do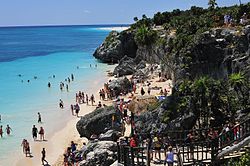 Aventuras Mayas - Offers jungle and ocean adventures, including zip lines, rappeling, snorkeling in tropical reefs and underground rivers, as well as visits to the archeological site of Tulum

GarrafonGarrafon Natural Reef Park is on charming Isla Mujeres, which is beautiful both in and out of the water. 35-minute cruise from Cancun.

Swim with Dolphins - Swim with dolphins and enjoy this unforgettable and magic experience. Swimming with dolphins is everything you´ve imagined and more - and a chance to encounter these highly intelligent and friendly marine mammals which will fascinate and amaze you.
Jeep Adventures. Your self-drive Jeep Adventure will take you on an amazing journey around Cancun and the surrounding areas and give you the chance to see parts of Mexico you wouldn't be able to see on your own. During your Jeep Adventure you will get to: Explore Mayan Ruins, visit a private jungle reserve, swim/snorkel in an underground cenote, experience an amazing interactive zoo, visit an authentic Mexican town, enjoy a buffet lunch on the beach, and many other activities all while under the guidance of a friendly, knowledgeable and humorous guide.
Aqua Tours. Exciting water tour! Choose either a Jetski or two person Jetboat for a trip through the lagoon out to snorkel on the reef, their top tours are Jungle Tour and the Sailing Quest (Catamarans).
The scuba diving and snorkeling around Isla Mujeres is unforgettable. The Manchones Reef begins just off of Isla's shore and the Cuevones and Banderas Reefs are close by. The waters are calm and clear - perfect for the beginner as well as the advanced diver.
Lobster Dinner Cruise. Romantic night out. Both the guys and gals will enjoy this trip. Take a trip out on the calm lagoon on a beautiful boat with friends you have not met yet. The staff allow you to take part in the fun or settle back and watch the sunset. Steak and lobster is cooked on the boat and tastes so much better away from the city sounds
Eat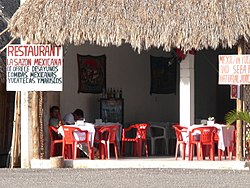 Owing to the closeness to the Caribbean you can get a lot of seafood here
Generally speaking most hotels and restaurants in places a tourist might conceivably pass through serve "internationalized" fare as well as more local food.
Stay safe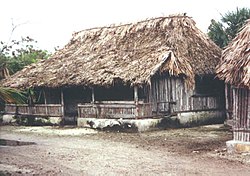 Go next