Quinte-Northumberland
Quinte-Northumberland
is a region in
Eastern Ontario
which extends from
Cobourg
eastward into the Bay of Quinte region. The bay is east of
Trenton
, where it separates
Belleville
and
Napanee
from
Prince Edward County
.
Understand
This region is United Empire Loyalist country, colonised by loyal
British subjects
who escaped the
United States of America
after it fell to
revolutionary forces
in 1783. Many towns and cities in the area were founded in 1784 and were part of the front line of the
War of 1812
.
The area is now a peaceful place and a welcome transition from the hectic pace of big-city life to the west in Oshawa-Toronto and their endless, sprawling suburbia.
Get in
The Quinte-Northumberland region falls within the busy
Windsor-Quebec corridor
, in the section between (but not including)
Oshawa
and
Kingston
. The area is largely rural with the occasional small city.
By car, the region is accessible from Toronto and Oshawa via Highway 401 (and the road it bypassed, Highway 2 / County Road 2) which both run (from west to east) Oshawa-Port Hope-Cobourg-Trenton-Belleville-Napanee-Kingston. The Loyalist Parkway (Ontario Highway 33, County Road 33) also joins Trenton to Kingston, but by a more southern route through Prince Edward County with a ferry crossing to Adolphustown; it then follows the Lake Ontario waterfront eastward through Bath, ending at old Highway 2 (Princess St.) in Kingston.
By bus,
Megabus
(
Coach Canada
) stops in Belleville on Kingston-
Peterborough
trips. Deseronto Transit runs a local bus from Belleville-Napanee and Belleville-Prince Edward County.
By train,
Via Rail
makes a few stops in Napanee, Belleville, Trenton, Cobourg and Port Hope on its Toronto-Kingston-Montréal or Toronto-Kingston-Ottawa "Corridor" service. Most runs are "express" and do not stop. Some of the smaller stations on this line (built in 1856 as the Grand Trunk Railway) are unattended shelters opened briefly before the train's expected arrival.
Cruising on small craft
may be an option to reach various towns in the region from Lake Ontario but is inherently seasonal.
There is no major civilian airport in-region (despite Trenton hosting Canada's largest air force base); Megabus operates a bus from
Toronto Pearson International Airport
to various towns along the 401.
Get around
While there is local or city bus service within Belleville and Cobourg, for most of this largely-rural region a motorcar is a necessity. Many attractions (such as provincial parks or farms with pick-your-own strawberries and apples) are off the beaten path and beyond the reach of public transportation.

See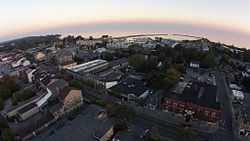 Eat
Strawberries are in season in early summer, usually soon before Canada Day (July 1). Various farms offer pick-your-own produce in
Picton
and
Adolphustown
.
Apples ripen mid-summer and may be picked in various communities from
Brighton
to Picton to Adolphustown.
Pumpkins are in season in early fall, usually a month or so before Halloween.
Drink