Râșnov
Râșnov
is a town in
Transylvania
,
Romania
. It is located in the touristic county of
Brașov
.
Understand
Râșnov was once part of the Saxon region called Burzenland, and it was founded by German settlers in the 13th century near the site of an old fort dating from Thracian-Roman times. It is home to a freshly restored Saxon fortress from the 14th century, and also to many old Saxon houses. In German the name of the town is "Rosenau", which means Rosepond. There are about 15,000 inhabitants who live next to a huge forest that leads up the mountains. The river Ghimbasel (German: Burzen) crosses the town. Today most of the population is Romanian, but there are also Romas, and some Germans and Magyars. The city is rapidly developing towards an important tourism town, while new pensions and attractions are being developed. Those who rush through Brașov county, stop by to see the fortress, but many people take the time to stay here for a few days and enjoy its blend of nature and fun. Others choose it as a cheap and quiet base to explore the surrounding area with its numerous attractions (
Brașov
,
Sinaia
,
Bran
,
Zărnești
,
Prejmer
, etc.)
Get in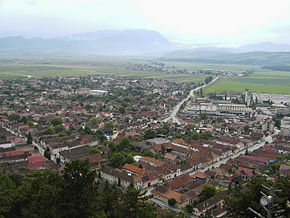 By car
In Râșnov there are 2 gas stations on the main road, one Lukoil (exit towards Brașov) and one Petrom (exit towards Bran).
By train
There is a train on the route Brașov-Râșnov-Zărnești. It leaves from Brașov main station, where you can also get tickets, but you will have to ask which cassa is the right one as it is a private company. Alternatively, you can buy tickets on the train. The price for one trip is about 2.7 lei.
the trains from Brașov to Râșnov leave at: 06:13, 08:18, 12:00, 14:17, 16:02, 18:10, 20:12.
the trains from Râșnov to Brașov leave at: 05:40, 07:19, 11:09, 13:29, 15:27, 17:29, 19:24, 21:34.
the trains from Râșnov to Zărnești leave at: 06:34, 08:40, 12:21, 14:38, 16:23, 18:31, 20:32, 22:36.
This timetable is also valid for weekends.
You should get off in the first station in Râșnov, otherwise you will end up about 2 km from the town in Râșnov h. The stations are as follows: Brașov Main station - Brașov Bartolomeu - Cristian -
Râșnov
- Râșnov H - Tohanu Vechi - T Moșoiu - Zărnești.
Tip: on Saturday and Sunday you can use an old steam-train on the route Brașov-Râșnov-Zărnești. This train leaves Brașov at around 9 AM and then goes back to Brașov from Râșnov at exactly 11:36AM. One ticket is about 10 lei.
By bus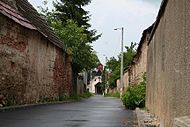 Brașov
: The bus runs every 10-30 minutes from Codreanu Autostation (also known as "Autogara 2"; it is next to the soccer Stadium. Use the lines to get there). First fare is at 06:30, last fare is at 21:00. Saturday and Sunday they go only every 20-40 minutes, and last fare is at 17:00. In Râșnov the bus stops several times. The price is 4 lei. To get from the main train station to Autogara 2 use line 23 or 23B. To get here from the center take the line 16. In order to return to Brașov, go to Strada Republicii street and the stop is near the technical liceum (Grupul Școlar Industrial).
Bran
: the bus towards Brașov crosses Râșnov.
Poiana Brașov, Predeal
: none.
Hitchhiking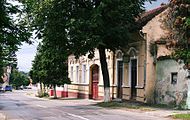 Hitchhiking to Râșnov from Brașov is a regular practice. The place you can try are the intersection of Lunga Street with soseaua Cristianului. Be sure to stand on the side of the road that goes out of the city (across the street from Bartholomeus Church). The second spot is down that road, toward Pitești, on the strip between Eliana Mall and the train crossing.
Hitchhiking from Bran is also quite a natural phenomenon, just stay in the bus station or on the road and signal your intent.
Hitchhikers have been seen to be picked up from the road Predeal - Brașov, but you will certainly need more patience.
It is polite to give the driver about 2-3 lei per person, from all these directions.
By taxi
Any taxi driver will be glad to take you to Râșnov, but make sure you choose one which runs for a company. The price per km should not exceed 2 lei, and it must be shown on the door of the cab. Please note that you will also have to pay for the trip back that the taxi driver will have to make. The double fee per km will be calculated from the moment you are at the train passing and exit Brașov (but the sign with crossed Brașov will be reached only after 2-3 km). The total trip from Brașov (train station) should not cost more than 40-45 lei.
Get around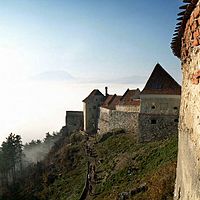 Easiest is to walk,
but there is also a taxi: Tur Taxi, phone +40 0268231100 or 0728 231 100 or 0743 281 100.
You can also get around with the bus that stops several times as it goes/comes to/from Brașov.
See
Main attractions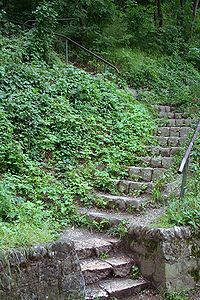 Râșnov CitadelBuilt in the 14th century by the local Saxons it was meant to protect them from invaders and protect the Burzenland's southeastern border, just 15 km away. It is freshly renovated and thus is the best preserved fortress in Romania. It also offers a breathtaking view as sits on a big hill. In the fortress you can have a drink, and shoot with a bow.

How to get thereː
#by car: from Râșnov city center take the road towards Poiana Brașov and right where Râșnov ends go left. A forest road leads up to the parking for the fortress. Can be crowded and tight in high season.
#by foot: a wonderful walking path takes you from the center to the fortress, through a shady forest (but it is now under construction). As you face the hill from the city center, you will see a big entrance between two big old buildings (on the left there is a shop, and on the right a pub). Go through that entrance and follow the path. Walking time: 15-20 minutes. Difficulty: you need to be more or less fit, but certainly not a passionate hiker.
#by funicularː it's located close to the above-mentioned path.
#by foot (alternative)ː Go along "Strada Cetății" until you reach a big parking place. There is a big cobblestone road that goes up to the castle. Here you may also take a "train" (actually a tractor with a trailer) that will take up the hill for a few lei (only during tourist season). However, it is extremely slow (walkers can pass it little effort) and generally not worth the money.

The Evanghelical ChurchIt was built in the 13th century and the murals date from around 1500.

Old Orthodox Church: from the center park with the hill on your left hand side, go straight and then the second street to the left (quite a small street). Total walking distance: about 10-15 minutes. The church was built in 1384 by the Dan I Basarab. It also houses a small museum.
Cheile Râșnoavei - this green canyon is appreciated for its beauty not only by locals and tourists but also by movie producers who have filmed here. In the canyon there is a fast mountain river with many small waterfalls. Here you can bungee jump, rappel, walk, drive an ATV, climb, picnic, tent (but beware of bears), or just enjoy this natural and well preserved area.
Other attractions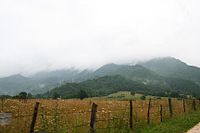 Old Saxon houses: in the center towards the north. From the center park, with the hill on your right hand side, go straight and you will find several streets with old houses. After you pass the school go right, and follow the road that goes under the hill. You will end up with a beautiful walk through the forest. Most houses are 100-200 years old, and quite a few are beautifully restored.
Old saxon cemetery on Armata Romana street.
Roma neighborhood. The Roma neighborhood is located towards Pârâul Rece (Predeal).
Orchids several orchid species can be found around and in Râșnov. It is also the home town of the Romanian Orchid Lovers Club.
Surroundings: you can go to Bran and see the old Castle, or to Zărnești and visit the Piatra Craiului National Park, one of the greatest in Romania. You can visit Brașov, Poiana Brașov and Predeal. Râșnov, or Rosenau, was one of the towns in the old Saxon Burzenland, and around it you can visit the other old towns. Sinaia with Peles Castle and the view from 2200 m is a great place to visit.
Around Râșnov
the old city of Brașov with the Black church and many towers.
Prejmer fortified church, a UNESCO world heritage site
Do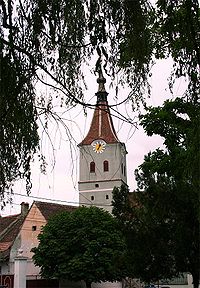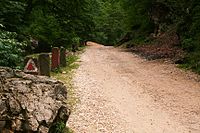 Relaxing
Walk in the Promenada, a path in a forest at the base of a hill.
Hiking Lots of hiking opportunities. Towards the south, you can get to Bucegi mountains (Malaiesti chalet is 5 hr from the town, you can stay there for 20 lei/person. From there you can go to Omu Peak in 2-3 hr). Towards the east, you can get to Cheile Râșnoavei and Poiana Brașov.
Travel with a steam engine train (see get in section above)
Picnic: in the Cheile Râșnoavei region you can have the picnic of your life.
Exciting
Mountain Climbing : several tracks. Please check this official site. Rappel and other similar activities are available. Also check the website of the local mountain club or call them +40 722 369965 or +40 723 228242.
Horse Riding: there are places in the Cheile Râșnoavei region and on the road towards Bran. Check: pecailarasnov.ro.
Bow shooting : up in the fortress you can shoot with a sport bow.
Drive an ATV (also known as quad) through many forest tracks.
Tent in the Cheile Râșnoavei region. But beware of bears: don't venture too far into the canyon. See also Extreme section.

Mountainbike

phone: +40 726229337

All around Râșnov you can enjoy a ride in a forest. The Cheile Râșnoavei is the best place. You can also rent bikes.

Helicopter

phone: +40 732820530

helicopter rides over the mountains are available.
Skiing and Snowboarding - Râșnov is 20 minutes by car from Predeal and Poiana Brașov, two important skiing resorts in Romania. You can rent all the equipment in the resorts (including sledges). Accommodation in Râșnov is however much cheaper.
Extreme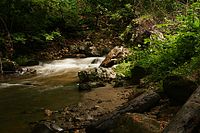 Bungee Jumping: presumably one of the highest in eastern Europe - 137 m. You jump between cliffs in the "Cheile Rasnoavei" region. The cost is €100 for one jump, and you need to make an appointment by calling Florin Saşca - 0726-229-337.
Paragliding
Get eaten by a bear - certainly a life's experience. The huge forests that stretch out towards Poiana Brașov and Predeal are home to many wild bears. If you tent at night in the wrong place you might make a new hairy friend. Warning: Bears are really dangerous, and camping in Cheile Rasnoavei might result in an encounter. Unless you camp at the entrance of the canyon, on the field side of Râșnov, in a fenced camping or in a yard, you expose yourself to the life threatening situation of being visited by a rude bear who will disregard your gun, stick, fire, ninja sword, pepper spray or air gun. Bears go out at night. Walking in the forests during the day is safe, and a common practice for locals. If you encounter a bear at night it is looking for food, which is not you, but all the vegetables you are traveling with (or, if it is starving, the meat). Let it do its feeding and retreat slowly.
Beauty and fitness
A small fitness center is on Teiului street (close to the Saxon school).
A tanning studio is right next to the Saxon school.
Around Râșnov
Buy
You can buy extraordinary stones in the fortress, as well as folklore art and handmade art.
Râșnov has a market with fresh fruit and vegetables.
Local cheese: in the market, or in shops.
Râșnov has two supermarkets: Penny Market and Billa
Art from several local artists in Râșnov: beautiful religious paintings by the local artist Toma Condrea and Camelia Condrea phone: 0268 231072. Ioan Negus and Maria Negus paint modern art, they live on Bălcescu street, number 8; phone 0268230068. Savluc Boris does pastel art. He can be found on Brazilor street 47, phone 0268230609.
Banks
BCR Erste Bank with ATMs and money transfer is located in Piata Unirii 10 (the center)
BRD Groupe Societte General with ATM and money transfer is located in Caraiman street 2, near the market.
Raiffeisen Bank with ATM is located at Republicii street, near the market.
Eat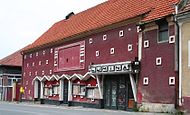 There are a few restaurants in Râșnov.
Izvor is the cheapest place to eat in Râșnov, but food is good. A soup is 5 lei, a beer 3 lei. It is in the center opposite of the hospital.
Rosenau is from the city center towards the market: with the hill in your back go down the street with the Evanghelic Church (2 min walking). It looks good, but food is expensive and doesn't taste as good as in other places.
Radsor, the restaurant of the eponymous hotel, can be found on a parallel street: with the Castle Pub in your back go straight ahead on a small street which also has the BCR Bank building and a fire station.
Fried potatoes at Olandezu in the city center.
You can also buy your own food at the two
supermarkets
, Penny Market and Minimax. If you are looking for fresh meat for a barbecue, try the
renowned butcher Arzoiu
in the intersection Caraiman street and Armata Romana street.
Drink
From the center towards the market (with the hill in your back, straight ahead) you can walk 2 min to Rosenau restaurant and bar.
La Strada can be found as you walk 2 min from the center with the hill on your right hand side. Right after you pass the school yard on your right.
Also in the center there is La Olandezu.
You will not pay more than 9 lei in any of these for a beer. You will probably also get beer for about 4.5 lei in any of these.
Sleep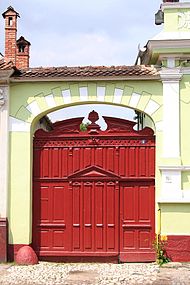 There are many
pensions
offering accommodation for good prices in Râșnov and new ones are being opened all the time. Most of them are small pensions. You can find places that charge €10-30 for one night. Here are some (you can find more in Google using the terms "cazare Râșnov").
Many people find it advantageous to stay in nearby
Brașov
it is significantly larger, with more options for sleeping, dining, and nightlife, and travel to Râșnov is a quick 30 minute bus ride that costs approximately 4.5 lei.
Floare de Colt: 5 rooms, parking, 60 lei/night. phone: +40 745 256 370, +40 744 377 079, +40 268 231 338
Casa Leah: 6 rooms, parking, BBQ, internet, 80 lei/night, discounts. phone: +40 746 038948 (ro), +40 752 085 850 (en)
Anna: 2 rooms, 80 lei/night. phone: +40 268 231 386, +40 726 295 899
Reddis: 8 rooms, 70 lei/night. phone: +40 745 187 267
Rock & Red: 7 rooms, 3 apartments, internet, playroom and small fitness, 150 lei/night. phone +40 722 703 199, 0722 378 977
Alina: 7 rooms, 1 apartment, parking, 80 lei/night. phone +40 744 473 061, +40 268 231 146, +40 728 685 115
Rem's:13 rooms, garage, 75 lei/night. phone +40 740 077 903 , +40 745 024 318
Max international: 18 rooms, parking, minispa, 120 lei/night. phone +40 268 231 810 , +40 744 203 870
Andrei: 5 rooms, parking, 80 lei/night. phone +40 723 326 289, +40 720 122 452
Belvedere: 10 rooms, 2 apartments, internet, parking, 80 lei/night. phone +40 722 375 112, +40 368 592 016 , +40 723 536 559
Casa Râșnoveana: 6 rooms, parking, 70 lei/night. phone +40 268 231 708, +40 742 224 090, +40 745 999 050
Nelly: 6 rooms, parking, 80 lei/night. phone: +40 728 644 208, +40 745 011 870
Casa Contelui: 5 rooms, internet, parking, 120 lei/night. phone: +40 728 644 208, +40 745 011 870
Casa Ducar: 5 rooms, parking, optional internet, 80 lei/night. phone +40 268 231 403, +40 723 382 881 couchsurfing in Râșnov, use parameters Romania, Brașov, Râșnov. There are two campgrounds in Râșnov: one before you exit the town towards Poiana Brașov, and one in the Glejerie area.
Connect
In the center you can find two Internet cafes.
The post office is on Mihai Viteazu street.
Stay healthy
The hospital in Râșnov is located in the center; however, ambulance service is available only 12 hours a day.
Pharmacies
In the center next to the hospital
Almost in the center towards Poiana Brașov
On Republicii street as you go from the center to the market
Next to the Lukoil gas station at the exit towards Brașov.
Stay safe
Police and law
The police station is on Brazilor street number 11. Phone: 0268 (area code) 403844 or 0268 230 333. There must be somebody 24/7, but you might not be lucky to be able to communicate in English.
A lawyer office is to be found on Brândușelor street 2, or on the phone 0268 403289.
Go next
Less than 100 km
More than 100 km
You can see other great places in Transylvania such as Sibiu(150 km), Sighișoara (140 km) and Târgu Mureș(180 km). Sibiu was the cultural capital of Europe in 2007 and a profoundly German city. Sighisoara is home to the only inhabited fortress in Europe. Târgu Mureș is a place marked by Hungarian influence.
You can visit Moldova, and head to Bacau (180 km). In the north of Moldova there are famous monasteries.
You can also head to the capital Bucuresti (180 km). If you have a car go via Predeal, if not, you must get first back to the very close Brașov.
Pitești (100 km) can be reached via Bran and the Rucar pass. It is on the other side of the mountain. Close to Pitești you can visit Curtea de Argeș, an old wallah fortress.
The Transfăgărășan, a road that crosses the highest mountains with a dramatic scenery, is accessible via Fagaras (80 km). From Fagaras you still have to drive about 40km to the beginning of the road. On the top of the mountain you pass Bâlea Lake (glacier), and then Vidraru Lake (anthropic). You end up in Curtea de Argeș, where there is an old wallah fortress.
Chisinau, the capital of Moldavia, can be reached by bus from Brașov. The buses leave daily at 11:59 and at 19:00, from Autogara 2, the place where the Râșnov-Brașov bus leaves you. For reservations call +40 0744362146.