Rättvik
Rättvik
is a municipality in
Dalarna
, with some 11,000 inhabitants. As the rest of
Siljansbygden
at lake Siljan, it is popular for travellers interested in cultural heritage.
Get in
By plane
Rättvik is 48 km from the airport in
Mora
. There are no transfer buses from the airport to Mora, so you will have to take a taxi (which is pricey) or get a car (AVIS has an office at the airport).
By train
The easiest way to reach Rättvik is by road or by train. It's about four hours from the capital
Stockholm
. Railway tickets can be bought at the website of the Swedish railway company
SJ
.
By bus
Bus is in general the cheapest way of reaching Mora from other cities, although the biggest intercity bus company
Swebus Express
undefined
.
See
Rättvik is home to the longest pier in Scandinavia - it's quite long! Lots of benches and places to fish or dangle your feet.
Rättvik ChurchA lovely church which has stood in its current position since the 1200s, with some nice carvings inside and a well-tended garden.
Do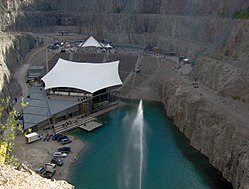 There are lots of walks to do in the surrounding forests and the Tourist Information Centre can provide helpful maps. These are well signed and although the paths are boggy in places there is some planking over the worst bits.
DalhallaIs an open-air theatre in a decommissioned open-pit mine, with concerts throughout the summer.
A summer tobogganning run operates in the summer season. Toboggans can get up to speeds of on the twisty run.
Crazy golf is available next to the lake near the train station and also in some of the campsites around the outskirts of the town such as Rattvikparksen.
Canoe rental is advertised from some outlets but is not always available.
Events
Rättvik is home to the long-established Classic Car Week, which takes place in late July each year. This draws crowds of serious car enthusiasts and affiliates, and events are organised around the theme all week.
Eat
phone: +46 248-51291

address: Ågatan 11

An Italian restaurant and pizza parlor. In 2008 the owner won the pizza world championship with his Pizza a la duck!

phone: +46 248-79 87 70

address: Vålsvedsvägen 51

An old farm turned into a restaurant and hotel. Offer delicious locally produced Nordic cuisine in a rustic and inviting setting. Located on a hill with a panoramic view of lake Rättvik and Siljan.

phone: +46 248-102 28

address: Storgatan 17

Offer plenty of red meat and beer!

phone: +46 73 524 16 02

address: Nittsjö Börsgatu 11

After working for 8 years in a restaurant in Stockholm, Genevieve och Jonathan Bjurenstedt decided to move ought to the countryside and bought this farm. The ecological ingredients are produced on the farm or one of its neighbors.

phone: +46 248-134 00

address: Långbryggevägen 20

A restaurant on the shore of lake Siljan.
Sleep
phone: +46 70-565 22 21

address: Skolgatan 10

Offer rooms in charming, renovated old cottages around Rättvik.

Best Western Hotell Lerdalshöjden

phone: +46 248-511 50

address: Mickelsgatan

Large hotel operated by a large hotel chain. Have their own restaurant, and free breakfast.

phone: +46 248-132 40

address: Riksvägen 32

Hotel in central Rättvik close to the shore of lake Siljan. They have a 1950s themed diner on site.
Go next