Røros
Røros
is a city in
Norway
and is on the
UNESCO World Heritage List
. The coldest temperature measured in Røros is -50,4°C on 13 January 1914. This is the lowest temperature measured in the southern part of Norway which makes it one the coldest places in the country.
Understand
Røros was created in the 1600s because of the copper mines established there. The town sits on a high plateau and there was only scattered settlement before mining began. Røros and surroundings, a circle 44 km around the first mine - known as the
circumference
, obtained royal privileges in 1646. Røros, along with Kongsberg, obtained special status as a
mining town
("bergstad"), a name still used
Bergstaden
or
Bergstaden Røros
. The town was included in UNESCO world heritage list in 1980, the world heritage area was enlarged in 2010 to include the circumference. Except the masonry church the town is characterised by log buildings from the 300 years of copper mining. The town was burned during conflicts with Sweden in 1600s. Norway's first coast to coast railway connected Oslo and Trondheim via Røros and was of course named
Rørosbanen
- Røros line (today the main line runs via
Gudbrandsdalen
and
Dovrefjell
).
Mining ended in 1977 and left a town with a unique history that can still be seen for instance by the slag heaps. Today the town of Røros has about 3,000 inhabitants. The towns rich past can be seen by the large church that dominates the skyline. The church, also known as
Bergstadens Ziir
, is one of the most important works of church architecture in Norway. It is a big surprise to find this key church in a small mountain town. The church was designed by local master builders in cooperation with the copper mine manager. It is not clear how they got the idea for the particular design, except that octagonal churches already existed in Germany and in Trondheim.. Construction work was paid by the copper mine company and the church belonged to the company until 1865 when the church became public property. Several churches around Norway have been built as copies or as inspiration from this unusual building. The church tower is the symbol of Røros and instantly recognizable.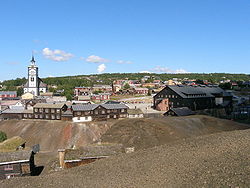 Get in
By rail
There are direct trains from Trondheim (from kr 249, 2 hr 30 min) and Hamar (from kr 249, 3 hr 30 min).
In Hamar there are connecting trains to Oslo and Lillehammer.
By plane
phone: +47 67 03 24 50
By bus
AtB
operates buses from
Trondheim
(kr 286, 3 hr).
By car
Route E6 then 30 from Trondheim (2 hr 30 min, 150 km).
Get around

It is easy to get around in Røros. Everything is in walking distance.

See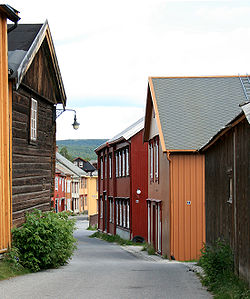 Røros churchThe Røros church is a Røros landmark and its unusual shape and decor makes it instantly recognizable as a symbol for Røros. The building was completed in 1784 as the first masonry construction among Norway's octagonal churches. The mining company paid for the construction work. Sør-Fron and Vang churches are among the notable later buildings influenced by Røros. With some 1600 seats it is one of largest churches in Norway, behind Kongsberg Church (also in a mining town) Nidaros Cathedral.

City centerA world heritage site.

Røros Copper Works

phone: +47 72 40 61 70
Buy
Artists are abundant in Røros. Local arts and handicrafts, potteries as well as reindeer and sheep skins are available.

Eat

A typical meal for the locals consist of amazing fresh bread with local cheeses, cold cuts and gravlaks. Unique to Røros are reindeer and moose meats. These meats are usually eaten as steaks or stewed to perfection.

Sleep
phone: +47 72 40 60 80

address: Osloveien 2

phone: +47 72 40 80 00

address: An-Magrittsvei

phone: +47 72 41 14 68

address: Johan Falkbergetsv. 25

Bed & breakfast, cabins and camping site.

Håneset Camping

phone: +47 72 41 06 00

address: Osloveien 67

Cabins, rooms and camping site.

phone: +47 72 41 10 89

address: Øra 25

phone: +47 72 41 10 11

address: Mørkstugata 4
Connect
Røros library

phone: +47 72 41 94 24

address: Fargarveien 4

Free usage of computers. Printing is also available for a small fee.
Cope
You can find lockers of different size in the train station (kr 10-20).

Go next