Rügen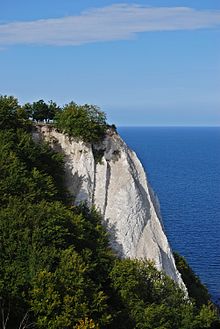 Rügen
(also:
Rugia
) is
Germany
's largest island. It is situated in north eastern
Germany
on the southern
Baltic Sea Coast
, in the federal state of
Mecklenburg-Western Pomerania
.
A holiday destination for more than 200 years, it is known for its sandy beaches, chalk cliffs and
Bodden
lagoons. In a number of the seaside towns you can find noble resort architecture (
Bäderarchitektur
) style buildings from the 19th/20th century.
Towns and villages
, the island's largest town.
– the "white town"
, a harbor town with a car ferry connection to Trelleborg in Sweden and Rønne on the Danish island of Bornholm. The place is right next to the Jasmund National Park with its famous chalk cliffs. Its old care offers unique resort architecture.
, the oldest town on Rügen.
, including Drewoldke, Gudderitz, Lanckensburg, Mattchow, Schwarbe, Presenske, Wollin and Zühlitz.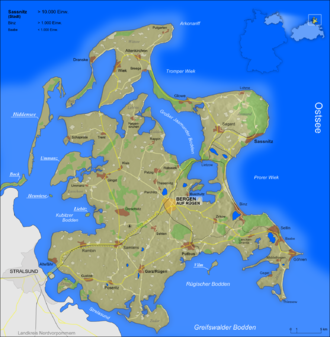 Bathing resorts
, the most famous and bustling beach resort with a long stretch of fine sandy beach.
including Breege, Juliusruh, Kammin, Lobkevitz and Schmantevitz.
Other destinations
– UNESCO World Heritage Site with primeval beech forest and coastal landscape, the most famous chalk cliff being the 117 m high Königsstuhl (King's chair)
, the ruins of world's largest hotel which, however, was never completed. Today turned into modern apartments, youth hostels, museums and event locations (like the nightclub M3 Prora) while still being mostly empty.
– with its 50 m high steep cliffs it is the northernmost place in East Germany, situated on Rügen north of Putgarten.
Understand
The size and shape of the island provides 574km of coastline. The beaches are generally excellent for bathing. In the main season dogs are only allowed on designated
dog beaches
(
Hundestrände
), but there are plenty of these. Also on the island are a few nudist (
FKK - Freikörperkultur
) beaches.
Talk
The mother tongue spoken on Rügen is Standard German, with few mixing in a bit of Low German dialect. You will get along with basic English in most areas, especially at the coast. The island was for more than 40 years part of East Germany, when the first foreign language taught in schools was Russian though, so speak clearer and easier to older people.
You should get by with the
German phrasebook
.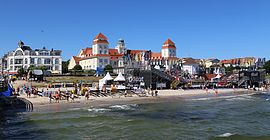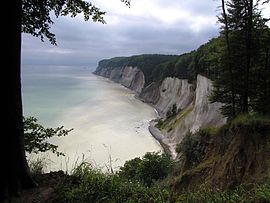 ]
Get in
By plane
Rostock
-Laage
airport
with connections from Frankfurt, Munich, Stuttgart and Cologne. The airport is about 90km from Rügen.
By car
From the A20 then B96, you can get in by car along Germany's longest bridge from
Stralsund
on the German mainland, or you can take the ferry from
Trelleborg
in southern Sweden.
By train
There is also a regional train connection from Stralsund to Sassnitz and Ostseebad Binz, some long distance trains from major German cities travel to Ostseebad Binz.
By boat
Three are three ferries to and from Sassnitz:
There is also a cable ferry from Stahlbrode near
Greifswald
to Glewitz on Rügen.
Get around
See
As well as the coast line with excellent beaches and spectacular cliffs there are some beautiful woodlands and wetlands. This is a great location for wetland
bird watching
, notably the large flocks of cranes.
Do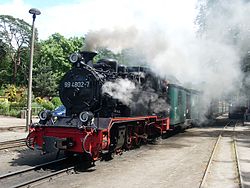 Eat
Rügen is an island, which you can tell when you walk into a restaurant. Seafood is omnipresent and usually very fresh. Try a fischbrötchen, a sliced bread roll filled with smoked (Raücherfisch) or pickled herring and vegetables. The Germans are crazy about asparagus, so during season, do not miss out. You will also find in the region products made from sea-buckthorn (sanddorn) such as fruit juice (served hot or cold), jam and flavoured ice cream.

Drink
The local sea-buckthorn (sanddorn) fruit juice is best hot.
Although brewed just of the island in
Stralsund
,
Störtebeker
beer is readily available and well worth a few glasses.
Sleep
Due to the island's popularity over the years, it is easy to find accommodation at all price and comfort levels. The most common accommodation is various forms of holiday apartments, a practical and cheap way to stay. If you prefer to stay in hotels or hostels, there is plenty to choose from. A double in a hotel is around €80-120/night, breakfast included. A holiday flat, a ferienwohnung, starts at around €20 p.p. and night.

Stay safe
When walking near the cliffs, be careful near the edges as they tend to overhang the actual cliff face and are subject to collapse.
Although rare, there is a risk of coming across wild boar. Best advice is to keep your distance and treat them with respect.

Go next
Stralsund, UNESCO World Heritage old town surrounded by water, the "Gateway to Rügen"
Usedom Island ("Sunny Island") and Greifswald (university and harbour old town)