RMS Titanic
The
RMS Titanic
, launched in April 1912, is one of the most famous of the mighty
ocean liners
on which the rich and famous plied the seas in an era before British aviators John Alcock and Arthur Brown made their first pioneering non-stop
transatlantic flight
in June 1919. A
Royal Mail Ship
built by Harland and Wolff in
Belfast
,
Northern Ireland
as the pride of the White Star Line with the finest modern luxuries of her era,
Titanic
departed from
Southampton
,
England
with additional passengers boarded at
Cherbourg
,
France
and Queenstown (
Cobh
),
Ireland
en route to
New York City
.
Titanic
-related landmarks include Cape Race, a Marconi station in
Newfoundland
as the first point of radio contact in the New World for the inbound luxury liner, marine museums devoting permanent exhibits to this famous ship and various memorials to
Titanic
passengers and crew.
Like the path of the ship itself, this itinerary runs from east to west, crossing the North Atlantic Ocean from
Europe
to
North America
.
Understand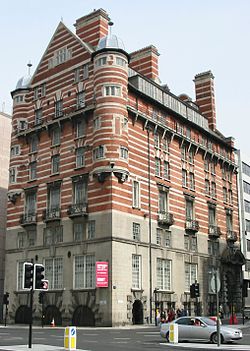 RMS
Titanic
was, when constructed, the largest ship ever built, nearly 900 feet long and 25 stories high. She was the second of three
Olympic
-class ocean liners built. The pride of J. Bruce Ismay and White Star Line, this elegant 46,000-ton luxury
ocean liner
was launched in April 1912 with sixteen watertight compartments in the lower section which could be sealed individually with the intention that the mighty ship could remain afloat even on collision with another vessel, providing plenty of time to summon assistance with the state-of-the-art five kilowatt Marconi wireless telegraph apparatus. Many media outlets famously claimed that she was "unsinkable".
This magnificent
steam
, constructed at an estimated cost of £1,564,000 and travelling with an 885-person crew, was equipped with every luxury and built to serve a clientèle which includes many famous millionaires.
Titanic'
s maximum total capacity was 3,547 passengers, and her port of registry was
Liverpool
. She carried the sixteen lifeboats required by regulations and an additional four collapsible lifeboats; these twenty boats could carry a combined maximum of 1,178 people. Although this was less than half of her combined passenger and crew capacity, it actually exceeded the requirements of safety regulations at the time.
Trans-Atlantic travel was offered in first, second and third-class price ranges, with the first class offering the most extensive amenities: a squash court, gymnasium, Turkish bath, heated salt-water swimming pool, deck games such as ring toss or shuffleboard, a fully stocked library, a variety of cafés and lounges, and dining halls where first class passengers could dine in opulence. Second class on
Titanic
was equivalent to first class on many of her contemporaries. Even the facilities in third class were excellent compared to those of other ocean liners of the era.
One way fares for the trans-Atlantic crossing (1912 currency) were a not-insubstantial £870 for a First Class parlour suite, £30 for a First Class berth, £12 for Second Class and a somewhat more economical £3 to £8 for Third Class. Constructed by Harland and Wolff in
Belfast
, the RMS
Titanic
departed
Southampton
to speed the well-to-do and many emigrants on their way toward
New York City
. The maiden voyage in April 1912 had 2,228 people on board including notables such as John Jacob Astor, the wealthiest man in the world.
Prepare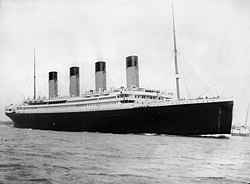 This itinerary spans multiple countries as the ship makes contact with multiple sites in the
United Kingdom
,
France
,
Ireland
, the Dominion of
Newfoundland
, the Dominion of
Canada
and the
United States of America
.
See the individual country-level articles for the
UK
and
EU
,
Canada
and the
US
for specific passport and visa requirements.
Get in
The most common means to get in during the
Titanic
era would be to go to
London
and board passenger rail from there to one of the departure points of the original ship. The most common embarkation point for
Titanic
passengers is
Southampton
, which is 100 km (60 miles) south of London and has hourly rail service.
Belfast has good road and rail connections and is easily reachable from major cities in Europe; trans-Atlantic passenger service from Belfast to New York City still exists in the modern era, but is direct via aeroplane.
Go
Belfast and Northern Ireland
The
Titanic
journey begins at the Harland and Wolff shipyard in
Belfast
, birthplace of
Titanic
and many other luxury ocean liners of the White Star Line. This district is served by the Titanic Quarter railway station on the Northern Ireland Railways line from Belfast-Bangor.
address: Donegall Square, central Belfast

phone: +44 28 9076 6386

address: 1 Olympic Way, Queen's Road, Belfast BT3 9EP

Part of a larger historic district, the Titanic Quarter, built around the site of the original shipyards. A series of nine galleries describe the history of the ship, including details of its construction.

Ulster Folk & Transport Museum

phone: +44 28-9042-8428

address: Cultra, Holywood BT18 0EU

Two permanent exhibitions, TITANICa: The Exhibition at the Transport Museum and The People's Story at the Folk Museum, recount the history of the ship's construction and of the people who travelled aboard her.
Belfast is accessible by road, rail and sea; it is served by Belfast International Airport (
BFS
) and Belfast City Airport (BHD) with connections to much of Europe and is 160 km (100 mi) north of Dublin. Aeroplanes and buses run from Belfast to London, from which onward connections can be obtained to Southampton.
The old shipyard area has largely been converted to other uses a century later, though some of the old buildings still stand. One, officially Paint Hall Studio but also called Titanic Studio, is where much of the Game of Thrones TV series was shot.

Liverpool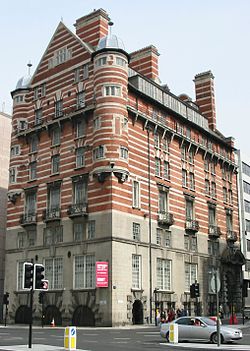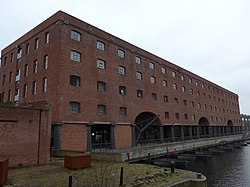 Liverpool is not on the RMS Titanic's itinerary but is the ship's port of registry as James Street, Liverpool was the White Star Line's head office site. This English city is a seaport located midway between Belfast and Southampton; it carried much of White Star Line's trans-Atlantic traffic before 1907. Southampton's proximity and rail links to London made it a more favoured choice for subsequent large luxury ocean liners.

Southampton
Southampton, a seaport easily accessible by rail from London in the Titanic era, is this luxurious vessel's home base and home to many of the crew. This city is the primary point of departure for the vessel's trans-Atlantic journey.
There are various local monuments to Titanic and her crew.

phone: +44 23 8083-3007

address: Havelock Road, Southampton, Hampshire, SO14 7FY

History of Southampton as the Gateway City, a seaport for travellers from the Roman era onward. Permanent exhibition on Southampton's Titanic story.

address: East (Andrews) Park, Southampton

Memorial with bronze statue of Nike, Greek Winged Goddess of Victory, placed in 1914 to represent the engineer officers who remained at their shipboard posts throughout.

address: Cumberland Place, Southampton

Constructed in 1913 at the Southampton Library to honour the band which played on to the end. The library and the original memorial were destroyed by World War 2 bombing in 1940; a monument was rebuilt in the 1990s, facing Watts Park and the Engineers' Memorial.

Twenty miles (32km) to the southeast of Southampton is Portsmouth and the English Channel; Cherbourg is directly across the Channel.

Cherbourg
In France, 281 passengers boarded Titanic on the afternoon of April 10, 1912 in Cherbourg, a seaport 180km (110 miles, 98 nautical miles) due south from Southampton across the English Channel.

address: Gare Maritime Transatlantique, 50100 Cherbourg

Marine museum in 1933 art-deco Transatlantic Terminal building. A "Titanic 2012" centennial exhibition was staged in conjunction with the "Titanic Cities Network" of maritime and local museums in Belfast, Liverpool, Southampton, Cobh, Halifax and New York. The museum also describes the lives and history of emigrants departed by sea from France to the New World.

It remains possible to make this crossing by ship; the modern ferry crossing runs from Portsmouth and takes three hours. Fares for a car with two passengers are about £120 each way, so it may be less expensive to board without a motorcar.
The stop in Cherbourg, as made by the Titanic journey, involves crossing the English Channel from UK to France and then back across the channel to reach what is now the Irish Republic. Two options from Cherbourg to Cork/Cobh/Queenstown:
A ferry crossing directly from France to Cork, Ireland departs Roscoff—a 400km journey overland from Cherbourg.
It may be slightly quicker to return to Southhampton and backtrack through England and Wales to reach a ferry from Pembroke UK-Rosslare, Ireland. Eurolines provides bus service from London to Cork, Ireland using this ferry crossing.

Once in Cork, the Passage West Ferry joins Cork to Queenstown (Cobh).

Queenstown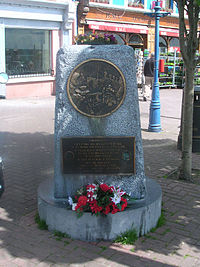 Cobh (then Queenstown) in County Cork, Ireland is the final port of call for the outbound trans-Atlantic journey.

Among the eight who disembarked from Titanic in Queenstown is Father Francis Browne, a Jesuit whose shipboard photographs would soon become famous.
Modern ocean liner service still runs from Southampton to New York City, but does not replicate various intermediate stops made by RMS Titanic. Cunard (which operated the Carpathia in Titanic's era) plies this route aboard the Queen Mary 2, taking about seven days for a trans-Atlantic crossing by ship. There is a direct flight from New York City to St. John's, from which Cape Race would be reachable by motorcar. There is no rail network on the island of Newfoundland in the modern era.
Another, less expensive option in the modern era is air travel from Cork to London, to catch a flight from Heathrow directly to St. John's (YYT) or Halifax (YHZ). Alternately, one could go Cobh-Cork and Cork to Dublin by rail; a flight from Dublin (or Shannon) reaches Toronto or New York City, which would offer onward connections for St. John's.

Cape Race
Cape Race, on Newfoundland's Avalon Peninsula, is the site of Marconi's wireless telegraph station (MCE) which serves as the first point of radio contact with the New World for arriving ships. As soon as this station comes into range on April 14, 1912, the ship's two wireless operators spring to life, busily delivering messages from rich and famous passengers who paid for telegrams relayed onward through this station to New York heralding their imminent arrival.
RMS Titanic does not stop anywhere in the Dominion of Newfoundland, but does rely on this station as point of first contact to relay messages. Trans-Atlantic passengers may travel from London to St. John's by air. From there, Newfoundland Highway 10 leads 150 km/90 mi south to Portugal Cove South and Cape Race Road, which follows the southernmost portion of the Avalon peninsula to Cape Race, a remote lighthouse site near the end of a 20-km (12-mile) gravel road.

Myrick Wireless Interpretation Centre

phone: +1 709 438-1100

address: Cape Race – Portugal Cove South Heritage Inc, PO Box 9, Site 13, Trepassey

Museum of communications and navigation history recalls the April 14, 1912 reception of Titanic's signal. Building is a replica of the 1904 Cape Race Marconi Station and houses a radio amateur club, VO1MCE.

This distant terrestrial outpost would be among the first to receive the initial frantic SOS from Marconi's station (MGY) on White Star's opulent luxury liner.
Newfoundland is an island, comprised mainly of outports—many small coastal villages which are largely off the beaten path. Onward modern connections to the Canadian mainland are by ship (ferry on the Trans-Canada Highway from Port-aux-Basques NL to Cape Breton NS) or by air (St. John's directly to Halifax).
The is approximately 600 km (370 mi) southeast of Newfoundland, in the Atlantic Ocean at a depth of about 3,800 m (12,500 ft). The company Oceangate proposes to invite a handful of passengers to join a submarine exploration mission starting in 2020.

Halifax
Two ships carry Titanic passengers onward from (41.46°N, 50.14°W) to North America. Mackay-Bennett, a cable installation ship, brings the deceased to Halifax while the Cunard luxury liner Carpathia brings the survivors to New York City.

Maritime Museum of the Atlantic

phone: +1 902-424-7490

address: 1675 Lower Water St, Halifax

Marine museum with extensive permanent exhibits of Titanic artefacts and history of the Great War (World War I) explosion of a munitions ship in Halifax harbour.

Fairview Lawn CemeteryThe final resting place for 121 of the 150 passengers and crew of the RMS Titanic which were buried in Halifax. Tens of thousands of tourists come to pay their respects every year.

Halifax is the closest large mainland city to the Titanic site and therefore plays a significant role in Titanic's history. Its road and rail connections lead westward through New Brunswick toward Montréal, where onward connections could (and still can) be made to New York. It is also possible to follow the coast by road from Nova Scotia through New Brunswick and New England to reach New York City (but passenger trains no longer cross northern Maine).

New York and the US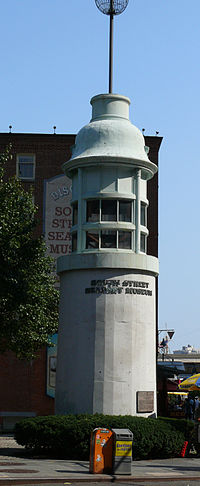 New York City is the endpoint of the original Titanic itinerary, with just over seven hundred Titanic passengers disembarking from the Carpathia amidst much fanfare and newspaper coverage to continue onward by train to various parts of the US. The Titanic was originally to have docked at Pier 59, which now forms part of the Chelsea Piers Sports and Entertainment Complex. Instead, the Carpathia only docked briefly at Pier 59 to offload the Titanic's lifeboats, while the surviving passengers disembarked at Pier 54 instead.
There are various US museums and memorials dedicated to Titanic and those aboard, many of them far from the original cities on the Southampton to New York journey. Many artefacts were recovered by an Atlanta-based submarine operation which held salvage rights to the vessel and are housed in that city. The Titanic Historical Society operates a Titanic Museum near Springfield MA and publishes the quarterly magazine, The Titanic Commutator.
Injured Titanic survivors were taken to St. Vincent's Hospital (7th Ave. and West 12th St.), which closed in 2010. The American Seamen's Friend Society (113 Jane St.), a sailors lodging which housed ship's crew in rooms designed to resemble sea cabins, is now the boutique Jane Hotel. The former New York headquarters of White Star Line at 9 Broadway, then surrounded by crowds of people desperate to learn Titanic's fate, now contains retail stores.

Titanic Memorial Arch, Pier 54

address: near 11th Avenue and West 13th Street

Cunard's former Pier 54. New York disembarkation point for the 705 Titanic passengers aboard RMS Carpathia and point of departure for the Lusitania, is now an event space. The original buildings are gone from the pier, leaving just an arch.

Titanic Memorial Park and Lighthouse

address: South Street Seaport, 12 Fulton St. at Pearl St.

Originally unveiled April 15, 1913 at the Seamen's Church Institute (formerly 25 South Street), the 60-foot-high gray lighthouse and memorial plaque were relocated to the 0.15 acre Titanic Memorial Park in the 1970s.

Isidor and Ida Straus Memorial

address: Broadway and West End Ave. at W. 106th Street, Manhattan

Memorial in small park with inscription, reads "Lovely and pleasant they were in their lives, and in death they were not divided." (2 Samuel 1:23) The late (but inseparable) Isidor and Ida Straus, owners of Macy's department store (West 34th Street at Herald Square), are also memorialised with a plaque at the store and a gravesite and cenotaph at Woodlawn Cemetery in the Bronx.

Trinity Church Cemetery and Mausoleum

address: 3720 Broadway

Final resting place of John Jacob Astor IV.

address: in Battery Park, New York City

Solid white granite cenotaph and memorial, inscribed 'ERECTED IN MEMORY OF WIRELESS OPERATORS LOST AT SEA AT THE POST OF DUTY'. Original list of nine names included Jack Phillips of RMS Titanic (Marconi: MGY).

Titanic-related sites outside the New York area include:
phone: +1 413-543-4770

address: 208 Main Street, Indian Orchard MA

Titanic Historical Society collection of rare Titanic survivor artefacts, models and ephemera; typical visit time is one hour.

National Museum of American History, Smithsonian Institute

phone: +1 202-633-1000

address: 1300 Constitution Ave NW, Washington DC

One collection records the Titanic history with artifacts; the remainder of the museum is devoted to other historical topics.

phone: +1 202-354-2211

address: Southwest Waterfront Park, Fourth and P Sts SW,

Washington DC

A memorial recalling the evacuation of women and children first.

Hearings were conducted at John Jacob Astor's original Waldorf-Astoria in New York as part of the US Senate's enquiry into the fatal 14 April 1912 collision; the Empire State Building now occupies that site. The United Kingdom conducted its own official enquiry; the British Board of Trade estimated 1514 passengers had perished while 710 survived to be picked up by RMS Carpathia. Events surrounding the iceberg collision and the famous ship's demise continue to be romanticised in media, including the feature films A Night to Remember (1958) and Titanic (James Cameron, 1997). Carpathia fell prey to a German U-boat, southeast of Ireland on 17 July 1918, during World War I.
For many years, numerous proposals to raise the Titanic were hampered by technical difficulty and lack of knowledge of the location of the wreck, which was not discovered until 1985. Since then, many items have been retrieved and placed on display in various museums. was found in 2000; items recovered from her are often also displayed in Titanic exhibitions.
The last (and youngest) survivor of the Titanic, Millvina Dean (2 February 1912 – 31 May 2009), was buried at sea at Southampton's Pier 44 (Titanic's original departure point) in 2009. She lived to be ninety-seven.

Stay safe
The North Atlantic tends to be cold in spring and early summer, as ocean currents carry breaking icebergs from the Arctic southward to the Newfoundland coast. Water temperature can drop to a chilly −2 °C (28 °F). It is therefore advisable to dress warmly as temperatures on the open ocean are substantially below those experienced inland at this time of year. A passenger immersed in these frigid seas with little more than a lifejacket as sole defence would be more likely to die a painful death by hypothermia—possibly in a matter of minutes—rather than perish by drowning.

Go next