Rabat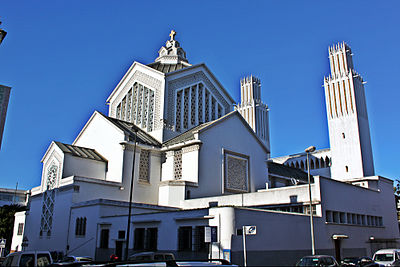 Rabat
(
Arabic
: الرباط;
Berber
: ⵕⵕⴱⴰⴹ) literally "Fortified Place" is the capital city of
Morocco
.
Understand
Rabat is located on the Atlantic Ocean at the mouth of the river Bou Regreg. On the facing shore of the river lies Salé, Rabat's bedroom community. Together with Temara the cities account for a combined metropolitan population of 2.6 million. It is an easy-going city by Moroccan standards. The city of Rabat is a
UNESCO World Heritage Site
.
Get in
By train
Rabat is well served by train and you can get frequent connections to most places.
Marrakesh
is a pleasant 4 hr journey,
Fez
2½ hr (if you take one of the new express trains, and 3½ hr on other trains) and
Casablanca
1 hr.
There are two stations in downtown and 3 km south of it. There are a tram and a taxi station next to the downtown train station. Some travelers report that trains are frequently delayed by over an hour. Visit
OCNF website
for the timetable.
By bus
Gare routière Kamra RabatThe main bus station in Rabat. Poorly maintained.

CTM bus station
It's possible to get a bus from almost any town in the country to Rabat, but the buses often do not stop at the centre, but instead go through the city. It may be a good idea to use GPS, to ask someone which is the correct stop, or use a decent street map to work out where you are and when to get off. It is easy to miss a central stop and find yourself heading out into the suburbs again, which is not too bad—about a 20-25 dirham ride into downtown.
By plane
Rabat–Salé Airport

address: in the nearby town of Salé

There are flights every day between Rabat and Paris, Abu Dhabi, Brussels and a lot of domestic destinations. However, the most tourist fly into nearby Casablanca and then coming into Rabat by train or coach.
Getting there:
when exiting the airport, tourists are funnelled towards a group of parked white taxis that quote 100 dirham or more. This is unnecessarily expensive. Instead wait for a petit taxi to arrive (blue for Rabat, cream coloured for neighbouring Salé.) One of these will arrive, dropping someone else off for departure. These run on a meter ("compteur" in French) and will be nearer 30 dirham for the same journey. Stareo buses leave 1 hr after every flight and go to the Rabat Ville train station for 20 dirham.
Get around
On foot
If you aren't in a hurry, walking around the area of Centre Ville, Agdal, the University, the Medina, the Ocean/River and the monuments is easy and pleasant. The new Corniche on the river, leading to the Oudaias, has recently been re-done, and there are expected openings of cafes soon. The route cotiere, or coastal road, past the cemetery and the Oudaias has dramatic ocean-side views, especially charming at sunset.
===By tram===
There are two lines between Rabat and Salé. It costs only 6 dirham (Sep 2019) for one use and it works from 06:00-23:00. There is a tram every 10 min during the week and every 20 min during Sunday. One of the stations (Mohammed V - Gare de Rabat) is located exactly just in front of the downtown train station (Gare de Rabat-Ville). It is a good way of getting around. Maps are available in every station.

By taxi
Petit Taxis, all blue in color, mostly Fiat UNO and Renault DACIAS. This inexpensive way to get around town usually won't exceed 25/30 dirham, the minimum fare​ is 5/6 dirham. Be sure to check the meter is running to avoid being over charged at the end of the trip, although this is much less of a problem than in other cities. Don't be surprised if the taxi stops to pick someone else up. Also Uber works in Rabat, but it's 20-30% pricier than regular taxis.
Avoid the Grand Taxis when traveling around Rabat—they are much more expensive and less safe than blue petit taxis.

By bus
There are now official bus routes listed and bus stops have signs showing at least the bus lines that stop there. Costing 5 dirham (Sep 2019), they are a cheap way to get to know the several layers of Rabat. The buses can be of very variable quality, but it could be worth taking the chance given the cost-saving and experience of what many locals with low income experience. Bus #4 goes from Ocean, to Bab El Had to Avenue Fal Oueld Omair (one of the major streets in the Agdal neighborhood) all the way to its terminus in the upscale and calm new development of Hay Riad. If the bus is crowded watch out for pickpockets.

By car
Driving around yourself is not recommended. Insurance rates are high and most drivers will avoid hitting you at all costs; however, Morocco does have the second highest rate of car accidents in the world, and most drivers do not abide by the traffic laws. Driving doesn't necessarily mean you are going to have an accident but Moroccans recommend great caution when driving in Morocco.

See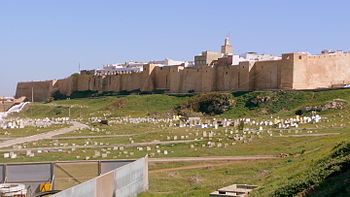 Kasbah of the OudaiasThe Kasbah is the oldest part of Rabat. It has narrow streets with cute white and blue houses, the Andalucian Gardens, and the Oudaias Museum housed in a 17th century palace. And a great view of the Atlantic Ocean.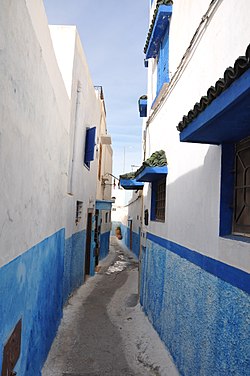 Hassan Tower and the Royal MausoleumExquisite mausoleum of the current king's grandfather, the father of Moroccan independence. Designed by a Vietnamese architect it opened in 1967. The mausoleum was built next to the 12th century Hassan Tower, which other than many columns, is all that remains of what would have been one of the largest mosques in the world at that time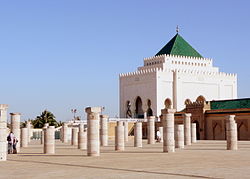 Chouhada CemeteryHuge and often colorful cemetery by the sea
Old MedinaAn UNESCO World Heritage Site filled with atmospheric narrow streets and a sizeable market

ChellahA city founded by Carthaginians, conquered by Romans and later passed under Arab rule, then abandoned and settled by unbelievable numbers of birds. This breeding ground bubbles with bird life in spring, including stork nest on the top of old minaret. Also, historical layers are visible, with outstanding Roman and Moroccan parts. You can walk there from centre-ville, but it is a long walk.

National Archaeological Museum

address: Ave Yacoub el Mansour

The Currency Museum of the Bank Al-Maghrib

phone: +212 5 37 70 26 26

address: Angle Avenue Allal Ben Abdellah et Rue Al-Qahira

The BeachRather small and not particularly appealing one. There are couple of rustic cafes, also surfing gear is available for rent.

Royal PalaceIt is huge, you cannot really visit it (but it is a nice walk), the armed guards might allow you walk from one entrance to another especially if you look like a tourist. Bring your passport.

St. Peter's CathedralThe city's own beautiful art-deco cathedral.

phone: +212 634-781081

address: Annexe 23eme

Contains more than 100 species of Moroccan, Saharan and other African animals in open spaces simulating their natural habitats (mountains, desert, savanna and rain forest).
Do
There are many things to do here, as with most Moroccan cities it is enough just to wander around and adventure where something takes your fancy.
There is also a large and tranquil park next to the Hotel Sofitel, where people run and play football, etc. You can also use the pool at the Sofitel for a charge. The park is a 10-15 dirham taxi ride (10 minutes) from la Gare Central.
phone: +212 5377-07300

address: Avenue Moulay Rachid

Theatre in Downtown Rabat, nothing absolutely outstanding but there are performances each month.
Jazz au Chellah is a jazz festival organized each year in June by the ministry of culture, the city and the European delegation. The website might have some issues.
Mawazine is a festival of world music that takes place annually in Rabat featuring Arab, African and international music icons during May. It is controversial as some of the country's Muslim politicians have criticised the event for "encouraging immoral behaviour". Artists such as Stevie Wonder, Carlos Santana, Elton John or B.B. King have performed at Mawazine. There are various scenes around the city.

Royal Golf Dar es Salaam

phone: +212 5377-55864

The domain is spread over 440 ha of trees, flowers, and water. If you have enough money, a car and are desperately looking for a quiet area to walk around or to play golf you will like it.
Buy
Rue des Consuls an interesting place to wander. This street is so named because foreign diplomats were required to reside here in the seventeenth century until 1912. At that time the main activity of the area was piracy and taking slaves, who were then auctioned. Under a treaty with the Sultan, they were to be redeemed by diplomats from their countries who then had a budget for such purchases. For convenience, these diplomats were thus a few tens of meters from the place of "negotiation". This street was already very active one of the few to be paved. Louis Chenier, the father of the poet Andre Chenier was there representing the King of France from 1768 to 1781. Trading in the redemption of captives was his main activity and he excelled so much that even the Sultan, exhausted, sent him back to France by military force. From the Rue des Consuls, opens a number of alleys housing small shops, enabling craftsmen to maintain their expertise and their art, in often difficult circumstances.
Although the medina here is not as extensive as that of Fez or Marrakesh there are still some bargains to be had. You will find the normal array of baboshka shoes, baggy pants, ornate mirrors and plates etc.! Interestingly all the Moroccans can be found in the section of the market that sells imported western style clothing from Asia and all the tourists can be found in the 'traditional' section. The lovely woolen ponchos are well worth a look and the carpet shops near the end of the medina are also very nice.

phone: +212 5377-57575

One modern mall with with many expensive shops, such as Lacoste along with a food court. Also contains amenities such as a bowling alley and an ice-skating rink.
Eat
In the centre there are often inexpensive food stalls around the medina, serving delicious fish and salad sandwiches. Especially found right around the perimeter of the Marche Centrale, these places also serve fresh and simple salads, hot bowls of lubia (beans) or lentils, rotisserie chicken, and home-made tagines. There are also lots of stalls selling pancakes and pain au chocolat.
Cafe MaureAmazing cafe that looks over the sea, where you can drink mint tea and eat sugary treats. The staff are very friendly and you can stay as long as you like soaking up the atmosphere.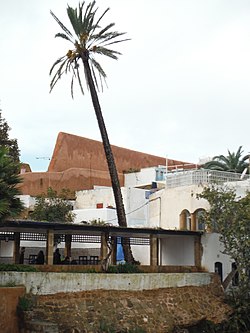 phone: +212 5372-07574

address: 269 Ave Mohammed V

Fancy pastries. Croissants 4 dirham. Ice cream 6 dirham per scoop.

Cafe 7eme Art

phone: +212 5377-33887

Has fake movie posters with meals as the stars. Light lunches, popular with business people and the more well-off. Miniature models of local scenes surround the outdoor patio. Pizzas 35 to 40 dirham, bland and tough. Friendly staff, stray cats beg for food.
Le Majestic
Ty Potes
Cafe Weimar
Sarl le P'tit Resto 2 Rue Arryad, +212 5 37 20 38 47: Cafe and sandwich shop with lunch specials and desserts. 35 dirham for a sandwich.
Pizza Hut, +212 5 37 68 13 00 for the Agdal neighborhood, +212 5 37 63 02 00 for the one in Souissi.
Villa Mandarine Quite expensive, considered as one of the best restaurants in the city
Le Petit Beur/Dar Tagine Delicious bstilla. Intimate setting.
El Rancho Tex-Mex restaurant. Good food and one of the few places where you can get a decent beer.
Mega Mall Food Court Free Wi-Fi hotspot.
Pizza de Gourmet
Paul's Traditional French bakery that serves as a restaurant. Can be quite pricy, but the food is magnificent. Worth a visit for their olive bread.
La Mamma. One of the oldest pizzerias in town.
Ya Mal Al-Sham (Syrian restaurant)
Matsuri
Dar Naji
Le Grand Comptoir
If you find yourself in Agdal, try the brochettes at 'Sucre et Sale'.
Drink
Amnesia

address: 18, Rue Monastir

If you like clubbing then dress up, this is the hippest club in Rabat.

Upstairs

address: 8, Avenue Michlifen

Irish/English theme pub in Agdal. Women will feel comfortable here as it's not men-only. The food is typical pub-grub, with some vegetarian options. A pint costs 50 dirham. Live music is on every now and then.

Café Weimar

Le Bistrot Pietri

address: Place Pietri

Located on the first place of Hotel Urban Pietry. It's a quite modern chic restaurant and bar. On Tuesday and Friday night, there are live jazz performance and on Saturdays, rock and roll. A cup of house beer costs about 38 dirham and a glass of house wine, about 50 dirham. It's usually packed on weekends. To get a table, reservation is required.

El Rancho

El Palatino

Ty Potes

Las Tapas

Le Deux Palais31 dirham drafts and 17 dirham small beers. Good food and the perfect place to watch a football match, inside or on the patio. Food is pretty good as well, 10 dirham for a plate for fries.
Learn
French Institut . Offers a variety of books in French and sometimes shows.

Goethe Institut

phone: +212 537732650

address: 7, rue Sana'a

A non-profit German cultural institution operational worldwide, promoting the study of the German language abroad and encouraging international cultural exchange and relations. The Goethe-Institut also fosters knowledge about Germany by providing information on German culture, society and politics. It is named after German polymath Johann Wolfgang von Goethe.

The Institute for Language Communication Studies

phone: +212 5 37 67 59 68

address: 29 Oukaimeden St

The institute is a centre with accelerated and intensive courses starting from 3,000 dirham.
Instituto Cervantes, 3-5, zankat Madnine, +212 537 70 87 38. A worldwide non-profit organization created by the Spanish government. It is named after Miguel de Cervantes (1547–1616), the author of Don Quixote and perhaps the most important figure in the history of Spanish literature. The Cervantes Institute is the largest organization in the world responsible for promoting the study and the teaching of Spanish language and culture.

Qalam wa Lawh Center for Arabic Studies

phone: +212 5 37 75 57 90

address: 3 Ave. Ahmed Balafrej, Souissi

Offers courses in Modern Standard Arabic, Colloquial Moroccan Arabic, Arabic Calligraphy, Moroccan Culture, and Islamic History. The quality of Qalam Center Arabic courses is supported by a partnership with Moulay Ismail University in Meknes. The facility includes a library; language labs; and large, comfortable classrooms.
Sleep
Budget
Most budget accommodation is found in the Old Medina of Rabat. Walking on Mohammed V street, you'll see a lot of signs pointing to hotels. On some days these fill up quickly, so it's good to be early. A double room will set you back about 120–150 dirham.
address: 43 Rue Marassa Bab El Had

A youth hostel on the edge of the medina walls. Four large dorm rooms with 16 bunks. A 10-minute walk from the train station. Breakfast is included.

Hotel Splendide

phone: +212 5377-23283

In the Ville Nouvelle, an easy walk from the train station. Large rooms and big windows, lots of light, around a central courtyard. Quiet and clean. They offer meals which are just food from the place across the street brought across on a tray. The shared bathrooms are generally clean. Showers 10 dirham, hot water only after 12:00.

Hotel de la PaixDingy and dank. If you don't get a room with an en suite shower, you don't get to take one at all.

Hotel Central

address: 2 Rue Al Basra

Bright room with shower and sink, toilet outside. 10-minute walk to Medina. 2-minute walk from Rabat Ville Train Station. Next to main street Ave. Mohammed V.

Medina Surfing Association

address: Rue Porte Maoun

Hostel in an old home in the Medina. Comfortable, free breakfast and occasional dinners on the terrace. 150 dirham per person. Staff are helpful and friendly, beds should be booked in advance. Surfing lessons every day for 250 dirham/person.

Hotel Majestic

phone: +212 5377-22997
Mid-range
Hôtel Balima

phone: +212 635-265610

3-star hotel. Closed for renovation as of Jan 2018.

phone: +212 5377-33726

address: 6 Rue Zahla
Splurge
Hotel Sofitel Jardin Des Roses

phone: +212 5376-75656

5-star hotel close to the Royal Palace and a park, considered by some the best (and one of the most expensive) hotel in the city.

Golden Tulip Farah Rabat

phone: +212 5377-34747

address: Place Sidi Makhlouf 10

192 rooms on the banks of the Bourgreg river. Practically within the city centre, next to some of the most recognized monuments within Rabat: the Hassan Tower, and the mausoleum of the late King Mohamed V. It's next to an extremely noisy area of the city.

Villa MandarineSet in an exotic orange grove hidden away from the hustle and bustle of the city, quite expensive
Stay safe
Rabat is considered a safe city. Just use some common sense: avoid wearing expensive jewellery or looking flashy, do not flash large quantities of cash, and avoid unfamiliar and deserted areas at night. If you walk in the crowded streets of the Medina or use a bus, keep a hand on your pockets. Women should avoid low-cut tops, midriffs, or shorts to avoid harassment (which almost always consists of comments, but nothing physical) although this is less of a problem than in other cities. Don't feel the need to be politeno Moroccan woman would put up with behaviour like that.

Connect
Rabat is served by all of the mobile companies that can be found elsewhere in Morocco: Inwi, Orange, and Maroc Telecom. Mobile phones can be bought in any of these store's stands, and most do not run on calling plans. Rather, recharge cards can be bought in corner stores that contain a number to call. When that number is called, the company adds the price of the card to your account's balance. Alternatively, more than one SIM card can be bought and changed in and out of the phone, if users need more than one phone number.
Internet
Internet access is available in cyber cafes around the city (not in residential neighborhoods though). Service is usually around €0.50 per hr.
You'll find Wi-Fi access in a some places such as Bert's or Megamall food court, usually those labelled a bit "trendy". There is also free WiFi at the Rabat-Ville train station.
Phone companies offer mobile internet services that plug into the USB port of your computer (there are no mac-compatible devices.) These services can be had without signing a contract, and are recharged in the same manner as a telephone.
Cope
Libraries
Librairie Papeterie Basta, 5, place Otmane Ibn Affane, Agdal, close to the Mac Donald. A lot of books in French, newspapers in Arabic, French, Spanish and English.
Librairie du 3ieme Millenaire, 285 Av. Mohamed V, in front of the parliament, very close to the downtown train station. One of the biggest libraries in Rabat, on two floors there are all sort of books in Arabic and French, there are also some books in English.
Embassies
phone: +212 537 68 74 00

address: 13, bis rue Jaâfa-as-Sadik, Agdal

The Canadian Embassy also provides services to Australian citizens in Morocco. Call collect from any country at +1 613-996-8885 to reach the Emergency Operations Centre.

phone: +212 537-658 775

address: 145 rue Soufiane Ben Wahb, OLM Souissi

Greece

phone: +212 5376 38964, +212 678689063 (Emergencies)

address: Km5,5 Route des Zaers, Villa Chems Souissi

phone: +212 537 75 64 46

address: 5, Rue Thami Lamdouar Souissi

On the same street as of the embassies of Mali and Mauritania.

Serbia

phone: +212 537 752 201

address: 23, Ave Mehdi Ben Barka, Souissi

phone: +212 537 76 22 65, +212 661 13 19 39 (After hours emergency)

address: 2 Ave Mohamed Al Fassi (formerly Ave de Marrakech)

phone: +212 537 63 33

address: 28 Avenue S.A.R. Sidi Mohammed Soussi

phone: +212 37633900

address: Rue Aïn Khalouiya, Route des Zaërs, Km. 5,300 Souissi

phone: +212 537689700

address: 3, rue Sahnoun Agdal

address: 16, Avenue Ahmed Balafrej, Souissi

phone: +212 537218600

address: 7,Zankat Madnine

phone: +212 537219600

address: 40 Rue de Tunis, Quartier Tour Hassan
Go next