Rach Gia
Rach Gia
is the capital of the province of Kien Giang, in the
Mekong delta region
of
Vietnam
. For most tourists it is mainly of interest as a jumping-off point for trips to
Phu Quoc
island.
Get in
By Bus
Buses and minibuses connect Rach Gia and
Ha Tien
(2h30, 50,000 Dong), Hon Chong (2h30, 50,000 Dong),
Can Tho
(3 hrs),
Long Xuyen
(1.5 hrs), and
Ho Chi Minh City
(6 hrs).
From the
Cambodian border
, motos can be hired to
Ha Tien
, from where buses connect to Rach Gia. The green mini-buses of Mai Linh company are faster as they do not stop to collect passengers along the way. If these are full, the marginally-cheaper local bus also plies the route. It is best to wait for the bus in one of the cafes on the road leading out of the bus station, since the bus will crawl out of the bus station at the scheduled departure time, but take 10-15 minutes to reach the main road as it tries to drum up more passengers.
By plane
By Boat
There are ferries (8 hrs) and hydrofoils (2.5 hrs) to
Phu Quoc
.
Hydrofoils to Phu Quoc leave at 07:45, 08:00 and 13:30. The morning boats cost 240,000 Dong. The afternoon boat costs 220,000 Dong. The journey takes 2 1/2 hours. There are lots of ticket offices near the port.
Hydrofoils to Ca Mau leave at 14:00 (110.000 d) from the Rach Meo ferry terminal 2 km south off the town center.
Get around
There are motorbike taxis which will take you from the hotel to the bus station etc. There are some taxis as well. Most of them waiting in front of the market 300 m east from the bus station.

See
Nguyễn Trung Trực temple- Visit the final resting place of Nguyễn Trung Trực, the fisherman who fought French colonial forces in the Mekong Delta in southern Vietnam in the 1860s.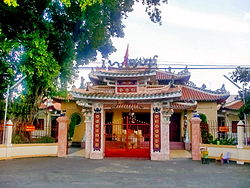 Tam Quan Gate
Tam Bao Pagoda
Phat Lon Pagoda - Khmer pagoda
Kien Giang Museum
Eat
There are lots off street stalls, small restaurants and many cafés all over the town.

Sleep
address: Lạc Hồng, Vĩnh Lạc, Rạch Giá, tỉnh Kiên Giang, Vietnam

A nice place near the ocean. No views. Free wifi with a free computer in the lobby as well. Rooms are nice, brand new and have a flat panel TV. Map is on the website.
Phuong Hong, 05 Tu Do - P. Vinh Thanh, 077.3878 777. Near Phu Quoc harbour. Rooms from US$12. New building but the rooms are rather hot. Free wifi with a free computer in the lobby. Rooms are clean, with fridge and TV.

Lang Du Inn

phone: +84 77-863672

address: 36 Nguyen Cong Tru Vinh Thanh

double room with own bathroom.
Go next