Racine
Racine
is a city in
Southeast Wisconsin
along Lake Michigan at the mouth of the Root River. As of the 2000 census, the city had a total population of 81,855. It is the county seat of Racine County.
Get in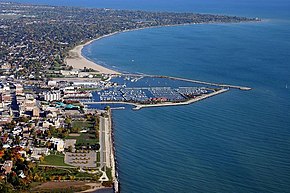 By bus
Coach USA Airport Express
service is available to O'Hare International Airport and Milwaukee from the Petro Station/Iron Skillet on I-94 and Hwy. 20. There are fourteen runs to O'Hare and Midway airports 365 days a year. Limited weekday connections are available using Belle Urban System route 20 leaving the Racine Transit Center located on the 1400 block of State Street at 6:20AM, 7:10AM, 4:10PM, and 5:10PM. Coach USA Airport Express tickets can be purchased from the bus driver or a local travel agent.
By plane
Racine has a small city airport, and is close to
Milwaukee Mitchell International
and
Chicago O'Hare
.
By train
There is train service between Milwaukee and Chicago in Sturtevant at the Amtrak station on Cty. H, (Wisconsin Street). This service can be met using bus route 27 on weekdays and route 7 on Saturdays.
Get around
By bus
Racine has a bus system with fares from $0 - $2 depending on age and time of day. Exact change is required. Day passes can be purchased for about $4. Routes with times and up-to-date fares can be found on the
City of Racine's website
.
By car
Most parking on the main streets, especially in the downtown area, are metered. In the event you do not have spare change or need more than 2 hours of parking time, Racine has a phone app to pay the meter fare that even has a handy alarm notification when you are approaching the end of your time. All the information you need for the app is found on the meter itself. Metered parking becomes free parking before 8am and after 6pm, or anytime if you have a handicap license plate or tag on display.
From December 1 to April 1, alternate side parking is in effect for non-metered roadside parking between 2am and 6am. Vehicles must park on the even-numbered address side of the street on an even-numbered calendar day; and on the odd-numbered side of the street on an odd-numbered day. You will get ticketed if you don't observe the rules. Racine police have been known to wait beside a parked car at 1:55am to slap a ticket on it once 2am rolls around.
See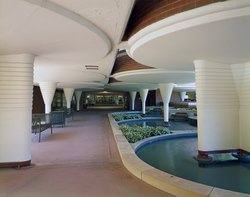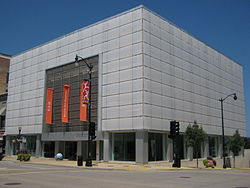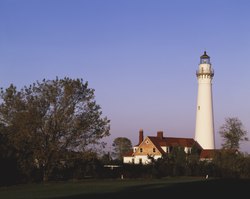 address: 1525 Howe St

Listed on the National Register of Historic Places. The building was designed by Frank Lloyd Wright.

address: 441 Main St.

An art museum that features local artists and traveling exhibitions. The building was designed to be accessible for all persons, including those with special mobility needs.

address: 2131 N Main St

A 32 acre zoo on Lake Michigan. Often has seasonal special events.

Reefpoint Marina and Festival Hall

address: 2 Christopher Columbus Causeway

Riverwalk with beautiful shoreline views. During the summer months, many festivals with music and fireworks on weekends.

address: 4725 Lighthouse Dr

Listed on the National Register of Historic Places. Tours are available, check their website for the seasonal hours.

Wustum Art Museum

address: 2519 Northwestern Avenue
Do
Lighthouse Run, pro volleyball tournament, dragonboat races, many lakefront activities during the summer months.
Buy
Most chain shopping can be found on Highway 31, between Durand and 21st street. Of note, there is a Barnes & Noble, a TJ Maxx, and a Best Buy. More interesting are the shops found in Racine's downtown, on Main street.
address: 416 Main St

Offers an eclectic mix of fashion and décor from around the world.

Copacetic

address: 409 Main St

A hat and accessory store. Often has hard-to-find, high quality items.

Funky Hannah's

address: 324 Main St

A bead and jewelry store.

Hot Shop GlassGallery sells glass works from local artists ranging from beautiful ornaments to sculptures and vases. You can also watch as people make glass creations. Offers introductory glass workshops for beginners priced around $65. Classes fill quickly and may need a reservation months in advance.

address: 334 Main St.

Specializes in opal jewelry, honey from around the world, and hand-crafted candles. Also carries a selection of gourmet food to accompany the honey.
Eat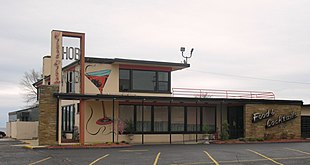 If you don't want to go outside your comfort zone, there are several chain restaurants in the area of the Regency Mall such as Applebee's & Taco Bell
(2521 S Green Bay Rd)
, Red Lobster
(2800 S Green Bay Rd)
, and Texas Roadhouse
(6228 Durand Ave)
. Most of Racine's best restaurants are located in downtown Racine or in the seedier parts of town. The majority of these restaurants have some kind of metered parking, so bring change or be prepared to use the city's parking mobile app.
911 Tacos

address: 817 Main St

An itty bitty taqueria nestled beside a convenience store on Main Street. The owner often comes out for a chat and the rest of the staff is incredibly friendly and welcoming. The menu is limited: there are a few selections of meat, you decide if you want it American or Authentic style, and whether it will be a taco, burrito, or chimichanga. Occasionally there are tamales available in limited quantities. The salsa and chips are made to order.

Asiana

address: 423 6th St

Korean fusion food. Service can be very slow. There's usually only two people working: a waitress and a chef (usually the owner). Expect to spend at least a half hour waiting for food. It is absolutely worth the wait, however.

Blue Bear

address: 2920 Taylor Ave

Everything on the menu is made from scratch with locally sourced ingredients. There is a selection of gluten-free items that actually taste good. The interior is tiny with very little seating.

phone: +1 262 898-8484

address: 1220 N Ohio St A

A non-franchise fast casual restaurant/café that serves south-east Wisconsin comfort food such as soups, pasta, pizza, and sandwiches. In addition to the large dining area, there is outdoor seating and an enclosed patio that they open the windows to during warm weather.

Hobnob Restaurant

address: 277 Sheridan Rd

An upscale supper club that features a long wine list. It has been open since 1954 and is situated right on Lake Michigan. It's best known for steak and seafood.

address: 6430 Washington Ave

Serves Mexican food with an American hipster twist. They serve great margaritas. This place is always very busy. There are no reservations, but you can call ahead to reserve your place in line. If you aren't there when they call your name, someone else will get your table.

Kabab and Grill

address: 1327 Washington Ave

Tiny and cramped, this small place serves Pakistani style dishes. The mutton is fantastic. It's best to order takeout. Only bar seating available. Food is served cafeteria style: you approach the counter and then point at the food you would like to eat. Combinations are offered of various meats and side dishes. Very friendly staff will assist in providing a sample of any dish you would like to try before you eat.

Kewpee Sandwich Shop

address: 520 Wisconsin Ave

A burger joint that has been in business since the 1920s. The interior is decorated with kewpee dolls from across the decades and the dining area has a retro feel. Everything is cash only. There is limited unmetered parking, so bring change.

Olde Madrid

address: 418 6th St

Serves Spanish tapas and has a bar. The dishes are slightly smaller than sharing size but you are encouraged to purchase several so everyone gets a taste. The interior isn't quite "date worthy": it's a bit old and seems unkempt, the walls are a bright orange, and there's a large piece of cloth that covers the front of the restaurant to prevent the draft from seeping in. The food is really delicious and has combinations of flavors that would be quite unusual for palates accustomed to American fare.

Out of the Pan

phone: +1 262 632-0668

address: 550 State St

Breakfast, brunch, and lunch place that serves from scratch dishes made with locally sourced and in-season ingredients. Has an industrial chic décor style consisting of tall ceilings, with exposed beams and fixtures, and brick walls covered in art from local artists. Seating space is limited. Wait times can be quite long but you can call ahead and reserve a table.

address: 314 Main St

A casual Italian restaurant the serves pizza and pasta. The atmosphere is welcoming. This place has been in business for many years and is very consistent in the quality of their menu items.

Sticky Rice

address: 203 6th St

This Thai restaurant has an excellent lunch menu. Their quick service makes them popular around lunch time for business folk. The hot Thai green tea is fantastic on a cold winter's day. The Volcano chicken and green curry are two dishes popular with the locals. Spiciness of meals can be adjusted according to taste. Please note that the spiciness seems to be increased on an exponential and not linear scale like most restaurant's star systems work. They have a cozy, clean, café inspired atmosphere. All parking is metered, so remember to bring change.

Taqueria Arandas

address: 1501 Prospect St

Located in a rougher part of town and in a very worn building, this taqueria serves some of the very best and authentic Mexican food. There is limited parking on the side of the building but most people park on the street.

Wells Bros. Italian Restaurant

address: 2148 Mead Street

Offers some of the best Midwestern-style thin crust pizza in southeastern Wisconsin. Wells Bros. was named one of the top ten pizzerias in the United States in a book written by two food critics. It is also the oldest standing pizzeria in Racine.
Kringle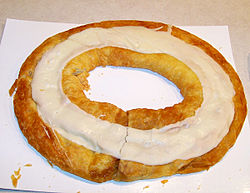 Racine is famous for its Danish pastry called
Kringle
. There are several bakeries that offer this flaky, sweet delight but the most notable (and perhaps most authentic) is O&H Danish Bakery.
Drink
Henry and Wanda's

address: 501 Sixth Street

Offers potent, creative cocktails and a rotating selection of food in a clean, relaxed atmosphere.
Sleep
Christmas House Bed & Breakfast

phone: +1 262 770-4811

address: 116 10th St

This bed & breakfast is run out of a historical colonial style house. Free Wi-Fi, minifridges, tea and coffeemakers, and TVs in all rooms. Some rooms have whirlpool tubs and dining areas. There's one 3-bedroom unit that has a living room and a kitchen. Hot breakfast is provided. The shared spaces include a living room, dining room, a porch, and a library. No pets permitted as the owners have their dogs on site. Let the staff know if you will be bringing children.

phone: +1 262 633-3300

address: 1121 Lake Ave

This Tudor style house was built in 1915 and has 6 rooms. Lochnaiar means "on the water" in Gaelic and the building sits on a bluff overlooking Lake Michigan. Free WIFI and breakfast included. Pets permitted with an upcharge.
Stay safe
There are several neighborhoods in the east and north-east areas of Racine that are run-down or depressed and have a high violent crime rate. Most of the crime is local-on-local or gang-on-gang related so you are unlikely to be a target. You don't need to fear driving through these parts of town, but stick to the main streets and don't dawdle after sundown. Racine crime obeys invisible barriers certain streets create. A "safe" street could be a block away from an "unsafe" area. Anywhere west of West Boulevard, the downtown area while businesses are open, and two blocks from the lake's shore is ok. Anywhere west of Lathrop is sketchy but probably safe. Parks and neighborhoods near the root river should be avoided. Use common sense. If the area looks sketchy it probably isn't a place you should be and probably doesn't have anything a tourist would be interested in anyway.

Go next