Radebeul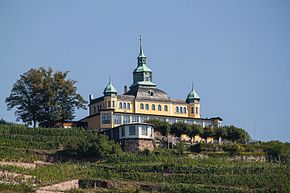 Radebeul
is a historic wine-growing town and residential suburb between
Dresden
and
Meissen
in
Saxony
,
Germany
.
It is essentially an affluent garden suburb of
Dresden
, but not officially within city limits. It is famous for the novelist Karl May, "father" of
Winnetou
and
Old Shatterhand
. Popular with Saxony's entrepreneurs and managers, Radebeul has become the richest town in Eastern Germany. It is near the Dresden microchip plants and the Dresden heath, the largest forest within Dresden's city limits.
Get in
By tram
Most people come to Radebeul from
Dresden
. Radebeul can be reached via line 4 of Dresden's tram system (every 10 minutes in the daytime M-Sa, every 15 minutes in the evening and on Sundays; takes about 20 minutes from central Dresden to eastern Radebeul, half an hour to the western part).
By train
Radebeul is also accessible via rail. The hourly
Saxonia Express
connecting Dresden and
Leipzig
stops at Radebeul eastern station (Radebeul-Ost; 15 minutes from Dresden main station, 1 hr 20 min from Leipzig). The Dresden S-Bahn (suburban train) has four stops in Radebeul, linking the town with Dresden, Meißen and Pirna and Bad Schandau (
Saxon Switzerland
) every half hour; takes 15–20 minutes from Dresden main station to Radebeul.
By car
When arriving by car, leave the Autobahn A4 at exit "Dresden-Neustadt".
Get around

The lower part of Radebeul is well connected to tram line 4, Dresden's longest tram line.

See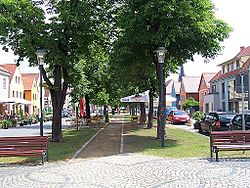 AltkötzschenbrodaOldest and most original part of Radebeul with a complete ensemble of carefully restored 19th-century homes and shops, most of them are listed heritage buildings. Considered to be one of the most beautiful townsquares in Saxony.

Friedenskirche zu RadebeulMore than 500 years old beautiful Evangelical Lutheran Church in Altkötzschenbroda. In 1645, in its parsonage the Armistice of Kötzschenbroda between Saxony and Sweden was concluded, ending the Thirty Years' War between those kingdoms.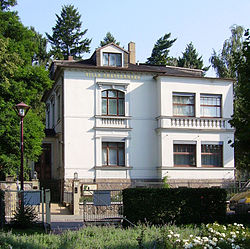 Karl May Museum – Villa Shatterhand

phone: +49 351 8 37 30 - 10

address: Karl-May-Straße 5

Erstwhile residence of Karl May, tremendously popular adventure novelist who authored stories about the 19th-century Orient and American Old West and created the characters of Winnetou and Old Shatterhand. The displays illustrate the life and culture of the Indians of North America: pre-Columbian Age Indians, the Athabascans Indians of Alaska and Canada, Northwest Coast Indians, Californian Indians, Pueblo Indians, the Eastern Woodland Tribes, Plains Indians, the Ghost Dance Movement, and modern American Indian arts and crafts.
Do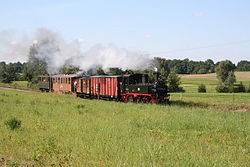 Enjoy some wine, walk through the vineyards of Oberlößnitz and visit a castle nearby.
Buy
There are numerous small (and rather high-prised) shops on the picturesque Altkötzschenbroda square.
Nudossi
, the East German equivalent of
Nutella
(but containing a lot more hazelnuts than the latter), is produced in Radebeul and sold at a factory outlet as well as most supermarkets and groceries.
phone: +49 351 8375226

address: Kötitzer Straße 27

Apart from the popular chocolate-hazelnut spread, other chocolate products, cookies and pastries are sold.
Eat
Drink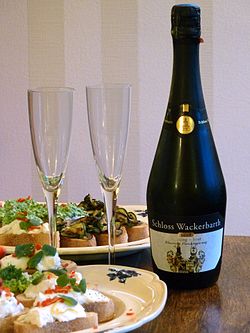 Vineyards, bars and pubs
Savour local wines and champagne at one of the vineyards.
phone: +49 351 8955-0

address: Wackerbarthstraße 1

There is also a restaurant (closed on Mondays, on Mondays and Tuesdays in February and March, closed all January) and special events like Sunday brunch or more elaborate wine tastings and themed menus.

phone: +49 351 8386707

address: Altkötzschenbroda 21

Rustic whisky bar, restaurant and beer garden at an old smithy sometimes offering live music.
Clubs and discothéques
phone: +49 351 89516934

address: Meißner Straße 507, 01445 Radebeul

When it opened in 1994, the Mega-Drome was one of Europe's most modern and largest discothéques, with alone the main floor having a capacity of 4,000 people. Nowadays the venue offers a wide range of events from techno and house to 80s/90s revival parties.
Sleep
Radebeul has many affordable guesthouses which are a good alternative to Dresden's inner city hotels.
phone: +49 351 83990100

address: Altkötzschenbroda 61, 01445 Radebeul

500-year-old, family-owned hotel, nowadays offers all modern amenities of an upper mid-range hotel. Some rooms with view on the River Elbe

Radisson Blu Park Hotel & Conference Centre, Dresden Radebeul

phone: +49 351 8321-0

address: Nizzastraße 55, 01445 Radebeul

Apart from this conference centre in Radebeul, Radisson also has a property in the centre of Dresden, so make sure you book the right one and note the address.
Go next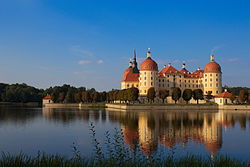 Radebeul is a short train ride away from
Dresden
,
Meißen
and their surrounding attractions.
The narrow gauge
heritage steam railway
takes you to
Moritzburg
(famous for its beautiful chateau) or Radeberg (famous for the brewery named after the place; guided tours are possible).