Radiator Springs
Radiator Springs
is a fictional village on
Route 66
in the
United States of America
, depicted in the 2006 Pixar film
Cars
.
Understand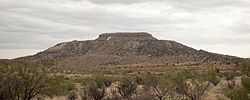 Radiator Springs is a composite of several real places and landmarks on US Route 66.
Its highway map location most closely resembles
Peach Springs
,
Arizona
, a once-busy stop along the 2488 miles (4005 km) of highway leading westward from
Chicago
and
Saint Louis
through
Kansas
,
Oklahoma
,
Texas
,
New Mexico
and Arizona to
Santa Monica
,
California
.
Peach Springs is the administrative base of the Hualapai native first nation. In Route 66's heyday, it was a starting point for Route 66 travellers to take side trips north to
Grand Canyon National Park
or
Monument Valley
- diversions which would add hundreds of miles to a real Route 66 roadtrip but which look somehow compressed in distance in the film.
When Interstate 40 bypassed Route 66 from
Oklahoma City
to
Barstow
, California it took a shorter, more direct route from
Seligman
to
Kingman
in Arizona by passing further south, missing tiny Peach Springs by twenty-five miles. Most towns along this section (Hackberry, Valentine, Truxton) simply died overnight, but the Hualapai nation kept Peach Springs marginally alive. Nearby
Williams (Arizona)
was the last community bypassed (in 1984) and Seligman to Kingman was the first section designated as "Historic 66" (in 1987) due to the efforts of Angel Delgadillo of Seligman and his Arizona Route 66 Association to promote the route to
nostalgia
seekers.
The cartoon depiction of Radiator Springs and Carburetor County is based on a composite of multiple landmarks in multiple states, from
Baxter Springs
, Cherokee County, Kansas to Peach Springs, Arizona and a bit beyond. A group of fifteen Pixar designers packed into multiple longhorn stretch Cadillac motorcars and took to the road to visit NASCAR racetracks,
Detroit
automakers and more than 1200 miles (1930 km) of US Route 66 from the Kansas-
Missouri
border westward through Arizona.
A list of places visited could be reconstructed from the film's credits and trailers (which list key people they talked to along the way), from
route66news.com descriptions
and from local newspaper articles about individual towns through which the Pixar crews toured.
As the animated Radiator Springs compresses 1200 miles and five states of Route 66 into a few blocks of road, this Route 66 road trip is presented as itinerary (effectively, a single east-to-west composite patched from multiple trips made as research to create the film) instead of as a single geographic village.
Prepare
Peet stop!
A journey of a few thousand miles begins with a well-maintained motorcar in top condition. As this trip crosses large expanses of New Mexico, Arizona and California desert, be sure to carry enough fuel, bring extra water and some means of calling for roadside assistance in the event of a break down.
Bring a copy of the main
Route 66
itinerary or references such as the "Here it is!" eight-state map set, as this itinerary is specific to people and locations referenced in the film and does not fully cover the entire "Mother Road" of 'The Grapes of Wrath' fame. Grab a full tank of petrol and head onto the open road... and get your kicks on Route 66.
Get in
By car from Detroit.
It's not what it used to be, but
Detroit
is still considered the birthplace of the US automotive industry and a film like
Cars
wouldn't be made without a visit to the home of Ford and General Motors. While the public doesn't have the same access to Detroit's automakers as the Pixar crew, the
Henry Ford Museum and Greenfield Village
in
Dearborn
is worth a tour; there's also an
Automotive Hall of Fame
. In
Auburn Hills
, the
Walter P. Chrysler Museum
is available for group and meeting rental but otherwise not open to the public (as of 2013).
There's a lot of automotive history in the film, but the story starts at the "Motor Speedway of the South", an oversized version of NASCAR's Bristol Motor Speedway in
Bristol
,
Tennessee
.
To get there from Detroit, one possible route is Interstate-75 south to
Knoxville
, then Interstate-40 east to Interstate-81. Bristol is about 110 miles (175 km) northeast of Knoxville.
Drive
Motor Speedway of the South and I-40
The film starts at the "Motor Speedway of the South" at the beginning of a 43-car NASCAR race:
phone: +1 423-989-6900

address: 151 Speedway Blvd, Bristol Tennessee

Half-mile concrete oval; the cartoon version of the stadium enlarges this track to a mile and builds the grandstands higher as the "Motor Speedway of the South". The 'Cars' film begins here with the final regular season race for the NASCAR Cup Series driver's trophy, depicted as the "Piston Cup". (The real cup has had various sponsors' names over the years, including "Winston Cup", "Nextel Cup", "Sprint Cup", and now "Monster Energy Cup".)
A few bits (such as the spectator camper vans) are 'borrowed' from Charlotte Motor Speedway, 165 miles further southeast:
phone: +1 704-455-3200

address: 5555 Concord Pkwy S, Concord, North Carolina

A motorsports complex 13 miles from Charlotte, North Carolina, home of NASCAR fan Douglas "Mater" Keever and the "Redneck Hill" spectators RV/camper area in the infield. At the time the film was made, this track was operated by "Humpy" Wheeler, the voice of "Tex" in the movie. Keever's voice appears as one of the fans in the tiebreaker ("Well, dip me in axle grease and call me slick! It's the Hudson Hornet!") and he lends his "Mater, like tuh-mater but without the tuh" nickname to a key character. This track was the venue for the Dale Earnhardt "pass in the grass" in 1987 and the Darrell Waltrip "Tide slide" in 1989's all-star race; allusions to both are seen in the races in the movie.
At the end of the race, a tiebreaker is announced for
Los Angeles
, California one week later to break a three-way tie. At stake is the NASCAR Grand National driver's trophy, shown as the "Piston Cup".
The contestants head westward on Interstate-40 to go to California. (From the "Motor Speedway of the South", Bristol, I-81 south ends at I-40. From the Charlotte side trip, head toward town then take I-77 north to rejoin I-40.)
The film depicts I-40 heading westward through a maze of congested overpasses, then through "Truckville" (presumably Knoxville, based on I-40 signage for US25 and other intersecting roads) and across fields and streams westward to California. The 2100 mile piece of I-40 from the end of I-81 to
Barstow
, California should take about thirty continuous hours at the wheel if one were to drive straight through, non-stop.
Thirty hours without a break would exceed the federal "hours of service" regulation for commercial vehicle drivers... but don't bother explaining that to cartoon NASCAR rookie Lightning McQueen.
Detoured!
At some point, a somnolent Lightning McQueen accidentally gets separated from his weary Mack transport on I-40, then makes a wrong turn across a rail line and onto old US Route 66... but where is he?
If Radiator Springs were a single point located at Peach Springs, Arizona, the rail line is the Santa Fe (the line is still in use, although the train does not stop) and the wrong turn is in Seligman. This point is the eastern gateway to a lengthy section where US 66 runs largely parallel to (but nowhere near) I-40. They don't rejoin until Kingman, 75 miles further westward on I-40 or 87 miles further west via Arizona Route 66.
If one takes everything from Baxter Springs to Peach Springs as "Radiator Springs", the detour occurs earlier: just before
Fort Smith
,
Arkansas
exit north onto I-540/US71, which run parallel and then become concurrent through
Bentonville
. Continuing north on US71, one reaches the former US 66 in
Carthage (Missouri)
- just east of
Joplin
.
phone: +1 417 359-5959

address: 17231 Old 66 Blvd, Carthage, Missouri

One of the few drive-in theaters left on Route 66. It was built in 1949 with neon signage of the era. Listed on the US National Register of Historic Places, the original design closely matched the "Radiator Springs Drive-In" - the widescreen and FM radio were added later. This originally had speakers on poles and the 4:3 screen aspect ratio, just like the cinepark in the film.
In the absence of any further signs the film makers ventured east beyond
Kansas
(there is a "Wagon Wheel Motel" in
Cuba (Missouri)
but no Wheel Well Motel), it's time to motor west on the highway that's the best... US Route 66.
Route 66 and Radiator Springs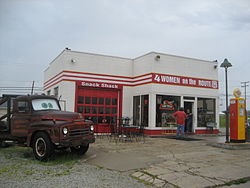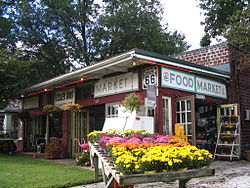 US 66 enters Cherokee County at
Galena (Kansas)
, a former mining town named for a lead ore once extracted here. The town is a shadow of its former self and I-44 (which bypassed US 66 this side of
Oklahoma City
) doesn't even enter the state. Pity, as that "Tow Mater" character is largely a Kansas boy. According to
Oklahoma
Route 66 historian Michael Wallis (voice of the "Sheriff") the late Joe Ranft, a Pixar artist, spotted an old mining truck on a former alignment of US 66 at a then-abandoned filling station. (Ranft is the voice of the recycled battery truck somewhere between I-40 and US 66, "Mack? I ain't no Mack, I'm a Peterbilt, for dang sakes! Turn on your lights, you moron!")
phone: +1 620 783-1366

address: 119 N. Main Street, Galena

Small Route 66 souvenir shop and 12-seat lunch counter in a restored Kan-O-Tex service station, opened in 2007. Home of "Tow Tater", an old 1951 International mining boom truck.
US66 turns south at Riverton (K-66 and US 69 alternate) to go through
Baxter Springs
.
phone: +1 620 848-3330

address: 7109 SE Oriole Lane, Riverton

1925 country store with groceries, produce, flowers, deli sandwiches, souvenirs and memorabilia where Route 66 Association president Dean Walker showed the film's makers his ability to twist his feet around 180° and walk backwards. (The character, a rusty tow truck, teaches how to drive backwards.) According to "Sheriff" Michael Wallis, "As luck would have it, we had just eaten a sandwich at the Eisler Brothers when we met Dean, He was proud as punch to show them his exorcist feet and regale them with stories of the Ghost Light."
US66 continues southward through
Miami (Oklahoma)
and
Tulsa
. Between Tulsa and OKC, Oklahoma Route 66 remains as a free alternate to I-44 (Turner Turnpike, a toll road), passing through the tiny town of
Stroud (Oklahoma)
.
phone: +1 918 968-3990

address: 114 W Main St, Stroud

Historic 1939 fieldstone route 66 diner built during the Great Depression, operated 24/7 in the route's heyday. The restaurant's neon signage was damaged by a 1999 tornado which wiped out much of the town's commerce and industry. Pixar visited in 2001 and were inspired by proprietor Dawn Welch and her stubborn efforts to rebuild. While Dawn was the inspiration for "Sally", the town's lawyer who operates a "newly refurbished Cosy Cone Motel" with a bright neon sign, the design of the motel is based on the Wigwam Motel in Holbrook AZ.
At Oklahoma City, US 66 turns westward toward the
Texas Panhandle
where, except within the towns, much of the old road is simply paved over by I-40 or used as an I-40 service road. In
Clinton (Oklahoma)
the filmmakers met former country veterinarian Dr. Walter S. Mason, Jr, a Best Western hotel owner who donated land for a local Route 66 museum. "Doc" died in 2007 after a lengthy battle with Alzheimers; mile 66 of I-40 was named the "Dr. Walter S. Mason, Jr. Memorial Highway" by the state in 2011 in his memory. There is no longer a Best Western in town, but the Route 66 Museum remains open.
phone: +1 580 323-7866

address: 2229 W Gary Blvd, Clinton
Time for one last stop in
Erick
, Oklahoma, before crossing into
Texas
.
address: City Meat Market building, 201 S Sheb Wooley Ave, Erick, Oklahoma

The proprietors once performed as the Mediocre Music Makers dealing out "Insanity At Its Finest", were the subjects of documentary Harley & Annabelle - Living Legends in Erick, Oklahoma,, made a CD and were the ones that taught Mater's hillbilly accent to Larry the Cable Guy. (Route 66 lost Annabelle to cancer in 2014.)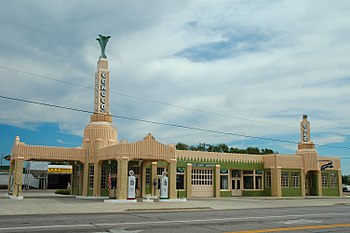 phone: +1 806 256-2501

address: 105 E. 12th St. at Main, Shamrock, Texas

Former 1936 art deco café and filling station which served US Routes 66 and 83 in Shamrock, Texas. Closed in the 1990s, it has been restored for use as a local visitor centre; fountain drinks, coffee and floats returned in 2014 after years with no food or beverage service. In "Cars" this iconic building is "Ramone's", an automotive paint shop.
phone: +1 806 779-2225

address: 100 Kingsley Street, McLean, Texas

Museum in McLean (Texas) dedicated to the history of barbed wire, also has an exhibit on the McLean POW Camp. Nothing ends a "Cars" chase quite like a collision with barbed wire.
The only major city in this corner of Texas is
Amarillo
:
Cadillac Ranch

address: Interstate 40, Amarillo

Eccentric roadside attraction originally placed by the art collective Ant Farm on Route 66, but now relocated south of I-40. Ten old Cadillacs upended and half-buried in a cow pasture. In the film these are the "Cadillac Range", a mountain formation.

phone: +1 806-372-6000

address: 7701 Interstate 40, Amarillo, Texas

Steakhouse with Big Texan Motel and a Texas-shaped swimming pool, near I-40. The original location on US 66 closed soon after the new road came in. Operates a fleet of stretched white Cadillacs with cattle longhorns as hood ornaments, like "Tex Dinoco" in the film.
US 66 continues westward through the tiny city of
Adrian (Texas)
before crossing into
New Mexico
at the divided
ghost town
of
Glenrio
.
phone: +1 806 538-6379

address: 305 West Historic Route 66, Adrian TX

1928 roadside café which operated 24 hr/day in Route 66's heyday. Antique and souvenir shop. Fran Houser, proprietor from 1990 until 2012, was the basis for Flo of "Flo's V-8 Diner" and two servers, the Mendez sisters, were the basis for twin Mazda Miatas "Mia" and "Tia". Fran now operates "Sunflower Station", an antiquities and souvenir shop in a former filling station next door.
Brownlee Diner/Little Juarez Café

address: Glenrio Historic District

Constructed in 1952 in art moderne architectural style, this building becomes part of the abandoned "Glenn Rio Motel" complex and later the local museum in the film. Glenrio is a ghost town founded 1908 to serve the Rock Island and Pacific Railroad (the tracks were removed in the 1980s) and abandoned 1976 after a realignment of Route 66 bypassed traffic onto what is now I-40. The ghost village is divided between Texas and New Mexico; US 66 becomes a gravel road at the New Mexico state line.
Route 66 then passes through
Tucumcari
, a population-5000 town which once advertised billboards on hundreds of miles of the Mother Road as "Tucumcari Tonite! 2,000 motel rooms!" While a few of these neon motels have been restored, "Cars" fans will most readily recognise Tucumcari Mountain which stands over the New Mexico desert with a white "T" painted on one side. In the film, the mountain bears the initials "RS" and its summit is shaped as an automotive radiator cap.
phone: +1 575 461-9849

address: 815 E. Route 66, Tucumcari

While the Cozy Cone Motel is the Wigwam Motel in Holbrook AZ, its neon "100% Refrigerated Air" slogan came from the Blue Swallow, a 14-room roadside motel restored to the era of neon light, vintage furniture and dial telephones. The Blue Swallow is just one of multiple historic motels from the heyday of Route 66 which are preserved or restored on Tucumcari Blvd.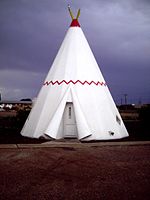 The road continues westward through
Albuquerque
and into
Arizona
. In
Holbrook (Arizona)
, one quickly spots the inspiration for the 'Cosy Cone Motel'.
phone: +1 928-524-3048

address: 811 W Hopi Dr, Holbrook

Sleep in a giant tepee (as the natives did, although they did it without air conditioning or cable TV). Various historic vehicles on-site. 15 units, non-smoking, listed US National Register of Historic Places. In the film, the 'wigwams' are traffic cones - a theme depicted as repeated in every detail of the restored property right down to the planters, lamps and alarm clocks.

phone: +1 928-288-3230

address: 3386 Hwy 66, Joseph City, Arizona

Quirky roadside souvenir shop (established 1949) with the big "HERE IT IS" sign depicting a jackrabbit. In the film, the sign appears on Liz's Curio Shop with the bunny replaced by a Model T Ford, the "Tin Lizzie".
The film makers would have stopped in
Winslow (Arizona)
to inquire about the town's revitalisation efforts and "Standin' on the Corner Park", an art and sculpture streetscape recreating a spot in 1970s Eagles' hit song "Take It Easy." The song mentions "standin' on a corner in Winslow, Arizona," putting the town back on the map. In
Seligman
, they would have met with the Delgadillo brothers.
Angel and Vilma Delgadillo's Route 66 Memorabilia & Visitor's Center

phone: +1 928 422-3352

address: 217 East Route 66, Seligman

Owner Angel Delgadillo was instrumental in preserving this last stretch of the route. His description of how the town died the hour and day the new road opened was the primary basis for a key flashback in which "Sally" the Porsche describes the history of Radiator Springs in which "the town was bypassed to save ten minutes of driving". Angel still operates his barber shop in the building and you can find him still cutting hair most days in between photo ops with passing tourists and fans.
West of Seligman, US66 and I-40 diverge with US66 going through
Peach Springs
and various ghost towns or former ghost towns, including Hackberry.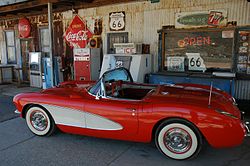 phone: +1 928-769-2605

address: 11255 E Hwy 66, Hackberry

Hackberry died in the 1970s with the construction of I-40; late Route 66 travelling artist Bob Waldmire was at one time the town's only resident. Waldmire travelled the route in an old VW hippie van creating and selling elaborate hand-drawn maps; the cartoon alternate-fuel vehicle is named "Fillmore" as Waldmire was not willing to sell his name to Disney as a trademarked character. Hackberry is now a popular tourist stop with a collection of old and classic motorcars, including a first-generation Corvette with a two-tone paint scheme and whitewalls similar to Lightning McQueen's full makeover in Radiator Springs. Waldmire's vehicles are now in the Route 66 Hall of Fame in Pontiac (Illinois).
The roads reconverge at
Kingman
, then diverge as an early alignment of Route 66 used to go through Oatman. As the former Route 66 bridge between Topock, Arizona and Needles, California is no longer passable, all traffic must leave Arizona on I-40. The film does not include any points on US66 in California.
Arizona side trips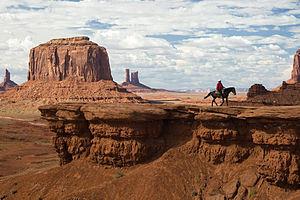 "Ornament Valley" is a reference to
Monument Valley
, in the far northern portion of the state. A waterfall visible in the background when "Sally" is driving across a bridge is Havasu Falls on the
Grand Canyon's Havasupai Indian Reservation
.
is not directly reachable by road; access is via native land and the last eight miles of the journey must be made on foot or horseback. The closest US 66 point to Havasu Falls is .
is reachable by road, but from US 66 is a 170-mile detour north from
Flagstaff
(US 89 to US 160 to US 163 Scenic).
Oatman
, a Route 66 ghost town between Kingman and the California border, is not mentioned directly in the film but the may have been an inspiration for the herd of ill-behaved "moo"ing farm tractors depicted disrupting traffic in Radiator Springs village.
Los Angeles International Speedway
The last portion of the trip to Los Angeles is depicted as a return to the freeway, presumably I-40 from Kingman (or the AZ/CA border) westward.
The NASCAR track for
Los Angeles
is Auto Club Speedway in
Fontana
. While US66 continued onward to LA, I-40 ends at Barstow. There is 75 miles of I-15 from Barstow south to Fontana.
phone: +1 909-429-5000

address: 9300 Cherry Ave, Fontana

The cartoon version, "Los Angeles International Speedway", may differ from the actual facility due to Pixar's tendency to combine pieces from multiple real locations and build larger than life. The depicted cartoon scoreboard tower pylon is from the Indianapolis Speedway, for instance.
Stay safe
Got a flat? Bring it in. Don't tear yourself up out there, kid.
Watch for speed traps; Route 66 goes through every tiny town and odds are there'll be a sheriff at the town line (possibly just behind the welcome sign) just waiting to chase "crazy hotrodders" through the village.
Be sure you have enough fuel. You don't want to be in the middle of the Arizona desert when you find you've run out as someone has siphoned all of your petrol while you were sleeping.

Go next