Radium Hot Springs
Radium Hot Springs
is a village of about 800 people (2016) in the
East Kootenays
. It is famous for its hot pools.
For visitor information you can visit:
Understand

The village is named for the hot springs located in the nearby Kootenay National Park. The hot springs were named after the radioactive element when an analysis of the water showed that it contained small traces of radon which is a decay product of radium. The radiation dosage from bathing in the pools is inconsequential; approximately 0.13 millirems (1.3 μSv) from the water for a half-hour bathing, around ten times average background levels. The air concentration of radon is about 23 picocuries (0.85 Bq) per litre which is higher than the level (4 picocuries per litre) at which mitigation is necessary at residences; but is also inconsequential (about 0.7 mrem or 7.0 μSv for a half-hour bathing) from a dose impact perspective.

Get in
Radium is at the entrance to
Kootenay National Park
, at the intersection of Highways 93 and 95. It is 3 hours from
Calgary
, and 3 hours north of the American border. It is 9 hours east of
Vancouver
.
See and do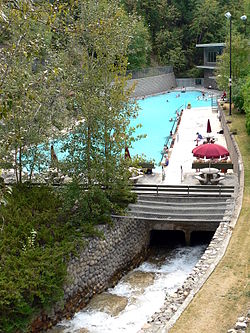 Bugaboo Provincial ParkA wilderness park, great for climbing (rock or ice) or hiking. Backcountry camping is permitted at Boulder Camp and Applebee Dome, near the Conrad Kain Hut. You can also stay in the Hut at a fee of $22/person or $44/family. Reservations can be made at +1 403 678-3200 through the Alpine Club of Canada. This is a wilderness park, no supplies are available. Please pack suitably, and take appropriate safety precautions.

phone: +1 250 347-9485

Radium's most famous attraction. There is a hot pool and a cool pool for swimming.

Old Coach Trail4.7-km trail off Main St. From the Visitor Centre car park, walk down Main Street West towards Invermere (past the library and an art shop), then follow the trail. At the gate there is an information board and trail maps (also available online) highlighting features of interest at the numbered posts. At the other end, there is an car park about half way between Radium and Invermere.
Buy
phone: +1 250-347-9208

address: Intersection of Hwy 95 and Hwy 93 and Main Street

The studio of local artist Rolf Heer who carves from stumps, driftwood or other wood found in the area.
Eat
phone: +1 250-342-9417

address: 540 Highway 93/95, Invermere BC

Bavarian steak and schnitzel house with servers in traditional costume, live entertainment on weekends, small dance floor.

phone: +1 250-347-0047

address: 7547 Main St. West

German cuisine.

phone: +1 250-347-9548

address: 5067 Madsen Rd

Hungarian cuisine.
Sleep
phone: +1 778-527-5033

address: 5063 Madsen Rd

Suites with gas fireplace, flat screen TV, movie channels, separate living rooms with a pull-out couch. Main floor units are pet friendly. Spa and "meal deal" packages available at extra cost.

phone: +1 250-347-2323

address: #10 Bighorn Blvd.

On Springs Golf Course with view of the Purcell and Rocky Mountain ranges. Fireplaces, decks with BBQs, high-end finishings and full kitchens in one, two, or three bedroom vacation condos. Studio suites available with kitchenette (bar fridge, microwave, toaster, and coffee maker).

phone: +1 250-347-9759

address: 4852 Radium Blvd

All units offer air-conditioning and wireless internet access, some with kitchenettes to meet your needs. Non-smoking, pet and motorcycle friendly! Hot Breakfast is included in room rate.
Go next