Rail travel in Canada
Although trains are not nearly as ubiquitous and convenient a mode of travel in
North America
as in
Europe
or East Asia, they remain popular with some travelers because of the spacious design of the cars, the scenic routes, and the overall comfort of the train ride. Some people prefer to take trains because they do not require long waits at security like at airports, or because they are uncomfortable with flying. Unfortunately, unlike their European counterparts, passenger trains in Canada outside the urban cores can often be off-schedule, sometimes up to several hours late. Train rides in
Canada
often take much longer than car rides and plane rides, but, when the service is running well, the unique experience can trump the long ride.
All trains will have coach seats. For longer rides many trains have sleeper rooms. The price of these rooms depends on the quality - whether or not there is a sink, or a private shower/toilet. You will pay a considerable supplement for sleeper car service in addition to the regular fare.
Understand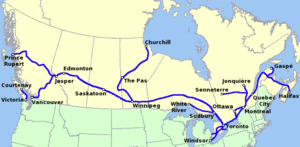 The development of railways in Canada largely mirrors that of its southern neighbour, the
United States
. Railways once formed the backbone of Canada's long distance transportation system, and played a significant role in forming the Canadian federation, as railways enabled people and goods to move relatively quickly from the main population centres in
Toronto
and
Montreal
to major seaports along the coast such as
Vancouver
and
Halifax
. However, with the advent of private car ownership and commercial air travel following World War II, passenger railway lines in Canada went into a rapid decline from which they never fully recovered. Today, the Canadian railway system lags behind much of the rest of the developed world, and is primarily used for freight. Nevertheless, there has been a revival of sorts in rail transport since the beginning of the 21st century, and in the densely populated
Windsor-Quebec City corridor
, rail transport today is relatively reliable and typically as fast as driving yourself, especially when traffic is taken into account.
Canada's railway system primarily transports freight, and freight has priority over passenger rail-line use. Therefore, passenger trains are sometimes delayed. The country's two major railway companies, Canadian National Railway and Canadian Pacific Railway, turned over operation of their passenger services in 1978 to the state-owned VIA Rail Canada, which was designed with the American role model Amtrak in mind. In addition to
VIA Rail
, a few smaller railways in remote areas of Canada also offer passenger service.
Montreal
(
AMT
),
Toronto
(
GO
), and
Vancouver
(
West Coast Express
) have commuter rail. A large number of companies offer excursion services primarily geared towards sightseeing and tours; in
Calgary
an expensive, seasonal private tourist train to Vancouver is the only scheduled intercity passenger rail.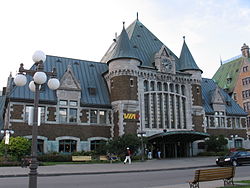 VIA Rail has been subject to widely varying political priorities as much if not more than Amtrak in the US. Significant funding and service cuts were sometimes followed mere years later by an exact reversal of policy and vice versa. The current Trudeau government has announced grand plans for railways and even a potential
high speed rail
line along (parts of) the Windsor-Quebec corridor, but as of April 2017 no more than talk has come of this. Provincial initiatives seem to have similarly gone nowhere.
For travel within Canada, the passenger rail system is (for the most part) a monopoly. For long distance travel, it can cost more time and money to travel by train than to fly; for short trips, it's usually cheaper to take the bus. Outside the
Windsor-Quebec corridor
, trains can be considered to be more
hotels on tracks
rather than a practical way to get from city to city. These trains offer comfortable seats or sleeping accommodations, unique scenic views, and meals at a premium price, if you have the extra time for the experience. Within the Quebec City - Windsor corridor, VIA Rail is more comparable to air travel; train travel will still take more time than flying, but taking the train in this region can be significantly cheaper than flying, considering baggage fees and taxi fares to and from suburban airports.
In a few remote regions, such as
Churchill
in northern Manitoba, rail has been left in service as it remains the only terrestrial means to reach a remote community. Conversely, a growing list of destinations (such as
Prince Edward Island
and the island of
Newfoundland
) have lost all rail service and rely instead on the
Trans-Canada Highway
or other road, ship or air transport.
Peak periods

The peak periods for most rail companies in North America are somewhere between March/April and September; however, you should check with the rail company. In the off-peak season, prices drop significantly on most carriers.

Passenger rail companies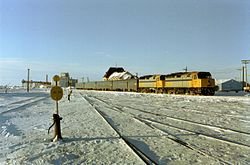 VIA Rail Canada The one remaining national network, federally-owned and subsidized but still not inexpensive. Cross-country passenger service in three mainline segments Halifax-Montréal, Montréal-Toronto-Windsor, Toronto-Vancouver.
Rocky Mountaineer Vacations Privately-owned, runs daytime sightseeing tourist trains from Vancouver-Banff-Calgary and Vancouver-Jasper. As there are no sleeper cars, a two-day trip incurs one night's hotel stay.
Ontario Northland Railway This railway, owned by the province of Ontario, operates the Polar Bear Express tourist train (Cochrane-Moosonee) in the remote northern part of the province.
Canadian National Railway (CN) turned its passenger services over to VIA Rail in 1978, but acquired the Algoma Central Railway in 2001 and operates passenger services on this line, most notably the Agawa Canyon Tour Train.
Canadian Pacific Railway (CPR) turned its passenger services over to VIA Rail in 1978 (and most were eliminated in 1986), but inaugurated its luxury Royal Canadian Pacific service in 2000. A limited six-day, five-night 31-passenger tourist train with 19 restored staterooms using 1919-1931 era rolling stock, this Calgary-Vancouver luxury run is niche marketed at typically $8000/person; passengers must be 18 or over.
Amtrak operates trains from the U.S. To Canada on three lines. From Seattle to Vancouver on the Cascades; from New York to Toronto on the Maple Leaf; and from New York to Montreal on the Adirondack.

phone: +1 418 962-5530

10-12 hrs of spectacular scenery from Sept-Îles to Schefferville, an otherwise-inaccessible mining community in northern Québec. This line is owned by three First Nations (Aboriginal) groups. This line does not connect to the rest of the North American rail system

phone: +1 416-869-3200

GO Transit operates 7 commuter rail lines radiating from Toronto serving municipalities within and near the Greater Toronto Area. The Lakeshore West and Lakeshore East lines operate every day from 6AM to 1AM between Burlington and Pickering. Three other lines have limited mid-day service to Unionville (Markham), Aurora and Brampton. Other GO rail destinations have only rush-hour, peak-direction service.
Routes/lines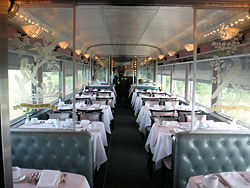 VIA Rail Canada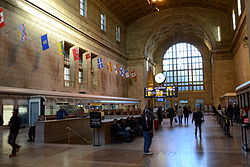 Sleeper cars are available on some of VIA Rail's long-distance services. Some long-distance trains also feature a dining car where you can purchase meals during the journey. Meals in the dining car are typically included in the ticket price for sleeper car passengers.
Fares, passes & discounts
VIA Rail offers discounted fares to youth and seniors:
Youth (12-25) and students (ISIC) get 30% off economy class, 10% off sleeper class, and 10% off multi-day passes (note: this includes the student discount)
Seniors (60+) get 10% off economy class.
Additionally, passengers may be entitled to unadvertised discounts on top of these fares by being a veteran or member of the Canadian Forces, or through membership to some organizations and professional/alumni associations. At 2014, Hostelling international members are also eligible at
10% discount from Viarail
.
"Escape" fares offer heavily discounted, non-refundable VIA Rail tickets that are available in limited quantities with various conditions when purchased in advance. These also have a 50% exchange penalty. For example, a May 2019 trip from Toronto to Montreal would cost $49 "Escape" versus $114 regular "Economy". Seats at "Escape" prices are limited in number available per train, and tend to sell out earlier than higher priced seats.
VIA Rail offers
"Sleeper Plus Class Deals"
on overnight trains. These large discounts for sleeping accommodations are available only to a certain city on a certain train and day, and there are many such discounts listed.
Canrailpass
are valid on any train and route that VIA Rail operates and allows the holder one seat in Economy class (upgrades are limited). The pass allows passengers seven, ten or unlimited one-way trips (with one stopover per trip allowed) within a 60 day period.
Special stops
VIA Rail offers hikers, kayakers and residents of remote regions the option of special stops at almost any point on several rural routes, as long as passengers purchase their tickets and specify their exact destination 48 hours in advance. This is not available on
all
routes: most importantly, the Quebec-Ontario corridor is excluded, as are the prairies west of Winnipeg. Please consult the link for more information on stops that are permitted. .
Bicycles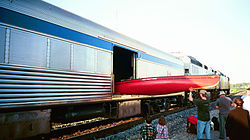 From the beginning of June to the end of October, VIA rail now allows cyclists to bring their bikes as is aboard trains running in the Corridor to Toronto, Montreal, Ottawa, Quebec City, London, Windsor (Ontario), Jonquiere, and Senneterre. There is a fee of $20 plus tax for each direction of travel and you must check your bicycle at the baggage counter one hour before departure. After that, you are not guaranteed a space for your bike. Upon arrival at Toronto, Ottawa, London, Windsor, or Montreal, the train crew will bring your bike to you at the baggage claim area in the station. At all other stops, you might have to go to the baggage car to retrieve your bike. Do not leave any equipment (i.e. pannier bags) attached to your bike when you check it in. These must be checked in separately. Check the VIA rail
website
for train schedules with bike racks.
Amtrak international trains
There are three
international trains
that are operated by
Amtrak
, the U.S. passenger rail company, with connections to VIA Rail trains in Canada. These trains must be booked with Amtrak, except for the Maple Leaf which can also be booked with VIA Rail. Each train has a scheduled customs stop of about 1-1¾ hours at the international border.
The Maple Leaf, jointly operated by Amtrak and VIA Rail, runs between Toronto and New York City once a day in each direction stopping at Aldershot (Burlington), Niagara Falls (Ontario), Buffalo (connection to Chicago via Amtrak), Albany, Rochester, Syracuse, among other stations. Scenic features along the route are the Niagara Gorge, the Finger Lakes region, and the Hudson River Valley. The trip from Toronto Union Station to New York Penn Station takes 13½ hours.
A partial trip from Toronto to Niagara Falls (Ontario) takes 2 hours; it is possible to travel with this train to Niagara Falls in the morning and return to Toronto in the early evening. VIA Rail "Escape" fares are not available for The Maple Leaf, even though the train can be booked with VIA Rail.
The Adirondack connects Montreal to New York City via Schenectady and Albany. Scenic features along the route are Lake Champlain and the Hudson River Valley. The trip from Montreal Central Station to New York Penn Station takes 11 hours.
The Cascades connects Vancouver to Seattle. The trip from Vancouver's Pacific Central Station to Seattle King Street Station takes 3½ hours.
Canadian National Railways
Agawa Canyon Tour Train This train tour provides access to a vast wilderness region from Sault Ste. Marie to Hawk Junction (near Wawa.) Day trips run daily from mid-June through mid-October. A passenger train service connecting Sault Ste. Marie to Hearst ended in 2015.
GO Transit